In my general dynasty startup draft strategies, I mentioned that more specific draft strategy articles would be on their way. This is one of them. Today's focus will be on the Zero RB strategy and how you can apply it in dynasty fantasy football startup drafts.
Did you get a trade offer in your dynasty or redraft league? Not sure what to do? Make championship-winning decisions with PFN's FREE Fantasy Football Trade Analyzer and Calculator!
How To Thrive in a Draft Using the Zero RB Strategy
The term Zero RB has become a bit of a polarizing topic in recent years. When a fantasy manager hears the term, it's rarely met with apathy. There's usually a visceral reaction, whether positive or negative, to the notion of Zero RB drafting.
Zero RB is a risky yet potentially very beneficial strategy for dynasty startup drafts. What are the benefits (and risks) associated with ignoring running backs early in your draft?
What Is Zero RB?
I wish there were some sort of study done researching fantasy managers' feelings toward Zero RB compared to when they started playing fantasy football.
If you started playing this game in the 2000s or earlier, you did so in an era where the game was dominated by running backs. Even though we all acknowledge the NFL now is vastly different than it was 15+ years ago, that doesn't mean those early years of playing fantasy football haven't remained ingrained in the way we think. It can be hard to accept the notion of not drafting running backs early.
Those of you who started playing fantasy football within the past decade or so did so in an era where wide receiver and running back value started to converge. That has coincided with the increased passing in the modern NFL.
Prior to the great quarterback boom of 2011, the foundation of every great fantasy team was the running back. When I first started playing fantasy football back in 2003, the Flex position was a nonstarter because any team who drafted three bell-cow RBs would be unstoppable. Running backs dominated the first two rounds of fantasy drafts and were the cornerstone of every great roster.
The NFL has since moved away from the traditional reliance on power football. This has caused fantasy managers to adapt. That led to Shawn Siegele coming up with the concept of Zero RB.
In 2013, Siegele laid out what was, at the time, a radical draft strategy that involved drafting "zero" running backs.
Obviously, Zero RB doesn't mean you literally don't draft a single running back. The basic tenet of the strategy is to leverage the increasingly risky nature of running backs into a sizable advantage at the other positions, most notably, wide receiver.
Over the years, Zero RB has birthed multiple derivatives and variations. However, in its purest form, it involves not drafting any running backs until at least Rounds 6 or 7. The idea is to stack your roster with wide receivers while adding an elite tight end or quarterback (or both).
If executed properly, you will obviously be weak at running back, but you should have the best WR corps in the league, as well as an edge at QB and TE over most other teams. Given how frequently usable RBs pop up on the waiver wire, you can figure out the running back position on the fly, and by the end of the season, you'll have a juggernaut.
How To Implement Zero RB in a Dynasty Startup Draft
You won't find me endorsing a Zero RB approach in redraft leagues. There may be situations where a draft room forces me into it, but I will never enter a draft room intending to go Zero RB.
That may seem like I'm criticizing the strategy or suggesting it doesn't work. Quite the contrary. In an ironic way, that's the reason I'm not a fan of the Zero RB strategy. It is the perfect pivot strategy and one every manager should feel comfortable implementing when the situation calls for it.
In dynasty, though, it's a completely different story. If you largely ignore running back in a dynasty startup draft, you don't have to fix it during the upcoming season.
Zero RB is very viable in a dynasty startup, especially if you're planning on either punting Year 1 or going with a productive struggle approach.
How Zero RB and Punting Year 1 in a Dynasty Startup Mesh Together
Despite the converging values of wide receivers and running backs, the most valuable asset in fantasy football remains the elite RB. In fact, one can argue it is even more valuable now than ever before because of how few there are.
The issue, of course, is finding one. That is much easier said than done. Wide receivers are more reliable than running backs, both in terms of longevity and year-to-year consistency.
If your plan entering your dynasty startup draft is to not compete in the first season with all your resources dedicated to putting together a juggernaut beginning in the second year, Zero RB may be the way to go.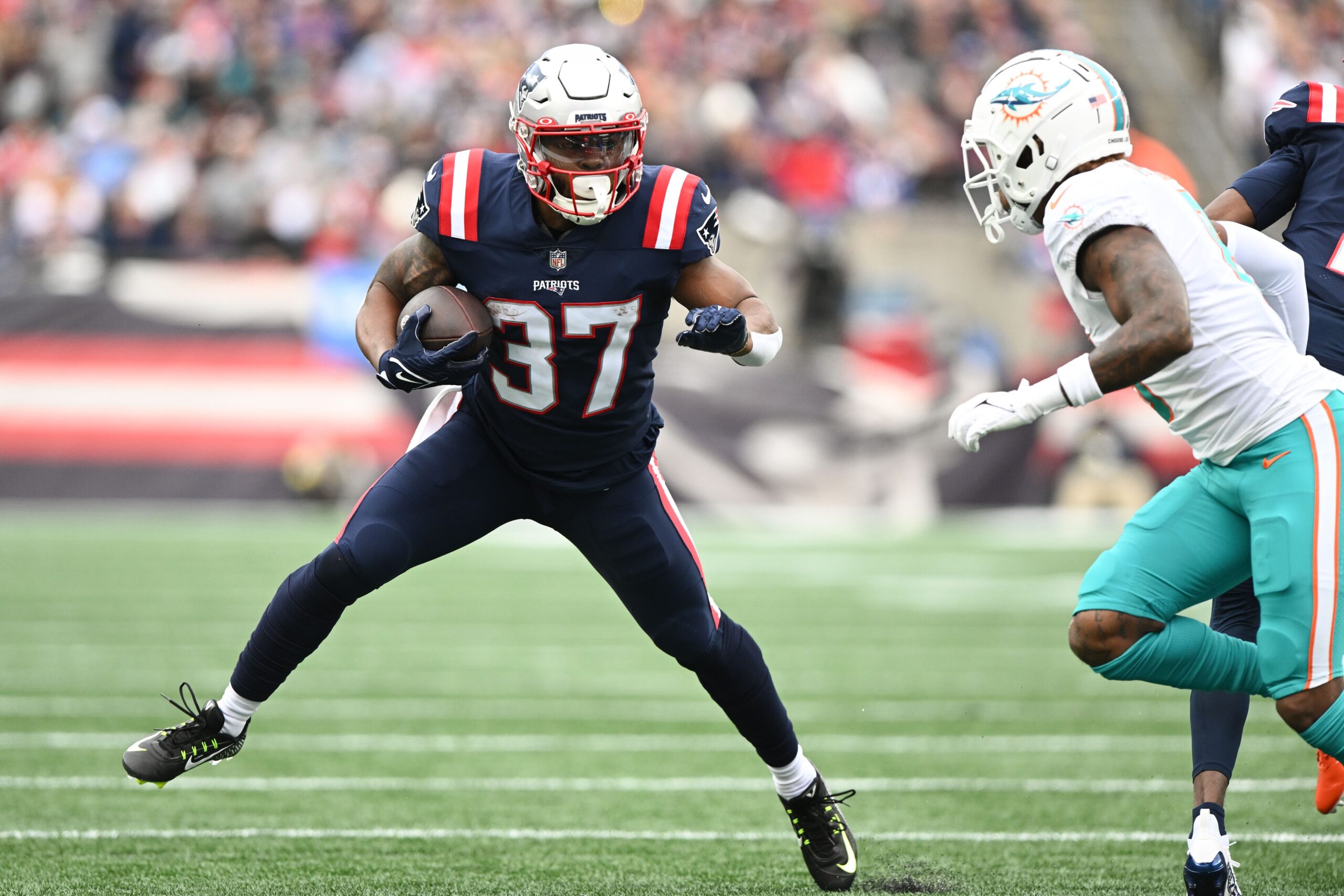 One of the main reasons building around WRs is a popular dynasty strategy is the amount of time they remain highly productive players. Running backs reach their primes sooner, but wide receivers stay there for much longer.
Typically peaking at around age 25, the average shelf life of a running back is only 3-4 years. You will typically see running backs produce their best seasons during their second through fifth years in the league. The most elite running backs can produce at a top level from around ages 22-28.
Wide receivers start to peak around age 24, but their prime lasts until age 29. That's roughly seven years. If you look at every running back drafted since 2010, you will not find a single one that was highly productive for over seven years.
More recently, we've seen the top receivers remain elite unto the first year or two of their 30s. On the whole, rookie RBs are much, much better fantasy assets than rookie WRs. But once a WR reaches that elite status, it's possible to get a full decade's worth of production. You're simply not getting that from an RB. You'd be lucky to get half that.
By loading up on wide receivers early, you can construct an extremely strong foundation for your dynasty roster. You can feel confident those players will still be around to provide you with value for years to come. Then, in the second year of your dynasty league, you can focus on bolstering your running backs.
A big reason the Zero RB draft strategy works is because of our ability to project immediate production from rookie backs. If you're punting Year 1, you're planning on having a top 2-3 pick in your rookie draft the following season. There should be an RB available that can contribute right away.
Timing does matter. If you implemented this strategy in 2021 or 2022, you probably feel really good about it right now. Not every draft class has sure things at running back. But historically, the sure things at RB hit a higher rate than the sure things at WR.
So, while you're focusing on building up your running backs, you'll already have a bunch of quality receivers because you focused on them in the early rounds of your dynasty startup. Even if you aren't able to find running backs right away, you have time because of the longevity of wide receivers.
If you build around RBs and take a couple of years to find the WRs, your running backs will be nearing the end of their usable life by the time you do so, thus limiting the time your team can compete for a championship.
Zero RB is a very viable strategy that, if done right, can set you up to dominate for several years.
What Are the Risks of Using a Zero RB Strategy in a Dynasty Startup Draft?
Where dynasty differs from redraft most is in roster size and the implications that come with more players on rosters. In dynasty, you're likely drafting anywhere from 20-30 players. In redraft, one of the most important aspects of the Zero RB strategy is the expectation that managers will constantly be shuffling running backs at the back of their roster.
You're expected to work the waiver wire, stream spot starters, take advantage of injuries, and find reliable fantasy starters during the season.
In dynasty leagues, it can be a challenge to find anyone useful on the waiver wire because so many more players are rostered. At least two running backs from every team will be on a roster, and in most cases, there will be three or even four. Managers are already stashing guys hoping to benefit from an injury.
Therefore, even when implementing a Zero RB draft strategy, you need to be sure to draft some of these running backs with injury-related upside. Avoid older RBs, and don't draft floor players. You don't need running backs that are locked into a role where they see a handful of carries and a reception or two. If a back doesn't have the upside for a larger role, you have no use for him. You want guys that can hit hard.
Look for young running backs — under the age of 25 — that are stuck behind an established starter. You want guys that can conceivably win a backfield either with performance or if the starter gets hurt/leaves the following season.
A Zero RB strategy in a dynasty startup draft can be very advantageous if done correctly. But it can also set your team back multiple seasons if things go awry.
Not everyone who implements this strategy will succeed. There's inherent risk in everything about fantasy football. Zero RB is a high-upside strategy, but it has a low floor if you miss on the receivers or can't find startable running backs.
By no means should this scare you away, though. Every strategy has risks. And the risk of drafting busts exists in every draft in every league. It doesn't matter what strategy you use if you get the players wrong.
Regardless of what you decide to do, make sure you commit to it. Going half-in on any strategy is a surefire way to lose. You're better off going all-in on whatever you do, and if it fails, you hit the reset button and start from square one the next season. There's nothing worse in dynasty than having a team good enough to make the playoffs but not good enough to win.
The Zero RB strategy is designed to ensure your team doesn't get caught in fantasy purgatory. If you do it right, you could be a dominant force for years.
Listen to the PFN Fantasy Podcast
Listen to the PFN Fantasy Podcast! Click the embedded player below to listen, or you can find the PFN Fantasy Podcast on iTunes, Spotify, and all major podcast platforms.  Be sure to subscribe and leave us a five-star review! Rather watch instead? Check out the PFN Fantasy Podcast on our Fantasy YouTube channel.