New Orleans Saints WR Chris Olave is coming off a truly fantastic rookie season. Unsurprisingly, a huge leap in production is baked into his 2023 ADP. Should fantasy football managers buy the hype? How likely is Olave to finish as a top-15 wide receiver this season?
Chris Olave Already Has a Top-15 ADP
There's really no question as to whether Olave is capable of a top-15 finish. It's certainly in his range of outcomes. After all, he's already got a WR12 ADP.
The fantasy community as a whole is expecting it. But if all our expectations were reality, this would be a pretty boring game.
Last season, Olave caught 72 passes for 1,042 yards and four touchdowns, averaging 13.2 PPR fantasy points per game. He finished as the WR25, so some serious progression is baked into his ADP. We know it's possible, but is it likely?
Rookie wide receivers need to crest the 500-yard threshold to realistically have any chance at a successful NFL career. Obviously, Olave did that easily. The thing about that threshold is the degree to which rookies surpass it matters. This shouldn't come as a shock, but the better the rookie reason, the more likely that player is to become a top receiver in the league.
Since 2011, there have been 40 wide receivers drafted in the first three rounds who recorded at least 700 receiving yards as a rookie. Thirty-five of them, or 87.5%, went on to be productive fantasy receivers.
When you parse it down even further to wide receivers who reached 900 yards as a rookie, you get 21 names. Of them, 17 went on to post top-15 finishes. Of the four that didn't, two are Olave and Garrett Wilson, so they don't even count yet because they haven't played their sophomore seasons. That gives us an 89% hit rate on these players.
Since 2011, there have only been 10 rookies to have more receiving yards in their debut season. That list consists of Ja'Marr Chase, Justin Jefferson, Odell Beckham Jr., Michael Thomas, Garrett Wilson, Amari Cooper, A.J. Green, Mike Evans, A.J. Brown, and Keenan Allen. Olave is in some really good company.
Chris Olave Should Be Even Better as a Sophomore
As a rookie, Olave already showed impressive downfield ability. His 14.0-yard average depth of target was inside the top 10, and his 29 deep targets were the fourth-most in the NFL.
He already commanded a 26.7% target share, which was inside the top 15, and was targeted on 29.3% of routes run (inside the top 10). Olave did this while receiving passes from Andy Dalton and Jameis Winston.
This season, Olave gets a significant quarterback upgrade. Say what you want about Derek Carr being overrated — it might be true — but he's definitely better than Dalton and Winston.
At the very least, we know Carr likes to push the ball downfield. He averaged 9.4 air yards per attempt last season, the second-most in the league. Of course, he had some guy named Davante Adams. But Olave has the talent to be an Adams-level player in the not-too-distant future.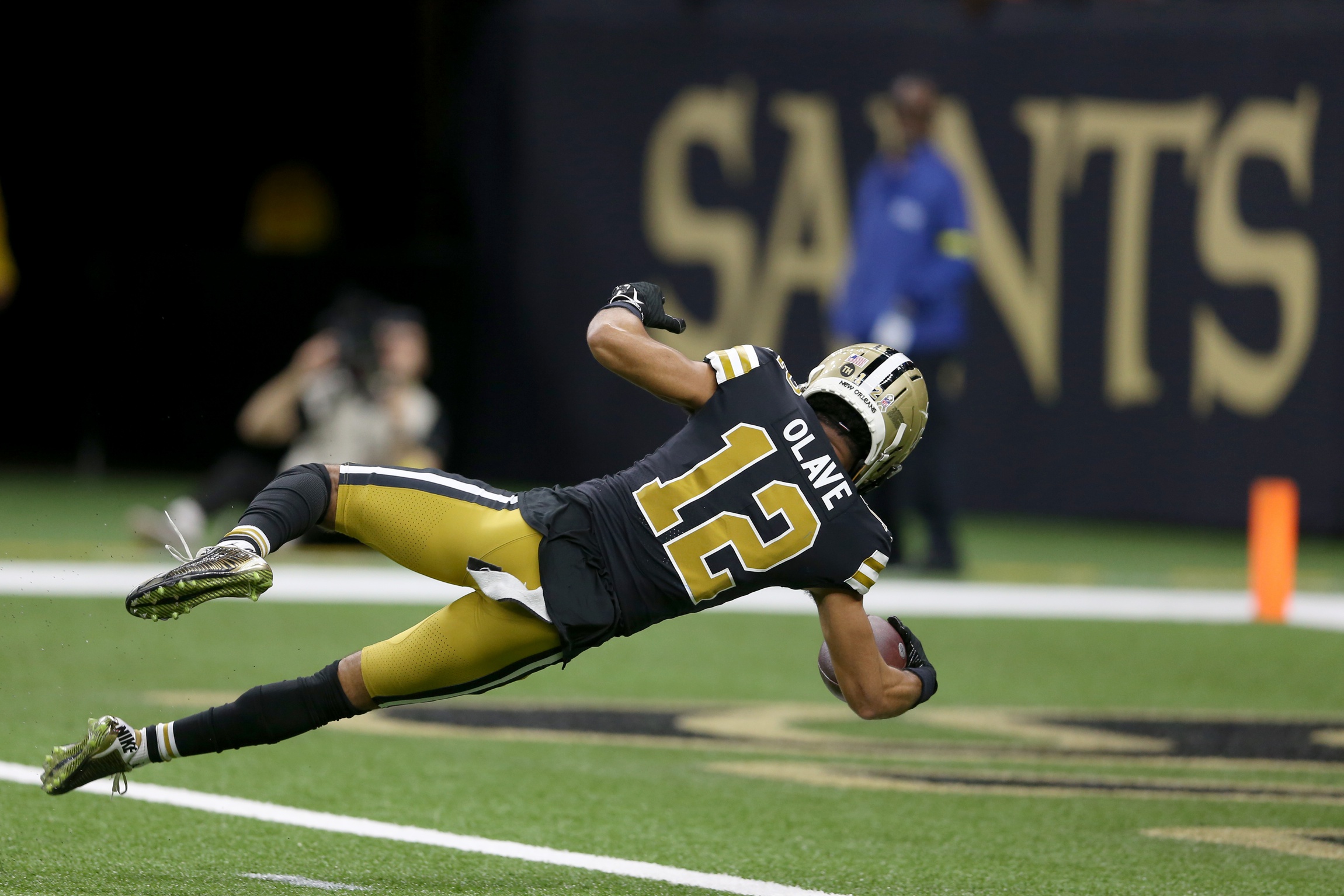 How Likely Is Chris Olave To Finish Inside the Top-15 WRs This Season?
Last season, the Saints had a 48% neutral-game-script pass rate, the fourth-lowest in the league. As a result, Olave's 26.7% target share only netted him 115 targets.
While New Orleans undoubtedly wants to remain a run-first team, as evidenced by their signing of Jamaal Williams and drafting of Kendre Miller, they have to throw more this season.
For starters, they have Carr now. You don't pay for a guy like him to hand the ball off 600 times. I'm not saying the Saints will suddenly become the Los Angeles Chargers, but they'll at least throw more than they did a season ago.
Second, natural regression is going to hit. When teams run the ball as heavily as New Orleans did last season, historically, those teams throw the ball more the following year. My projections have the Saints remaining quite run-heavy but still attempting 551 passes.
The biggest worry for Olave would be the impact of a healthy Michael Thomas. Allow me to (mostly) assuage those concerns.
Of course, there's a nonzero chance Thomas is healthy this season and still good at football. Even if he is, Thomas is 30 years old. Regardless of his status, Olave should be the WR1 and the top target.
I'm not concerned about Thomas at all. This is a 30-year-old player who has played 10 total games in the past three years combined. The last time we saw elite WR1 MT was in 2019. In the NFL, four years is an eternity.
As I write this, Thomas still isn't fully recovered from his injuries but is expected to be ready for training camp. Nevertheless, we're entering Year 4 of Thomas' offseason injury concerns. I'm the last person who will tell you we should be trying to predict injury because we cannot, but this isn't exactly predicting anything. Thomas is currently hurt, and he's been hurt for the better part of the past four years.
Given the historical hit rate of sophomore wide receivers coming off strong rookie campaigns, I'm not about to fade Olave because of the slim chance Thomas returns to a pre-injury form.
In the rare event that he does, though, it shouldn't matter. Carr can support two fantasy-relevant wide receivers.
Beyond Olave and Thomas, the Saints don't have much. Their wide receivers consist of Rashid Shaheed, Tre'Quan Smith, rookie A.T. Perry, and journeymen James Washington and Bryan Edwards. Shaheed is interesting, but none of these WRs are threats to Olave's volume.
My projections have Olave catching 90 passes for 1,263 yards and 7.1 touchdowns. At an average of 15.4 ppg, I have him finishing as the WR14.
Projections are typically a median outcome. There's certainly room for Olave to either be more efficient or score more touchdowns, resulting in an even higher finish. I have Olave ranked as my WR11 and fully expect him to post a top-15 fantasy finish in 2023.
Listen to the PFN Fantasy Podcast
Listen to the PFN Fantasy Podcast! Click the embedded player below to listen, or you can find the PFN Fantasy Podcast on iTunes, Spotify, and all major podcast platforms.  Be sure to subscribe and leave us a five-star review! Rather watch instead? Check out the PFN Fantasy Podcast on our Fantasy YouTube channel.