College football is a beautiful game; it allows us to watch football from noon to well past midnight each and every week. The high volume of games can be overwhelming, though, and make it hard for devy fantasy football players to understand which games they need to watch to stay ahead of their league-mates.
In this weekly column, I provide you with the most important games to watch from a devy perspective.
Week 4 of the college football season is set to be one of the most exciting weekends we have seen in years. The 2024 class, in particular, will be on full display as top prospects look to make a name for themselves on national television against top competition.
Looking to make a trade in your fantasy league? Having trouble deciding who to start and who to sit? Check out PFN's Free Fantasy Football Trade Analyzer and Start/Sit Optimizer to help you make the right decision!
Week 4 Devy Fantasy Football Players To Watch
Florida State Seminoles at Clemson Tigers
Prospects To Watch: Keon Coleman, Jaheim Bell, Cade Klubnik
There are future NFL playmakers on both sides of this battle of ACC powerhouses. Clemson Tiger Will Shipley (5'11", 210) and Florida State Seminole Trey Benson (6'1″, 223) are popular sleeper running backs in the 2024 draft class. It is the passing game, though, that will steal the headlines in this one.
Clemson's Cade Klubnik (6'2″, 205) is a five-star true sophomore who was given the reigns of the offense with a lot of expectations. After struggling in the season opener, Klubnik has thrown for 484 yards, seven touchdowns, and just one interception in his last two games. He is considered a top-five quarterback in the 2025 class; a big win over the Seminoles could skyrocket his value.
Klubnik has a trio of wide receivers to target this weekend. Antonio Williams (5'11", 195) is a slot receiver from the 2025 class that works well underneath. Adam Randall (6'2″, 225) is also 2025 eligible and has the chance to step up as the primary boundary option with Beaux Collins out.
Freshman Tyler Brown (5'11", 180) scored twice on three receptions and had a big punt return against the Florida Atlantic Owls in Week 3; expect him to play a large role in this game as well.
Keon Coleman (6'4″, 215) is the fastest-rising prospect in the 2024 class. He racked up 12 receptions for 170 yards and four touchdowns in the first two weeks of the season. You can expect him to find the end zone this week and secure first-round draft capital in April.
Florida State WR Keon Coleman is such a great athlete to be 6-4, 215. Basketball background shows up frequently on tape. pic.twitter.com/edPEEsWaKd

— Jordan Reid (@Jordan_Reid) September 14, 2023
Tight end Jaheim Bell (6'3″, 239) is the ideal athletic tight end for fantasy football managers. He led the way for Florida State in Week 3 with 5 receptions for 76 yards and a touchdown against the Boston College Eagles. Johnny Wilson (6'7″, 237) joins Bell as a projected Day 3 selection in the 2024 NFL Draft. Wilson has put up two games of over a hundred yards already this season.
Ole Miss Rebels at Alabama Crimson Tide
Prospects To Watch: Jaxson Dart, Ulysses Bentley IV, Jordan Watkins
There will be a lot of headlines around this game: the imminent fall of the Alabama Crimson Tide dynasty, the return of Lane Kiffin to Tuscaloosa, and the Tide's rotation of quarterbacks. What won't be lost on me, though, is the sneaky devy talent on the Ole Miss Rebel offense.
Jaxson Dart (6'2″, 220) has quietly broken out over the first three weeks of the season. Dart has completed 66% of his 68 passing attempts for 852 yards and seven touchdowns. He looks more poised in the pocket and distributes the ball with confidence.
MORE: Fantasy News Tracker
Dart has been known as a pocket passer, but this season he's shown off his mobility. He leads the team with 213 rushing yards and found the end zone twice on the ground against the Georgia Tech Yellow Jackets last week.
If Dart can put together a big performance against the highly touted Alabama secondary, he will start being talked about as a top-100 draft prospect.
Quinshon Judkins (5'1″1, 210) is one of the top running back prospects in the 2025 class, but he's doubtful to play in this game. That means SMU transfer Ulysses Bentley IV (5'11", 200) will get his chance to shine.
Bentley showed explosiveness and good vision while rushing for 61 yards and a touchdown on just six carries last week. Bentley's performance caught the eye of Senior Bowl scouts, who identified him as a "stock up" player heading into this week's match-up.
Ole Miss has built a reputation for developing impactful wide receivers. Jonathan Mingo (2023) and Elijah Moore (2021) both grew into playmakers in Lane Kiffin's offense. Now, Jordan Watkins (5'11", 190) is rising up the 2024 draft boards.
He has pulled in 15 receptions for 290 yards (19.3 yards/reception) over the first three weeks. He broke off a big 68-yard touchdown reception against the Yellow Jackets in Week 3. Tight end Michael Trigg (6-3, 240) isn't a consistent producer but has the athletic prowess to impact any match-up. Watkins and Trigg could make a big impact against the Crimson Tide, which would make a big impression on their draft value.
Colorado Buffaloes at Oregon Ducks
Prospects To Watch: Troy Franklin, Bo Nix, Shedeur Sanders
The Oregon Ducks have dominated their first three opponents, outscoring them 174-47. They haven't been featured in a prime time slot, though, so they aren't getting the respect they deserve. I discussed Colorado's featured devy prospects, including Shedeur Sanders and Jimmy Horn Jr., in my Week 3 preview, so I will focus on the Oregon Ducks stars this week.
Bo Nix (6'2″, 217) has fully realized his five-star pedigree in Eugene. This season he has completed 77% of his 98 passing attempts for 893 yards and eight touchdowns. He has not turned the ball over.
Nix has displayed excellent decision-making, good accuracy, and the ability to push the ball downfield for big plays. Nix is playing his way into the "tier 2" quarterback conversation in the 2024 class. I have him projected as a locked-in top 100 draft selection, with the potential to ascend to a top 50 pick.
I am confident that wide receiver Troy Franklin (6'3″, 187)  is a first-round NFL Draft talent, I'm just waiting for everyone else to catch on. Franklin is a dangerous route runner who separates consistently, displays short-area speed, and flashes sticky hands. He shreds defensive backs along the sidelines and looks comfortable working in traffic over the middle of the field.
Franklin has at least 80 receiving yards in every game this season and a total of three touchdowns. If you have the chance to acquire Troy Franklin in a devy league, do it before he puts together a full highlight reel against a less talented Colorado secondary.
Oregon's Traeshon Holden (6-3, 215) is a 2024 eligible Alabama transfer who flashed against Hawaii in Week 3. He found the endzone twice and broke off a 60-yard reception. Sophomore Gary Bryant Jr. (5-11, 185) has eleven receptions so far this season. He is averaging 14.5 yards/reception and should be featured alongside Holden and Franklin against the Buffalos.
Ohio State Buckeyes at Notre Dame Fighting Irish
Prospects To Watch: Marvin Harrison Jr., TreVeyon Henderson, Sam Hartman
A full day of marquee match-ups and wild college football action builds up to the biggest match-up South Bend has seen in maybe a decade. The Ohio State Buckeyes offense got off to a sleepy start this season but has a chance to prove itself against a stout Notre Dame Fighting Irish defense.
The Fighting Irish will need their future NFL talent to perform as they look to knock off the Buckeyes and establish themselves as a legitimate College Football Playoff contender.
MORE: 2023 QB Fantasy Football Rankings
Marvin Harrison Jr. (6'4″, 205) is on track to be a top-five selection in the 2024 NFL Draft. Harrison is a special combination of speed, handwork, and athleticism. He has 12 receptions for 286 yards (23.8 yards/reception) and three touchdowns over the last two weeks.
Emeka Egbuka (6'1″, 206) projects as a top 50 selection in the 2024 NFL Draft. Egbuka is a quick, sure-handed wideout that works well underneath. He found the end zone twice on four receptions against Western Kentucky Hilltoppers. Egbuka needs a big performance to stand out relative to the talent surrounding him in the Buckeyes offense.
Despite producing in just two games, senior tight end Cade Stover (6-4, 251) has 188 receiving yards, the second most on his team. Stover is considered a top two-way tight end prospect, who is on track to be a top 100 selection in the 2024 NFL Draft.
TreVeyon Henderson (5'10", 212) needs a breakout performance to separate himself among a tight top tier of 2024 running backs. He is a powerful downhill runner with explosiveness and the ability to make clean cuts while working through gaps.
Henderson is averaging 6.4 yards per carry and has four touchdowns over the first three games, but a breakout performance against Notre Dame would give him a claim to be the top rusher in the class. Senior running back Miyan Williams (5'9″, 226) is a powerful spell back that Ohio State will rotate into the game. He shows explosion and lower body strength when he takes handoffs. Williams projects as a day 3 selection in the 2024 NFL Draft.
Notre Dame quarterback Sam Hartman (6-1, 210) transferred from Wake Forest Demon Deacons to prove he could perform outside of the slow-mesh offense. So far, so good for Hartman, who has completed 71% of his 90 passing attempts for 1,061 yards and 13 touchdowns, with zero interceptions.
Hartman's poise in the pocket, accuracy, and processing make him my favorite Day 3 projection in the 2024 class. If he leads the Irish to victory this week against a chaos-creating Buckeyes defense, Hartman will have an argument for much higher draft capital.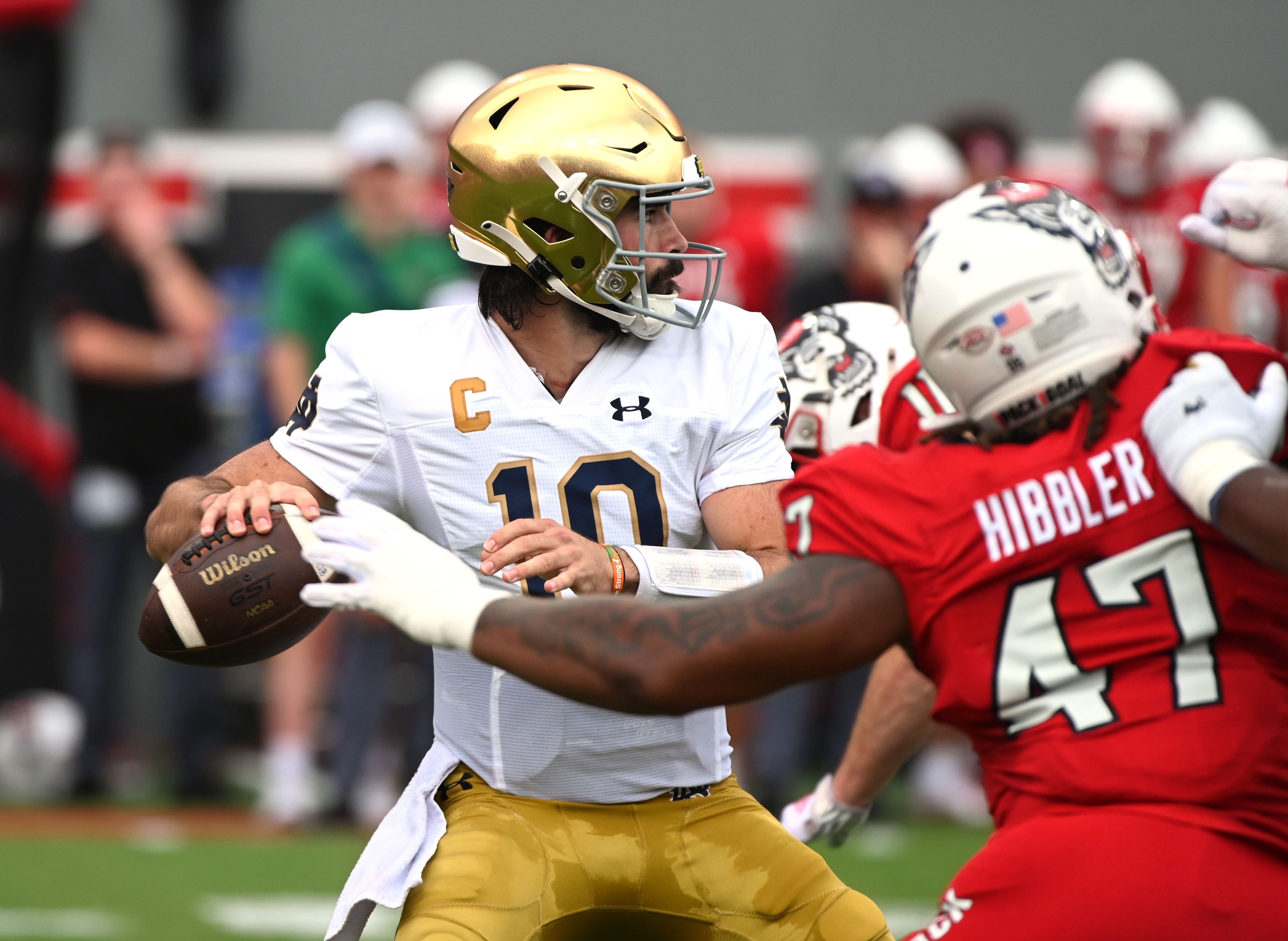 Audric Estime (5'11", 227) is a powerful and productive back. Through four games, Estime has 521 rushing yards on 63 carries (8.3 yards/carry) for five touchdowns. He shows good lower body strength, vision, and the ability to break off a big run with downfield momentum.
Estime's lack of athleticism likely limits him to Day 3 draft capital in the 2024 NFL Draft, but that doesn't limit running backs from being significant fantasy football producers.
Sam Hartman has a few exciting targets to keep an eye on. Jayden Thomas (6'1″, 220) is still flying under the radar as a draft prospect but has four catches in three games this season.
True freshman Jaden Greathouse (6-1, 213) is garnering much more attention. He stood out in fall camp and has been an early season factor for the Irish; he has pulled in 10 receptions and three touchdowns. If he can break a big score against Ohio State, he will become a household name.
Tight end Holden Staes (6'4″, 242) is stepping into a key role in the Notre Dame offense. The 2025 eligible prospect has caught a touchdown in every game this season, including two against North Carolina State in a game where he totaled 115 yards on four receptions.
Listen to the PFN Fantasy Podcast
Listen to the PFN Fantasy Podcast! Click the embedded player below to listen, or you can find the PFN Fantasy Podcast on iTunes, Spotify, and all major podcast platforms.  Be sure to subscribe and leave us a five-star review! Rather watch instead? Check out the PFN Fantasy Podcast on our Fantasy YouTube channel.