After a fun Week 1, we are back with the Week 2 Fantasy Football Cheat Sheet, your one-stop shop for everything you need to know for the week ahead!
As a reminder, Kyle Yates and I will be going through every game in podcast form on Friday morning, so make sure to check out the PFN Fantasy YouTube channel while you're running around this weekend. I'd also bookmark our PFN Consensus Rankings page so that you have a source for our player takes that is updated the second any news presents itself. Now, let's get you a Week 2 win!
Looking to make a trade in your fantasy league? Having trouble deciding who to start and who to sit? Check out PFN's Free Fantasy Football Trade Analyzer and Start/Sit Optimizer to help you make the right decision! And, for the latest injury updates, visit our Fantasy News Tracker. 
Minnesota Vikings at Philadelphia Eagles
Spread: Eagles -6.5
Total: 49 points
Vikings implied points: 21.25
Eagles implied points: 27.75
Quarterbacks
Kirk Cousins: They say "Game 7" are the two best words in sports. Well, the worst three words in fantasy football circles are in play this week: "Primetime Kirk Cousins."
Cousins' struggles under the bright lights are no secret, and when you combine that with his home/road splits from a season ago, we aren't looking at a top-12 fantasy quarterback this week.
In 2022, Cousins threw 4.5 touchdowns per interception in front of his home fans and 1.1 when playing on the road (including a season-high three picks in prime time against these Eagles in Week 2). I'm willing to ignore the aberational Week 1 for this talented Philadelphia defense (316 yards and three TDs coughed up to Mac Jones) and assume that they get back on track in this spot.
Jalen Hurts: You don't need me to tell you that Jalen Hurts is a lineup lock, but maybe you do need me to inform you that his pass touchdown rate was 5.9% at home and 3.6% on the road last season.
In Philadelphia's 2022 home opener, all he did was complete 84% of his passes while running for two scores … against these Vikings. Hurts underwhelmed last week (207 total yards with just the one passing touchdown).
Relax. He had 42 opportunities (passes and rushes), right in line with the 41.7 he averaged last season, a usage level that had him as the front-runner for the MVP award for the majority of the season.
Running Backs
Alexander Mattison: Mattison was anything but impressive in the season-opening loss to the Bucs (44 yards on 14 touches), but he did hold the feature role in this backfield, and in an explosive offense, that's enough to rank as an RB2 for me.
Mattison's touchdown came on a nice play design where he was put in motion and hit on the fly for a short score, a level of creativity that helps elevate his weekly floor.
Mattison ranking out as an RB2 is more the result of his role than any confidence I have in him or in this specific matchup. When these two teams played last season, Minnesota trailed for every one of their offensive snaps, resulting in Cousins having more completions (27) than Vikings running backs had rushing yards (25).
That is, naturally, a worry this season, but we're in the business of projecting mean outcomes. And the percentage play is to trust his touch count to get him into the top 20 at the position like last week.
D'Andre Swift: "I don't ever want to come out of a game where D'Andre Swift has only two touches."
Talk is cheap, Coach Sirianni. He sounds like a fantasy football manager more than a person who has direct control of the situation, but I digress. The fact of the matter is that this team ran 61 plays and got their offseason acquisition two chances in a game with a positive game script.
The management of Swift's touches is nothing new, but this is overkill. I expect Swift to see more work this week (Philly ran for 163 yards on 34 carries in this matchup last season), and his raw talent should keep him on fantasy rosters. And by "rosters," I mean benches.
There's simply no way you can even consider playing Swift until we see his role change. But you also can't consider cutting a talented player like this in an elite offense. Hold!
Update: Swift can be viewed as a high-end RB3 with the news that Gainwell will not play.
Rashaad Penny: Penny was healthy for the season-opening win over the Patriots. He was also inactive.
Sirianni said postgame that the decision was "Just a number count. Where we were with numbers, and some of the things, our first three guys through camp are those three guys, they dressed."
Penny's base salary this season is over a million dollars, but the team does save $10,000 when he doesn't make the active roster for a game.
Kenneth Gainwell: There were whispers this summer that, despite the investments at the position, Gainwell would be "the guy" entering the season. Those whispers turned into fact on Sunday afternoon when he accounted for 14 of Philadelphia's 16 RB carries in the win over New England.
The volume was great to see and puts him on the Flex radar against a questionable Vikings defense (ignore the Week 1 success against the Bucs, Rashaad White posted 38 yards below expectation per NextGenStats, a number that would have been the fourth-worst performance of 2022).
That said, Gainwell failed to reach 10 fantasy points despite 18 touches and playing 62% of the snaps (Swift: 29%). I like getting a piece of this offense with an implied total that is pushing 28 points. You just need to be aware that there is a low floor that comes with Gainwell (career: 5.7 touches per game).
Update: Gainwell has been ruled out for Thursday Night Football.
Wide Receivers
Justin Jefferson: The Eagles, now famously, passed on Justin Jefferson in the middle of the 2020 NFL Draft in favor of Jalen Reagor. But it was a minor consolation prize that they were able to hold him in check a year ago, as his 12 targets yielded just 48 yards.
The Eagles are more capable of slowing WR1s than most. In addition to Jefferson, Chris Olave, Amon-Ra St. Brown, and CeeDee Lamb all had games against Philadelphia last season in which they averaged fewer than seven yards per target, and that has me downgrading Jefferson all the way down to WR5.
MORE: PFN's NFL and Fantasy Player News Tracker
Jordan Addison: The rookie scored from 39 yards out (all air yards) against the porous Bucs secondary for Minnesota's first touchdown of the 2023 season in his debut — paying off bold fantasy managers that elected to plug him in (four catches for 61 yards and the score).
Minnesota drafted Addison to replace a touchdown creator in Adam Thielen, so it was good to see him get on the board early. It's also worth noting that it was Thielen who led Minnesota in receiving (52 yards) against Philadelphia last season.
I was in on Addison this preseason and remain a fan of his over the course of the year as a whole, but I can't get him inside my top 35 wide receivers in this tough matchup.
His 13.8% target share last week was enough in a cushy spot, but if the overall play volume dips against the ball-control styling of the Eagles, Addison carries more risk than reward at your Flex position.
K.J. Osborn: Lost in the excitement of Addison scoring in his debut was the fact that Osborn played 22 more snaps than the rookie. He matched him with six targets but simply didn't get the benefit of a poorly covered bomb down the middle of the field.
I expect Addison to win this WR2 role with time, but we aren't there yet, and until one of them takes a firm hold of that role, neither can be counted on in starting lineups.
A.J. Brown and DeVonta Smith: This is really turning into a co-WR1's situation, and that's just fine in fantasy world. Both of these stars caught seven of 10 targets against the Patriots in Week 1, combining for 66.7% of Philadelphia's targets. I have both inside my top 10 at the position, and it didn't require much thought.
Tight Ends
T.J. Hockenson: Hock wasn't with Minnesota last season when these two teams squared off, but Irv Smith Jr. earned eight targets and was responsible for the Vikings' lone touchdown in that 24-7 loss.
With Philly focusing on limiting Jefferson, Smith, and Thielen combined for a 33.3% target share — proof that the Eagles were more than happy to take their chances with the secondary Vikings pass catchers. The now well-paid Hockenson is obviously an improvement in that space and should be locked into lineups every week.
Dallas Goedert: I sat on my couch last week while Goedert was on the field for 92.4% of Philadelphia's offensive snaps, and yet … we remain tied on the NFL receiving leaderboard. Despite being on the field for basically the entire game, Goedert was able to shake loose for just one target and was a non-factor.
Hurts did a great job at spreading the ball around when these two teams played a season ago. Brown, Smith, and Goedert (team-high 82 receiving yards) all caught at least five passes, while Quez Watkins produced the big play (53-yard TD). I'm expecting more of the same.
Savvy fantasy managers know to trust the process and not be impacted by any scar tissue occurring from a single poor performance. Goedert is a top-five TE for me this week, and I'd recommend forgiving him for his Week 1 sins.
Green Bay Packers at Atlanta Falcons
Spread: Falcons -1.5
Total: 40.5 points
Packers implied points: 19.5
Falcons implied points: 21
Quarterbacks
Jordan Love: Love may have completed only 55.6% of his passes last week in Chicago, but when you average 1.45 fantasy points per completion, there is no complaining from the fantasy community.
Of course, per-completion efficiency like that is impossible for him (or anyone) to sustain. We saw a lot of good NFL traits from Green Bay's new starter:
Six different players were targeted with Love's first seven passes.
Six different players finished with 3-5 targets.
Three different players caught a 30-yard pass.
As good as his Week 1 box score looked without his WR1 active, Love still can't be trusted in fantasy lineups. The Falcons aim to limit the possession count, and if we're playing the percentages, another sub-20 completion game from Love is more likely to land him outside the top 20 at the position than inside the top 12 again.
Week 1 was good to see, but I need to see Love being responsible for the big plays (not a massive YAC play or busted coverage) before I'm even remotely interested in him in anything besides a 2QB league.
Desmond Ridder: Ridder played a great football game against the Panthers last week, and it meant just about nothing to the fantasy football community. He did his job. He completed 83.3% of his passes, with 40% of his completions going to the new shiny toy in Atlanta's offense.
Ridder didn't lose the Falcons the game. The problem is that he has almost no chance to win you yours. Despite Ridder's strong game, he scored fewer fantasy points than Kenny Pickett in an awful game. Ridder doesn't matter in 1QB leagues, and unless you're playing in a deep Superflex league, you can do better in those formats, too.
Running Backs
Aaron Jones: Jones racked up 127 yards and a pair of touchdowns against the Bears in Week 1. The end zone and a tight hamstring were the only things that provided any resistance last week. Heck, he even dropped a dump-off pass that could have resulted in another score if handled cleanly.
All reporting out of Green Bay was that Jones' hamstring pain was short term and little to worry about. Assuming that's the case, he's an easy top-15 option against a Falcons team that he has lit up for over 100 yards and a touchdown in the last two meetings.
AJ Dillon: Fantasy football is a game of inches. After a 51-yard catch-and-run from Jones to put the Packers inside the 10-yard line, Dillon was featured with back-to-back carries. Unfortunately, he failed to cash in either, leading Jones to come back and punch it in and sapping any potential for Dillon managers to get a productive day.
What was evident in the first game of the Jordan Love era was that Green Bay will go as far as the run game/short passing game can take them. With Jones experiencing some hamstring discomfort, Dillon could trend closer to a 50/50 touch split against a Falcons defense that allowed 154 rush yards to the Panthers last week.
Carolina also saw RB/TEs account for 16 of 31 targets, another avenue in which the Packers can support a pair of top 30 running backs this weekend.
Should Jones sit, Dillon would slide easily into my top-15 at the position and be worthy of a spot start in all formats.
Bijan Robinson

– 20.3 Fantasy Points Week 1
– 10 Rushes, 56 Yards
– 6 Catches, 27 Yards, 1 TD
– Top 3 RB moving forward
– 33.3% Target Share
– 5.6 Yards per Carry
– 79% Snaps Quarters 1-3
– Allgeier used in closing role

— Joe Orrico (@NoExpertFF) September 11, 2023
Bijan Robinson: As. Good. As. Advertised. Robinson's 11-yard touchdown reception was a thing of beauty and everything we envisioned this summer when we gave the rookie a top-10 grade in our PFN Consensus Rankings.
Skeptics will point to Tyler Allgeier's involvement (18 touches, two short touchdowns), and sure, maybe that caps his upside at RB5 instead of RB1. But at the end of the day, he checked every box you could possibly ask for in his debut.
If we're nitpicking — something you have to do at the top of the board weekly when building a DFS lineup — possession count is a concern. The Falcons were among the worst teams in Week 1 in terms of time of possession (25:19), and if the Packers have their wish, this is going to be similar. If Allgeier is going to be involved and the play count is low, Robinson's DFS price tag is a little more than I'm willing to swallow.
Tyler Allgeier: He's a good running back. He's also the second-best running back on a team that isn't going to light up the scoreboard.
Both of those things can be, and are, true. I was impressed by the patience Allgeier showed on his first three-yard TD run in Week 1. And the fact that he played only four fewer snaps than Robinson was certainly noteworthy in a game that was close throughout.
Allgeier and Robinson combined to see nine targets on their 28 routes, an ultra-impressive rate that has fantasy managers dreaming of what all of this usage would look like if one RB was getting 65-70% of the touches.
Understanding that, Allgeier carries a nice floor more than a projectable ceiling. There's a very good chance that his game last week is his best of the season alongside Robinson.
I have him ranked outside my top 30 running backs against a Packers defense that held its own last week (Chicago RBs: 19 carries for 63 yards). If you're going this route, understand that you might be chasing production that isn't likely to repeat.
Wide Receivers
Christian Watson: After suffering a mid-week hamstring injury, Green Bay's WR1 was ruled out for Week 1 entering the weekend. However, there is some hope that he could return this week to take on a Falcons defense that was bottom 10 in both yards per pass attempt and pass TD rate in 2022.
As a rookie, Watson's average touchdown catch was 29 yards last season, and he scored once every 5.3 touches — numbers that aren't even remotely close to sustainable, so you need to be aware of the risk in starting him.
That said, as long as he checks the needed health boxes as kickoff approaches, this is a matchup that shouldn't scare you off of your Watson rank this preseason … something ADP suggests is a reliable fantasy option.
Romeo Doubs: Was the back-shoulder touchdown pretty? Sure was. Two touchdowns and 16.6 half-PPR points. Great. But as productive as Romeo Doubs was on your bench last week, let's not get carried away.
In a game without Watson against a questionable Bears defense, Doubs was unable to prove himself as a definitive target earner (18.5% share) in this Love-led offense.
The "secondary pass catcher facing the Falcons" is going to be a tough sell for me any time we aren't discussing an elite offense. Is Doubs a fine player? Yes. But with both of these teams wanting to play a game in the low 40s, I'm just not sure there are enough possessions to get Doubs the number of looks that it would require to have him on my radar for season-long or DFS.
This Packers offense isn't going to offer a ton of big plays, something that makes volume that much more valuable when trying to project median expectations. Even if Watson is inactive, Doubs isn't anything more than a FLEX in deeper formats for me.
Jayden Reed: The rookie had a nice 35-yard punt return to go along with a 30-yard catch and a team-leading five targets, but Jayden Reed was still good for just 5.8 fantasy points. Cramping forced him to miss some time during the game, but he returned and should be considered healthy. Reed is an interesting prospect who should challenge for targets … "stash and hold" for me; no reason to consider playing him.
Drake London: We, as fantasy analysts, try to project production. We dig deep into trends and preferences. We look at usage rates. Basically, we collect all the information we can to formulate an opinion on a player/situation.
Call it what you want: it's an educated guess.
Atlanta, however, is taking the guesswork out of it. They don't want their passing game to be fantasy friendly. To them, that means the game script has gone sideways, and they are hellbent on preventing that. Don't believe me? Fine. But would you believe Arthur Smith?
Falcons coach Arthur Smith, told that Drake London had one fewer reception than Desmond Ridder in today's win: "Let the fantasy guys worry about that. We've got to clean some things up … We don't care. Drake London doesn't care. All we care about is 1-0."

— Greg Auman (@gregauman) September 10, 2023
Well, sir, the joke is on you. We no longer have to worry about it. We can't. After playing 90% of the snaps and seeing one whole target on 18 throws from Ridder, London can't be near fantasy lineups.
It's unlikely that there is a better option on your waiver wire, so I'd keep the talented London rostered and hope that we see some growth come mid-season for some plus-matchups as bye weeks begin to impact decision-making.
Tight Ends
Luke Musgrave: Musgrave was a popular TE streamer last week, given the carnage at the position, and a 3 for 50 day is fine. But that stat line is a bit deceiving.
Love dropped a snap, kicked it around on the ground, somehow recovered, and had the presence of mind to chuck it deep against a Bears defense that had abandoned all coverage assignments. The result was a 37-yard gain for the rookie, a goofy play that single-handedly saved his fantasy day.
I've already mentioned my concerns about the pace of play for this game, and if Watson is back in the target earning mix, Musgrave simply doesn't project to be involved enough to support a top-15 ranking at the position. If not, Musgrave still isn't a must start, but he would move to my TE13.
Kyle Pitts: The concerns for Pitts are identical to those of London, but the TE position has a lower bar to clear. Pitts is like a 50-degree day in the northeast in early March.
"That'll work! It's a little better than seasonable and a nice break from the winter we just went through."
London is like a 50-degree day in May.
"What is this nonsense? I thought we were getting close to summer."
You see? The same output can be viewed through two different lenses depending on expectations. By no means was Pitts a star in Week 1 (two catches for 44 yards), but him hauling in a 34-yard bomb in double coverage was enough of a spark to keep fantasy managers reasonably interested.
That's not to say he should be locked into lineups — he's TE11 for me this week. But due to the position he plays, Pitts simply cannot be dismissed the same way London can.
Las Vegas Raiders at Buffalo Bills
Spread: Bills -8.5
Total: 47 points
Raiders implied points: 19.3
Bills implied points: 27.25
Quarterbacks
Jimmy Garoppolo: Garoppolo wins ball games and played well in the Week 1 victory over the Broncos. Yet, he's still a ways away from mattering in standard leagues.
That said, there were some good signs that savvy fantasy football managers will store in their pocket for when the Raiders run up against potent offenses in Weeks 10-16:
Week 1 aDOT: Up 54.1% from last season
Week 1 Targets: Davante Adams and Jakobi Meyers combined for 73.1%
You know I believe in Meyers as a legitimate threat, and Adams is an all-world talent. If Garoppolo is going to be stretching the field consistently and locking into his primary playmakers, he could well emerge as an asset when bye weeks begin to wreak havoc.
Josh Allen: Man, was that Monday nighter ugly. Allen looked all out of sorts, as his 41 pass attempts netted just 236 yards (not to mention three picks) against a solid Jets defense that has given him problems in the past.
Allen's going to be fine (my top QB on the main DFS slate) and in rather short order. The Raiders allowed Russell Wilson to complete 79.4% of his passes last week and own one of the worst red-zone defenses in recent memory. Allen has seen the Silver and Black once in his life — 115.8 passer rating with three scores.
If you need another reason to trust Allen through the air, look no further than some goofy splits last season:
Home
7.6% pass TD rate
2.0% rush TD rate
Road
4.9% pass TD rate
8.1% rush TD rate
Running Backs
Josh Jacobs: The Broncos held Jacobs in check last week, and we have a mini-trend to keep tabs on: Jacobs hasn't had a run gain more than 12 yards in four straight games, nor has he broken a run of over 20 yards since that memorable 86-yard walk-off in Seattle last November.
Like I said, I have my eyebrow raised. Jacobs still received 19 of 20 RB touches for Vegas last week with three targets. The usage is nothing short of elite, and I generally trust this offense, so he's still a top-10 play for me, but I wouldn't mind seeing an explosive run sooner than later.
James Cook: With 18 opportunities in the season opener, Cook looked the part of a featured back in an offense that we expect to be among the best in the game, and that has him as a top-20 play for me in this juicy matchup.
We know Cook is a viable option on the ground (5.5 yards per carry across his 101 career carries), and he's seeing 3.6 targets per game over his past seven regular-season contests. There were some concerns this summer that Damien Harris would eat into Cook's role, but a 26-7 first-half snap edge in Cook's favor put that thought to bed in short order.
Damien Harris: His one carry was a valuable one from the 8-yard line, but if Damien Harris is simply a touchdown vulture on an offense where the quarterback is a bulldozer, he's not worth a roster spot. Not even close.
Wide Receivers
Davante Adams: This isn't an ideal matchup, and that's a fine reason to downgrade Adams, but only to the point where you're avoiding him in DFS. The talented Bills could shade his way, and we saw a concerningly low floor last season from Adams (under 40 receiving yards in five of eight games when failing to catch more than six passes), but the reliable target share combined with the scoring equity keeps Adams as a fringe WR1.
Jakobi Meyers: Last week was awesome! That is, until Meyers took an unnecessary shot to the head, abruptly ending his strong debut as a Raider (9-81-2). One of those scores came on Vegas' first drive, a play in which Garoppolo brought him across the formation and threw him a fade of sorts to the outside. Meyers is a name to keep track of, but not this week as he failed to pass concussion protocol in time.
Hunter Renfrow: Naturally, not every game is going to look like Week 1 for the Raiders. Pat Surtain II was draped all over Adams for most of the afternoon, leading to Meyers pacing the team in targets. Could Tre'Davious White do something similar and leave the slot on an island? Could that make Renfrow the spot start option of the week?
I think plugging and playing the slot machine could be getting a little cute in season long leagues where you have deep benches and no bye weeks to work around, but as a DFS punt play? Sign me up. I trust the process in terms of valuing the slot in this offense and don't forget, it was only back in 2021 when Renfrow caught 103 balls and put on a route running exhibition.
Stefon Diggs: Nothing to see here. On a day in which Allen was terrible, Diggs saw 33.3% of the targets and 43.2% of the receiving yards. The whispers of discontent are going to be there until this team gets on track, but the man is as safe as they come in the game.
Start Diggs with confidence in all season-long formats and always look his way if you're paying up in the DFS streets.
Gabe Davis: Davis was a little late on a route that resulted in an interception last week, and his 2 for 32 stat line was underwhelming, but expectations were in check against the strong Jets secondary that doesn't move Sauce Garnder around. I'm not worried. At all.
Allen's aDOT last week was down 36% from his 2022 rate, something I believe was matchup-driven and clearly puts Davis in a spot to fail. That's not going to be the case this week against a Raiders team that allowed a conference-high 7.0 yards per pass attempt in 2022.
MORE: Fantasy Football Sleepers Week 2
Could this game be a shootout? It's certainly possible with a projected total in the upper 40s, so it's worth noting that Davis has seven touchdowns in his 11 career games with at least four receptions.
Building on that thought, last season, the Seahawks and Raiders got into a back-and-forth game. In that contest, DK Metcalf dominated the targets in a Diggs-like way (40.5%), while Tyler Lockett was used as the field stretcher and paid off with a 35-yard TD.
If you want to buy low on Davis, your window is closing. He's a WR3 for me in all formats and very much a DFS target.
Tight Ends
Dalton Kincaid: The Bills came out of the gates with both Kincaid and Dawson Knox on the field with regularity, potentially a sign that they don't trust their WR3 situation and prefer the added beef by way of two-TE sets. Assuming that remains the case, neither Bills tight end is worthy of a roster spot in most formats.
Having said that, Kincaid caught all four of his targets in his debut (26 yards) and is worth keeping an eye on. I think you can do better at the position for Week 2 and have the rookie ranked outside of my top 15.
Baltimore Ravens at Cincinnati Bengals
Spread: Bengals -3.5
Total: 46 points
Ravens implied points: 21.25
Bengals implied points: 24.75
Quarterbacks
Lamar Jackson: The study of Lamar Jackson is an interesting one. Personally, I'm in his camp, but as a sharer of information, I find it my duty to give you both sides of the argument.
The Good: In his first week under Todd Monken, Jackson completed 77.3% of his passes despite being without Mark Andrews. Yes, it was a cushy landing spot in Houston, but passing confidence for an athlete like Jackson cannot be overstated.
Speaking of confidence, the connection with rookie Zay Flowers (nine completions on 10 targets for 78 yards) was well ahead of even the most optimistic projections.
Jackson checked the boxes we needed to see him check in Week 1 while also leading the team in rushing. J.K. Dobbins' torn Achilles gives Monken every reason to increase the drop-back rate, thus opening Jackson up to more of those school-yard plays that pile up fantasy points.
The Bad: Desmond Ridder and Bryce Young scored more fantasy points last week than Jackson. He averaged under 10 yards per completion and was unable to find the end zone, two traits that seriously cap fantasy potential.
Jackson's most recent game against the Bengals was Week 5 of last season. His 44 opportunities netted just 14.8 fantasy points. That's 40.3% fewer points per opportunity than he averaged last season.
Jackson is my QB6 this week. I'm buying in and willing to talk trade if the manager with him is the least bit concerned.
Joe Burrow: Joe Cool was anything but that in Week 1 (82 pass yards). He and the Bengals put up the most disappointing offensive showing of the week. It was ugly. Very ugly. But was it that unexpected?
Brian Blewis on the PFN Betting Podcast highlighted the slow Burrow start to last season after limited work in the preseason — three passing TDs on 89 attempts through two weeks with four interceptions and just six yards per pass attempt — as to why he is fading Cincy to open this season. He was spot on.
Burrow just didn't look right last week, and this matchup isn't going to do him any favors. In his past three games against the Ravens, Burrow has just three TD passes (109 attempts), though he did rush for a score in two of those games.
It's very possible that his struggles carry over into this game and get ironed out with time, but if I have Burrow on my fantasy roster, I'm rolling him out there this week (my QB9). I like him more than I like the other fringe pocket passers, and the QBs in this range who rely on their legs lack the overall offensive upside to match Burrow.
Running Backs
JK Dobbins: Dobbins' season is done after tearing his Achilles in Week 1. When this season ends, Dobbins will have appeared in 24 of 66 (36.4%) possible regular-season games in his four NFL seasons.
Gus Edwards: I have Edwards projected as the lead back in Baltimore's offense moving forward, which lands him on my Flex radar. His lack of versatility and competition by way of Justice Hill cap his ceiling, but Edwards has been efficient when featured — 87.7 rush yards with 0.6 TDs per game for his career when getting more than 15 touches — and that elevates his floor to a point where I'm comfortable.
For reference, I prefer Edwards to either RB in Washington or with the Rams.
Justice Hill: Hill scored twice last week, both on two-yard plunges, and maybe that's his role. He's never had more than 10 carries in an NFL game, a trend that makes Edwards my preferred option in this new-look backfield.
Hill was a popular waiver wire addition this week, which he should be. I'm just not sliding him into starting lineups without assurance that I can count on 12-15 touches.
Joe Mixon: The veteran running back was the lone Bengal that gave fantasy managers something of use (73 total yards with three catches) in the Week 1 loss.
Mixon continues to be a high-floor RB that you can count on, but for whatever reason, his TD equity spikes at home. All seven of his rushing scores last season came at home, a season after nine of 13 did. This trend is likely just the result of Cincinnati's offense as a whole being more comfortable in those spots.
Mixon's role keeps him as a low-end RB1 in our Week 2 PFN Consensus Rankings, though his capped ceiling keeps him off of my DFS radar. In his three games against Baltimore last season, Mixon ran 36 times for 144 yards and didn't have a single carry gain more than 12 yards.
With four prime-time games this week, the DFS slate is thinner than normal, but I'd still prefer Aaron Jones or Jahmyr Gibbs in Mixon's general price range.
Wide Receivers
Zay Flowers: Have yourself a debut, kid! Flowers earned a 47.6% target share and had more catches (nine) than the rest of his teammates combined (eight).
The numbers are one thing, but the agility and comfort are another. I expect Jackson to gain comfort in Monken's offense with time, theoretically putting Flowers in a spot to really return a profit on his draft price this summer. I have Flowers ranked as a top-30 receiver that I am comfortable starting.
Rashod Bateman: Bateman caught all three of his targets last week (35 yards), but if we're talking under 15 yards per catch, he's going to struggle to crack fantasy lineups. Bateman's a big-play threat that will have his moments as this offense develops. That much I feel good about. Having said that, his target earning abilities are a question mark, and without volume, his floor is simply too low to play right now.
Odell Beckham Jr.: See Bateman, Rashod. The volume of opportunities is something I need to assume in Baltimore before assuming it. Both Beckham and Bateman should remain on rosters because Baltimore's offense has too much potential and too few reliable receivers. However, neither should be sniffing your lineup.
Ja'Marr Chase: Week 1 was obviously ugly for this passing game, but Chase did manage to earn a 29% target share. Of course, he turned that usage into just 6.4 fantasy points. Not ideal.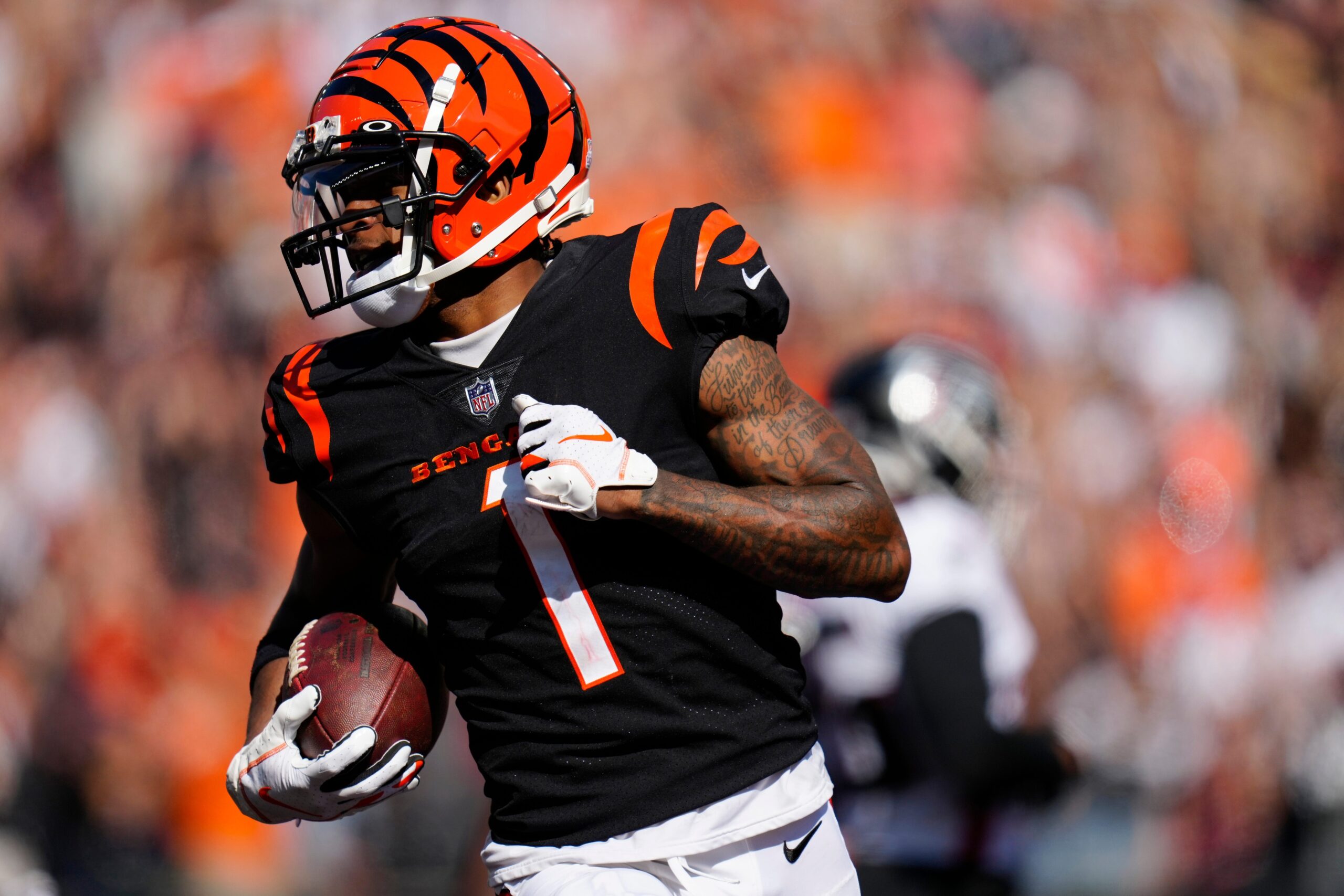 Burrow threw 37.5% of his targets to Chase against these Ravens in last season's playoff meeting, a level of involvement that will land him inside the top 15 wide receivers in most weeks. Don't let last week impact your decision-making this week: Chase is my WR8.
Tee Higgins: You're just going to have to trust the process here. I don't think there's anything I can tell you to make you feel better about the zero-point, eight-target performance against the Browns. Higgins also struggled in his two games against Baltimore last season (44 yards on 13 targets), so I understand wanting to explore other options, but I'm hanging in there and have Higgins as a viable WR2.
I lied. I can make you feel better.
Higgins saw just two targets in last season's opener, and guess what? Everything was fine. He saw 10 targets the next week, totaling 71 yards and found the end zone. Better times are ahead for everyone attached to this offense, and Higgins is no exception.
Tyler Boyd: He's fringe fantasy relevant when the Bengals' offense is cooking, so Boyd's completely off the radar as Burrow works himself into form. Even if you're in a pinch due to injuries elsewhere, Boyd still is not a must-roster player, though I understand if you want to have him as insurance should something happen to Chase or Higgins.
Tight Ends
Mark Andrews: The hope is that the quad injury that cost Andrews Week 1 isn't the type of thing that lingers. And as long as the Ravens are comfortable in playing him, fantasy football managers should be too.
Andrews has seen at least 10 targets in each of his past three games against the division-rival Bengals, and he should be heavily relied upon in his season debut. Don't get cute here.
Irv Smith Jr.: The three-reception, 17-yard Week 1 stat line didn't raise any eyebrows, and it's likely that your league-mates aren't remotely interested. That's fine, you're smarter than them.
Can we agree that not every Bengals game is going to be as ugly as last week? If so, should we not be intrigued by the idea that Smith ran a route on 80% of his snaps? Of course, some of that was a result of game flow, but still … that's a rate worth monitoring.
Smith isn't a fantasy football starter this week and doesn't even need to be rostered. He just needs to stay on the radar for those of us who are streaming the position.
Seattle Seahawks at Detroit Lions
Spread: Lions -5.5
Total: 47 points
Seahawks implied points: 20.75
Lions implied points: 26.25
Quarterbacks
Geno Smith: We preached this summer that regression was a concern for Smith, a QB who struggled for a decade prior to his breakout 2022 season. Well, that certainly was the case in a pitiful season opener that saw him pass for just 112 yards against an undermanned Rams defense.
As bad as the passing was, it was the one carry for six yards that truly scared me. The best way for Smith to offset any backward steps taken through the air is to repeat the rushing numbers from last year.
On the bright side, Smith totaled 369 yards and three scores against these Lions last season. He still carries plenty of upside in a game that could easily be a shootout, though the risk does have him outside of my top 10 at the position.
Jared Goff: Goff held his own at Kansas City last week (22 of 35, 253 yards, and a TD) and found three different receivers on 20+ yard passes. I was impressed by his ability to target Amon-Ra St. Brown without locking in on him, as he funneled 5+ targets to four different players.
Last season, one of every 13.9 of Goff's passes at home resulted in a touchdown — night and day from his road rate of 44.7. Detroit's defense looked good against the Travis Kelce-less Chiefs in the opener, but I'm still not labeling this unit above average, and they could put Goff in a spot where he needs to light up the scoreboard.
These two teams combined for 93 points in their Week 4 meeting last season. Goff had 26 completions, 378 yards, and four TDs, and while that's not likely to happen again, him at home with extra time to prep has me trending toward labeling him among my favorite non-mobile options on the Week 2 board.
Running Backs
Kenneth Walker III: KW3's stat line against the Rams wasn't overwhelming (67 yards on 16 touches), but the usage and health were both encouraging. A nagging groin injury limited Walker for points last week, but he entered Week 1 without an injury designation, and the 'Hawks were clearly confident in him.
Walker had nine carries (53 yards) before Zach Charbonnet got his second tote of the season, a role that has him ranked as an RB1 for me this weekend.
Last season when these teams met, Seattle ran for 235 yards and not one, not two, but three scores. Walker is an explosive talent, and I expect your "buy semi-low from a manager who is overly reactive" window to be slammed shut by Sunday evening.
Zach Charbonnet: Talk of a committee in Seattle drove content this summer, but it simply didn't come to fruition last week. The rookie played just 11 snaps to Walker's 32 — seven of those resulting in a route run.
Charbonnet isn't anywhere near fantasy lineups this week, though he very much should remain rostered, given that he's a groin flare-up from Walker away from walking into a 15-touch role in an offense that I still think is plenty capable of putting up big numbers.
Jahmyr Gibbs: I was hoping for more than two targets in his NFL debut last week, but Gibbs did haul them both in and was able to flash on the ground with an impressive 18-yard run that he bounced to the outside.
There is no — zip, zero, nada — doubt in my mind that he offers more per touch upside than David Montgomery, but with the veteran getting 21 carries in the win over KC, Gibbs' touch ceiling for the moment is capped in a significant way.
Last season, the Lions played up-tempo, high-scoring contests at home, and if you believe this game takes on that look, Gibbs' welcome to the NFL moment could come this weekend.
David Montgomery: He out-snapped Gibbs 54-19 last Thursday night and found the end zone on an impressive eight-yard burst that proved to be the game-winner. That's the good. The bad? That touchdown run was Montgomery's longest run of the night (21 carries), and he didn't earn a single target.
I compared this backfield to the Saints during Alvin Kamara's rookie season, a year in which Mark Ingram handled the between-the-tackles work and essentially finished with a two-to-one carry edge over the talented rookie.
In that 2017 season, both Ingram and Kamara held value, and I think that's the case in this situation as well. But if one back is going to trend down with time, Montgomery is easily my pick to do so.
Wide Receivers
DK Metcalf and Tyler Lockett: This tandem is going to be locked into fantasy lineups most weeks, and this matchup is no exception. When these two teams last squared off, this dynamic duo earned 62.1% of targets and accounted for 75% of Seattle's receiving yards.
By no means am I setting the expectations for this week that high, but I do expect there to be plenty of points scored in this game, thus making both of these proven stars worthy of your trust.
Jaxon Smith-Njigba: After what Flowers and Puka Nacua did in their respective debuts, it was easy to miss the fact that JSN earned a 20.8% target share in an offense with two established stars. That's an impressive introduction to the NFL, even if it didn't net much use to fantasy managers (2.8 fantasy points).
I remain skeptical that Seattle's offense can sustain three viable pass catchers, and that is why I'm lower on Smith-Njigba for the rest of the season. However, I will admit that the talent is real and that he's an injury to Lockett/Metcalf away from flirting with Flex status.
Amon-Ra St. Brown: St. Brown scored the first touchdown of the NFL season on a nice nine-yard catch and run, the start of what could be a truly special season. The lone knock on The Sun God entering the season was his scoring potential (all six of his scores last season came at home), but Week 1 was a good start at proving that to be a myth.
The only decision you face with St. Brown is how much DFS exposure you want on him. He carries an appealing floor, and given how the Lions play indoors, the ceiling is borderline elite in spots like this.
Josh Reynolds: Reynolds led the Lions in receiving yards last week (80 yards on seven targets) and was targeted on a deep pass on the second play of the game, something that hints that he was scripted entering the game.
Reynolds came through that game with a 36.4% share of the air yards (10.7 per target), a role that comes with upside but also plenty of downside.
Strong route runners or burners create separation and thus open up fantasy potential. Makes sense, right? Despite the field stretching role, St. Brown and Sam LaPorta created more average separation than Reynolds. That's a red flag that has me thinking what we saw in Week 1 was more of a flash in the pan than anything you need to truly react to.
Tight Ends
Sam LaPorta: LaPorta proved himself a capable NFL player in his debut last Thursday, but in our fantasy world, it's going to be an uphill battle.
The rookie saw a 15.6% target share last week and caught every one of his targets. Yet, he netted 6.4 fantasy points. The per-target upside simply isn't high enough to have my attention in annual leagues, though I do think he holds value to this Detroit team.
Los Angeles Chargers at Tennessee Titans
Spread: Chargers -3
Total: 45 points
Chargers implied points: 24
Titans implied points: 21
Quarterbacks
Justin Herbert: What we saw from the Chargers (40 rush attempts against 33 pass attempts) is something I very much expect to be the exception and not the norm. The success on the ground resulted in Herbert throwing for only 228 yards and a score in the shootout with Miami, though his TD plunge did help him save face for our purposes.
It's worth noting that Herbert failed to throw a touchdown on 42 attempts against these Titans in Week 15 last season, but again, not something that I'm worried about. Tennessee's secondary is full of holes and gave up over 60 receiving yards to three Saints in their Week 1 loss.
There should be absolutely no concerns about Herbert this week (even if Austin Ekeler were to sit). He's a top-five option at the position for me.
Ryan Tannehill: It's never good news when your WR1's target count is higher than your QB rating, but that is exactly what happened in New Orleans last Sunday for Tannehill. We never expect volume from Tennessee, but this level of inefficiency is next level.
Tannehill is a borderline starter in two-QB formats, even against a defense that gave up 466 yards to Tua Tagovailoa last week.
Running Backs
Austin Ekeler: An ankle injury landed Ekeler on the injury report coming out of Week 1 and has been officially ruled OUT for this game.
Joshua Kelley: Kelley essentially matched Ekeler in snaps (trailed 41-38) while carrying 16 times, but his time on the field was more a product of a high play volume across the board. Regardless, he projects as the man in the backfield of an explosive offenses and that deserves your attention, even if efficiency is unlikely.
On a per-carry basis last season, the Titans were the best run defense in the NFL (3.4). That means that a bet on Kelley is more of a bet on volume than per touch production.  Kelley squeaks onto my FLEX radar, but I believe it is the pass catchers in this offense who gain the most value from this injury.
MORE: Fantasy Football's Week 2 Burning Start/Sit Questions
Kelley can be rostered as insurance, but I don't have much confidence that he holds standalone value at any point this season when Ekeler is healthy.
Derrick Henry: How did the Titans keep this thing close last December when they played? The usual — Derrick Henry.
Henry ran for 104 yards and a score while also finding time to lead Tennessee in receptions (four) and receiving yards (59). There are going to be weeks to fade The Big Dog on DFS or lower him in annual ranks, but this ain't it. If Tennessee manages to keep this tight, Henry is finishing closer to RB1 than RB10 this week.
Wide Receivers
Keenan Allen: The veteran receiver racked up a 29% target share against the Dolphins last week. His fantasy day (six catches for 76 yards) could have been much better if he wasn't tackled on the inch-yard line (initially ruled a touchdown).
Allen caught 8 of 9 targets in this meeting a season ago, and I expect similar success this time around. Due to the volume of this passing game, the floor here is appealing, and if a 36-yard bomb early in Week 1 is a sign of things to come in terms of his route tree, Allen will be in the top-10 conversation at the position before the month ends.
Mike Williams: Week 1 was textbook Williams in the eyes of skeptics: He missed time with an injury, disappeared for other chunks, and picked up 34% of his fantasy points when the defense was in prevent (17-yard catch on 3rd-and-29).
Rome wasn't built in a day, people. Herbert's rate of throwing 20+ yards downfield was up in Game 1 under Kellen Moore, and that is fueling my optimism in having Williams again ranked as a low-end WR2 this weekend.
Rashid Shaheed and Chris Olave both burned this Titans secondary for 40-yard receptions last weekend, and Williams remains the Charger most likely to expose that weakness. He's locked into lineups, especially given his growing target expectation with the Ekeler news.
Quentin Johnston: Is it possible that we overestimated the depth of pass catchers in a Moore-led offensive attack? Johnston was hardly on the field prior to Williams leaving with the head injury and finished with just 11 yards on three targets.
The big physical profile remains appealing, but appealing in the same way that Josh Palmer made sense in this offense last season — only if one of the top two wideouts is sidelined.
DeAndre Hopkins: You've heard the saying that a "rising tide lifts all boats"? Well, in Tennessee, a lack of tide grounds all boats.
Hopkins earned a 39.4% target share at full strength with no weather concerns in Week 1 and finished with just 10 fantasy points.
Let me put that a different way. One of the better receivers of this generation saw 13 targets and was outproduced for the week by Nico Collins and Josh Reynolds. Nuk was clear and away the top threat in this passing game — targeted on 12 of 36 routes while Nick Westbrook-Ikhine and Treylon Burks combined for 10 looks on 71 routes — and he finished as WR29 for the week.
That's right where I have Hopkins ranked for this week. He's firmly in the "talented receiver whose quarterback I can't trust tier" with guys like Terry McLaurin, Garrett Wilson, and Christian Watson.
Treylon Burks: I understand that he missed time this preseason, but a 9.1% target share in Week 1 just isn't going to cut it. This low-volume offense is going to have issues supporting a single viable fantasy receiver, and if Burks can't earn targets at a plus-15% clip, he has no real chance to ever crack my top 40 at the position.
His profile looks a lot like that of Drake London's at the moment (talented prospect lacking opportunity), and that has him a ways away from my starting lineup until I see something different for consecutive games.
Tight Ends
Gerald Everett: As mentioned previously, the balance shown in this offense last week is not something I expect to sustain, which means better days are ahead for Everett (two catches for 21 yards vs. Miami).
I'm holding Everett steady as a fringe top-10 tight end the rest of the season, and a leaky Titans pass defense is as good a time as any to pay off that optimism.
Chigoziem Okonkwo: A game plan void of ways to get this athlete the ball could have all been forgotten if Tannehill could have put the ball in his zip code on a trick play run to perfection, but, alas, such is life as a Tennessee pass catcher these days.
I still think the physical tools are in place to offer upside in the right spots, but until we see this passing game improve, Okonkwo's an afterthought in all formats and ranks outside my top 15 at the position for Week 2.
Chicago Bears at Tampa Bay Buccaneers
Spread: Buccaneers -2.5
Total: 41 points
Bears implied points: 19.25
Buccaneers implied points: 21.75
Quarterbacks
Justin Fields: Maybe the Packers' defense is better than I gave it credit for entering this season, but I was still underwhelmed with Fields' production as a passer — and I didn't set the bar all that high.
After completing just 60.4% of his passes and averaging 7.1 yards per attempt last season, all Fields had to do was show incremental signs of growth for me to push all the chips in on a repeat elite season.
Didn't happen.
Poor coverage led to the 23-yard Darnell Mooney touchdown. Without that, we're talking under 5.4 yards per pass. Simply put, Fields has to be better if he's going to pay off the capital you spent to acquire him this summer.
The nine carries for 59 yards is status quo at this point (the equivalent of a 48-yard TD pass), elevating his fantasy floor to that of a top-12 QB. I have Fields flirting with the top five this week against a Bucs defense that allowed Kirk Cousins to complete 33 of 44 passes for 344 yards. Show me something, Fields. I want to believe in your growth!
Baker Mayfield: Mayfield had 35 passing yards prior to hitting Mike Evans down the middle for a 28-yard touchdown on his last pass of the first half. He looked fine after the slow start (173 yards and two touchdowns), but the fact that he was basically shut out for an entire half by a pitiful Vikings defense is concerning.
I don't doubt that Mayfield is eventually going to have a big week, and hopefully, you identify it in DFS spots. That said, he's not worth the risk in anything besides 2QB formats, not even against a Bears defense that gave up 245 yards and three scores on 15 Jordan Love completions.
Running Backs
Khalil Herbert: The ground game was largely scripted out of Chicago's Week 1 loss to the Packers (no Bears player had 10 carries), and thus, Herbert let fantasy managers down. That's going to happen a fair share of times this season, but it's unlikely to be an issue against this woeful Bucs team.
On the plus side, the previously one-dimensional Herbert was responsible for 55.9% of Chicago's first-quarter receiving yards. Now that's interesting! If that role is his, Herbert profiles as a nice buy-low option. Understanding that, Roschon Johnson led this backfield with 29 snaps, followed by Herbert's 27, and D'Onta Foreman's 21 (all ran 13-18 routes).
Herbert is my favorite back in Chicago, but against a stingy Tampa Bay run defense, no one in this backfield needs to be considered.
Roschon Johnson: The rookie got the meaningless touchdown with under three minutes left of the blowout Week 1 loss, and I don't care. It was good to see him on the field, but he wasn't used at all when this game was competitive, making me think that he's still a ways away from threatening Herbert's spot atop this depth chart.
D'Onta Foreman: Herbert is my favorite in this backfield, while Johnson has role upside, which leaves Foreman with — nothing. Foreman doesn't need to be rostered in any format.
Rachaad White: White is a great example of the divide in fantasy and reality. Football purists hate White's inability to get even what is blocked, citing his lack of explosion and vision as fatal flaws. On the other side, fantasy idiots like me get sucked in by the sheer volume that comes with the role that he currently holds (19 opportunities and 65.4% of RB carries).
White held a 54-10 snap edge over Sean Tucker, the rookie out of Syracuse that the football guys want to replace White. Could that happen with time? Sure, but this is a Week 2 column, and for right now, White's role against an iffy Bears defense makes him a low-end RB2. The floor is appealing, even if it comes without access to much of a ceiling.
Wide Receivers
DJ Moore: Two targets?!? We were told all offseason that the Bears brought in Moore to give Fields an alpha pass catcher to help him develop, and all he could do was earn two targets against a below-average Packers secondary?
Jaire Alexander is on that Packers defense and played a role in limiting Moore, but still. Two targets? As disappointing as last week was, I think you can go back to the well and label Moore as a top-25 player at the position.
The Bucs showed no ability to detour Kirk Cousins from throwing to his early reads — Justin Jefferson and T.J. Hockenson combined for a 47.7% target share — and I still trust Moore to be that for Fields.
Darnell Mooney: We talked up Mooney as a viable punt play on the DFS podcast (every Thursday afternoon) last week against a Green Bay defense that is vulnerable downfield, and it worked out! But do you know how many of his 13.3 fantasy points from that game count this week?
Zero.
Mooney has yet to prove himself as a consistent target earner at the professional level, and one week with a 19.4% share isn't nearly enough to force me to believe otherwise. He was a top-20 receiver last week, but he's not a top-50 option for me this week, even against a bad Bucs pass defense.
Chris Godwin: Godwin caught 83.3% of his Week 1 targets (teammates: 61.5%) and appears ready to hold a nice high-floor role. While the ceiling isn't too high, Mayfield's skill set trends in the favor of Mike Evans if one of these receivers is going to have a slate-breaking performance.
Godwin is a fine WR2 against a Bears defense that struggled to stop the YAC attack of the Pack in Week 1.
Mike Evans: Evans' 28-yard touchdown during the two-minute drill last week saved your skin. Without that play, his nine targets turned into just 38 yards.
Could this be an explosion week? It's certainly possible, but Godwin will be the higher ranked of the two for me on a weekly basis due to the safety in his role. Having said that, Evans' upside in this specific matchup makes him a strong Flex play and my preferred GPP play of the two.
Tight Ends
Cole Kmet: Kmet was one of three Bears to see seven targets last week, and he turned in a viable TE line of five catches and 44 yards. This plus-matchup has Kmet on my radar in deep leagues, but I'm chasing volume at this position. And with limited attempts always being the projection in Chicago, Kmet is nothing more than a dart throw that carries a low floor.
Cade Otton: He earned just three targets against the Vikes in Week 1, and that's about what we can assume moving forward. Neither the quality nor the quantity of targets is nearly high enough in this Mayfield-led offense to justify plugging in Otton.
Kansas City Chiefs at Jacksonville Jaguars
Spread: Chiefs -3.5
Total: 51
Chiefs implied points: 27.5
Jaguars implied points: 24
Quarterbacks
Patrick Mahomes: We entered this season thinking that Patrick Mahomes could do everything: star in Subway commercials, win Super Bowls, walk on water, and lead the league in passing sans Tyreek Hill. We learned last Thursday night that he is incapable of something, and that is catching his own passes.
Plagued time and time again by dropped passes and missed opportunities, the Kansas City Chiefs struggled to 20 points, and Mahomes hurt those who spent up on him during the draft.
Relax. Not only did he still fire off a pair of touchdown passes despite his teammates' efforts to prevent that from happening, but he also led this team in rushing with 45 yards. The athleticism is something we've seen from No. 15, but he usually saves it for the postseason when the games count more.
With Travis Kelce back in action, there is no reason to think of Mahomes as anything less than a Tier 1 quarterback in another potential shootout spot. Fire him up with the utmost confidence, and if the manager in your league is displaying even a glimpse of concern, please make a reasonable offer now!
Trevor Lawrence: It was a gutsy effort from Trevor Lawrence when these two did battle a season ago (completed 29 of 40 passes for 259 yards, two TDs, and 26 rushing yards), and I'm expecting another fine fantasy day this time around. With Kelce back, is there any doubt that the Chiefs offense will be back to elite form, thus forcing the Jacksonville Jaguars to keep pace through the air?
Last season, Lawrence was asked to air out 35+ attempts eight times, and in those eight games, he averaged 299.9 passing yards and had at least three TD tosses four times. The upside is elite in this spot, while the projectable floor still puts him in the top 12 at the position.
Running Backs
Isiah Pacheco: The season opener wasn't a thing of beauty (54 total yards), but it wasn't as bad as the box score indicates. Isiah Pacheco was tackled inside the 5-yard line on a tough run, and if that gains a few more feet, we are viewing his Week 1 very differently. The near score combined with setting a career-high mark in targets (four) are signs that point to better things ahead.
Of course, Clyde Edwards-Helaire and Jerick McKinnon getting the first series last week was less than ideal for us Pacheco truthers, but the promise of a pass-catching role and the near miss in scoring position has me digging in my heels.
Pacheco is again an RB2 for me this week in a spot where the Chiefs should more resemble the dynastic team we've seen during the Mahomes era than whatever that was that we saw in the Kelce-less opener.
Jerick McKinnon: There were seven Chiefs with at least three targets last week against the Lions and six that had a carry … McKinnon's name was absent from both lists. Championship banners hang forever, so what McKinnon did for you down the stretch of last fantasy season isn't going away, but until there are any signs of the Chiefs actively carving out touches for this specialist, he needs not be rostered.
Travis Etienne: The offseason concerns about Travis Etienne's role in this offense seem to have been overblown. The second-year back ran 30 routes (five receptions for 27 yards) and held a 56-15 snap edge over Tank Bigsby, dismissing the thought that this could be a committee situation.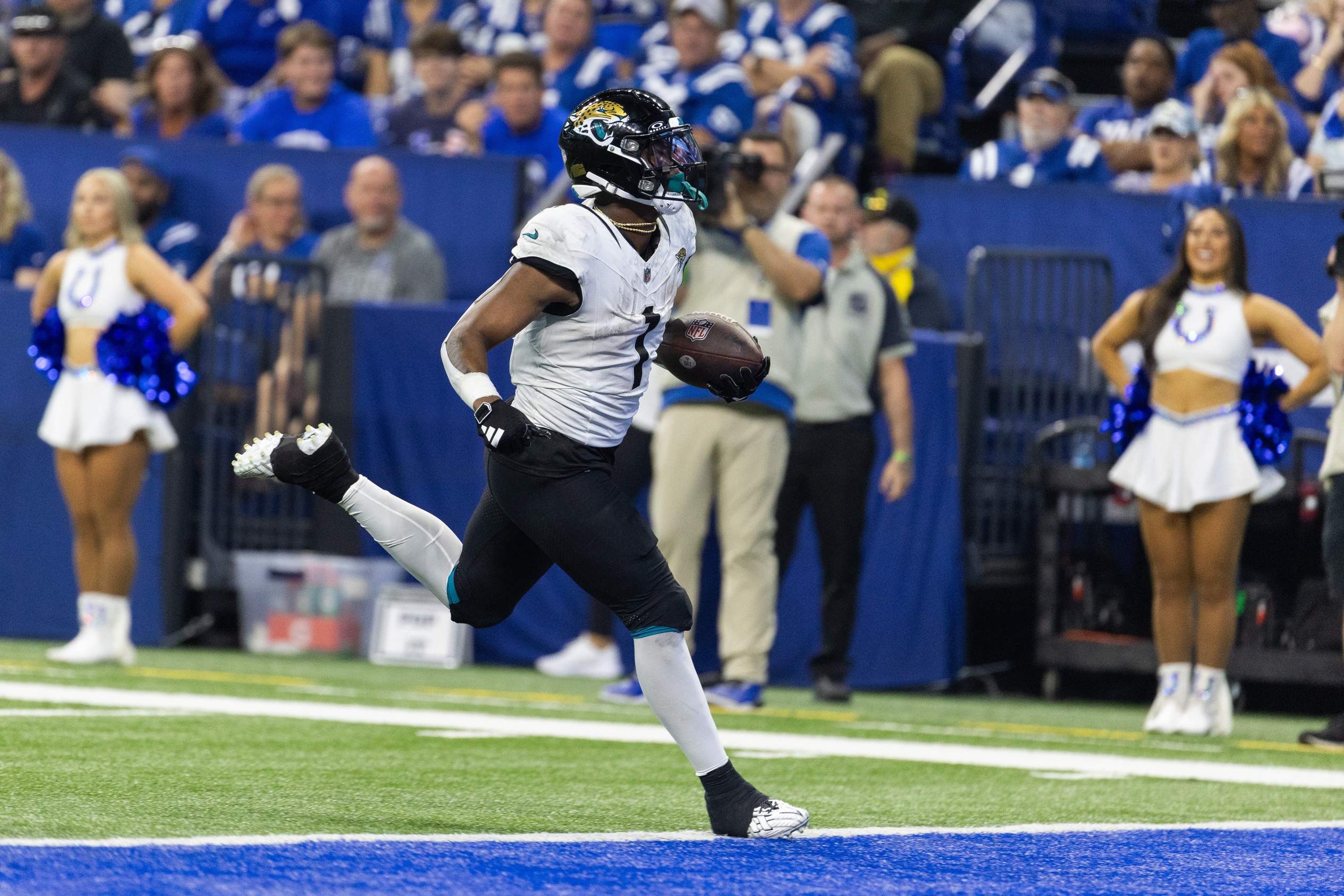 The 18 carries for 77 yards and a touchdown for Etienne were impressive, but let's get back to that involvement in the passing game. He came out of Clemson with a versatile profile that didn't really present itself last season.
Was the career-high five catches a red herring or a sign of skill development? I'm willing to bet on the latter in this projected shootout, and thus he ranks as a top-15 running back for me against the Chiefs.
Tank Bigsby: The rookie punched in what proved to be the game-winning one-yard touchdown with 5:14 remaining against the Indianapolis Colts, and that was encouraging.
The fact that he was on the field at that point in a close game is a good sign of his potential and means he needs to be rostered in all formats, but this offense isn't built to sustain two RBs. Bigsby makes for good depth and is a way to get a piece of this offense on your roster. Nothing more. Not yet.
Wide Receivers
Kadarius Toney: He had as many dropped passes that resulted in a pick-six as receiving yards in the opener … that's hard to do. As bad as the box score was, he was on the field for just three of 13 first-quarter offensive snaps in a week without Kelce.
Kadarius Toney's calling card isn't one of volume, and maybe he'll be more involved as he proves healthy, but the Week 1 showing raised plenty of red flags. On the bright side, his abysmal 2023 debut came in a week in which none of his teammates stepped up as the WR1 in this offense. Bench and hold — for basically all of your K.C. receivers.
Skyy Moore: A catch-less opener didn't exactly reward patient fantasy managers who were willing to write off a 22-catch rookie campaign, and it looked as bad as the stat line suggests. On the bright side, Skyy Moore celebrated his 23rd birthday on Sunday, and maybe that is the positive mojo he needs.
There's no world in which you're considering Moore this week, and if you want to move on, I'd understand. But did you draft him thinking he was going to rattle off 17 viable games? My guess is no, so I'd refrain from making too many roster decisions after a single game, especially when the fulcrum of the offense didn't have pads on.
Rashee Rice: The rookie led the Chiefs in target last week and hauled in a touchdown pass, giving him the inside track to be Mahomes' receiver of choice. For now. Will that last? Probably not. I don't think any receiver on this roster is consistently going to be fantasy viable, but Rashee Rice holds something in his NFL résumé that neither Toney nor Moore do: We've yet to be let down by him.
Marquez Valdes-Scantling: MVS made a nice 34-yard catch to extend the successful two-minute drive at the end of the first half last week … and that was the last target he earned. The idea behind Marquez Valdes-Scantling was never that of a high-volume option, but two targets in a game where Kelce sat, every other receiver was putting the ball on the turf, and Mahomes threw 39 passes is as underwhelming as it gets.
The quality of fantasy targets that MVS sees makes him a viable weekly DFS option (he did have an 18-yard TD in this matchup last season), but until he proves capable of earning 5-7 targets a week, he shouldn't be anywhere near starting lineups.
Calvin Ridley: As it turns out, Calvin Ridley did not, in fact, forget how to play football after the extended absence. Lawrence made it a point to get him involved (six targets before any other Jaguar had two) and found him in the end zone for a nine-yard TD.
The touchdown came on a Lawrence scramble situation, meaning that Ridley proved not only the ability to find holes but also the ability to communicate non-verbally with his quarterback. You love to see it. I didn't expect to see something like that from Ridley in September, but now it's all systems go, and he's on the WR1 fringe.
Zay Jones: Do you think Lawrence has a top-notch season in his range of outcomes this year? Many of the non-uber athletic quarterbacks in that tier have two viable pass catchers, and Zay Jones certainly seemed to fill that role in Week 1 (18 more snaps and eight more routes run than Christian Kirk).
Jones caught eight passes against the Chiefs last season, but the fact that none of them gained even 15 yards is a concern. In that game, 66.8% of Lawrence's passing yards went to his top two receivers, and if that happens again, Jones is going to finish as a top-25 receiver. I'm a little less bullish at WR33, though he is on the Flex radar for teams that are loaded with upside elsewhere and want a nice floor play.
Christian Kirk: Boxscore watchers will cite the fact that Kirk caught 9 of 12 targets for 105 yards and two touchdowns against the Chiefs last season, but Week 1 made it clear that his role is not one of a fantasy asset at the moment.
Could that change? Will the slot role increase in value as teams adjust to how they defend Ridley? Those things are certainly possible and are reason enough to keep Kirk rostered, just not in your starting lineup.
Tight Ends
Travis Kelce: The All-World tight end missed the Week 1 loss against the Lions after suffering a mid-week injury, but even on that broadcast, there was optimism that he would be ready to roll in this spot.
It goes without saying that Kelce is a lineup lock, but the fact that the Chiefs, with a fully healthy Mahomes against an iffy Lions secondary, didn't have a player crack 50 receiving yards in Week 1 tells you what Kelce means to this offense.
He's Steph Curry in that his being out there creates space and options for everyone else. In theory, you'd expect Kelce's target-earning prowess to take value away from his teammates, but the opposite was proven true last season in that the attention he draws actually holds more value than any dip in looks. Fire up Kelce with confidence and bump his teammates up a touch now that he is back on the field.
Evan Engram: Evan Engram is in that middle tier of tight ends that should be started weekly but never counted on for a matchup-changing performance. I have him ranked as TE5 because I trust him to be running routes in a game I think totals over 50 points.
He caught five balls for 49 yards against the Colts last week, a stat line that he could replicate in this spot (that was just one fantasy point away from ranking as TE4 for the week).
Indianapolis Colts at Houston Texans
Spread: Colts -1
Total: 39.5
Colts implied points: 20.3
Texans implied points: 19.3
Quarterbacks
Anthony Richardson: We did it! After a preseason of wanting to see Anthony Richardson flash his fantasy potential, we finally got a glimpse of just how friendly his profile is. The 47 opportunities (passes + rushes) is the number I liked the most from his NFL debut — he almost can't fail if that usage is here to stay.
When you dig a little deeper into the play-calling, you'll be even more encouraged. The Indianapolis Colts called three straight pass plays to open their season, something that tells me that they are confident in Richardson and not just trying to control the tempo.
His rushing TD came by way of a draw from two yards out, and we know head coach Shane Steichen is more than willing to let his QB call his own number in close.
The rookie slips just inside my top 10 at the position this week and could well prove to be in that second tier of fantasy signal-callers before long. Giddy up!
C.J. Stroud: On the bright side, I didn't think C.J. Stroud looked scared in his debut. He doesn't matter in redraft (5.5 yards per pass with limited rushing potential and no real scoring upside) and isn't even a must-start QB in Superflex leagues, assuming he is active.
Running Backs
Deon Jackson and Zack Moss: Deon Jackson had the opportunity to establish himself as "the guy" in this backfield last week with Zack Moss (forearm) sidelined, and — well — he didn't take advantage. The Jags held him to 14 yards on 13 carries and 14 yards on six targets.
Those struggles should allow Moss to lead this team in touches as he returns to action, a noteworthy role for DFS GPP players, given that Moss posted an 18-114-1 rushing line against Houston last season.
The horizontal threat of Richardson figures to open up interior running lanes, and that makes this backfield worth having a piece of on your bench. Evan Hull (knee) is on injured reserve, and that could mean these two combine for 25-ish touches. I don't have either of these backs ranked inside of my top 35, so feel free to look elsewhere.
Dameon Pierce: In the past 10 months, Pierce has one carry gaining more than 11 yards. Uno. He held a 2:1 touch edge over Devin Singletary last week in Baltimore, so we know he is still the lead in his backfield; we just don't know how valuable that role is.
Pierce made his NFL debut against the Colts last season and picked up just 33 yards on 11 attempts. His projected touch count in a game that he shouldn't get scripted out of sneaks him inside my top 30 at the position and makes him a Flex option, but nothing more.
Devin Singletary: Mike Boone out-snapped Devin Singletary 25 to 16, thanks to the Houston Texans trailing for 90.3% of their offensive snaps. I typically try not to read too far into previous game scripts, they are more narrative than predictive, but I don't think Houston playing from behind is going to be some sort of aberration. Boone ran a route on 76% of his snaps, a rate of involvement that means Singletary is not a player who needs to remain on rosters.
Wide Receivers
Michael Pittman: The 39-yard TD by way of a screen pass was good to see, as was the 28.2% target share in Richardson's debut. I still want to see him utilized more down the field (his air yards per catch in Week 1 dropped 6.9% from last season's number), though that comes with growth from Richardson.
My primary knock from Week 1 was that Pittman was targeted on just one of Richardson's 15 first-half throws. That suggests that the team didn't draw up ways to get him involved out of the gate, and that's not ideal.
Pittman scored in both games against the Texans, and his involvement in the second half was a sign of things to come. He makes for a solid Flex play in all formats this week and is a receiver I prefer over other WR1s in iffy offenses (DeAndre Hopkins, Garrett Wilson, and Terry McLaurin).
Josh Downs: He caught all three first-quarter targets and went 0-for-4 the rest of the way. He was targeted on 16.7% of his routes, far outpacing Alec Pierce's 7.3%, and that makes him my second-favorite receiver in Indy, but that doesn't mean he matters in standard-sized leagues.
Nico Collins: Collins led the Texans in targets (11), catches (six), and receiving yards (80) in the Week 1 loss. He also had the longest play of the day for the Texans (26 yards) and is my second-favorite fantasy receiver in this game, even if that's damning with faint praise. Collins isn't sniffing your lineup, though I do like holding onto him as Stroud gains comfort with reps.
Robert Woods: I'm out on JuJu Smith-Schuster in a big way, and Woods is just a poor man's version of that profile. The veteran earned a 23.3% target share against the Ravens, but without big play potential or any offensive support, this isn't a player who needs to be on your roster radar.
Tight Ends
Kylen Granson: If you spin the TE wheel and land on Indy for some reason, Granson is your guy. He ran more routes (34) than Mo Alie-Cox had snaps (31), and six targets are nice for a tight end. That said, at this position, you're essentially chasing a touchdown, and Granson doesn't hold much hope in that regard.
Dalton Schultz: My guess is that he is on rosters because of his time in Dallas. Well, he's not in Dallas anymore. Against Baltimore, Schultz turned four targets into four whole yards. That put him ninth on the Texans in receiving yards for the week. Move on. Please. By doing so, you free yourself of having to check Houston boxscores and that's good for your mental health.
San Francisco 49ers at Los Angeles Rams
Spread: 49ers -7.5
Total: 45
49ers implied points: 26.5
Rams implied points: 19
Quarterbacks
Brock Purdy: The NFL's first player to ever go 6-0 while throwing multiple touchdown passes in each of his first six regular-season starts heads to Los Angeles to face a talent-short Rams team that overachieved last week. We were all down on the Rams entering this season, and one good game should not be enough to sway your opinion.
This is a plus matchup for Purdy. He's smart. No, IQ points don't count in your fantasy football box score, but on a team like this, there is a direct correlation.
Let me explain.
In this quick read of Kyle Shanahan's scheme, Purdy is almost only looking at his elite playmakers. He has a quartet of high-end YAC guys at his disposal (Christian McCaffrey, Goerge Kittle, Deebo Samuel, and Brandon Aiyuk) … they saw 92.9% of his targets in Week 1. Purdy's my favorite QB streamer of the week, but his limited ceiling has him settling in at QB15 this week in Los Angeles.
Matthew Stafford: It's hard to throw for 334 yards in an upset win and not toss a TD pass, but that's exactly what Stafford did in a favorable spot against the Seahawks. And now, he gets a 49ers defense fresh off of beating the Steelers into the ground.
Without a bona fide pass catcher at his disposal or a reliable ground game, Stafford could be one of the five worst fantasy QBs in Week 2.
Running Backs
Christian McCaffrey: Just a casual 169 yards and a touchdown last week against the Steelers. Elijah Mitchell is a fine player but not one that is going to dent McCaffrey's status as a fantasy God.
Elijah Mitchell: He got his hands on the ball just five times in the Week 1 blowout of Pittsburgh. If he isn't going to hold standalone value in a spot like that, when is he? Hold him, but understand that Mitchell is nothing more than an insurance policy.
Cam Akers: Akers got a pity touchdown late in the game, and that, friends, is your full summary of things that went right for him last week in Seattle. When all was said and done, Akers' 22 carries picked up 29 yards, with 12 of those coming on the fourth play from scrimmage.
If you're a half-full glass type of person, when Akers was on the field, the Rams made sure to get him the rock (touched the ball on 78.6% of his snaps).
But remember in the middle of last season when we weren't sure the Rams were going to hold onto Akers? We aren't there yet, and I'm not cutting him from fantasy rosters, but he's firmly on fantasy benches until otherwise noted.
Kyren Williams: One of the premium adds after the first week of action, Williams out-snapped Akers 53-28 against the Seahawks. That's not a snap share; that's a featured role. The problem, of course, is that the Rams aren't going to score 30 points very often, and thus Williams' sub-3.5 yards per carry is a problem.
Williams is my favorite RB in this backfield, but he ranks behind two other Williams and is outside of my top 30 at the position in this spot. Roster and hold.
Wide Receivers
Deebo Samuel: The rushing volume seems to be drying up, thus hurting Samuel's floor. The ceiling remains, and his seven targets last week were a reminder of that. But with a low aDOT role, there's more risk to this profile than those ranked around him.
I'm going to give the same analysis for the 49ers every single week. Play them until they break out, and then sell to the highest bidder. Brandon Aiyuk and Samuel are both WR2s for me in Week 2.
Brandon Aiyuk: Aiyuk is very much trending in the right direction, so I'm going to help you out. What I need you to do is screenshot the analysis below and send it with Aiyuk to a manager in your league in an effort to cash in.
Aiyuk was featured early and often in Week 1 against the Steelers. He finished off the first drive of the season with an eight-yard score and followed up with a gem of a 19-yard TD catch that came over Patrick Peterson.
For the game, Aiyuk earned two more targets on four fewer rates than Samuel. He scored seven times in 12 games to end last season, and the momentum has clearly carried over into 2023.
There you go. Kyle Soppe — man of the people.
This 49ers' receiving corps is going to be a random number generator for Samuel, Aiyuk, and George Kittle on a week-to-week basis. Try to use the big games to your advantage to build a powerhouse of a team that carries a reliable weekly floor.
Cooper Kupp: Just a reminder … Kupp was placed on IR last weekend and will miss at least this game and two more with a hamstring injury. This situation could go a number of ways as the season progresses, but at the moment, all you can do is sit Kupp (ideally, your league has an IR slot) and wait.
The good news is that the Rams are taking a more cautious approach than first thought, so if/when he returns to the lineup, the hope is that he's an instant lineup lock.
Van Jefferson: Nope. We thought Jefferson would assume the lead role with Kupp sidelined, but we thought wrong.
Jefferson turned five targets into 24 yards against the Seahawks, not exactly Kupp-ian production in a plus-matchup that saw the Rams score 30 points. You're never going to play Jefferson, so why hold onto him in a low-octane offense?
Puka Nacua: With 10 catches on 15 targets for 119 yards in his NFL debut, Nacua was the story of Week 1 and the most asked-about player in the PFN Discord. Nacua was just as impressive as the numbers suggest, but those numbers didn't come against this 49ers defense and they didn't come with a nagging injury.
I'm happy for you if you landed Nacua with your FAAB, but just because you spent to acquire him doesn't mean you need to play him in this brutal spot. The rookie is not a top-40 receiver for me this week if he gives it a go: I'm starting exactly no one from this offense with confidence.
Tutu Atwell: At 5'9" and 165 pounds, Atwell is facing an uphill battle when it comes to holding consistent fantasy value. Yes, his 6-119 line on eight targets last week was impressive, but I'd bet on that being his best game of this season.
I encourage you not to get caught up in the one-week sample and be reasonable with your expectations for an undersized receiver in an offense with an implied total under 20 points.
Tight Ends
George Kittle: The 49ers didn't need Kittle to do anything, so we got a dud. It's not the first time we've seen him uninvolved (19 yards), and it won't be the last.
That said, it's almost a guarantee that Kittle will break the slate at least twice this season. Maybe I'm oversimplifying it, but, like the receivers, you're starting him every week and then selling him following his first big game.
Tyler Higbee: Remember seven days ago when we were deciding if Higbee would see 13 or 17 targets in a pass-heavy script against a bad defense with Kupp sidelined?
Life comes at you fast.
Higbee earned a pitiful 8.1% target share, and if not for an outlier 30-yarder, he would've been completely useless. With the volume no longer something we feel good about, Higbee shouldn't be started in anything but 14+ team leagues.
New York Giants at Arizona Cardinals
Spread: Giants -5.5
Total: 40
Giants implied points: 22.8
Cardinals implied points: 17.3
Quarterbacks
Daniel Jones: The hate for Jones after a prime-time dud against the Cowboys (104 pass yards, 43 rush yards, and two interceptions) makes sense, but it was a brutal spot. Bad weather, playing from behind for basically the entire game, and his first real action with a few of his primary targets.
Better times are certainly ahead for Mr. Dimes, and that could start as soon as Sunday. Last season, Jones completed 71.9% of his passes with 11 scores and just one interception in Giants wins, far out-pacing his 61.6% completion rate, along with as many TD passes as INTs in losses. As a 4.5-point road favorite, Jones is certainly in a spot where he could return top-10 value at the position.
Running Backs
Saquon Barkley: I said it on the PFN Fantasy Podcast this week, and I'll say it again: I think the Giants score this week. Crazy, I know, but I feel good about it.
The G-men were blanked on Sunday Night Football to open their season, and that kept Barkley's production in check (63 yards), but that's nothing I'm reading into. Barkley is the same elite talent that you drafted in August and ought to be locked into all lineups, with his expensive DFS price tag also being worthy of consideration.
James Conner: And the award for the most projectable stat line of Week 1 goes to … James Conner! In a mess of an offensive game, Conner touched the ball 19 times for 70 yards with no touchdowns. We're going to end up within one standard deviation of that production just about every week, but as underwhelming as it may be, it was good for an RB24 finish against the Commanders.
Rinse, repeat. Get ready for an equally boring, semi-useful stat line. One more indicator of his limited per-touch upside is the fact that 137.5% of Conner's receiving yards came on one of his five receptions.
Wide Receivers
Isaiah Hodgins, Jalin Hyatt, and Darius Slayton: Any game with 110 passing yards isn't going to be kind on the receiver position, nor is it going to help us sort out the hierarchy. That leaves us in a spot where all Giants receivers are borderline unrosterable.
Hodgins was responsible for the Giants' biggest play of Week 1 (24-yard reception), while Slayton, a proven big-play threat, turned his five targets into a meager 15 yards.
MORE: Fantasy Updated Rest-of-Season Rankings Week 2
Hyatt was an afterthought in his NFL debut (one target) after showing out during the preseason — further proof that the transition to the professional level can be a bumpy one.
I'd hold any Giants receiver you have through this week. If Week 2 looks anything remotely close to Week 1, feel free to cut ties. This schedule has very few plus-matchups for the passing game on it, so don't be shy about moving on should the cloudy nature of the target distribution remain.
Marquise Brown: In early August, we were all worried about Hollywood's upside in an offense led by Colt McCoy. After one week of the Joshua Dobbs experience, I'd be thrilled to have McCoy as the man responsible for getting Brown the rock.
No Cardinals player reached 35 receiving yards last weekend in Washington in a game in which you could argue they overachieved because they covered the spread.
The Cards have the Cowboys and 49ers in Weeks 3-4. I'm not saying you have the green light to drop Brown, but I'm not saying it's off the table if there is reliable volume sitting on your wire.
Rondale Moore: Arizona tried to get creative and get Moore the ball in space, but there's only so much makeup you can put on a pig.
Moore picked up 12 yards on two carries and hauled in a 31-yard pass on a wheel route, making him the most exciting player in this passing game for the week by far. I'd rather take a shot on any of the Giants receivers and hope to catch lightning in a bottle than tie up a roster spot with Moore.
Tight Ends
Darren Waller: In his team debut, Waller looked healthy on his way to leading the Giants in catches, targets, and receiving yards. Now, that doesn't mean he was productive (three catches for 36 yards), but he was involved enough for me to remain confident that he'll be a top-five tight end this season. Lock him in (monitor his health), and don't think twice about it!
Zach Ertz: The veteran earned a 30% target share in the Week 1 loss and rewarded fantasy managers with all of 5.1 half-PPR points. Yikes. That rate of involvement is far from sustainable, and that lack of fantasy efficiency is why Ertz can be left on waiver wires.
Trey McBride gained two more yards than Ertz with his two targets. I'm happy to pass on just about anything attached to Arizona. The tight end position is certainly no exception.
New York Jets at Dallas Cowboys
Spread: Cowboys -9.5
Total: 38.5
Jets implied points: 14.5
Cowboys implied points: 24
Quarterbacks
Zach Wilson: After throwing just one pass in his Jets debut, Aaron Rodgers was pulled down, tearing his Achilles in the process. I'm hopeful that we get to see him throw a football again, but it won't be in 2023.
Zach Wilson led the J-E-T-S to an impressive come-from-behind victory over the Bills. That was fun, but don't get cute. Rodgers wasn't a locked-in fantasy star, and Wilson isn't someone that I'd even be excited about starting in a Superflex league.
Dak Prescott: The Cowboys' pass game really wasn't needed in the Week 1 dismantling of the Giants, leaving Prescott to disappoint fantasy managers who rolled the dice with him.
The nature in which he got scripted out of this game was as unique as it gets — the first time in franchise history that their first two TDs of the season came by way of defense and special teams — so I'm not too worried about a repeat in the volume department (13 completions).
The continued lack of rushing upside remains a concern, and Tony Pollard's efficiency is going to allow Mike McCarthy to go with a conservative game plan against this stingy Jets defense.
If you want to be different in a DFS setting, you can site home cooking. In 2021, Prescott had a 23:2 touchdown-to-interception ratio at home. Last season, his completion percentage was 3.7 percentage points higher in front of the Cowboys faithful. He's well off my annual league radar this week, as I have him ranked outside my top-15 quarterbacks.
Running Backs
Breece Hall: How special was what this kid did on Monday night? In his first live action since tearing his ACL, Hall piled up 107 yards on 10 carries, showing all of the agility and burst that we saw pre-ACL. The shift at the quarterback position will cap his scoring potential, but Hall sold me on his health, which has him inside my top 20 for this week.
Dalvin Cook: The veteran RB was fine in his Jets debut, but fine isn't good enough with Hall popping off the screen. When all was said and done, Cook totaled 59 yards on 13 touches.
Those 7.4 fantasy points landed him as the RB34 for the week, and I think a repeat performance is about what you can count on in this tough matchup. While Hall is a fantasy starter, Cook is only a Flex option in deeper leagues.
Tony Pollard: We begged you. We pleaded. Kyle Yates and myself did everything in our powers to get you to draft Pollard this summer. He was a late-second-round pick at the beginning of August and moved up the round as the days went by, but we remained dug in. We even said that he should be considered at the end of Round 1, and we stuck to it.
We got plenty wrong (hand up, I fully admit to underestimating Breece Hall) this summer, but not this. Pollard picked up 82 yards and two scores against the Giants on 16 touches.
It's just the beginning.
The Jets defense is solid, though James Cook did manage a Flex-worthy performance against them last week. Cook isn't Pollard. The Cowboys star is priced between some of the biggest names in the game this week on the main DFS slate, which means potentially suppressed ownership. I'm in!
Wide Receivers
Garrett Wilson: Wilson made SportsCenter's Top 10 plays for the circus touchdown catch on Monday night, but we didn't need that play to tell us that the talent is off the charts. That said, shouldn't we be concerned that the man had to bend the laws of physics to haul in a pass that should have been a simple fade put in a spot where only he could catch it?
Zach Wilson isn't an NFL quarterback, and that's a problem. Could Garrett Wilson produce an inefficient line like what DeAndre Hopkins did last week (13 targets, 65 yards)? Sure, but we're talking a ruthless Dallas pass rush that is going to have Wilson panicking. The quality of target is very much my concern here, and that's why I have Wilson ranked as nothing more than a modest Flex.
Allen Lazard: When my sister was pregnant, she craved marshmallows on nachos. That was her comfort food. It didn't have to make sense to anyone else (spoiler alert: it didn't), but it was what she wanted.
For Aaron Rodgers, Lazard was a version of marshmallows on nachos. Is he a great player? No, but Rodgers clearly was comfortable enough with him to bring him to New York.
But what happens now with Rodgers sidelined? The same thing that happened with the weird gooey nacho platter after my sister gave birth: useless.
CeeDee Lamb: It's rare for a passing game to be scripted out of a high-volume attack without producing baseline numbers to get to that big lead, but that's exactly what happened for the Cowboys in Week 1. Even without the need to be aggressive through the air, Lamb found a way to get to 77 yards — thanks in large part to a 49-yard catch and run — salvaging the day for fantasy managers.
I'm not a fan of this passing game and think they struggle in this spot — and even I can't drop Lamb outside of my top 15 wide receivers. Look for the 'Boys to move him around the formation and avoid matchups with Sauce Gardner. Don't get cute here, you're locking in Lamb everywhere that you have him.
Brandin Cooks and Michael Gallup: These two combined for 32 yards on six targets in the Week 1 win. Better times are ahead, but I'm not yet sold that this offense is capable of sustaining two pass catchers on a weekly basis. That wouldn't change if Cooks is ruled out: don't get cute.
You're not playing either in any situation this weekend, so there's no need to incur that much risk for what is only a marginal potential reward.
Tight Ends
Jake Ferguson: Fergalicious led Dallas with seven targets in his NFL debut, that's the good. The bad? Eleven yards. Averaging 1.57 yards per target is legitimately difficult to do. The involvement makes Ferguson someone worth tracking for the TE streamers out there, nothing more.
Washington Commanders at Denver Broncos
Spread: Broncos -3.5
Total: 39
Commanders implied points: 18
Broncos implied points: 21.5
Quarterbacks
Sam Howell: The North Carolina product threw a touchdown pass and ran for another against the Cardinals in Week 1, and that is exactly the profile we, as QB streamers, want. We are targeting a quarterback that can provide value in a variety of ways, and Howell proving this has him trending up in our PFN Consensus Rankings.
The Broncos' defense is stout, but that doesn't mean that can't be had. In their Week 1 loss to the Raiders, Jimmy Garoppolo completed 20 of 26 passes for 200 yards and a pair of touchdowns. Howell is a QB2 for me this week and is an option in Superflexor DFS GPP's – not someone that standard-sized league players need to concern themselves with.
Russell Wilson: A tick over 6.5 yards per completion wasn't exactly the high-voltage pass game that we were hoping for with Sean Payton calling the shots now. Still, it is worth noting that Wilson was efficient (27 of 34) in the Week 1 loss, despite playing without his WR1.
The concern here is two-fold. First, both of these teams win ugly when they win, so neither team is likely to be pushing the other to take the sort of risks we, as fantasy managers, want to see. Second, the rushing production is gone. When Wilson scrambles, it is with the turbo meter drained, and it's all he can do to get back to the line of scrimmage.
Maybe a Jeudy return results in more upside from this passing game, but I need to see it before projecting it. Wilson is on the outside looking in at my top 20 this week, and I don't even have him ranked as the best fantasy QB in this game.
Running Backs
Brian Robinson Jr.: Robinson touched the ball 20 times in Week 1 and failed to gain more than seven yards a single time, and yet, he was easily the best RB in this backfield.
As pitiful as that sounds, I actually like the long-term outlook from Robinson in a James Conner way. You know what you're getting – volume, not efficiency.
That said, he runs hard, and he did make a nice route adjustment for a touchdown against the Cardinals – something he wouldn't have done as a rookie. Robinson is my favorite Commander back, but against a Broncos defense that just held Josh Jacobs to 48 yards on 19 carries, he's not a top-30 RB for me.
Antonio Gibson: We knew Gibson's role was going to be somewhat limited entering the season. None of us thought he had much of a chance to unseat Robinson on the early downs, and that was proven accurate. We did, however, think he would hold value in a JD McKissic-plus sort of role, but that wasn't the case.
Gibson had as many red zone fumbles as he did passing targets last week. Maybe he carves out a niche in the passing game this week against a strong defense, and that hope is what is keeping him on my roster. The role upside is certainly limited, and with another dud performance, he could be on the chopping block heading into Week 3.
Javonte Williams: The real winner of Week 1 was modern medicine. Between the Breece Hall explosion, the Kenneth Walker recovery, and the Williams usage, fading RBs for health reasons in Week 1 was not profitable.
Williams was given 19 opportunities in the season-opening loss – 13 carries and six targets – and was on the field at the end of the game as Denver tried to rally. With a projected point total under 40, it's unlikely that this game provides fireworks, and that is why Williams is nothing more than a Flex play for me. Still, I am higher on him in my rest-of-season rankings now than I was a week ago.
Samaje Perine: He joined the Broncos for a reason this summer, and that is to add stability to this offense. He did just that in Week 1 by picking up 41 yards on his eight carries and leading the team in receiving with four catches for 37 yards.
This is Williams' backfield to control, but Perine isn't going to go away any time soon. Maybe he can carve out standalone value with time as Sean Payton's vision comes into focus, but for the time being, he is roster depth for you – not a starter. Right now, he's RB36 in my early rankings.
Wide Receivers
Terry McLaurin: The two-catch, 31-yard stat line isn't pretty, but he did draw a 37-yard defensive pass interference to help set up a score. Of course, you don't get points for that, but the idea that they took a shot to him in the end zone should be viewed as encouraging.
Does he see a lot of Patrick Surtain in this matchup? It's certainly possible, and that has him sitting outside of my top 25 at the position. Better days are ahead for McLaurin, and if he struggles in this spot, a buy-low trade offer will be on my Monday to-do list.
Jahan Dotson: The second-year budding star out of Penn State earned seven targets in Week 1, but they were a weird seven targets. We know his big play ability, yet his five catches resulted in just 40 yards – none gaining even 15 yards.
His role will be something worth watching, and this could be a breakout spot if Surtain does live in the shorts of McLaurin. We saw Jakobi Meyers produce as the WR2 against Denver last week, and Dotson has more physical tools while occupying the same role. I have him ranked over McLaurin this week and will be overweight when it comes to DFS.
Curtis Samuel: Samuel led the team in both catches (five) and receiving yards (54) in the season opener, but he doesn't need to be near starting lineups right now.
It's unclear just how explosive this Commanders' offense will be under Howell, and with a handful of viable pass-catchers on this roster, it's impossible to project enough usage for a YAC player like Samuel to matter in our game. He's a gadget player that holds much more value to Washington than he does to you. Move on.
Jerry Jeudy: A hamstring injury cost him the first week of the season and will likely nag at him this week if he is active. I would rather be a week late rather than a week early on a soft tissue injury for a receiver in an offense that I don't trust yet. Even with a clean bill of health entering the weekend, Jeudy will not crack my top 30 at the position.
Courtland Sutton: As the pseudo WR1 in this offense last week, Sutton caught four of five targets for 32 yards and a score. Not a bad performance, but again, this Denver offense was grounded, and I don't trust him or Jeudy to get there on volume alone. I'll have Jeudy ahead of Sutton, assuming he plays, and if he sits, Sutton simply fills the Jeudy spot, remaining out of my top 30 at the position.
Marvin Mims Jr.: The idea behind a player like Mims was supposed to be one-play upside. That didn't happen in Week 1 against the Raiders. He only recorded two targets, two catches, and nine yards. When Jeudy returns and attracts attention, Mims could get loose downfield on occasion, but he's more of a DFS flier than a rookie who needs to be rostered in annual leagues.
Tight Ends
Logan Thomas: Four catches for 43 yards in the season opening win over the Cardinals isn't a stat line to write home about, but a team-high 27.6% target share is certainly noteworthy. With a catch rate north of 65%, despite iffy QB play and a touchdown once every 14 receptions over the course of his career, Thomas is a name for TE streamers to keep in mind, as long as he is healthy.
This is the third time in his past four games he has earned at least seven targets. McLaurin figures to be a volume target, but he's about it in this passing game when it comes to consistent usage, which leaves the door open for Thomas to provide passable numbers at a position that sees as much week-to-week turnover on the fringes as any.
Greg Dulcich: The talented second-year player missed Denver's seven games last season due to a hamstring injury that he re-injured in Week 1. He is going to miss multiple weeks and can be dropped in all formats. I'd look elsewhere for a replacement. Adam Trautman caught all five of his targets last week against the Raiders, but he doesn't profile as the type of player with top-15 upside at the position.
Miami Dolphins at New England Patriots
Spread: Dolphins -3
Total: 47
Dolphins implied points: 25
Patriots implied points: 22
Quarterbacks
Tua Tagovailoa: Will Tagovailoa flirt with 8,000 passing yards this season? That is the question – well maybe only in Dolphins' fan circles. The Alabama product left Week 1 as the new MVP favorite, and it would be hard to argue that evaluation after a 466-yard, three-TD performance against the Chargers.
How did he rack up those numbers? Well, directing 53.6% of your targets in the direction of Tyreek Hill and Waddle was a good start. Both of his star receivers had a 35-yard reception and looked unguardable throughout the game.
You're clearly playing him – my QB8 – this week, but I don't hate the idea of selling high. The health concerns remain, the mobility is limited at best, and the fantasy playoff schedule is brutal due to matchups with the Jets, Cowboys, and Ravens.
Mac Jones: Yes, technically, this game features the top-scoring quarterbacks from Week 1, so that's a thing. Jones was great in a losing effort against the Eagles last week with 316 yards and three touchdowns, but even a broken clock is right twice a day.
Excuse me if I don't think 46.3% of targets going to WR Kendrick Bourne, RB Ezekiel Elliott, and WR Demario Douglas is a sustainable way to make a fantasy living. Look for New England, much like the Chargers last week, to try to control this game on the ground. Jones shouldn't be on rosters in normal-sized leagues, and he surely shouldn't be starting for you if you made the error in adding him.
Running Backs
Raheem Mostert: Having the lead role in an explosive offense is only great if the team elects to use their backfield. Mostert dominated RB touches last week, and yet, he barely had more rushing yards than the Dolphins had points.
Tagovailoa was active when these teams met Week 1 last season, a game where Miami running backs totaled just 43 yards on the ground to go along with 64 yards through the air. Of that total, Mostert gained 16 yards on five carries. For me, Mostert is a slightly safer version of Kenneth Gainwell – the lead back in a potent offense with only so much touch upside.
I have Mostert ranked as a low-end RB2 that I feel comfortable starting.
De'Von Achane: The rookie missed Week 1's win in Los Angeles with a shoulder injury that he picked up during the preseason. With Jeff Wilson on IR and Raheem Mostert far from a beacon of health, Achane should remain stashed in all fantasy football leagues, but you shouldn't expect to plug him into your starting lineup any time soon.
Rhamondre Stevenson: The running back's Week 1 was a complete dud before a late 32-yard catch saved his day. Remove that big play, and we're looking at a 17-touch, 57-yard performance – a true dud performance, given what he cost you on draft day.
The involvement of Ezekiel Elliott is a concern. I thought he would simply be used as a plodder near the goal line, but with seven targets, he was used as a complimentary weapon more than a backup. I'm already interested in getting out of the Stevenson business if I can, and if 'Zeke maintains the role he had last week this week, I'll be in full-on sell mode.
Stevenson was the breakout star of 2022, and in a season where everything was going right, he ran for just 67 yards and turned six targets into 11 yards against Miami – in two games. He's my RB15 this week, and I fear I may be too high. Tread lightly and run for the hills if this week looks anything like his season debut.
Ezekiel Elliott: The only way Zeke works his way into even a rosterable status is for this offense to overachieve. While "Hey, they scored 20 points and totaled nearly 400 yards against the reigning NFC champions in Week 1" is factually correct, let's not act as if it was some display of offensive greatness. They looked good for a five-minute stretch at the end of the first half and largely struggled otherwise.
Elliott was more involved than I assumed he would be, but he certainly wasn't more efficient, as his 14 opportunities netted just 43 yards. Oh yeah — he lost a fumble. I'm not 100% convinced he needs to be on fantasy football rosters, let alone anywhere near your starting lineup. Elliott's contribution to our game is simple — he could drain some value from Stevenson.
Wide Receivers
Tyreek Hill: So maybe the 2,000-yard goal isn't that crazy after all. Hill left Week 1 as the betting favorite to be the Offensive Player of the Year, and it makes sense. When you combine an elite target share with an elite skill set, special seasons happen, and that seems to be what we have in Miami.
In the one game Tagovailoa played against the Pats last season, 38.7% of his targets went to Hill, an even higher rate than what we saw last weekend (34.1%). The upside in each one of the targets is unmatched (he had 52 more air yards than anyone else last week), and that lands Hill atop my Week 2 WR rankings.
Jaylen Waddle: With all of the excitement around Hill, let's not lose track of just how good Waddle is. He averaged 15.6 yards per target in Week 1, an elite rate that wasn't mentioned once in the analysis of Miami's Week 1 win.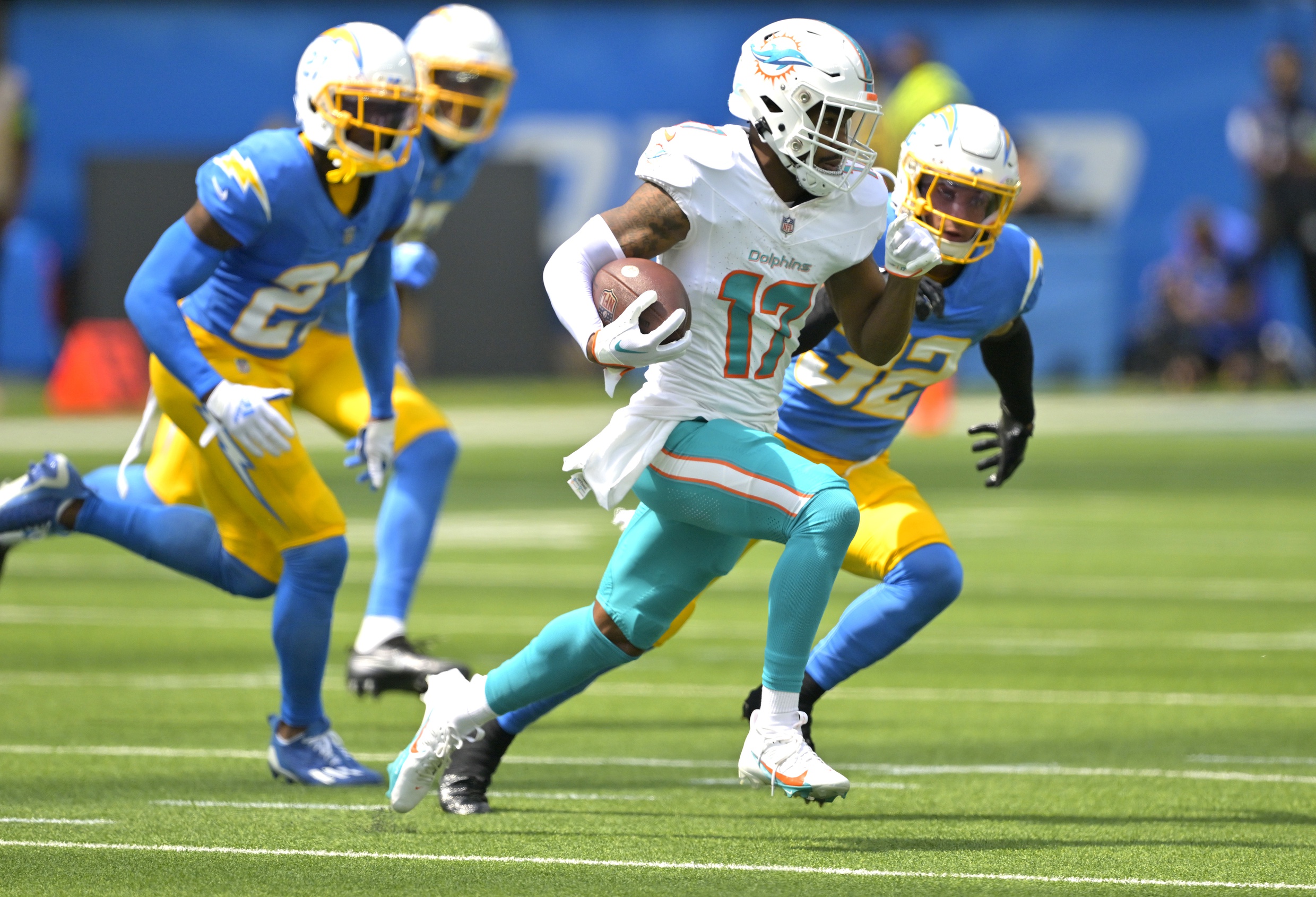 In that Week 1 meeting with New England last season, Waddle had the big play: a 42-yard TD that saw him wiggle between three Patriots defenders in the middle of the field and take a 10-yard pass to the house. That sort of upside is why he is a WR1 for me this week, giving me two sets of teammates in my top 10 at the position this week (also: Eagles).
JuJu Smith-Schuster: In what I believe will be Jones' best game of the season, Smith-Schuster averaged a mere 4.7 yards per target and ranked sixth on the Patriots in receiving yards. He is still my pick to lead this team in targets when all is said and done, but he carries next to no upside and shouldn't be considered a lock to remain on your roster for the entire season.
Kendrick Bourne: With DeVante Parker (knee) sidelined, Bourne stepped up and was fantasy's fourth-best receiver for the week (21.4 points). He was a popular add to rosters this week, and there is a certain pressure that comes with adding a breakout performer like this after adding him, but that'd be a mistake (no matter Parker's status).
I've made it clear how I feel about the sustainability of Jones' aerial numbers, and with his regression comes the crashing back to earth for Bourne.
The 28-year-old already has more touchdown catches than he had a season ago and is almost halfway to setting a new career mark for a single season. I say that to highlight the idea that we have an extended sample size of Bourne being nothing more than an ordinary receiver in this league. You can chase the Week 1 points if you want; I won't be. He's not a top-50 receiver for me this week.
Tight Ends
Hunter Henry: Even with Mike Gesicki battling through a preseason dislocated shoulder (three catches for 36 yards), Henry was able to earn six targets and make the most of them (56 yards and a touchdown). If you're telling me I have to have one Patriots pass catcher on my roster, Henry is that guy, but he still falls just outside of my top 10 this week.
It was only two seasons ago when Henry caught nine touchdown passes, proof that he has the ability to get open near the goal line. That is a skill I target at the tight end position. My concern is that New England doesn't offer many opportunities in close. I tend to avoid TE committees in low-octane offenses if I can help it. Maybe that's just a me thing.
Durham Smythe: The seven targets (44 yards) were interesting last weekend in the shootout with the Chargers, and the need for a third receiving option certainly exists in Miami. That said, let's pump our brakes a bit here. This is Smythe's sixth NFL season, and the next time he averages two targets per game for a season will be the first.
If this usage lasts through September, we can talk about him being a cheap way to get exposure to an elite offense in the same vein as Chiefs receivers, but until then, he doesn't need to be rostered in anything but the deepest of redraft formats.
New Orleans Saints at Carolina Panthers
Spread: Saints -3
Total: 40
Saints implied points: 21.5
Panthers implied points: 18.5
Quarterbacks
Derek Carr: Carr checked all of the boxes I needed him to in the Saints' Week 1 win, and I think he'll be a phenomenal bye-week filler when the time comes. He hit four different players with a 25-yard pass and showcased good touch on the deep ball.
His lack of rushing upside hurts, and Jamaal Williams' potential to soak up scores will keep Carr outside of my top 15 most weeks, but mark my words – his floor will be appealing as the weather cools.
Bryce Young: Maybe Young will turn into something with time, but a fantasy football asset in 2023 is not in the cards. In his debut, he completed just 20 of 38 passes for 146 yards with a touchdown and two picks. The 16-yard run was good to see – he's a dynasty stash that is nothing more than a Superflex streamer at the moment.
Running Backs
Jamaal Williams: Williams was the only Saint with more than three carries last week, and he had 18, which makes it safe to call this backfield his. I think that's the case for at least the next two weeks, and that role on a road favorite has him penciled in as a low-end RB2 for me.
Williams was on the field for 79% of New Orleans' Week 1 offensive snaps – a great sign when you consider that Alvin Kamara averaged 19 carries per game against these Panthers as the lead man in this backfield last season.
Williams needs to score to prove he's valuable, and he has a good chance to do that against a Carolina team that was gashed for 130 yards and two TDs last week in Atlanta.
Kendre Miller: A hamstring held the rookie out last week, and there is hope that he can make his NFL debut this weekend. There were nine carries last week that Jamaal Williams did not account for, a decent estimation of what Miller can be expected to handle when at full strength.
The injury was a poorly timed one, as he is not getting the chance to carve out a role with Alvin Kamara suspended. Miller should remain stashed, but my expectations aren't high.
Miles Sanders: I wasn't thrilled that Sanders only held a 2:1 carry edge over Chuba Hubbard last week, though his 19.4% target share was a more than fair trade-off. Reports surfaced this preseason of Sanders returning to his 50-catch form from his rookie season this year, and one week in, that sentiment was proven accurate.
Running backs totaled 147 yards against the Saints in Week 1, and if Carolina is going to stay competitive, they need to have similar success. The number of dangerous carries is a concern, but I do like Sanders to James Conner his way to viable fantasy numbers.
We aren't looking at a highlight-filled performance, but 10 fantasy points would do the trick, and I think he gets there. He's a low-end RB2/Flex play for me on Monday night.
Wide Receivers
Chris Olave: Olave did Olave things against the Panthers last season, earning a 39.1% target share across those two games while averaging 16.9 half-PPR PPG. Those numbers are plenty impressive by themselves, but even more so when you remember that the Saints totaled just 21 points in those games.
I'm expecting them to surpass that number in this game alone, making Olave a very easy sell in DFS formats and a top-10 option at the position in all annual formats against a Jaycee Horn-less secondary.
Michael Thomas: We aren't talking about a repeat performance of his record-breaking 2019 campaign, but his 2023 debut was encouraging. The former All-Pro was targeted on two of Carr's first three passes, and both of them came 10+ yards downfield. He finished the week with eight targets, an end-zone look, and a team-high 34 routes run.
MORE: Fantasy Football Cut List Week 2
Due to my belief that the strength of this passing game is going to be down the field, Thomas' ceiling is somewhat capped, but he is on the fast track to cracking my top 30 at the position. For this week, I have him sitting at WR35, though I will admit that his stock is trending up.
Rashid Shaheed: This dude can play. It's that simple. Coming into this season, we knew his speed was a weapon, and the nice thing about speed is that it doesn't slump. He showed us some of that burst on his 19-yard touchdown against the Titans and when he all but iced the Week 1 win with a 41-yard catch on a late 3rd-and-6.
When the Saints trot him out onto the field, he has one role and one role only: make defenses feel him. Here are the percentage of snaps that resulted in a route run in Week 1:
Shaheed: 71.4%
Thomas: 66.7%
Olave: 62.7%
The sheer depth of the WR position in today's NFL has Shaheed just outside of my top 35. That said, I encourage you to have him on your roster; what we saw last week was not a flash in the pan.
DJ Chark: Chark sat out the season opener with a hamstring injury, and while there is optimism about his Week 2 status, a roster stash is the best-case scenario for fantasy football managers. His size and potential target share make him a fine bye-week filler as the season moves on – you need not worry about him in the short term.
Adam Thielen: The ankle injury that limited him in practice last week didn't stop him from getting on the field against the Falcons, but the game was little more than a cardio session for the veteran receiver. Thielen was on the field for 70 snaps and ran 38 routes, earning a whopping two targets in the process. This offense is going to struggle more often than not, meaning you can do better as a roster filler.
Jonathan Mingo: Feel free to move on if you took a flier on the 39th overall pick. He hauled in two of his five targets for 17 yards, including a nice toe-drag catch on an out route that showed his awareness, but there simply isn't enough volume or efficiency in Carolina to roster a secondary option. He's on dynasty radars as this offense grows with time, but he is not a player that matters in redraft formats.
Tight Ends
Juwan Johnson: How you shuffle up and deal out TEs 8-15 is little more than a dart throw, given how little separates that tier at the position. Understanding that, I want a route runner who is out on the field and a part of an offense I trust. Check, check, check.
Johnson played 50 snaps in Week 1, and his 32 routes tied Olave for the second most on the team. We saw his touchdown prowess last season, and with the Saints offense trending up, now is the time to grab Johnson and potentially end your need to stream.
Hayden Hurst: I was impressed by Hurst's season debut, as he caught five balls for 41 yards and a touchdown in Atlanta. He clearly had Young's attention, and that initial trust from a rookie quarterback cannot be overstated.
That said, I think it's unlikely that Hurst will be targeted on 25.9% of his routes moving forward, and given the lack of scoring opportunities this Panthers offense is going to have, it's still going to be an uphill battle for Hurst to matter on a consistent basis. I have him outside my top 15 this week, with the thought being that the Panthers don't get to 20 points.
Cleveland Browns at Pittsburgh Steelers
Spread: Browns -2
Total: 39
Browns implied points: 20.5
Steelers implied points: 18.5
Quarterbacks
Deshaun Watson: Watson looked out of sorts last week against one AFC North foe, and I fear we could see more of the same in another bar fight-type of game. He was able to salvage his fantasy afternoon in Week 1 with a 13-yard touchdown run, but 5.3 yards per attempt is a problem.
Against the Bengals, Watson wasn't able to get a single pass-catcher over 43 yards, and the two receivers that cleared 25 yards combined to catch only 42.9% of their targets. I think better times are ahead — especially with the Rams, Jags, Bears, and Texans in succession in December — but fantasy managers may need to wait one more week.
Watson is my QB14 for Week 2 and that's trending down more than up with Amari Cooper aggravating a groin injury on Saturday.
Kenny Pickett: Pickett was forced to throw 46 passes in the Week 1 blowout loss, and it wasn't pretty: 232 yards, one touchdown, and two interceptions. I'm not reading too much into his struggles, given the opponent, but his single rush attempt has me worried a bit in my evaluation of him as an athlete with an elevated fantasy floor.
He will be without Diontae Johnson for this game – a game that comes against a Browns team that held him to 13 completions on 29 attempts to end last season. Pickett isn't a top-20 quarterback for me this week, but patient fantasy managers in a Superflex setting will be rewarded before long, with the Raiders and Texans coming up next.
Running Backs
Nick Chubb: Chubb is my RB4 this week and is a DFS lock for anyone playing the two-game slate. He caught all four of his targets in the season opener, a role we hoped he'd take on with Kareem Hunt no longer in the mix.
All Chubb did last season was cruise past 110 total yards and score in both Pittsburgh games. These are stats I think he has a good chance at producing in this spot.
Najee Harris: Reports surfaced last weekend that this could turn into a committee sooner than later, and a 33-25 snap split with Jaylen Warren would suggest that we are in that territory. Of course, the blowout nature of this game made the Pittsburgh ground game useless, but I don't think that will consistently be an issue, so Harris remains my top-ranked Steelers back for now.
He has scored in all four of his career games against the Browns and slides in as a low-end RB2 for me this week.
Jaylen Warren: Warren picked up just 18 yards on his eight Week 1 touches, a role that isn't largely enough to hold standalone value. On a positive note, he was targeted on 31.6% of his routes against the 49ers, which far out-paced Harris' 8.3% rate. Warren is a fine trade target in the short term for fantasy managers looking to play the long game.
Wide Receivers
Amari Cooper: I'm willing to write off the Week 1 performance of three catches for 37 yards. The Browns led for the majority of the game, the weather wasn't great, and they elected to run the ball 40 times to keep the Bengals' offense off the field.
Still, I had Cooper ranked as a top-20 play this week entering the weekend. The thought is that his team-high seven targets last week was a positive sign, and he offers some per-target upside, considering he had a 30-yard catch in both games against Pittsburgh last season.
Of course, that is assuming he plays. A groin injury landed him on the final injury report of the week and he's proven to be fragile in the past. The concern of a DNP combined with the time of this kickoff has Cooper currently ranked as my WR31.
Pro tip: add Donovan Peoples-Jones if you can to give yourself MNF insurance, thus maximizing the amount of time you can wait this injury out.
Donovan Peoples-Jones and Elijah Moore: While I expect Cooper to be fine in the short term while Watson works his way into form, these secondary receivers need to be on fantasy benches until we see a reason to start them.
Peoples-Jones led Cleveland receivers in snaps (66) and routes (28) in the Week 1 win, but it was little more than a well-paid cardio session for the burner, as he saw just two targets. He wasn't exactly a focal point against the Steelers last season (12.1% target share), pointing to more risk than reward in this spot.
Moore led the Browns in receiving last week with 43 yards and was targeted on 21.4% of his routes – more than triple the rate of Peoples-Jones. He also was responsible for Cleveland's only gain of more than 20 yards, which is something I didn't work into his profile. If he offers some per-target upside, I could see him breaking into my top 30 receivers within the next month. For right now, though, he sits at WR37 and carries risk until we see Watson bounce back.
Diontae Johnson: Johnson came up gimpy with a hamstring injury in the third quarter of the season opener, resulting in an underwhelming finishing line of three catches on six targets for 48 yards. News broke on Tuesday that the injury is a little more serious than feared and that the veteran will likely miss "a few weeks." It is worth noting that the Steelers have their bye in Week 6.
Yes, he disputed the suggested timetable, but it's best for fantasy managers to trust the doctors at this point and not count on Pittsburgh's top receiver this week at the very least.
George Pickens: The industry pegged Pickens as a rising star this preseason, and this author is very much included in amplifying that hype. Week 1 didn't exactly go according to plan. Against San Francisco, the super sophomore failed to have a 10-yard catch in a game in which Pickett threw the ball 46 times. Buy the dip. Now.
Didn't count, but #Steelers WR George Pickens is UNREAL 🤯
pic.twitter.com/JwDXkElpr1

— Pro Football Network (@PFN365) September 10, 2023
He was that close to a big play that makes the fantasy day look very different, and a highlight like that reinforces exactly what we liked about Pickens this summer. His playmaking talent pops off the screen at you, and this offense clearly wants to press the issue down the field. We saw it last season, and we saw it this preseason – relax people.
Pickens had a 30+ yard catch in both games against the Browns last season, and he offers the same upside in this matchup that we identified him having in August. Johnson saw 28.6% of the targets in Week 1 before leaving with the hamstring injury, and many of those opportunities will likely go Pickens' way moving forward. You can feel good about flexing Pickens this week, and maybe he'll prove to be a matchup winner as your final player goes!
Allen Robinson II: Robinson was the lone bright spot in the Week 1 destruction at the hands of the 49ers, leading the team in both targets (eight) and receiving yards (64). I don't think Pickett is going to throw 46 times on any consistent basis, and not all defenses are going to be as good a taking away what you want to do as the Niners, so be careful here.
That said, with Johnson sidelined and Pickens as the elite downfield option, Robinson's big slot role could return more production over the next month than most expect. He's not yet on my Flex radar, but another high-volume week, and he'll be nearing it.
Tight Ends
David Njoku: It was an ugly Week 1 showing from Watson, and Njoku suffered with only two catches on three targets for 24 yards. I still think Njoku can carve out a viable role in annual leagues, but I'll admit that there's a clear path for him to fall out of the weekly starter tier if Moore and Chubb consistently account for 37.9% of targets like they did in the Week 1 upset win over the Bengals.
Njoku caught 13 of 15 targets against the Steelers last season and scored in both games. He's a starter, albeit one on thin ice, for me this weekend.
Pat Freiermuth: I'm holding tight on my Steeler stock across the board. Without the carnage at the TE position that we saw heading into Week 1, Freiermuth is on the outside looking in at my top 10. Yes, he scored last week on his only reception, and that could very well happen again. Fine.
Any tight end could score. Freiermuth had more targets than yards in Week 1, and with him posting only a 10% target share against the Browns last season, my expectations are low in this divisional battle.
Listen to the PFN Fantasy Podcast
Listen to the PFN Fantasy Podcast! Click the embedded player below to listen, or you can find the PFN Fantasy Podcast on iTunes, Spotify, and all major podcast platforms.  Be sure to subscribe and leave us a five-star review! Rather watch instead? Check out the PFN Fantasy Podcast on our Fantasy YouTube channel.