We are onto the second week of the NFL preseason, and that gives us a chance to learn even more than we did last week as we look to lock in our fantasy football rankings. Remember, there are only three weeks of preseason football these days, so this is the week to settle high-end positional battles before the primary options get next week off.
Get a trade offer in your dynasty or redraft league? Not sure who to start or sit this week? Leverage PFN's FREE fantasy tools — the Fantasy Football Trade Analyzer and Calculator and Start/Sit Optimizer! Put the finishing touch on your A+ draft with 1 of our 425+ fantasy football team names.
Week 2 Preseason Players To watch for Fantasy
Baker Mayfield, QB, Tampa Bay Buccaneers
Mayfield is another 8 of 9, 63-yard, and one-touchdown performance away from quieting any rumblings of a QB battle in Tampa Bay, and I think that's best for all involved.
Mayfield isn't going to light the league on fire, but he has proven at least capable of playing at this level, and the talent around him on this roster should help.
Mayfield himself won't hold value outside of two-QB leagues, but he could easily help his star receivers pay off their current ADPs (Chris Godwin in the fifth round and Mike Evans in the seventh).
If this offense can flirt with league average in terms of efficiency, Rachaad White stands to gain. He's currently being picked late in the sixth round of drafts despite a pretty clear path to significant work and a versatile skill set.
I'm not defending White the player — his rookie season was not pretty — but the idea of White and what he brings to the table is easily worth a sixth-round investment if this offense approaches average.
Jordan Love, QB, Green Bay Packers
Against the Bengals last week, Love completed 7 of 10 passes for 46 yards and a score in a performance that helped calm the nerves of a fan base that has had stability under center for the better part of three decades.
Let me be clear: A perfect QB rating from Love against the Patriots on Saturday won't make him a fantasy asset in most standard-sized, one-QB leagues. There is simply too much depth at the position for even the most optimistic of cheeseheads to land him there.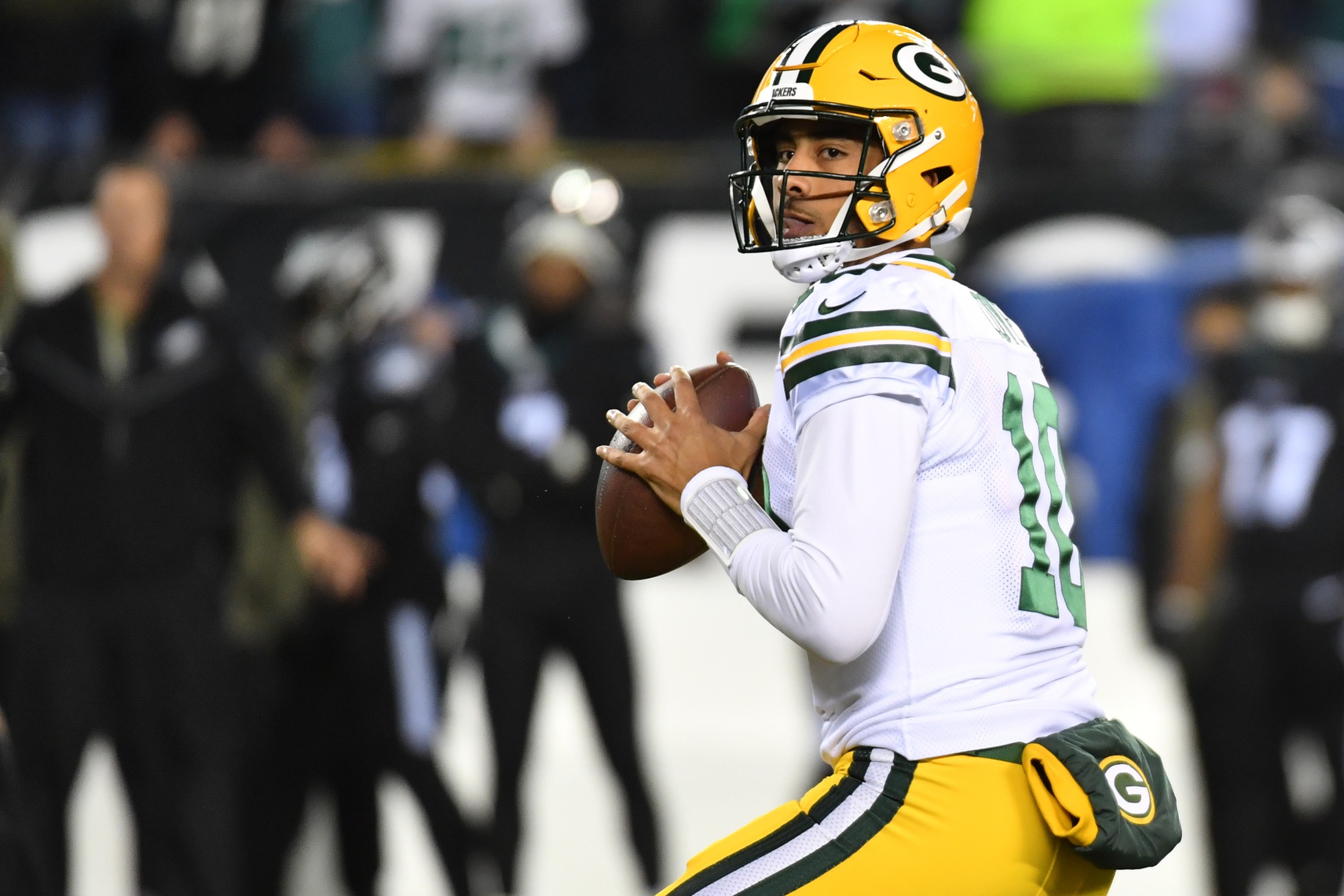 That said, the continued showing of comfort would make me feel better about drafting any of his teammates. Love hit Romeo Doubs for a score last week, and he remains a fine dart throw late in drafts while Aaron Jones (fourth round), Christian Watson (fifth round), and AJ Dillon (eighth round) all garner interest in the top 100 overall players.
I remain skeptical about investing in Watson that early (also in his draft range: Terry McLaurin, DJ Moore, and Mike Williams), but if Love is going to enter the season with a sense of command around this offense, I can come around to the idea that Watson can build on his strong finish to 2022.
Anthony Richardson, QB, Indianapolis Colts
In news that shouldn't have surprised anyone, Richardson was named the Week 1 starter for the Colts this week despite a less-than-encouraging first effort in Buffalo.
Great.
We, as fantasy managers, were assuming that this would be the case, so it's nice to have that clarity. I was unimpressed with Richardson as a thrower last week, but his fantasy stock doesn't rely on that. His value comes from his rare athleticism, something we are unlikely to see much of in August due to the risk involved.
That is to say that there is no way (assuming health) Richardson will be downgraded in my ranks this week — he's a preseason project where we are only seeing the weakest part of his game. Understanding that, a strong showing with that right arm of his could elevate him past some pocket passers in my rankings (Dak Prescott and Jared Goff, for example).
Javonte Williams, RB, Denver Broncos
Why in the world the team is aiming to play him in this game is beyond me, but that's not what we are here for. We are here to take what we see and use it to our advantage as we enter draft season.
Williams is obviously an explosive young player, and if we see signs of that this weekend, his seventh-round ADP is going to be a thing of the past. We all want to see him fully healthy and back to form … but this could well be an opportunity to catch the industry napping.
A strong Williams showing, a viral highlight, or anything close to that is going to skyrocket his value. That much we know. No matter what happens on Saturday, Williams is still recovering from a serious knee injury, and the team did go out of its way to sign Samaje Perine this summer.
Personally, I'm rooting for Williams so that I can get a discount on Perine (ninth-round ADP). Some say I hate fun. I tell them I like winning, and a backfield that feels destined to be a committee with a widening ADP gap is a way to do just that.
De'Von Achane, RB, Miami Dolphins
The Dolphins are not in the business of making our lives easy, and I expect their backfield hierarchy to be proof of that. Raheem Mostert and Jeff Wilson are both talented players that have had their moments at the professional level, but there's no denying that Miami would love for their rookie to excel sooner than later.
Signing Dalvin Cook would have stunted the development of De'Von Achane

— Matt Cannata (@CannataPFN) August 15, 2023
Achane certainly looks the part, and if he can continue to do so, his fantasy stock could spike at the right time, both for the Dolphins and for fantasy managers. This week, I want more proof that he is can't-ignore levels of special.
The fragile veterans are going to be a thorn in his side, but their respective track records suggest that Achane will get his chance at some point. I want proof that he is ready to run when (not if) that opportunity arises.
Tank Dell and John Metchie III, WR, Houston Texans
The construction of Dell's Hall of Fame bust is still happening after his showing last week, while Metchie's comeback story is one films are made of.
The intrigue for fantasy managers is this setup. No matter what you think of these two prospects, the Texans are going to be a bad football team, but that doesn't always mean a useless one for us.
The fact that Houston trailed for 59.7% of their offensive snaps last season could be spun as a good thing for fantasy managers, given that it encourages aggression.
The Texans don't have a receiver on their roster that projects as an elite target hog for 2023, resulting in plenty of looks up for grabs. This team is not going to be any fun to watch, but even the worst teams produce viable fantasy options, and both of these receivers have enough pedigree to potentially matter from Day 1.
Jameson Williams, WR, Detroit Lions
(Editor's note: Following this post, Williams was ruled out for this week with a hamstring injury. Keep an eye on his price tag, as this only increases the chances he falls off of radars)
The talented speed demon will serve a six-game ban to open the season, but Dan Campbell promised us preseason reps, and he certainly delivered on that last week.
Williams produced a highlight grab and was targeted on a handful of deep passes as Detroit aims to discover exactly what they have in their 2022 first-round pick.
At the moment, Williams is coming off the board in the Round 9-10 range of fantasy drafts, with managers undoubtedly wanting to have that card to play when fantasy leagues are being decided.
That strategy is sound, given that Detroit plays nothing but indoor games during the fantasy playoffs, so a strong showing would help solidify this strategy.
Listen to the PFN Fantasy Podcast
Listen to the PFN Fantasy Podcast! Click the embedded player below to listen, or you can find the PFN Fantasy Podcast on iTunes, Spotify, and all major podcast platforms.  Be sure to subscribe and leave us a five-star review! Rather watch instead? Check out the PFN Fantasy Podcast on our Fantasy YouTube channel.