The first day of padded practice for Minnesota Vikings training camp, the sixth day of camp overall, provided some more exciting highlights, but what happened off the field might have been even more compelling.
The Vikings ended up getting a lot better without adding a new player to the roster, instead resolving the Danielle Hunter contract situation that had been looming over camp and had threatened to torpedo the hopes that the Vikings had at improving their defense.
Danielle Hunter Returned to Practice
Hunter returned to practice, which was a welcome relief to everyone in the building and likely Hunter himself. He wasn't really injured so much as conducting a "hold in" that prevented him from practicing. The Vikings had a lot of compliments for Hunter after he confirmed his availability for the rest of training camp.
Hunter, when asked if he wanted to finish his career in Minnesota, said, "I want to be a Viking forever." Perhaps there's the possibility that Hunter and the Vikings work out something to sign him long-term after the season is over.
General manager Kwesi Adofo-Mensah was interviewed on the Vikings Entertainment Network's live broadcast of practice, and he said of the deal, "We're trying to be the baddest dudes in the schoolyard. When you add a bad dude like that, I think you walk a little taller."
Adofo-Mensah even mentioned that Hunter is entering camp a little bit bigger; the executive stated that when Hunter walked into his office, he said, "Danielle, you look bigger," and Hunter responded, "Yeah, this is the first offseason in two I haven't been rehabbing an injury."
The Vikings general manager is optimistic and pointed out that Hunter's second half of the season was better than the first half. That should mean he can carry an even higher level of play into 2023.
Defensive coordinator Brian Flores said in a press conference after the deal was announced that "[Hunter's] an exceptional player. We're excited to have him as part of the defense … he leads by example, and his actions speak for themselves."
Head coach Kevin O'Connell was ecstatic. He added, "We're a better football team with Danielle Hunter. He will be a full participant in training camp from here on out."
Minnesota Vikings Injury News
The Vikings returned one player to the practice field but sent one more from the practice field to the trainer's room. Here are the absences the Vikings had on Day 6 of training camp:
QB Nick Mullens
G Chris Reed
EDGE Andre Carter II
OT Brian O'Neill
WR Jalen Nailor
OT Sam Schlueter
Nick Mullens is a new addition to the absentee list, though his absence was not injury-related. He was excused from practice in order to deal with a family matter.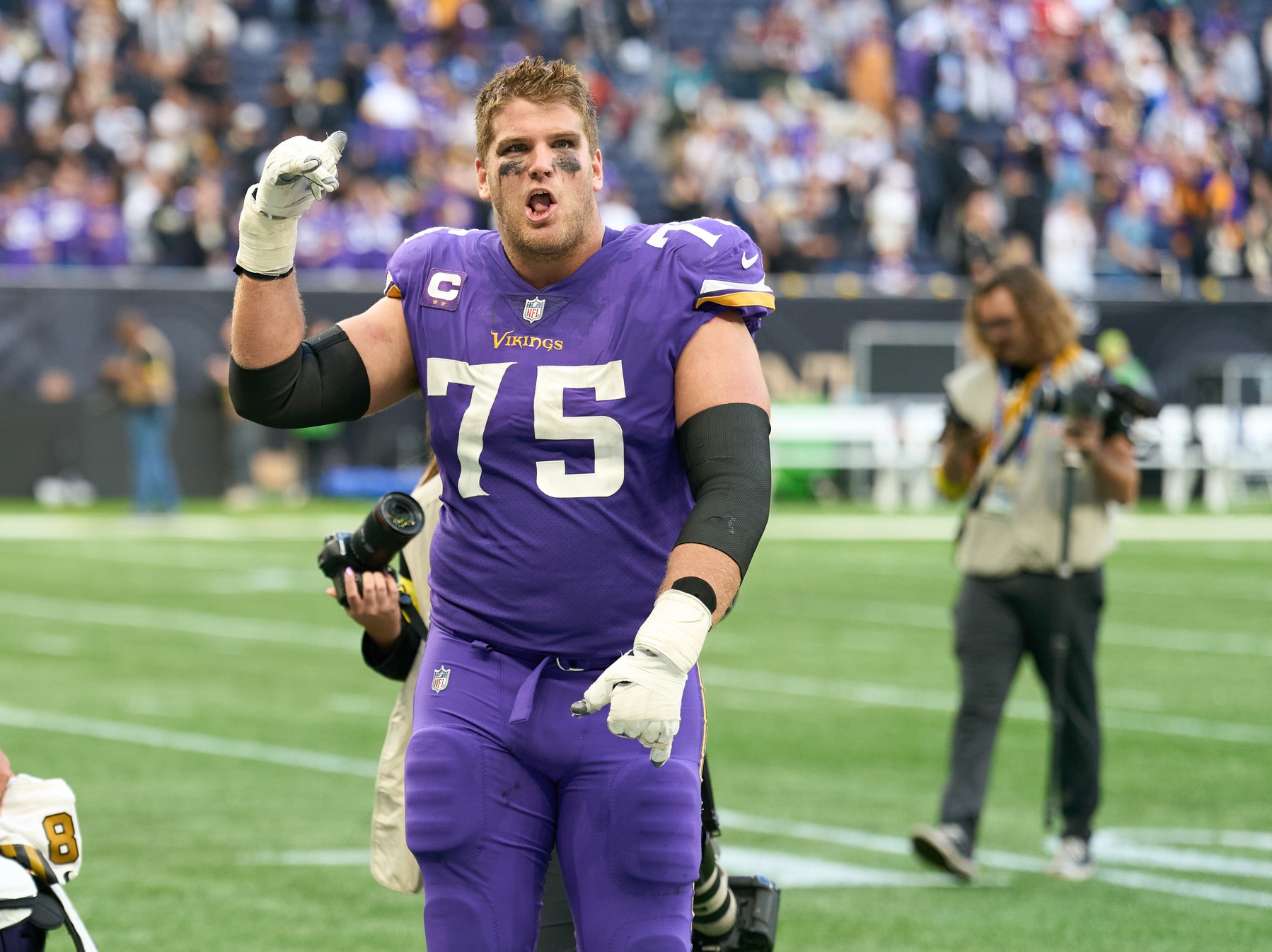 Brian O'Neill continues to rehabilitate from his Achilles injury and is still on the timeline that the coaches have indicated would put him back on the field by the time the season starts. Andre Carter II and Chris Reed have not been taken off their particular reserve lists.
Jalen Nailor wasn't spotted at practices, so it's safe to assume the injury he suffered on the second day of camp continues to be an issue, though O'Connell expects him back sooner rather than later this week.
In the previous practice, before it was cut short because of thunder, Vederian Lowe left early. He participated in Monday's practice, suggesting that the injury he suffered was not particularly concerning.
Offensive tackle Sam Schlueter wasn't spotted at practice, so he could have been absent because of an injury.
Vikings Depth Chart News
The Vikings did not change their depth chart much, even as they returned Hunter to the lineup. Nevertheless, there were some changes. The Vikings began rotating rookie Mekhi Blackmon into the starting lineup with Joejuan Williams on the second team.
Most of practice featured Williams as the starting cornerback in nickel sets, but in red-zone drills, Blackmon took on the role. On the offensive line, with O'Neill out, the Vikings continued to play Oli Udoh as the starting right tackle, which left the second team to field Vederian Lowe at left tackle, Austin Schlottmann at left guard, Josh Sokol at center, Blake Brandel at right guard, and Bobby Evans at right tackle.
Kene Nwangwu continued to take second-team running back snaps instead of Ty Chandler. What's really interesting is that it was rookie DeWayne McBride that got some more run with the twos than Chandler. There were very few other changes on offense, though it should be noted that Jordan Addison did participate in some punt return drills.
Vikings Training Camp Highlights
The Vikings have developed more of their blitz packages, and we've been able to see something we didn't get to see nearly at all last year: Harrison Smith blitzing. He pulled in a likely sack on Jaren Hall, who ended up playing with the second-team offense with Mullens absent.
The increased volume wasn't wonderful for Hall, who struggled with challenging the second and first-team defenses. He was inaccurate in a number of different ways, including overthrows, underthrows, and poorly timed passes behind his intended target. He was picked off more than once, including once by Smith.
Hall wasn't alone — Kirk Cousins struggled a little bit with accuracy and, this time, didn't have the excuse of heavy winds to point to. That said, Cousins has largely been very good throughout camp, so one or two days of underperformance don't really mean much.
Camp reports for rookie Jordan Addison remain overwhelmingly positive, and his physical traits — particularly agility — have shown out against the members of the Vikings' secondary.
#Vikings rookie WR Jordan Addison is SHIFTY 🔥 pic.twitter.com/vgUROHfp3V

— vikesinsider (@vikesinsider) July 31, 2023
It helped that Addison also saw additional time with the first team, perhaps his longest run with the starting unit yet.
Receiver Trishton Jackson had an excellent day as well and won a number of his reps, including a diving one-handed catch against Joejuan Williams. He could be a favorite for the fifth receiver slot.