After four years of mediocrity, Clay Helton is out, and Lincoln Riley is in at USC. The Trojans hope to resurrect their era of dominance in the Pac-12 with Riley and Oklahoma transfer QB Caleb Williams at the helm. With the season drawing near, who are the USC 2023 NFL Draft prospects you need to know?
USC prospects in the 2023 NFL Draft
USC sent three players to the 2022 NFL Draft, the fourth-most in the conference. The Trojans have actually had at least one player selected every year since 1939, tied with Michigan for the longest active streak in the NCAA. While that streak will certainly continue in 2023, just how many USC prospects could be drafted?
Travis Dye, RB
Riley has stated that USC's backfield is going to be more of a three-headed monster than anything else in 2022. Leading that rushing attack will be Oregon transfer Travis Dye. Hot on the heels of a 1,263-yard and 16-touchdown campaign, Dye simply needs to remain consistent to feature in a strong 2023 RB class. He may not be the fastest or biggest back (5'10", 190 pounds), but Dye's motor is relentless, and his receiving prowess raises his floor.
Austin Jones, RB
By all accounts, Stanford transfer RB Austin Jones showed out during spring practices. He struggled to gain traction on the ground last year, recording just 378 yards on 107 carries. But Jones averaged 110 yards per game over the last four contests of 2020 and is a reliable receiver. He struggles a bit in pass protection, but if he can improve there and see daylight behind USC's OL, he can significantly boost his draft stock.
Darwin Barlow, RB
Last year was Darwin Barlow's first in Los Angeles after he spent his first two seasons at TCU. He has been a non-factor in the receiving game, but Barlow is USC's leading returning rusher (63-290-2 line). While he is the third RB in the trio, he should receive enough work to showcase the potential that made him a three-star recruit from Newton, Tx. Across three high school seasons, Barlow rushed for 5,000+ yards and 90+ touchdowns. You don't produce gaudy numbers like that by accident.
Jordan Addison, WR
To read the full breakdown on Jordan Addison, click the link. But the skinny is Addison owns the electricity to take any play to the house. Whether it is a hand-off, screen pass, or deep ball, you can expect him to make a play. He can easily evade tackles, burst out of routes, and accelerate downfield.  But wait, there's more!
Addison routinely comes away with highlight-reel passes, which is even more impressive when you remember he is only 6'0″ and 175 pounds (a generous weight from the school roster). While he isn't a perfect prospect, Addison shouldn't have to wait long to hear his name called in the 2023 NFL Draft as one of the top WRs in the class.
Gary Bryant Jr. and Brenden Rice, WR
I'll clump the two true juniors together here because their odds of declaring for the draft are lower than the rest of the group. Nevertheless, both have intriguing qualities, and with a stellar campaign catching passes from Williams, there is every chance they pull the trigger on the draft. Gary Bryant Jr. hauled in the same amount of TDs as Drake London last season (seven) on 49 fewer targets. He was USC's primary deep threat and wasn't asked to do too much underneath.
Rice, meanwhile, comes over from Colorado. Outside of being Hall of Fame wide receiver Jerry Rice's son, Brenden was the Buffaloes' No. 1 WR in 2021. That isn't saying too much, though, as within the confines of the offense, he was only able to produce 21 receptions for 299 yards and three scores. The talent is there, and I'd bank on Riley and Co. tapping into it sooner rather than later.
Terrell Bynum, WR
When you think of the Washington Huskies football team, the mind doesn't typically wander to the passing game. Yet, Terrell Bynum was electric last year, hauling in just 26 passes for 436 yards and four touchdowns. A dynamic slot weapon, Bynum figures to bolster an already loaded USC receiving corps. As a redshirt senior, Bynum is on the older side as a prospect. But another year averaging nearly 17 yards per catch with an increase in targets will only improve his draft standing.
Tahj Washington, WR
Seemingly flying under the radar with all of the transfer talent coming in, Tahj Washington is USC's leading returning WR. Playing primarily on the outside across from London, Washington provided sure hands for his quarterbacks. At 5'11" and 175 pounds, he won't win many contested situations. Nonetheless, he owns impressive leaping ability and can make defenders miss in the open field.
Kyle Ford, WR
Kyle Ford hasn't played much in his career, but he consistently made the most of his opportunities in 2021. The now-redshirt junior moved the chains or scored a touchdown on 11 of his 19 catches last year. His 6'3″ and 220-pound frame makes him an easy target for QBs, but with two ACL tears (one as a senior in high school and the other in 2020), there is cause for concern. If the former five-star recruit can stay healthy and prove his athleticism hasn't been zapped, he will be a sought-after commodity in 2023 or 2024.
Andrew Vorhees, OL
Talking offensive line isn't sexy, but it is fun to watch Andrew Vorhees play football. At 6'6″ and 320 pounds, he possesses tackle/guard versatility on both sides. With four years of starting experience under his belt, there isn't much he hasn't seen on the collegiate level. Another dominant season in 2022 will cement him as one of the top OL prospects in the 2023 NFL Draft.
Brett Neilon, C
Standing 6'2″ and 295 pounds, Brett Neilon is a bit undersized. However, he plays to his strengths well and uses his natural leverage to his benefit. He didn't allow a sack last season and has a quick enough base to reset when facing power. His overall profile may see him slip out of the draft, but his competitive toughness and experience are worthy of late-round consideration.
Justin Dedich, G
Justin Dedich was a rotational piece along the offensive line before starting the final four games at left guard last season. He shined in his limited reps, allowing just a handful of pressures and bulldozing defenders in the ground game. It seems he hasn't skipped a beat this offseason either, as USC OL coach Josh Henson stated he has been the "most consistent performer through the spring." A full season as a starter with the same — if not improved — play from 2021 should see the 6'2″ and 300-pound interior lineman receive looks in the draft.
Jonah Monheim, OT
Helton had rave reviews for Jonah Monheim the last two offseasons. Monheim followed that up with flashes in 2021, though he had his ups and downs. Now solidified at right tackle, Monheim could theoretically take the next step in his development this season and prove to be a fixture in the 2023 NFL Draft. Yet, as a redshirt sophomore, there is no need to put such expectations on him already. He has time to build his frame and hone his craft technically. But the potential is there.
Bobby Haskins and Courtland Ford, OT
The only major transfer addition along the offensive line is Virginia left tackle Bobby Haskins. It will be interesting to see how the battle between him and redshirt sophomore Courtland Ford shakes out. Like Monheim, Ford flashed his potential in 2021, his first with significant playing time. Regardless, USC brought Haskins in for a reason.
Haskins was an All-ACC honorable mention in 2021 and will push Ford for the starting LT job. Competition breeds excellence, and if Haskins gets the nod and plays well, he should hear his name in the 2023 draft. On the other hand, Ford is in the same boat as Monheim. He could win the first-team reps, exceed expectations, and declare for the draft, or he returns to school next season and sets his eyes on 2024.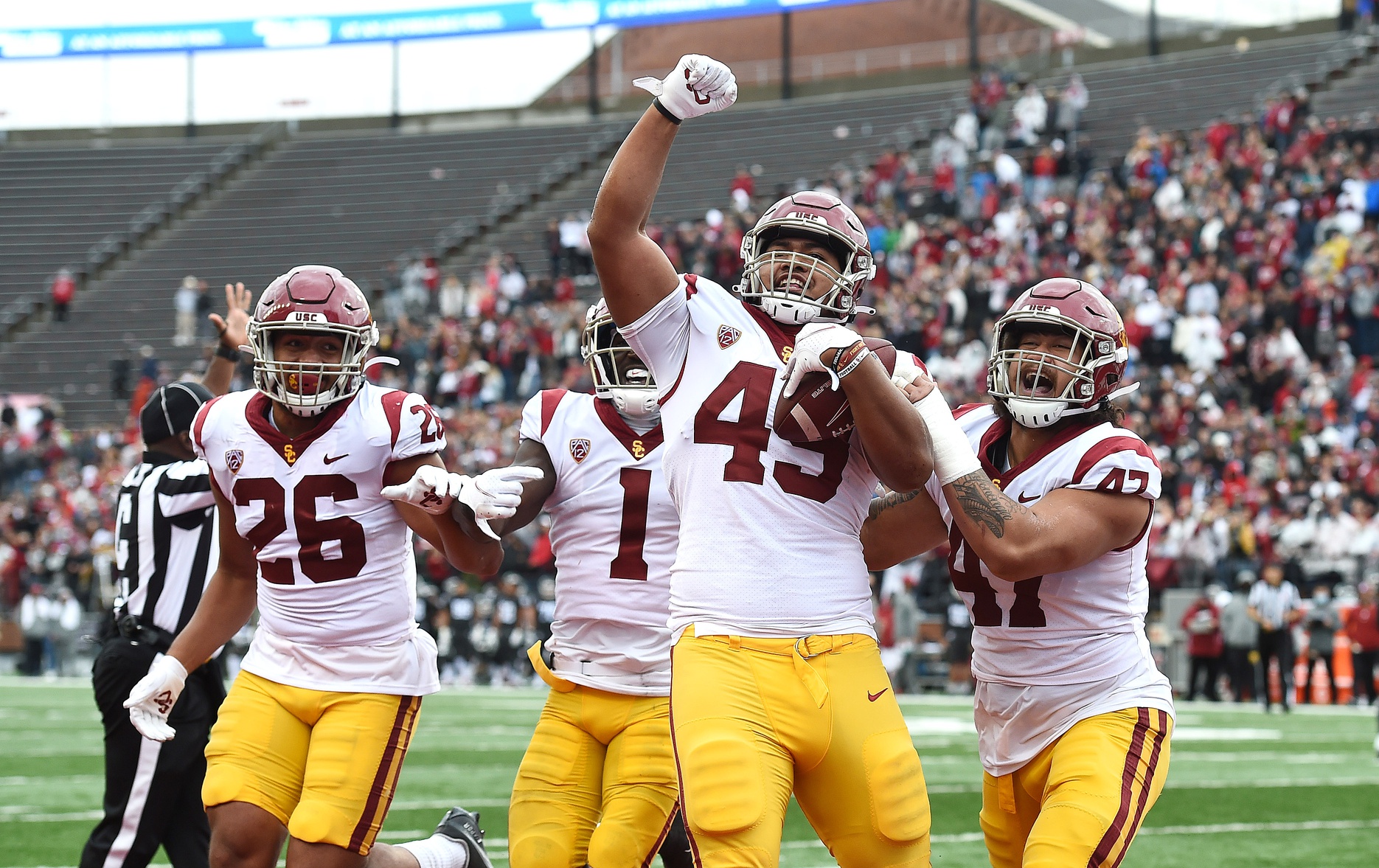 Nick Figueroa, EDGE
After seeing an uptick in snaps and production in 2020 (3 1/2 sacks), many expected Nick Figueroa to take the next step last year. While he did earn over 20 more snaps, he didn't register a single sack, largely due to shoulder and hamstring injuries slowing him down. For a team to select Figueroa in 2023, he will have to play lights out this season. That's not to say it is impossible, and with a Tesla NIL deal in hand, Figueroa hopes to accelerate his progression.
Tuli Tuipulotu, DT
Tuli Tuipulotu is a force to be reckoned with on the defensive line. New defensive coordinator Alex Grinch's system is based on attacking gaps rather than players. Thus, Tuipulotu will be asked to shoot gaps quickly, something he shouldn't have an issue doing. Tuipulotu is primed for a breakout season, and the coaching staff plans to use him as a defensive chess piece. His 5 1/2 sacks led the Trojans last year, but don't be surprised if he surpasses that total in 2022.
Stanley Ta'ufo'ou, DT
You know what you are getting with Stanley Ta'ufo'ou: a high-character nose tackle who doesn't bring much as a pass rusher but can seal a gap. Unfortunately, Ta'ufo'ou's lack of a pass-rush presence and limited size (6'3″ and 275 pounds) will likely cause him to go undrafted.
Earl Barquet Jr., DT
Across two seasons at TCU (16 games), Earl Barquet generated 21 tackles, 3 1/2 tackles for loss, and 2 1/2 sacks. In his sparse playing time, he has proven to be a decent pass-rush weapon on the interior. Still, he seems to be a couple of spots lower on the depth chart currently, though he can play himself into a key rotational role closer to the season.
Romello Height, LB
Romello Height traded in his Auburn gear for the Cardinal and Gold. He proved to be a problem for opposing offenses rushing off the edge. Now settling into the "rush end" role for USC, expectations are that Height will take the reins from Drake Jackson as the team's pass-rush dynamo. That's a lot of pressure to put on a redshirt sophomore, but not as much pressure as Height aims to impose on QBs. Even if things aren't smooth in Year 1, Height has time to perfect his craft for the NFL.
Shane Lee, LB
Turn back the calendar to 2018, and Shane Lee was the top-rated inside linebacker in the nation. The following year, he would take home Freshman All-American honors. But in the seasons since, Lee has battled injury and limited reps at Alabama, ultimately deciding the transfer portal was the best decision. Now, Lee is the leader of an overhauled defense. And if he can return to form, he should be able to book a ticket to the NFL, especially with his special-teams experience.
Ralen Goforth, LB
Ralen Goforth has been a better special-teamer than linebacker in his career. However, he has reportedly stepped up his game this offseason and has been one of the most consistent players. If he can translate that practice-field work into on-field performance, the senior LB can make an impact from his WILL position. At 6'2″ and 235 pounds, Goforth has the tools to be an NFL prospect. It is up to him to earn the trust of decision-makers come next fall.
Mekhi Blackmon, CB
Riley called Colorado transfer Mekhi Blackmon one of the top playmakers on the defense in spring. That's not surprising, as Blackmon was an All-Pac-12 honorable mention last year as a mainstay in the Buffaloes' secondary. Working out of both the slot and outside, Blackmon didn't allow a pass over 40 yards during his four years at Colorado. That consistency and reliability will be needed in a young cornerback room at USC.
Max Williams, CB
Measuring 5'9″ and 180 pounds, Max Williams will never win a size matchup. He missed the entire 2021 season due to torn knee ligaments, but Williams has bounced back to earn first-team nickel reps all offseason. The USC DB plays with fire and crashes down in run support. He should start from the slot and contribute on special teams as well. His size will naturally limit him in coverage, but as the saying goes, "It's not the size of the dog in the fight; it's the size of the fight in the dog."
Listen to the PFN Scouting Podcast
Listen to the PFN Scouting Podcast! Click the embedded player below to listen, or you can find the PFN Scouting Podcast on iTunes, Spotify, and all major podcast platforms.  Be sure to subscribe and leave us a five-star review! Rather watch instead? Check out the PFN Scouting Podcast on our Scouting YouTube channel.