NFL teams always value football bloodlines. It gives the teams a sense of comfort and a sense that these guys have lived and breathed the game since they were born. Those prospects often have a little bit of a leg up on the competition. For UCLA safety Quentin Lake, that very much is the case. The son of former Steelers and UCLA safety Carnell Lake, he has been around football his entire life. Not only was his dad a player, but he was also a coach.
Lake carried the family legacy by attending UCLA, just as his father did before him. However, while his dad was an All-Pro and Pro Bowler, Lake has not reached those heights just yet. He still has received a starting job on the UCLA defense, though. His tape reveals the football background that helped make him a dependable player.
The PFN Mock Draft Simulator features over 350 prospects, free trades (including future year picks), the option to control any number of teams, and the ability for you to choose your own draft speed. Build your favorite team into a winner – click here to enter the
PFN Mock Draft Simulator!
Safety Quentin Lake's solid tape
Lake is never a flashy player by any means. The swagger, big hits, and show-stopping plays will not come from him. That is acceptable considering he has the essential traits that teams will love to see in safeties.
Related | 2021 NFL Draft: Top 10 safety rankings
First off, Lake is quite versatile. He plays in the slot, off the edge, in the box, and at single-high. What sets him apart is not his ability to line up in these spots, but he plays them all very well. That screams a prominent subpackage role for someone like Lake.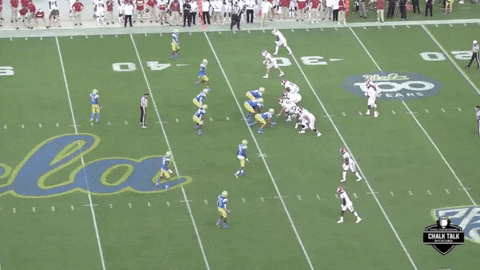 The thing that immediately jumps out about Lake is his discipline. Even as he is rushed to the line, watch as he keeps his hips completely square despite the outside stem. Lake is doing a fantastic job of monitoring the receiver's hips with his eyes and not biting on it.
The pitter-patter steps to mirror the stem keep him in-phase and well-paced with the receiver. Once the receiver cuts back inside, Lake does a great job to attach to the hip pocket, where he will be able to make a play if the ball is thrown. This is perfect coverage discipline from a player that has likely learned this stuff from a young age.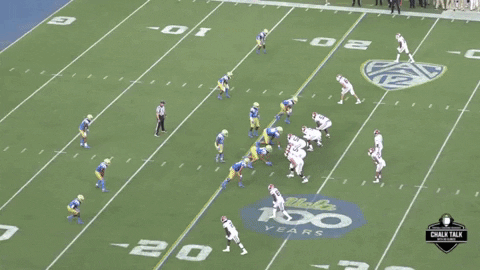 It is not always about splash plays
These are the type of players that a seasoned safety like Lake will make. The instincts to cut back and perhaps save a touchdown are great. Lake is making a full drive down towards the sweep but somehow stops on a dime, turns his hips, and can be in a great position to make the tackle. This an NFL level heads up play from Lake. Again, given his football bloodlines, he likely has the superior knowledge and instincts to make plays like this.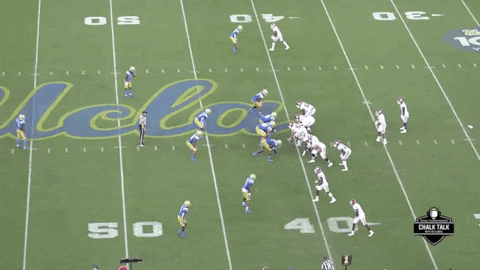 It is almost like Lake has eyes in the back of his head here. This is man coverage across the board aside from Lake, who is a roaming underneath safety. This is all about processing the quarterback's eyes. As a result of processing his progressions and movements, Lake is about to undercut the dig route, and it is no longer open if Jalen Hurts was going to look that way. Thus, it nets a sack for UCLA thanks to excellent mental processing from Lake.
Lake's NFL outlook may rise
Lake is an intriguing NFL prospect. As I said before, he is not a flashy guy. That means he does not make many splash plays either. Forced fumbles and interceptions are not something he often makes even though he is in an excellent position to make plays on the ball. That brings into question his ball tracking skills. Lake's upside, as a result, is drawn back to a degree since the playmaking ability is not there.
Related | Florida State CB Asante Samuel Jr. aims to rise in 2020
However, he is a versatile chess piece with great length in the slot. Lake has cornerback-like movements, which makes sense given his father's defensive back background. His loose hips, smooth footwork, and great eyes all scream experienced players. Lake is only in college, but for those fundamentals, he is wise beyond his year's thanks to rich football bloodlines.
As a tackler, Lake is not going to lay the wood, but will adequately tackle. He is strikingly consistent as a tackler even though he can tend to nip at times. It works, however, and his length is a significant asset to his tackling radius.
There is always a place in the NFL for versatile, smart defensive players. Lake epitomizes that. Not only that, but Lake will have significant special teams upside for teams. As a third safety, Lake can thrive. Indeed, this is a player with enough upside to be a starter. For a mid-round value safety, Lake is someone to watch as a potential riser.