The UCLA Bruins finished 21st in the AP Poll with a 9-4 record in 2022. Head coach Chip Kelly is still chasing both Oregon and USC entering 2023. We're diving into the Bruins' 2024 NFL Draft prospects who can help elevate this program into Pac-12 contention.
UCLA Bruins Roster and Depth Chart Changes
The Bruins have a challenging undertaking in 2023 as they're replacing two key cogs in their offensive backfield. A total of four offensive players were drafted in the 2023 class, with star quarterback Dorian Thompson-Robinson and running back Zach Charbonnet headlining their departures. Kelly's offense ranked eighth in scoring last year, so the unit has big shoes to fill.
It's difficult to say who will emerge at quarterback in particular. Former Kent State quarterback Collin Schlee is battling with incumbent backup Ethan Garbers and five-star freshman Dante Moore. Schlee earned a draftable grade from scouting services despite completing only 59% of his passes last year, so his talent isn't insignificant.
UCLA also added transfer running back Carson Steele from Ball State to the backfield. Three presumptive starters along the line and two transfers were also added at receiver. The offense's personnel is significantly different.
The defense is relying more on internal growth than external additions. Only four notable transfers were added, and only one may start in Week 1. Instead, the unit has six other seniors who must step up as the unit takes a leap from finishing 92nd in scoring last year.
UCLA NFL Draft Prospects
Collin Schlee, QB
It's possible that someone who is considered a late-round NFL prospect barely plays in 2023 on this UCLA team. Schlee didn't have impressive numbers at Kent State, but his physical gifts make it easy to understand why Kelly would add him to the roster and why scouts want to see more of him. Schlee, at 6'3″, 217 pounds, is a solid rusher with speed and has a strong arm that easily generates velocity.
A confident player capable of delivering accurate bullet passes as he alters his arm angle to avoid defenders, Schlee resembles a bigger, stronger iteration of former Texas A&M QB Johnny Manziel. Like Manziel, Schlee has the tendency to lose his foundation, relying too much on arm talent alone and struggling with consistent accuracy.
The tools are intriguing, though, and Schlee should earn all-star game consideration regardless of whether he plays this fall. He could become a major riser if he wins the job and adapts to the higher level of competition the conference brings.
J. Michael Sturdivant, WR
Joining UCLA from Cal, J. Michael Sturdivant is only a third-year sophomore in 2023. He produced an impressive campaign last year with 65 receptions for 755 yards and seven touchdowns, including torching Notre Dame, Washington, and Oregon. At 6'3″, 200 pounds, Sturdivant has surprising agility and versatility for his size.
Able to play in the slot and create separation on sharp-breaking routes, Sturdivant can be a chess piece for Kelly's offense. He especially thrives when tracking the ball, showing great concentration and possession traits even with limited space or faces incoming contact.
He's not a game-breaking athlete, though, and his ability to create after the catch must be highlighted more for Sturdivant to break out in a crowded class of similar athletes. He has draftable talent and can flourish in an offense that won't struggle to throw the ball nearly as much as Cal did.
Duke Clemons, C
An impressive mover in the run game, Duke Clemons fits Kelly's zone running scheme perfectly thanks to his athleticism. There's no question he has NFL quickness and creates enough power to move defenders further down the line. His strength also shows as a pass blocker.
The biggest area Clemons has to improve is as a help blocker in pass protection. He's prone to focusing too much on one defender and missing a stunt or delayed blitzer. there are also reps where he'll lose leverage because he bends at the waist.
Overall, Clemons is a strong interior line prospect who could be taken on Day 2.
Laiatu Latu, EDGE
The team's leading sacker last year, Laiatu Latu has an NFL build at 6'4″ and 261 pounds. He was used all over the defense, sometimes as a nose tackle and sometimes as a stand-up edge rusher. Latu moves well for his size, but his athleticism didn't match his production.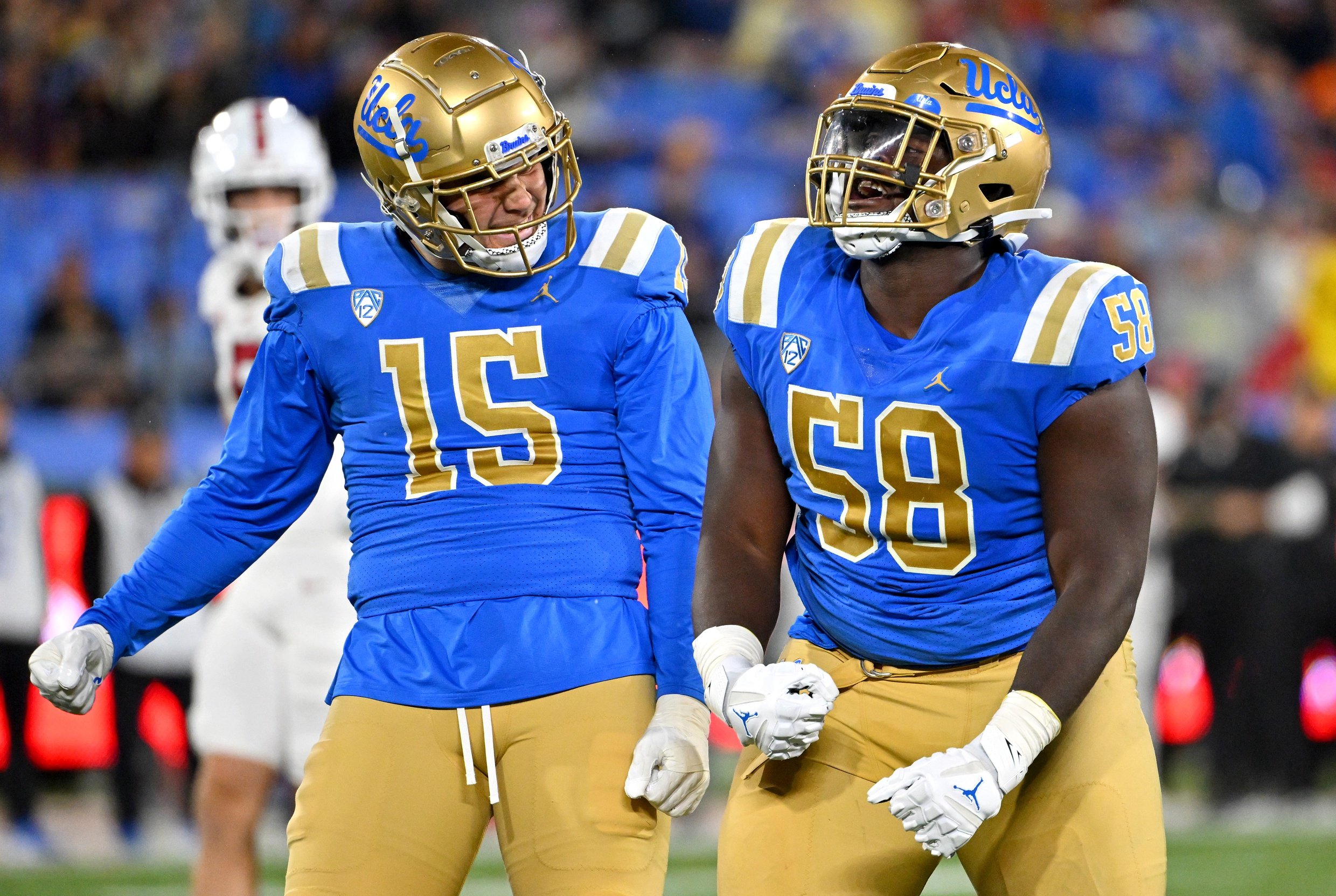 Lacking a great burst and power as a pure edge defender, Latu must show a deeper array of pass-rush moves and the ability to string together those moves in order to win in 2023. Otherwise, his best value is as a subpackage player who can be moved around on blitzes, as his effort and size are his best qualities.
Latu has a late-round grade entering the fall.
Gabriel Murphy, EDGE
A quicker end at 6'2″ and 255 pounds, Gabriel Murphy is the more agile of the two Muprhy brothers. He's highly alert as he looks for lanes to split and penetrate through with his quickness. When he wins, he wins quickly and can generate a major positive for the defense.
However, Murphy loses big when he's not successful. He'll get driven out of rushing lanes, and guessing incorrectly can cost the unit dearly. A major point of improvement for this fall will be pushing through contact and being stronger at the point of attack.
Grayson Murphy, EDGE
The better of the two Murphy brothers is Grayson. Though he's listed as the same size as Gabriel, Grayson plays with much better strength and appears more physically gifted. Grayson projects as a possible strongside end in the NFL as he relies on his power even as a 5-technique in 3-4 alignments.
Murphy has enough speed to win as a stand-up edge, and he formulates a plan of attack effectively. He has active hands that allow him to bat blocker's hands down, opening the door for him to scurry by. He's the best defensive prospect on the unit and has a Day 3 grade currently.
Devin Kirkwood, CB
It's impossible to ignore a 6'3″ corner. Still an underclassman, Devin Kirkwood has to parlay his physical gifts into production and more consistency. He's a capable press corner with good strength and patience in coverage.
But growth is needed. He's prone to false steps at the line of scrimmage, and he's more reactive than instinctive. He'll rarely win on crossers with fast playmakers, but that's not uncommon. Kirkwood has to increase his production as well, as he has only one career interception and four pass deflections.
Still, there's always interest in tall, long corners. Kirkwood has the potential to evolve into a significant prospect with the right development.
UCLA Bruins Schedule
Week 1
BYE
Week 2
Sept. 2: vs. Coastal Carolina Chanticleers
Week 3
Sept. 9: at San Diego State Aztecs
Week 4
Sept. 16: vs. NC Central Eagles
Week 5
Sept. 23: at Utah Utes
Week 6
BYE
Week 7
Oct. 7: vs. Washington State Cougars
Week 8
Oct. 14: at Oregon State Beavers
Week 9
Oct. 21: at Stanford Cardinal
Week 10
Oct. 28: vs. Colorado Buffaloes
Week 11
Nov. 4: at Arizona Wildcats
Week 12
Nov. 11: vs. Arizona State Sun Devils
Week 13
Nov. 18: at USC Trojans
Week 14
Nov. 25: vs. California Bears
Week 15
BYE
Listen to the PFN Scouting Podcast
Listen to the PFN Scouting Podcast! Click the embedded player below to listen, or you can find the PFN Scouting Podcast on iTunes, Spotify, and all major podcast platforms.  Be sure to subscribe and leave us a five-star review! Rather watch instead? Check out the PFN Scouting Podcast on our Scouting YouTube channel.