Set to field one of the Sun Belt Conference's best defenses, do the Troy Trojans have one or two 2024 NFL Draft picks in the mix? Here's a look at Troy's top eligible players in the 2024 cycle and how they might project to the next level.
Troy Trojans NFL Draft Prospects
Fresh off a 12-2 season in which they won the Sun Belt Championship, the Troy Trojans appear to have the talent necessary to stay in contention for the conference crown.
The Trojans did experience a small exodus of NFL talent. Center Jake Andrews was drafted in Round 4 of the 2023 NFL Draft by the New England Patriots. On the defensive interior, they also lost Shakel Brown and Will Choloh — the former of which earned a UDFA opportunity with the Tennessee Titans.
Elsewhere, the Trojans said goodbye to other contributors like D.K. Billingsley, Rajae' Johnson-Sanders, Austin Stidham, and linebacker Carlton Martial, who finished his career at Troy as the all-time leading tackler in NCAA history.
Those losses sound tough to rebound from, but the Trojans have stability where it counts. They return their starting quarterback and running back, as well as one of their top receivers. And on defense, they have a ferocious EDGE tandem, a stifling CB duo, and a number of other potential standouts.
Kimani Vidal, RB
At 5'8″, 215 pounds, Kimani Vidal is your traditional bowling ball of a collegiate back, and he produces like it. Last year, he rumbled to 1,132 yards and 10 touchdowns on 231 carries, and he's back as the team's workhorse runner in 2023.
Though Vidal lacks a high degree of versatility, he has decent burst and agility for his size, and ultimately, his hyperdense frame and natural leverage make him very hard to slow one-on-one.
Asa Martin, RB
Vidal is likely to take on the brunt of the rushing volume in Troy's offense, but Memphis transfer Asa Martin could end up being the superior 2024 NFL Draft prospect. Martin originally transferred to Memphis from Auburn and came to the Tigers as a four-star high school recruit.
At 5'11", 205 pounds, he's a quick accelerator with in-built versatility, who showed off his pass-catching chops in 2022 with 36 catches for 312 yards and a score.
Deshon Stoudemire, WR
Troy's offense pales in comparison to its defense, but the Trojans may have a legitimate WR prospect in Deshon Stoudemire. The 6'1″, 186-pound JUCO product — who produced 41 catches for 507 yards and two scores in 2022 — is the cousin of six-time NBA All-Star Amar'e Stoudemire, but he has a future in football, no doubt.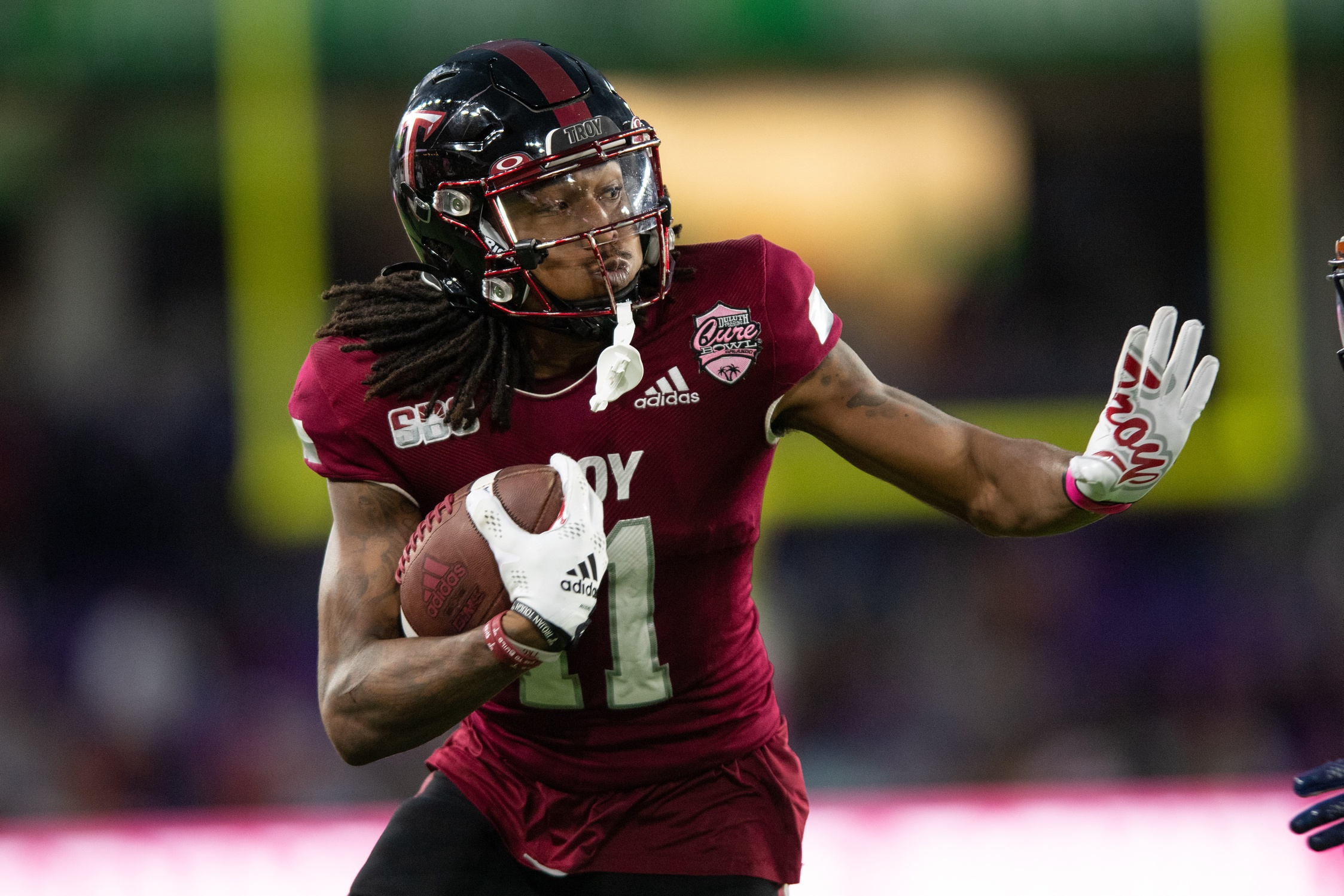 He's a long-strider with good upfield burst, who can manipulate attack angles, vary his strides, and sink suddenly at stems, and he also brings crisp lateral agility after the catch.
Jabre Barber, WR
A broken fibula prematurely ended Jabre Barber's 2022 season after just six games, but the Troy receiver managed to make an impression in his time on the field.
The 5'10", 174-pound pass catcher put up 25 catches for 351 yards and two touchdowns in that short window, exceeding his full 12-game yardage total from the year before. Barber is a dynamic athlete at his size who could be a valuable underneath threat alongside Stoudemire.
T.J. Jackson, DL
Particularly at EDGE and CB, the Trojans are well-stocked with talent but don't overlook defensive lineman T.J. Jackson in the team's rotation. Jackson erupted for eight sacks, 14.5 tackles for loss, and two forced fumbles in 2022 and could be in line for another big year.
At 6'1″, 262 pounds, he's a well-leveraged, relatively alignment versatile defender who flashes surprising ankle flexion for his size when working from 4i and 5-tech.
Richard Jibunor, EDGE
Troy's defense could be one of the best Sun Belt units, and two talented edge rushers are at the core of its success. Both could be fringe 2024 NFL Draft prospects, but Richard Jibunor gets the first mention with his raw traits.
Jibunor, who stands around 6'3″, 229 pounds, is a former Auburn transfer with an exceptional blend of explosiveness, flexibility, length, and urgency. And in 2022, he notched career-highs in sacks (eight), TFLs (11.5), and forced fumbles (three).
Javon Solomon, EDGE
Opposite Jibunor, the Trojans have Javon Solomon. Solomon doesn't quite have Jibunor's length, but at 6'2″, 249 pounds, he's an explosive rusher who packs impressive strength within his compact frame.
He can be a handful in pursuit with his athleticism, and he has the ankle flexion to dip under the corner as a pass rusher. 2022 was a down year relative to Solomon's 11-sack, 17-TFL 2021 showing, but he's back to rebound in 2023.
Reddy Steward, CB
There's a case to make that the Troy Trojans' top prospect in the 2024 NFL Draft cycle is cornerback Reddy Steward. Steward is an instinctive cover man with a playmaking gene who logged three interceptions and 12 pass breakups in 2022.
Despite being 5'11", 178 pounds, he has good proportional length, as well as impressive natural sink and the speed to contend against vertical threats. He offers quick reaction times and snappy corrective athleticism in off-man and is authoritative at the catch point.
O'shai Fletcher, CB
Steward's production tops all in the Troy secondary, but also keep an eye on the man across from him: O'shai Fletcher. Like Steward, Fletcher is a leaner defender at 5'11", 172 pounds, but he plays larger than his frame. What Steward lacks in support and as a blitz threat, Fletcher provides two-fold.
He's a twitched-up athlete and an explosive, aggressive closer against screens and swings, who can also erupt through outer gaps as a pass-rusher. And as his eight deflections in 2022 show, he can disrupt at the catch point as well.
Dell Pettus, S
Rounding out Troy's talented cast of draft-eligible defenders is safety Dell Pettus. Pettus is now a five-year veteran of the Trojans defense, who's exceeded 50 tackles in every season dating back to 2019.
Pettus may fail to generate mainstream interest on the 2024 NFL Draft circuit, as he's not an elite athlete, and his tackling angles in support can be hot and cold. But at 6'0″, 205 pounds, he has intriguing size and play strength on the back end.
Other Notable Names
Gunnar Watson, QB
Landon Parker, WR
Marcus Rogers, WR
Deyunkrea Lewis, TE
Colby Smith, G
Daniel King, G
Eli Russ, C
AJ Pierce, DT
Buddha Jones, DT
Keyshawn Swanson, S
Troy Trojans Schedule
Week 1
BYE
Week 2
Sept. 2: vs. Stephen F. Austin Lumberjacks
Week 3
Sept. 9: at Kansas State Wildcats
Week 4
Sept. 16: vs. James Madison Dukes
Week 5
Sept. 23: vs. Western Kentucky Hilltoppers
Week 6
Sept. 30: at Georgia State Panthers
Week 7
Oct. 7: vs. Arkansas State Red Wolves
Week 8
Oct. 14: at Army Black Knights
Week 9
BYE
Week 10
Oct. 28: at Texas State Bobcats
Week 11
Nov. 2: vs. South Alabama Jaguars
Week 12
Nov. 11: at Louisiana-Monroe Warhawks
Week 13
Nov. 18: vs. Louisiana Ragin' Cajuns
Week 14
Nov. 25: at Southern Miss Golden Eagles
Week 15
BYE
Listen to the PFN Scouting Podcast
Listen to the PFN Scouting Podcast! Click the embedded player below to listen, or you can find the PFN Scouting Podcast on iTunes, Spotify, and all major podcast platforms.  Be sure to subscribe and leave us a five-star review! Rather watch instead? Check out the PFN Scouting Podcast on our Scouting YouTube channel.