The New York Giants returned to the playoffs for the first time since 2016 thanks to a 9-7-1 record. After spending an offseason building around quarterback Daniel Jones and giving head coach Brian Daboll more talent to work with, the Giants are looking to avoid regression in 2023. After all, they had a minus-six-point differential in 2022 despite having the easiest schedule.
After guaranteeing almost $170 million to Jones, Saquon Barkley, Darren Waller, Dexter Lawrence, and Bobby Okereke, the Giants have done as much as anyone could've expected despite not having a ton of assets to work with. Will it help them make the playoffs again in 2023?
These five X-factors will play a pivotal role in the Giants' efforts in 2023.
Top 5 X-Factors for Giants in 2023
WR Jalin Hyatt
The verticality of the offense was a significant issue in 2022. Darius Slayton had downfield speed but was also the obvious deep threat. Considering that Jones ranked 30th in deep-ball attempts and 20th in air yards, the numbers spell out New York's offensive limitations.
Jalin Hyatt, drafted 73rd overall, could be part of the solution. Though he was a unique deep threat from the slot in Tennessee's vertical-spread system, Hyatt knows he can be more than that.
When it came to Hyatt's experience and skill set, he said, "I'm not going to come in here and say I only play slot, or I only want to play outside. That's why I said I'm dynamic and explosive. I want to play everywhere…I'm going to do what I have to do."
MORE: 2024 FREE NFL Mock Draft Simulator With Trades
Hyatt's development can be massive for New York because they oddly added multiple versions of players they already had on the roster. While it's wise not to count on Wan'Dale Robinson or Sterling Shepard producing much in 2023 (or ever based on their injuries), Parris Campbell, Isaiah Hodgins, and Jamison Crowder have similar skill sets as those two.
Slayton and Hyatt have more explosiveness, but the latter was more of a slot specialist or someone you'd use in a role similar to Campbell when he's not going vertically.
LG Ben Bredeson
The offensive line didn't see as much of an investment despite being ranked as the 29th-best unit in pass-block win rate last year. Adding second-round John Michael Schmitz was an excellent upgrade to the interior of the unit, but depth was ignored at both guard spots.
Ben Bredeson won the LG spot last year before a knee injury knocked him out after eight starts, and he figures to be the favorite to edge out Joshua Ezeudu once again.
Bredeson will benefit from playing next to Andrew Thomas and Schmitz, who are both strong pass blockers. Though Bredeson didn't allow a sack last year and committed only three penalties in 542 snaps, he wasn't exactly stonewalling defenders. Real development is needed for him to be more reliable on an island so that Schmitz doesn't always have to shade his direction to help.
Bredeson's injury history is also concerning. He's missed 10 regular-season games over the last two years due to a hand injury and an ankle sprain in 2021, and a knee sprain in 2022. Bredeson might be the team's good luck charm, though, as they won six of his first seven starts in 2022.
EDGE Azeez Ojulari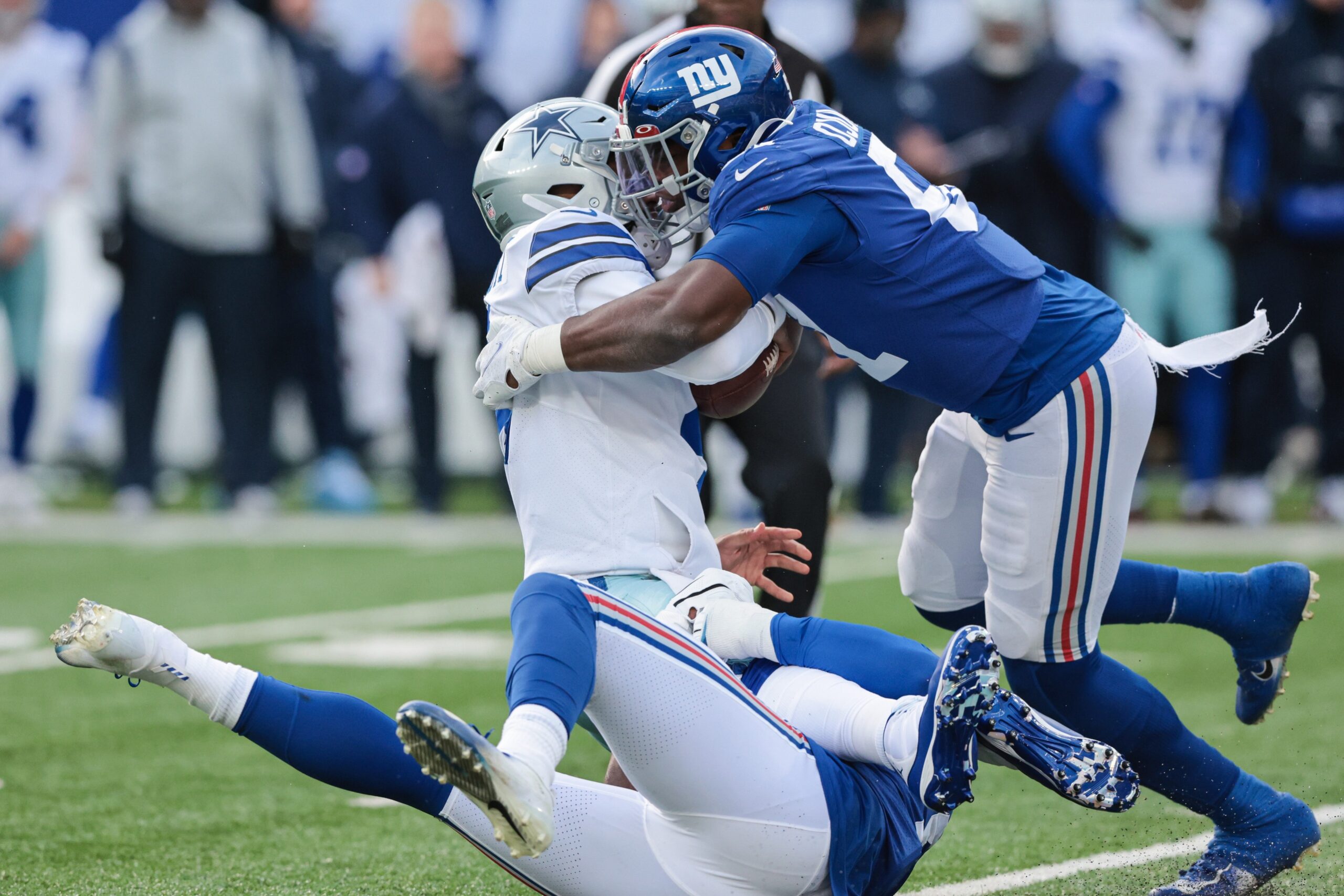 For as much that went right in 2022 for the Giants, their pass rush was never able to put everything together until the season was almost over. Injuries limited the defense to just 1.8 sacks per game until Azeez Ojulari returned to the lineup in Week 13. New York's leading sack artist in 2021 with eight, Ojulari played in only seven games last year.
Giants defensive coordinator Wink Martindale admitted he missed Ojuari "a lot" during that stretch, and it showed as the unit simply couldn't finish impact plays. Lawrence finished the year with 7.5 sacks, but Kayvon Thibodeaux had just four despite showing immense talent along the way.
Ojulari admitted to being "frustrated" because he struggled to stay healthy for even one full game at a time. Between his more serious calf strain and an ankle injury, Ojulari's inability to provide a legitimate second-edge presence across from Thibodeaux was a notable limitation for the team.
TE Darren Waller
The Giants' most notable move this offseason was a big swing. New York traded pick No. 100 (which they acquired for Kadarius Toney) for Waller.
Waller, who had back-to-back seasons of over 1,000 yards receiving in 2019 and 2020, has struggled with injuries over the last two seasons. Still, he's an immensely gifted pass catcher when he's on the field and was worth the risk.
The upgrade from Daniel Bellinger to Waller can't be understated. New York faces some of the best defenses in the NFL at limiting production to the position. Dallas allowed the second-least production to the position, Washington finished fifth, and Philadelphia was 13th.
Waller has averaged at least 12.1 yards per catch in four of his last five seasons, making him a premier option on intermediate throws who can draw safeties toward him and away from Slayton.
CB Deonte Banks
The other defensive position that couldn't reach its potential due to injuries is the cornerback spot. Star Adoree' Jackson missed seven games with an MCL sprain on a punt return, leading to a starting unit with journeyman Fabian Moreau and youngsters Nick McCloud and Cordale Flott. That's not ideal.
Deonte Banks was drafted to anchor the CB spot across from Jackson. The 6'0″, 203-pounder appears to be a perfect fit for Martindale, as he plays similarly to how Marlon Humphrey does for the Ravens. Martindale was Baltimore's defensive coordinator while Humphrey bloomed into stardom.
Banks doesn't need to be Sauce Gardner as a rookie for the Giants to benefit from his addition. Neither McCloud nor Flott were overly impactful, so any bit of playmaking from Banks will be a boost.