In five years in Knoxville, Tennessee offensive lineman Jerome Carvin has seen it all. He's experienced the highs and the lows of the college football experience, meeting the two with the same level of dedication, preparation, and application. When called upon, Carvin has answered the bell, and the result is one of the most experienced and versatile prospects in the 2023 NFL Draft.
Jerome Carvin Is One of the Most Versatile OL Prospects in the 2023 NFL Draft
Sixty games with 43 starts across five years, 21 starts at left guard, 17 starts at right guard, and five starts at center. Carvin's résumé coming out of Tennessee makes him one of the most versatile prospects in the 2023 NFL Draft.
If you were asked to sum up the Volunteers standout in one word, versatility would be it.
"All the reps I had playing across all three positions," Carvin begins to explain just how he became such a versatile commodity on the Tennessee offensive line for the past five years during a sit down with Pro Football Network ahead of the 2023 NFL Draft.
"Some games, I was at right guard and went to center. Some games, I was at left guard and went to center. Just being able to be available for my team, whenever my name was called. That was my biggest thing, just make sure I was ready and prepared for whatever they asked me to do. That's how I got my versatility."
In the late afternoon sunshine, seated in the passenger seat of a car that can barely contain his 6'5″, 321-pound frame, let alone the beaming smile that emanates from his face, Carvin makes it sound easy, almost matter of fact.
The reality is, that a lot of hard work, dedication, and technical development is required to man multiple spots on the interior offensive line, let alone to dominate from them.
MORE: 2023 NFL Draft Guard Class
The Tennessee lineman is fresh off a workout that ran late when he sits down across from me, albeit thousands of miles apart, a testament to his preparation and work ethic ahead of the 2023 NFL Draft.
"There's definitely some challenges for sure," Carvin begins to break down the technical nuances required to seemingly effortlessly switch across the interior. "You've got to kind of flip it in your mind, and that's probably the least bad bit about it.
"Muscle memory — you can be so set on playing right guard, then you've got to flip everything to the left, and that's so tough. Then going inside to center, making adjustments, making the calls, telling guys what they've got to do, owning the offensive line. You're the quarterback of the offensive line when you're at center. Being confident too is a huge thing for versatility."
Carvin's versatility increases his potential of being drafted. While at the 2023 East-West Shrine Bowl, he talked to several teams –including the Kansas City Chiefs, Tennessee Titans, Houston Texans, Atlanta Falcons, and Washington Commanders.
There was a consistent theme behind those discussions in Las Vegas — the Tennessee offensive lineman's positional versatility. While acknowledging the importance in the 2023 NFL Draft process, Carvin has a pragmatic, almost poetic approach to simplifying a process and a game that is easy to overcomplicate.
"Football is football, at the end of the day. Playing left or right, whatever it is. You're an interior offensive lineman, after that, you just gotta play ball."
Carvin Was Born To Play Ball
Playing ball is what Carvin has wanted to do since he was a small boy growing up in Memphis. Raised on a diet of his father's high school footballing stories, the former Tennessee offensive lineman — and 2023 NFL Draft prospect — donned a pair of shoulder pads and a helmet and never looked back.
Growing up in the heartland of SEC football, with a family of diehard LSU Tigers fans based in the Bayou, his early Saturdays and Sundays consisted of watching the Tigers trouncing opponents and the New Orleans Saints marching to Super Bowl glory in the wake of Hurricane Katrina.
Heroes and influences were found in those early exposures to the game. While he'd develop into one of the most versatile offensive line prospects in the 2023 NFL Draft, some of his first football memories were made by the position he'd eventually be tasked with protecting, and a player at a position that he'd have to protect them from.
"My family are huge LSU fans. Growing up, I was watching Glenn Dorsey, he was a defensive tackle who played for LSU for a while. I loved watching him play, loved how physical and ferocious he was. I used to look up to him a lot."
"In the NFL, I was a New Orleans Saints fan because my family is from Louisiana. Man, watching Drew Brees, watching that team when they got back in the dome. As a young kid, it was great watching them win the Super Bowl. I really looked up to those guys. I loved watching Drew Brees play. Seeing how they interacted on the field, that's how I fell in love with the game."
MORE: Fallout From the 2023 Shrine Bowl
Early in his football journey, Carvin leant on the influence of Dorsey as a two-way player who flipped across the battle lines of the trenches to both pressure and protect the quarterback. While he'd focus solidly on the offensive line once established at Cordova High School, the Tennessee standout took lessons learned from his defensive exposure to sharpen his game.
"It definitely helped a lot," Carvins explains. "You see what they see, and you see little things in your game that you need to improve on. You see where he's attacking you, how he's rushing you, and how they play the run against you. In that mindset, you get to fix your game. It's huge that I had that experience of playing on the other side of the ball, and it helped me improve."
Carvin took the decision to focus on the offensive side of the ball as a freshman at Cordova, a program where he'd play alongside future Tennessee teammate Jeremy Banks. The team saw some significant success, reaching the playoffs and a state semifinal. While tasting high school success, the 2023 NFL Draft prospect looked to some of the best to help hone his craft.
"As I got older, right before I got to college, I watched a lot of Zack Martin for the Cowboys. Man, he's a future Hall of Famer playing the guard position, probably one of the best to ever play. Watching how technically sound he was, footwork, hand placement, how he played and approached the game was amazing."
"I watched Rodney Hudson when he was with the Raiders," Carvin continues. "That offensive line in general. How physical they play. How they got after the defensive linemen. I fell in love with that, and I wanted to implement that into my game, try and take the fight to the defensive lineman. Growing up watching those guys really shaped my game to where it is today."
Carvin's Time at Tennessee
"I always wanted to play in the SEC, I knew I was going to play in the SEC, and I set that in my mind."
It just means more. That's been the slogan of the Southeastern Conference, despite derision from outsiders, since 2016. For Carvin, growing up surrounded by a family of avid LSU fans, it really did mean more. A four-star recruit out of Memphis, he had options to play anywhere across the nation, but he was only ever going to land with one of the SEC stalwarts.
Carvin could have gone to Tuscaloosa and played for Alabama. Georgia wanted to bring him in to the Bulldogs. The Florida Gators were chomping to land the mauler from Memphis. In fact, almost every SEC team extended an offer, but one was noticeable by its absence. LSU. Ultimately, multiple factors would bring Carvin to Knoxville to play for Tennessee.
"Honestly, what set Tennessee apart was the opportunity to play early. That was huge for me, I wanted to contribute right now. Tennessee wasn't the best school, went 4-8 in 2017. I wanted to come in and turn the program around, be the guy that was a part of the process to get the program back on top. I wanted to bring the pride and dominance of winning football back."
It was obvious to those inside the program that Carvin could contribute immediately. During the spring prior to his freshman campaign, head coach Jeremy Pruitt spoke highly of the Tennessee offensive lineman to RockyTopTalk.com.
"I see a guy that works really hard. He's got a great work ethic. He improved as camp went on. He's a really good competition. He has some power in his body, so he'll have an opportunity."
Over the course of the next five years, Carvin would make good on the promises he'd made to himself during the recruiting process. He did contribute early, making six starts as a true freshman in 2018 despite what he calls "a huge jump" to the "speed of the game" in SEC football compared to high school.
As a sophomore, Carvin started the final seven games of the season and helped the Vols to a 6-1 record down the stretch as a result of "never taking a day off, never losing focus, never lost sight of the goal" despite the suggestion that the coaching staff might redshirt him. Carvin's influence helped Tennessee reach their first bowl game since 2016.
MORE: Jalen Moreno-Cropper Heads to the 2023 NFL Draft as a Football Man, A Fresno Man, but Above All — A Family Man
As he was ascending, and the program appeared to have turned a corner, a torrid 2020 campaign hit. The global pandemic piled uncertainty at the door of college football. Meanwhile, Tennessee was embroiled in a recruiting violations scandal that would ultimately lead to Pruitt's dismissal as head coach.
"It was rough," Carvin reflected on his junior season. "Not knowing whether we were going to play, the restrictions, not having fans in the crowd. It was tough. I got hurt with turf toe that derailed my season. Even with the recruiting allegations and the sanctions coming in, seeing a lot of people leave. It was hard. That's detrimental to a program."
Tough times don't last, tough people do. It's a well known and sometimes overused phrase. However, it's one that is extremely relevant to Carvin and the story of his Tennessee team. Josh Heupel replaced Pruitt for the 2021 campaign, and in the wake of scandal and departure, success and opportunity snuck in the door of Neyland Stadium.
Carvin started every game of the 2021 season, an experience he describes as "huge" and something he "wanted to do since he got to Tennessee." While the departure of some players and the change of coaching staff facilitated helped achieve one of his personal goals, the impact on the program as a whole was far greater.
"The biggest thing in the transition from Coach Pruitt to Coach Heupel was the culture change. We had guys that bought into the process. Ultimately it was the leaders of that group that was a huge reason we turned that program around. Bringing people along with us, getting extra work in, watching film with the coaches, you could see the program going in an up direction."
Not too many people get to go out on a high, but 2022 was the greatest season of Carvin's college career. A full time starter and team captain, he was at the heart of an 11-2 campaign that returned Tennessee to college football relevance. Beating Florida, LSU, and Alabama headlined a wonder-season that featured goal posts in the river and a field invasion for the ages.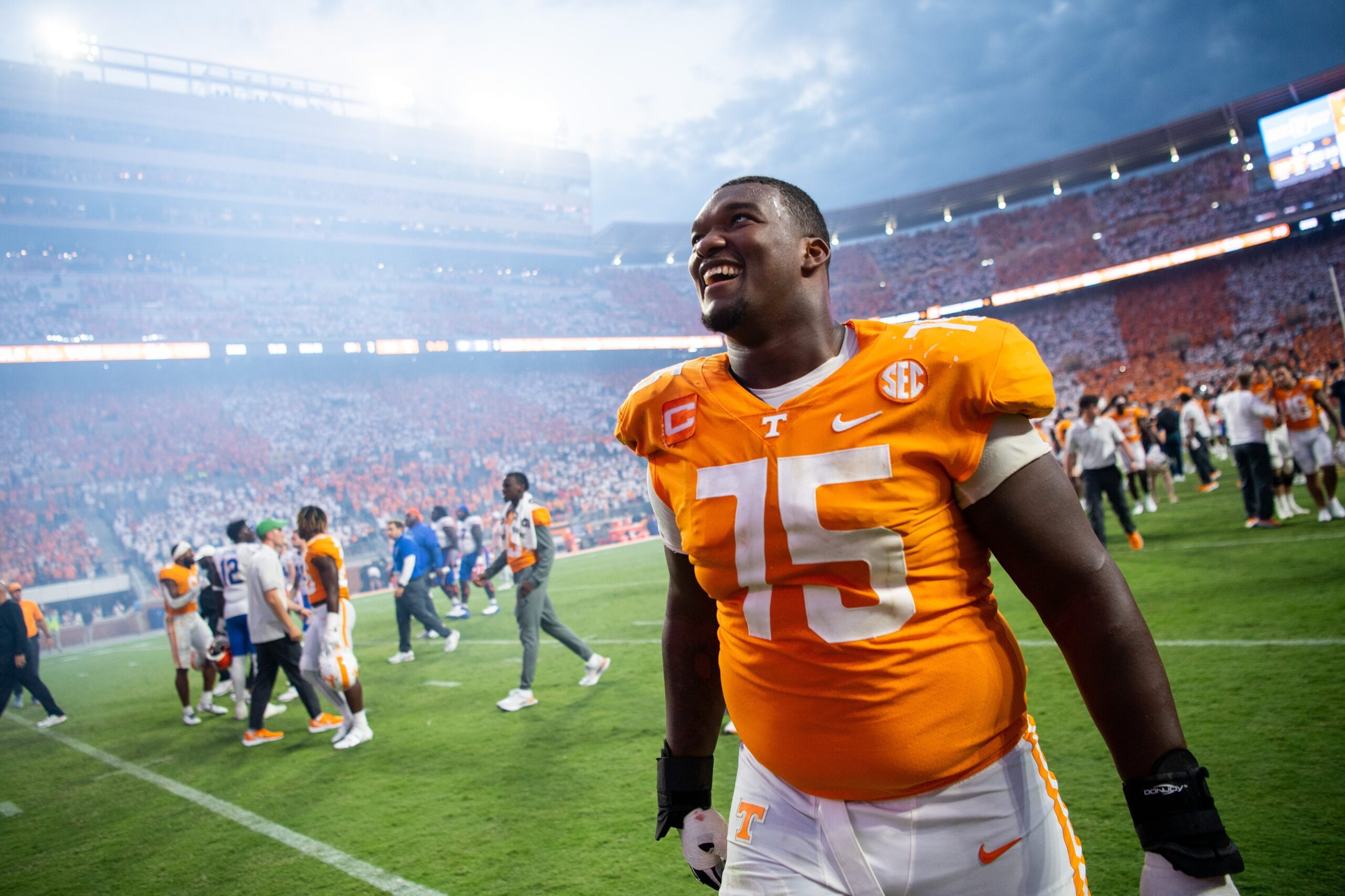 Carvin speaks passionately about the experience of 2022 for over three minutes. If there's one thing that rivals the Tennessee 2023 NFL Draft prospect's versatility as a prospect, it's his passion as a player, his passion as a person, and his passion for people. His heartfelt goodbye to Vol nation speaks volumes about what the people of and around this program mean to him.
"Everywhere you go, what makes a place special is the people," Carvin explains. "The fans are one of a kind. The people showing love and support from being a 17-year-old kid to a 22-year-old man. It never stopped. They were always there for support, even through the down times. They stuck with us, stick by our side, and that's a testament to them."
Versatile as a Player, Passionate About People as a Person
Versatility is Carvin's calling card as a football player and NFL draft prospect. However, he's equally as versatile as a person, a richly diverse and passionate man whose make up comes from an upbringing that draws from multiple social backgrounds across multiple locations.
Like the fans that packed Neyland Stadium on Saturdays, people are the driving force of his life.
Born in Guam, his family moved to Louisiana shortly after he was born. Although he was there just a short time in his life, his place of birth is just as important to Carvin as any of the stops along the way of his journey to the 2023 NFL Draft.
"It's very important," Carvin says of his desire to return to Guam one day. "I don't know too much about the place, I was a baby. I'd definitely like to go back, probably take my mom with me, take a look around and explore the place I was born."
Carvin has gone from Guam, to Louisiana, to Memphis, to Tennessee. They're different places that have had different influences and impacts on his life. The one constant has been the love and support of people, from friends to family, and everyone in between that he's met along the way.
MORE: Shepherd QB Tyson Bagent Continues To Shock Himself and the World Ahead of the 2023 NFL Draft
"I wouldn't have gotten here without those people. Different places and different cultures, made me who I am today. They made me the person I am, player I am today. I have nothing but thanks to them."
In around two months time, Carvin is likely to have a new home. Like the transitions that have come before, the Tennessee o-lineman won't have control over the next set of people that he is surrounded by.
It doesn't take long in his presence to know that he'll embrace — and be embraced — wherever he goes.
Carvin's destination will be controlled by a telephone call from whichever NFL team wants him. It's a call that he's waited a long time to hear, and it's come at the end of a long, hard, journey.
"It's been a dream of mine since I started playing football," Carvin says of his emotions on potentially being drafted. "I'm thankful for the journey, thankful for the process. It's been a long, hard process, but I love it. You love the journey, love the grind. That's what makes football great, you know?"
Listen to the PFN Scouting Podcast
Listen to the PFN Scouting Podcast! Click the embedded player below to listen, or you can find the PFN Scouting Podcast on iTunes, Spotify, and all major podcast platforms.  Be sure to subscribe and leave us a five-star review! Rather watch instead? Check out the PFN Scouting Podcast on our Scouting YouTube channel.