The 2023 NFL Draft center crop is flush with talent, and the scouting report of Georgia C Sedrick Van Pran is sometimes lost within the grouping. The mix of returning and ascending prospects has created an abundance of talent at center, but does Van Pran have the potential to be the best of the bunch?
Sedrick Van Pran NFL draft profile
Some guys just have it. You can't always explain it, but they catch on early, and they catch on fast. You know it when you see it, and we saw it last season with Van Pran. As a mere redshirt freshman, Van Pran started all 15 games for a national championship-winning Bulldogs squad. And as the season went on, he only got better.
Van Pran is now draft eligible for the first time. He's been on the NFL draft radar since his high school days, when he was a high four-star recruit out of New Orleans. But as a prospect, he's ahead of schedule. Though he's only a redshirt sophomore, Van Pran's very relevant as a 2023 NFL Draft prospect. With a good season, he could leave a couple years early, and even take on a starting role in the NFL.
MORE: FREE Mock Draft Simulator With Trades
While scouts watched Jamaree Salyer and Justin Shaffer in 2021, it was impossible not to look at Van Pran. Now the young center returns as the next man in line on the conveyor belt. We know he's legit, but where does the redshirt sophomore stand in the 2023 NFL Draft cycle? And how far can he rise?
Position: Center
School: Georgia
Current Year: Redshirt Sophomore
Height/Weight: 6'4″, 310 pounds
Sedrick Van Pran scouting report
The Bulldogs had two offensive linemen selected in the 2022 NFL Draft — both in Round 6. If Van Pran keeps following his upward trajectory, there's a good chance he could eclipse both of those prospects in the 2023 NFL Draft cycle.
Van Pran's positives
At 6'4″, 310 pounds, Van Pran has a solid, compact frame. He's not an overwhelming size threat, but his athleticism is hard to match up with. Van Pran has elite explosive capacity off the snap and can quickly generate lateral momentum to traverse gaps. He has the explosiveness to quickly get outside the 2i off the snap and seal blocks. Moreover, Van Pran has surprising corrective twitch for his size. He easily adjusts blocking angles in space and tracks linebackers at the second level.
Van Pran has good pursuit speed in space and quickly closes ground with fleet-footed acceleration. He moves with great energy and urgency, and is always amped up on the attack. Going further, the Georgia center is a smooth lateral mover when tracking rushers across the formation. His overall mobility is a trait that he can rely on with consistency.
Elsewhere, Van Pran has the core strength to absorb and suffocate power rushes from poorly-leveraged opponents. And when Van Pran has proper leverage, he's shown to maintain his anchor effectively. The Georgia C's strong base and well-proportioned frame helps him hold his ground.
Van Pran not only has good functional strength, but also brings visible power capacity. He's shown he has enough upper-body torque to redirect defenders and use their momentum against them. He can generate great force on shoves when latches with opponents, and has shown he can channel power from different areas. The Georgia OC has good knock-back power at contact, and can blast defenders off-balance with heavy blows.
Van Pran's hip flexibility is another incredibly alluring trait at the center position. He has the loose hips to quickly flip around on reach blocks and seal off backside defenders. His hips are noticeably free. He can flip back, then quickly correct himself and re-establish boundary pursuit. Van Pran's loose hips and change-of-direction ability allow him to easily transition when encountering stunting defenders, and his flexibility and recovery athleticism help him close lanes quickly after initial losses.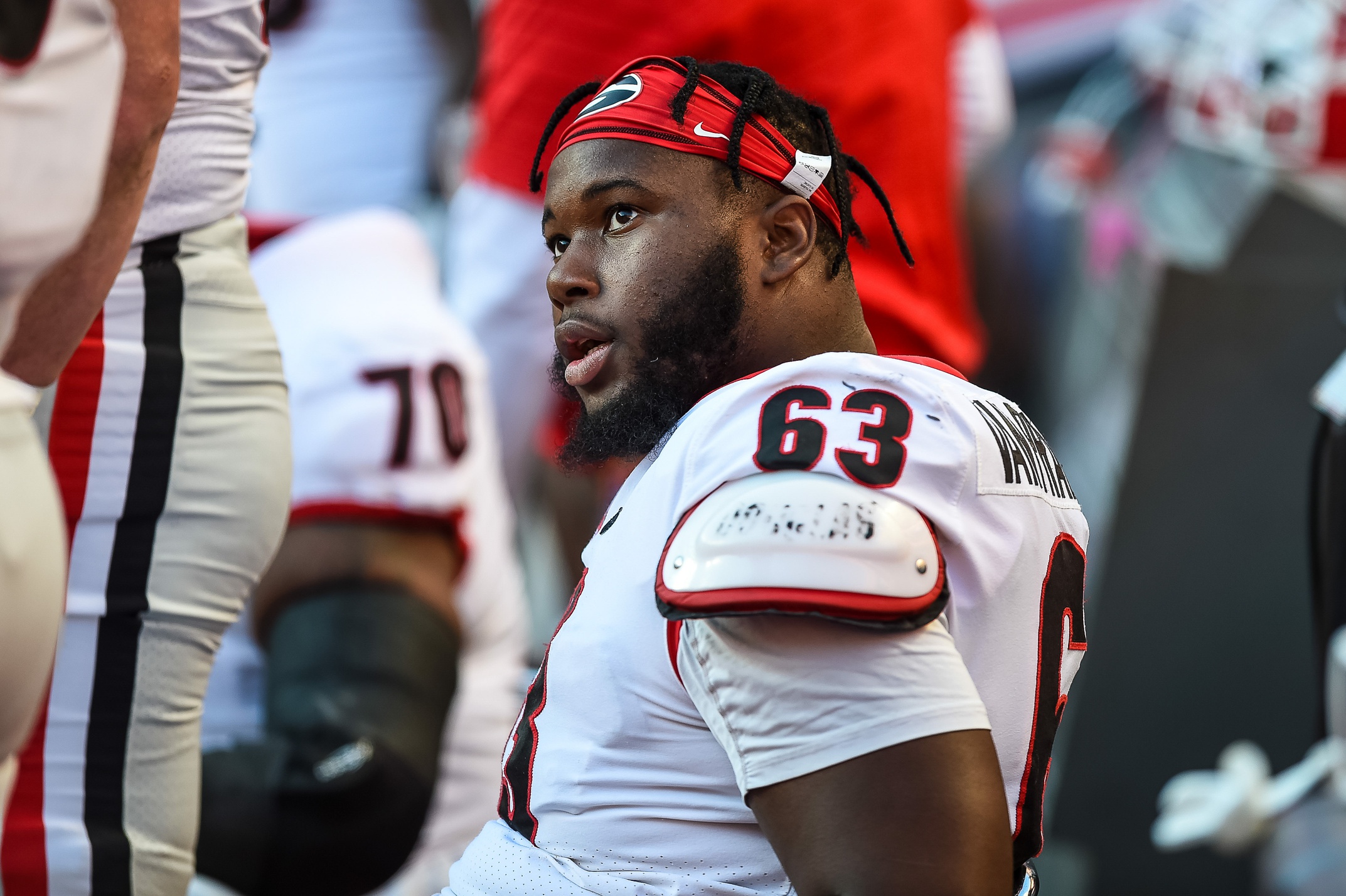 For his age, Van Pran's awareness is extremely impressive. The redshirt sophomore is already an active communicator pre-snap. He identifies weighted formations on defense and keys in on blitzing threats. Furthermore, the Georgia C picks up delayed stunts while engaged and shifts focus with immediacy, quickly reacting to unblocked defenders. He processes stunts very well and has an active help mentality when unencumbered.
Van Pran can effectively chip defenders when climbing to the second level. In fact, he consistently uses his hands to chip adjacent defenders while in pursuit, thereby assisting his teammates as a run blocker. Going further, Van Pran has shown to get inside defenders' torsos after stymying rushes, and assume control of reps. He can also get an anchor on off-set defenders when zone blocking, then rotate around and gather them in stride.
Van Pran has a good sense of timing with his extensions, and he's also flashed independent, combative hand usage. He still has room to refine his handwork, but he visibly improved as the year went on, becoming more methodical and efficient. Some of his best reps came against Alabama in the national championship.
MORE: 2023 NFL Draft Big Board
In pass protection, Van Pran has active footwork and a wide base, and he rarely gets caught flat-footed. He shows efficient footwork when gathering defenders as a zone blocker — able to quickly pivot around after reaching his assignment. The Georgia center has also shown that he can maintain synergy in pass protection and extend into the torso while maintaining his base.
Van Pran could strive to be more consistent with his leverage, but he appeared to improve at sinking his pads and driving into contact as 2021 went on. Van Pran doesn't have to strain much to acquire proper positioning, and he brings a physical edge. He'll finish defenders into the dirt when they sacrifice leverage, and he can shock LBs at contact with violent strikes, then smother them into the turf. Van Pran can take over reps by churning his legs.
Van Pran's areas for improvement
While Van Pran has good size, his length appears to be average. At times, that average length can limit his power exertion capacity and anchor strength. Van Pran also lacks elite play strength and can be worked back by power rushes. He isn't always able to take control of reps early, and stronger opponents can stonewall him and prevent him from generating displacement.
In a similar vein, Van Pran doesn't quite have the grip strength to consistently maintain his anchor through opposing power exertions. He also lacks elite power capacity, and can more consistently leverage his initial acceleration into artificial power. Moreover, Van Pran could do a better job driving power up through his base. He sometimes plays too tall into contact and bends at the waist, leaning over on punches. When his pads are too high, he can struggle to sustain blocks, especially on the move.
Technically, Van Pran has room to keep improving. His hands could be quicker and more efficient at the contact point. He doesn't always strike cleanly when establishing his anchor, and he needs to more efficiently load and explode with his hands. Delays on his punches sometimes grant defenders initial success.
With his footwork, Van Pran can be a bit sloppy when recovering leverage against power rushes. His base can be sturdier and more composed. Van Pran also has a slight false step off the snap at times, which can delay his advance and allow defenders to get inside his torso.
Current draft projection for Georgia C Sedrick Van Pran
It's rare for redshirt sophomores to be truly established entering a draft cycle, but Van Pran has the tools to be an exception. As of now, it's tough to pin down a projection for him. But on my scale, he safely scores in the Day 2 range and could end up being one of the first centers off the board in the 2023 NFL Draft if he keeps improving.
There are still a few technical inconsistencies for Van Pran to work on. His hands could be more consistent and his feet more controlled. He also sometimes struggles with leverage — playing too tall into contact and as a pulling blocker, and bending at the waist when channeling power. But for such a young prospect, issues like these come as no surprise.
MORE: 2023 NFL Draft Guard Class
What is surprising, however, is Van Pran's early success as a prospect and his exciting athletic ceiling. Van Pran is a supremely explosive athlete, and with his elite burst off the snap, he brings exceptional flexibility and range. If Van Pran can be more consistent with his hand placement and pad level, he can be an absolute menace as a pulling blocker in zone schemes.
Hidden behind Van Pran's explosive upside as a zone blocker, however, is his promising operational ability at the center of the line. He's already proven to be strong enough and powerful enough. He's also very smart and aware for his age. Van Pran looks like a future NFL starter, and a very good one at that.
Listen to the PFN Scouting Podcast
List to the PFN Scouting Podcast! Click the embedded player below to listen, or you can find the PFN Scouting Podcast on iTunes, Spotify, and all major podcast platforms.  Be sure to subscribe and leave us a five-star review! Rather watch instead? Check out the PFN Scouting Podcast on our Scouting YouTube channel.