Should fantasy football managers be starting either quarterback in this game? The preview of the Seattle Seahawks' fantasy options includes concern over Geno Smith's future value, while the New York Giants' fantasy outlook is based on their struggling star tight end.
Looking to make a trade in your fantasy league? Having trouble deciding who to start and who to sit? Check out PFN's Free Fantasy Football Trade Analyzer and Start/Sit Optimizer to help you make the right decision!
Seattle Seahawks at New York Giants
Spread: Giants -1
Total: 47
Seahawks implied points: 23
Giants implied points: 24
Quarterbacks
Geno Smith: Smith has rebounded nicely after a slow Week 1, totaling 624 passing yards over the past two weeks. I like him in this spot, given his reliance on his star receivers, and I think he can keep the high-end passing numbers going.
He's inside my top 15 at the position this week, and I feel good about that, but I can't get him inside the top 10 because I'm no longer confident in his rushing production.
After running for 366 yards in his breakout 2022 season, Smith is on pace to pick up just 125 yards on the ground. That may not sound like a massive dip, but at a position that requires the splitting of hairs, the lowering of a floor projection is quite impactful.
Daniel Jones: "Danny Dimes" has two absolute dud performances in three weeks, but those did come at the hands of the two best defenses in football. His accuracy throwing the ball over the past two weeks is at least encouraging (69.6% complete), but with his set of receivers, those completions are only going to do so much damage.
While I do believe the matchups have made Jones look worse than what you can expect moving forward, we are still talking about an incredibly limited option who needs to produce on the ground to have any chance at cracking my top 15. He only tallied two carries for five yards on Thursday night.
Jones isn't on my radar until Saquon Barkley returns, and even then, I'm not excited about rostering him.
Running Backs
Kenneth Walker: Consecutive multi-TD games – check. Increasing touch count with each passing week – check. Walker is in the process of building a strong rookie campaign, and it looks every bit legit.
MORE: Fantasy News Tracker
In addition to a career-long 36-yard reception last week against the Carolina Panthers, he also had a 36-yard run, which showcased what he can do in space when given the opportunity. He's a top-10 running back for me the rest of the way; I don't think what we are seeing is fluky. If you embraced the discount this summer, you've put yourself in a great spot to compete.
Zach Charbonnet: Asking him to hold standalone value like we thought he could this summer is likely a thing of the past, but he did run hard against the Panthers over the weekend with nine carries for 46 yards, solidifying himself as a solid handcuff to Walker.
You're not starting him, but he remains plenty worthy of a spot on your bench, given his proximity to weekly value. Even in a game where Walker looked good, Charbonnet was on the field for only six fewer snaps and ran six more routes.
Saquon Barkley: An ankle injury sidelined him last week and will likely keep him out through this game at the very least. This isn't lining up favorably for those who invested an early pick in Barkley.
Sure, the 38 touches he has given you thus far have been productive – averaging 0.84 fantasy points per touch, ahead of the 0.72 he gave you in 2022 – but if he misses this week and next, he could return for a brutal run of matchups, including a road game in Buffalo, home games against Washington and the Jets, road trips to Las Vegas, Dallas, and Washington and another home game against the Patriots.
Matt Breida: In one of the more friendly 18-yard fantasy performances you'll come across, which totaled 9.3 points, Breida found a way to not destroy your Week 3 lineup. I guess that's a win.
If it wasn't clear before, it is now. This isn't one of those "running backs don't matter" spots. Barkley is an elite talent who produces fantasy numbers despite his surroundings. Breida probably is at risk of getting scripted out of this game like he was last week, and even if the "G-men" remain competitive throughout, his ceiling performance isn't high enough to gamble on.
Wide Receivers
DK Metcalf: Metcalf was crunched on the 1-yard line in Week 2, hurting his ribs in the process. By grabbing six balls for 112 yards against the Panthers last week, it seems safe to assume that the injury is behind him.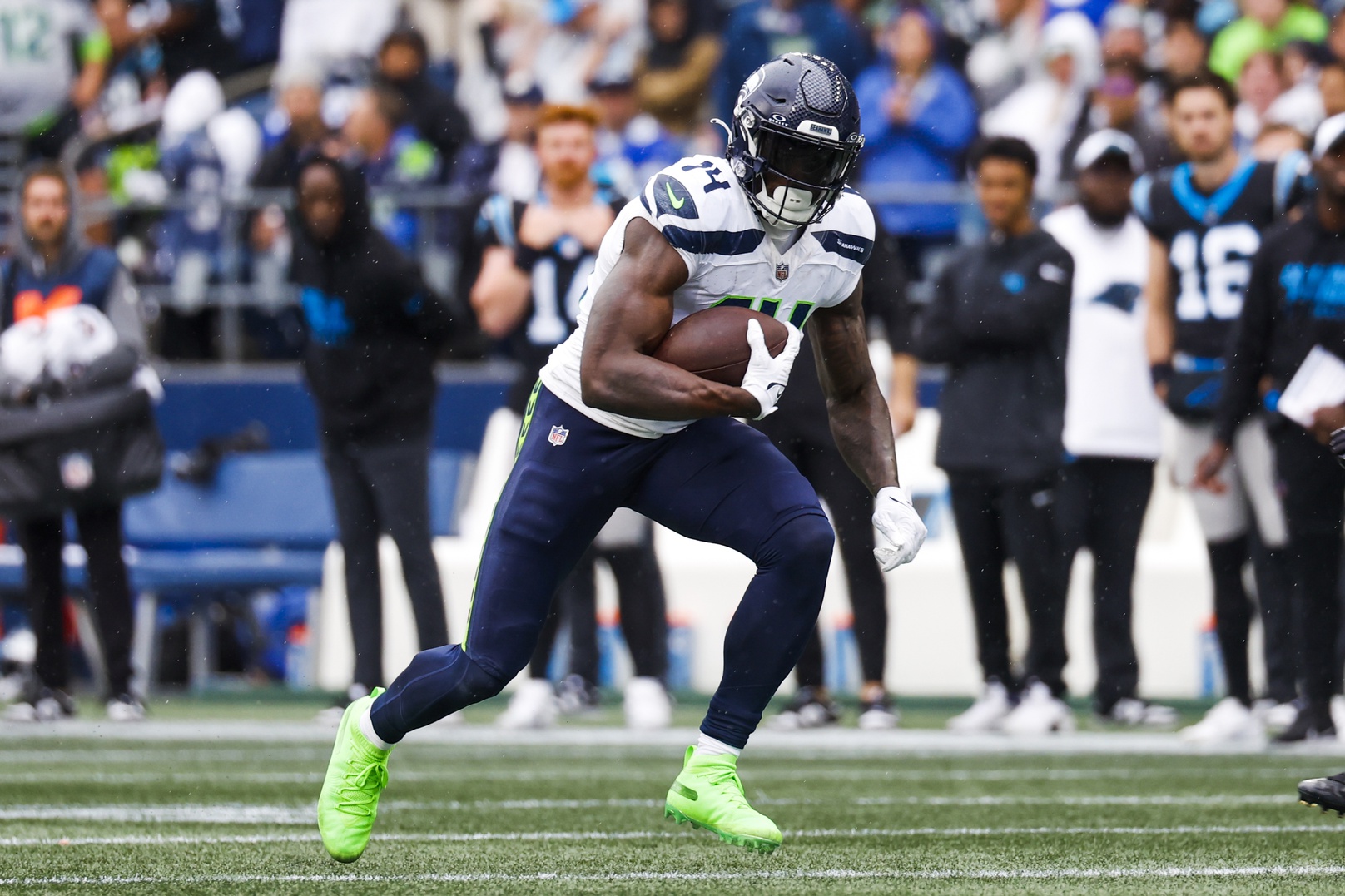 He was good for 55 yards and a touchdown against these Giants in Week 8 of last season, and a fantasy line like that in this spot is about what I'm expecting, with room for significant upside. I think we get Metcalf's first top-20 performance of the season, and there should be zero hesitation about plugging him in now that we know his health isn't a concern.
Tyler Lockett: It's been a weird season for Lockett up to this point, but I think he can have success in this spot, much like he did last year. In Week 8, he put up 63 yards and a 33-yard TD.
This season, Lockett has yet to clear 60 receiving yards, but he did have something of a breakout game in Week 2 against the Detroit Lions with eight catches and the walk-off touchdown.
His consistent hands and route running make him a tough receiver to lock down for extended stretches, so I'm not concerned that he has finished two of three weeks ranking outside the top 50 at the position. You should feel plenty comfortable in deploying Lockett as your WR2.
Jaxon Smith-Njigba: As good as we want the rookie to be, right now, he's not being put in a position to be fantasy-relevant. Against the Panthers last week, he saw just three targets and only caught one catch for 10 yards. He ranked sixth on this team in receiving yards.
He's a solid dynasty buy right now, but redraft managers aren't considering him for their weekly lineups. In shallow leagues, he could be on the chopping block after only scoring 10.2 fantasy points so far this season.
Parris Campbell, Wan'Dale Robinson, and Darius Slayton: All three of these receivers saw around five or six targets in their loss to the 49ers. Slayton led the way in yardage with – wait for it – 32 yards.
I understand the idea of rostering any of the Kansas City receivers, you want to make a cheap bet on Mahomes. This is a similar situation, as far as a lack of clarity on the hierarchy is concerned, but it doesn't carry anywhere near the same payoff.
There is no reason to burn a roster spot on any of these WRs – not now and probably not at any point this season. If you need a positive note, Slayton led this team in catches (five), targets (six), and receiving yards (66) when these teams squared off a season ago.
Isaiah Hodgins: I separated him from the other options because we saw Hodgins provide sustained value at the end of last season. He even gave us an 8-105-1 stat line in the Wild Card win over the Vikings.
MORE: Week 4 Fantasy WR Rankings
That's forever ago now, but I'm not sure how much has realistically changed. He was an afterthought last Thursday, but if I had to pick one Giants WR to keep an eye on, it would be Hodgins, just based on having seen him produce most recently.
Tight Ends
Darren Waller: I'm not panicking about Waller because of the position he plays and the role in this offense he holds (20.8% target share, per the Week 4 Cheat Sheet). We had some hope as the draft season wore on that Waller would be a dark horse to join the top non-Kelce tier at the TE position.
Those hopes are gone, but as the top option in an offense, Waller can only fall so far in our PFN Consensus Rankings.
Your quirky Kyle stat for the day: In Weeks 1 and 3 of his breakout season, Waller was held to a total of 54 receiving yards. This season, he put up 56 yards in those two games.
He still deserves to be locked into lineups in all formats.
Geno Smith's mentorship is special.

Look how he takes @jaxon_smith1 under his wing 👏 @Seahawks pic.twitter.com/aVuglN1ctO

— NFL Films (@NFLFilms) September 26, 2023
Should You Start Geno Smith or Deshaun Watson?
Neither cracked my top 10 this week, but Smith does hold the slight edge due to my confidence in his floor. Watson looked better last week than he did during his first two games of the season, and that's encouraging; it's just not something I expect to see repeated against the third-best pass defense in terms of yards per attempt.
With two elite targets against a shaky defense, Smith should have a nice night on Monday and potentially allow you to finish off a Week 4 victory!
Should You Start Darren Waller or Hunter Henry?
I understand that it's been a bumpy start to the season for those rostering Waller, but he does still lead the Giants in targets, catches, and receiving yards. Daniel Jones has his flaws, but I do trust him to sustain drives slightly more than I do Mac Jones, making Waller my pick here.
MORE: Week 4 Fantasy TE Rankings
Henry thrived in the first two weeks, but this offense as a whole was exposed a bit last week, and that's something I think continues against a Dallas team that needs to bounce back.
Listen to the PFN Fantasy Podcast
Listen to the PFN Fantasy Podcast! Click the embedded player below to listen, or you can find the PFN Fantasy Podcast on iTunes, Spotify, and all major podcast platforms.  Be sure to subscribe and leave us a five-star review! Rather watch instead? Check out the PFN Fantasy Podcast on our Fantasy YouTube channel.