Starting Monday (July 10), your social timeline will be filled with player takes, unique strategies, and "have fun playing for second place" roster screenshots, all followed by #SFB13. What is this madness? How does it work? Why is this the year I (Kyle Soppe, not you!) win it all? I'm sure those are the top three questions you have about July's gift to a game that never sleeps, so let me help you out.
Where are my manners? Hi! I'm Kyle Soppe. Formerly "Thirsty Kyle" of the Fantasy Focus Podcast over at ESPN and number-cruncher extraordinaire. I love brackets, long walks on the beach, and sit-start questions. Some say I look like I'm 17 and sound like I'm 67. Truth is, I'm in the middle of those two things and will be digging deep for you by way of podcast and written content all season long. Buckle up … this is the start of your best fantasy football season. You ready?
What Is Scott Fish Bowl?
Let's start with the man, the myth, the legend: Scott Fish. He's been honored with the Matthew Berry Game Changer Award, the FSGA Humanitarian of the Year, and The Athletic's Person of the Year … and yet, it seems he's underrated.
Over time, Scott has helped grow fantasy football into more than just a game. Much more. His Fantasy Cares organization operates under a simple concept: we are all lucky to play fantasy football and should help spread the love to those less fortunate. Scott has a heart of gold, and this mission statement is proof of that. But the true genius comes in the execution.
In an effort to raise awareness for this foundation that primarily supplies toys for kids around the holiday season (but has also helped hurricane recovery, feed the hungry, spread messages of equality, provide homes for rescued animals, and so much more), Scott created a league of leagues.
Everyone has their own home fantasy league, but he wanted to tie the entire industry into a singular cause (Fantasy Cares) by way of a singular league. The Scott Fish Bowl, filled with everyone from fantasy football icons to contest winners to applicants who display a true passion for the game, puts over 3,000 managers into 12-team leagues.
These leagues run through Week 11, with half of the teams advancing into the SFB playoffs. From there, it's essentially an eliminator format where each qualifying team starts each playoff week with their season PPG. Roughly 10% of the playoff field gets eliminated in each of the next three weeks (Weeks 12-14), and 34% of the original playoff field bows out in Weeks 15 and 16 before the final 2% battle for the crown in Week 17.
What more could you ask for? A great cause is at the center of a tournament that allows you to compete against the industry as a whole. Making a playoff run is amazing, but if the worst case is raising awareness to a phenomenal foundation via a game we all love, are there really any losers?
What Are the Settings for Scott Fish Bowl?
The sheer volume of participants is the calling card for this event, though the annual unique scoring structure isn't far behind. For the second consecutive season, Scott has juiced up kicker scoring in an effort to encourage drafting creativity. He always has made a point of it to give managers a wide range of positional options, yet another way to prevent any two managers from attacking this event with the same schedule. The basic details for these 275 slow drafts:
Roster Size: 22 players (11 starters)
Starting Lineup
QB: 1-2
RB: 2-6
WR: 3-7
TE: 1-5
K: 1-4
Scoring
Full PPR
Tight Ends: 2 points per reception
First Down: 0.1 points per passing, 1 point per rushing/receiving
Tight Ends: 2 points per first down
Touchdown: 6 points (no matter how it is scored)
Kicking: 3.3 points per XP, yardage points for FGM (37 yards = 3.7 points)
Other Notes
Free Agency: $100 blind budget
Third-round reversal (the team picking first in Round 2 also picks first in Round 3)
No trading allowed
Did you get a trade offer in your dynasty or redraft league? Not sure what to do? Make championship-winning decisions with PFN's FREE Fantasy Football Trade Analyzer and Calculator!
How Should I Draft in Scott Fish Bowl?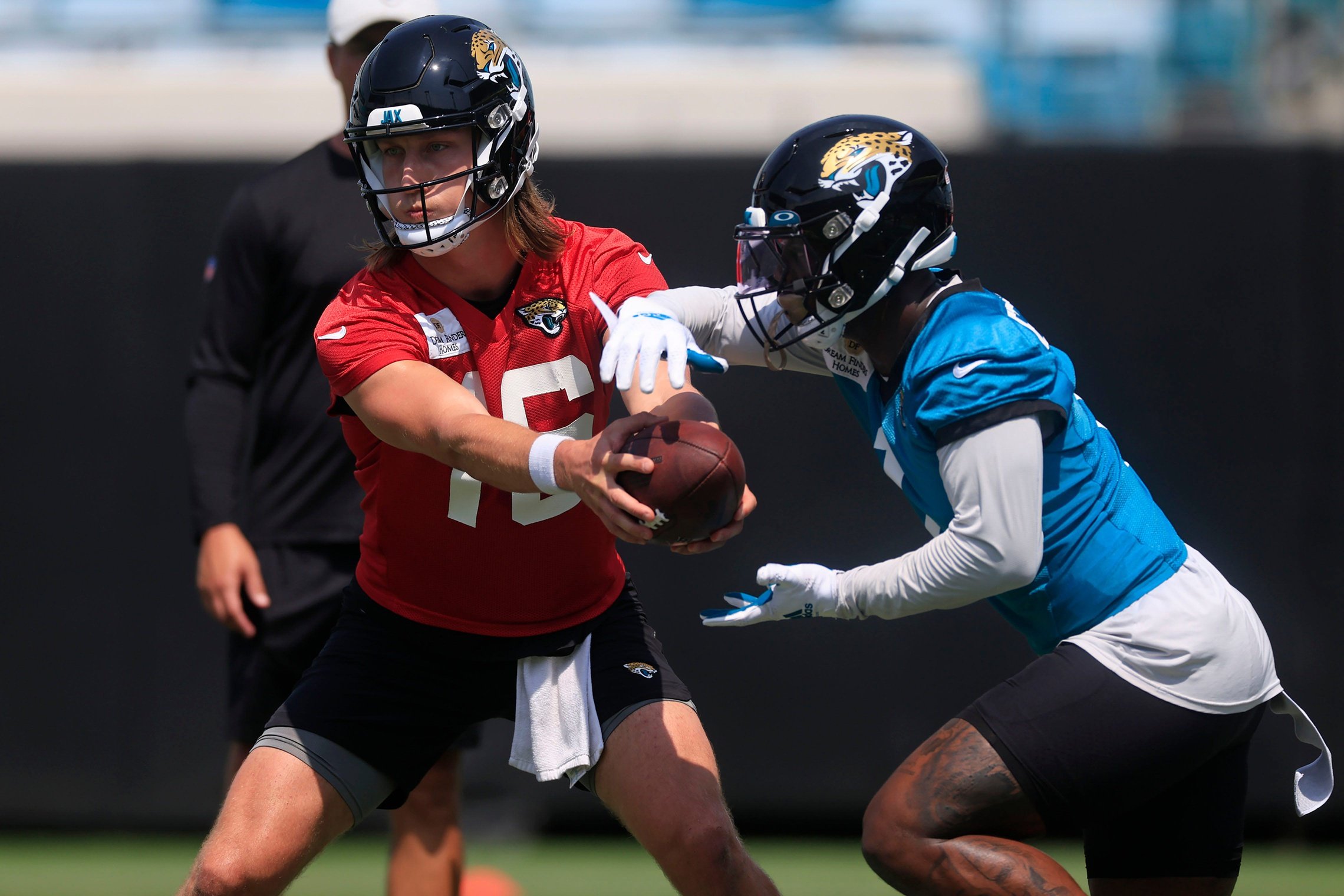 In addition to wanting to take some risks to differentiate yourself from the field, you're asked to adjust your strategy for a one-of-a-kind scoring setup … beating 3,299 other teams in a standard type of league wasn't hard enough, right?
The heading is a bit deceiving: I have no idea what is going to prove optimal for this format. No one does. Building a strong roster is only step one and with moving pieces like injuries, free agent bidding, and the game theory that comes with a near two-month playoff bracket … good luck! That said, there are some basic rules that I personally plan on executing this time around.
I'm planning on starting two quarterbacks every single week. No, it's technically not required, but when you have the option to start two players at the highest scoring position (16 of my 17 top players in total projected points are QBs), you do it. Don't get cute. I'm drafting a quarterback early and rostering three — if not four.
With my two primary quarterbacks, I'm willing to give up some value to lock in a stacking option, and by no means am I against two pass catchers from my QBs' offense. Remember, you're trying to beat 3,299 teams in a high-scoring format … chase the correlation when you can (join me on the Jaguar bandwagon or plant your own flag — whoever you land on, don't shy away from pushing your chips in on them).
It's easy to overlook "boring" players. Whether we're talking about a cagy veteran chain-mover or the kicker position as a whole, those types are important. In a big tournament like this, high-upside players spike up draft boards as they get touted as "league winners."
Sure, some will make a big difference, but surviving each round of the playoffs is just as important as league-winning upside. That's why I'll have Jakobi Meyers and at least one kicker on my roster.
Be Risky and Unique in Drafting for SFB
We, as humans, tend to avoid uncertainty. Why do people like living out west? You always get the same weather. Why do email services come pre-loaded with a calendar? We naturally like knowing what is going on. In life, that's fine. And, to quote Dani Rojas, "Football is life," … but Scott Fish Bowl football, well, that's a different story.
By shying away from those cloudy backfields, you're leaving upside on the table. You will need to run hot and peak at the perfect time to win this event, so embrace taking some running back risks that could pay off in a way that flier receivers simply cannot.
Last but not least, you need to be different. Not YOLO different, but a unique stance or two can give you the leverage you need in the end. For me, that means targeting the Chicago Bears and fading the Seattle Seahawks.
The case for the Bears is that of a zag. You don't need me to tell you that Justin Fields has the ability to put up points in bunches, but I don't expect Bear stacks to be all that common. Mobile quarterbacks aren't usually the target of stackers, and a late bye week — Week 13, the second week of the SFB playoffs — is less than ideal. I get it.
However, a strong regular season can get you through Round 2 of the playoffs without much worry, and coming out of the bye, three of Chicago's final four games come against bottom-six defenses in terms of fantasy points allowed last season. Join me in playing chess, not checkers!
As for the fade of the Seahawks, it's a volume thing. They own an early bye and will thus be playing for two months straight when you need them most. That's not exactly ideal when needing to run hot in the health department to have a chance at the crown. Seattle's late-season opponents aren't going to help, either.
The Seahawks' playoff schedule is packed with opponents that rely on ball control and/or a slow offensive pace … again, not ideal. Bake in some Geno Smith regression in terms of efficiency, and I plan on having zero of the six universally drafted Seahawks in SFB13.
So there you go. That's the Scott Fish Bowl in a nutshell. It'll be taking over your timeline for the next week or so, and it's worth it. Scott and his team do an amazing job at running this and shining a bright light on the good parts of this industry. Get involved with Fantasy Cares. Apply next year to play in this league. Heck, chirp me after I make my picks. Engage with everything that comes out of this, you won't regret it!
Listen to the PFN Fantasy Podcast
Listen to the PFN Fantasy Podcast! Click the embedded player below to listen, or you can find the PFN Fantasy Podcast on iTunes, Spotify, and all major podcast platforms.  Be sure to subscribe and leave us a five-star review! Rather watch instead? Check out the PFN Fantasy Podcast on our Fantasy YouTube channel.