The Week 2 waiver wire can be especially crucial when it comes to the RB position in fantasy football. The offseason and preseason are full of uncertainty and unknowns when it comes to player's roles and usage. In Week 1, we see a lot of those situations begin to play out, and therefore, not being static when it comes to additions is crucial. Let's take a look at the top RB waiver wire options in Week 2.
Looking to make a trade in your fantasy league? Having trouble deciding who to start and who to sit? Check out PFN's Free Fantasy Football Trade Analyzer and Start/Sit Optimizer to help you make the right decision!
MORE Waiver Wire Targets: Overall | QB | WR | TE
Top RB Waiver Wire Targets in Week 2
While you never want to overreact too much to a single week of action, the RB position may well be the one where you have to try and make immediate judgments. Snap counts and usage rates are often indicative of what we will see moving forward.
Additionally, you have the first wave of injuries that push lesser-known players into the spotlight. Opportunity is king in the NFL, and never more so than at the RB position. Therefore, based on what we saw last week, who are the top Week Two RB waiver wire options?
Kenneth Gainwell, Philadelphia Eagles (46% Rostered)
Kenneth Gainwell is not available in your league. I know. But evidently, he's out there in more than half of the leagues. If he is available in your league, he is the first hammer drop waiver add.
Gainwell started for the Eagles and dominated touches. It turns out those reports of Gainwell being the RB1 were accurate. Rashaad Penny was a healthy inactive; D'Andre Swift barely saw the field.
Meanwhile, Gainwell carried the ball 14 times while seeing four targets. He wasn't particularly efficient, only totaling 74 yards. He also didn't score. But if he did, he would've been an RB1. Gainwell is the lead back on one of the league's best offenses. Add him.
FAAB Recommendation: 30-40%
Gus Edwards (4% Rostered) and Justice Hill, Baltimore Ravens (2% Rostered)
It has been the most unfortunate start possible to J.K. Dobbins' career. Finally healthy entering this year, Dobbins' 2023 season ended as quickly as it began due to an Achilles tear.
Following Dobbins' exit, Justice Hill and Gus Edwards split the work, with Hill punching in two short touchdowns. They each handled exactly eight carries, but Gus was a bit more effective with his, managing 32 yards to Hill's nine.
At this point, fantasy managers need to put in waiver claims on both Raven's backs. Given the Ravens' history with the running back position, there's a real possibility they sign Kareem Hunt or Leonard Fournette. But until that happens, it will be the Edwards-Hill show.
FAAB Recommendation: 8-12% for each
Joshua Kelley, Los Angeles Chargers (4% Rostered)
Austin Ekeler looked fantastic in Week One. But Joshua Kelley still managed to earn 16 carries. He didn't catch a pass, but he did punch in a touchdown. There's potential standalone RB3 value here, plus RB2 upside if Ekeler were to get hurt. So, keep an eye out on your week 2 waiver wire.
FAAB Recommendation: 3-5%
Kyren Williams, Los Angeles Rams (3% Rostered)
It was not the Cam Akers show for the Rams. He split the backfield with Kyren Williams, and it was Williams who was the primary goal line back, punching in two short touchdowns.
MORE: Early Week 2 Waiver Wire Pickups 2023
Williams needs to be rostered based on his Week 1 role. However, temper expectations because he only turned 15 carries into 52 yards and didn't catch either of his targets. If he doesn't score, he's not going to be useful. But you should pick him up.
FAAB Recommendation: 4-6%
Sean Tucker, Tampa Bay Buccaneers (4% Rostered)
Sean Tucker didn't do anything in Week 1 to warrant attention. This is more about some early confirmation on my offseason analysis — Rachaad White is not an NFL-caliber starting running back.
In a game the Bucs won against a less-than-stellar Vikings defense, White managed a whopping 39 yards on 17 carries. He was also a nonfactor in the passing game, catching two balls for 10 yards.
It is only a matter of time before White starts ceding to work to…literally anyone else. The Bucs may end up signing a veteran. But if they don't, Tucker could very well be the next man up.
FAAB Recommendation: 1-2%
Which RBs Should You Roster in Fantasy Football?
Should You Roster Kyren Williams or Elijah Mitchell?
Perhaps you, like me, looked at this debate and instantly thought, "Pshht. This is clearly Mitchell." Because that's what you want to think. In reality, the answer may very well be Williams.
All offseason, there were reports swirling of the 49ers looking to limit Christian McCaffrey's workload. Well, Mitchell played all of 10 snaps in the opener. CMC played 85%.
Meanwhile, Williams was the clear lead back for the Rams, outsnapping Akers 65%-35%. That can't be ignored.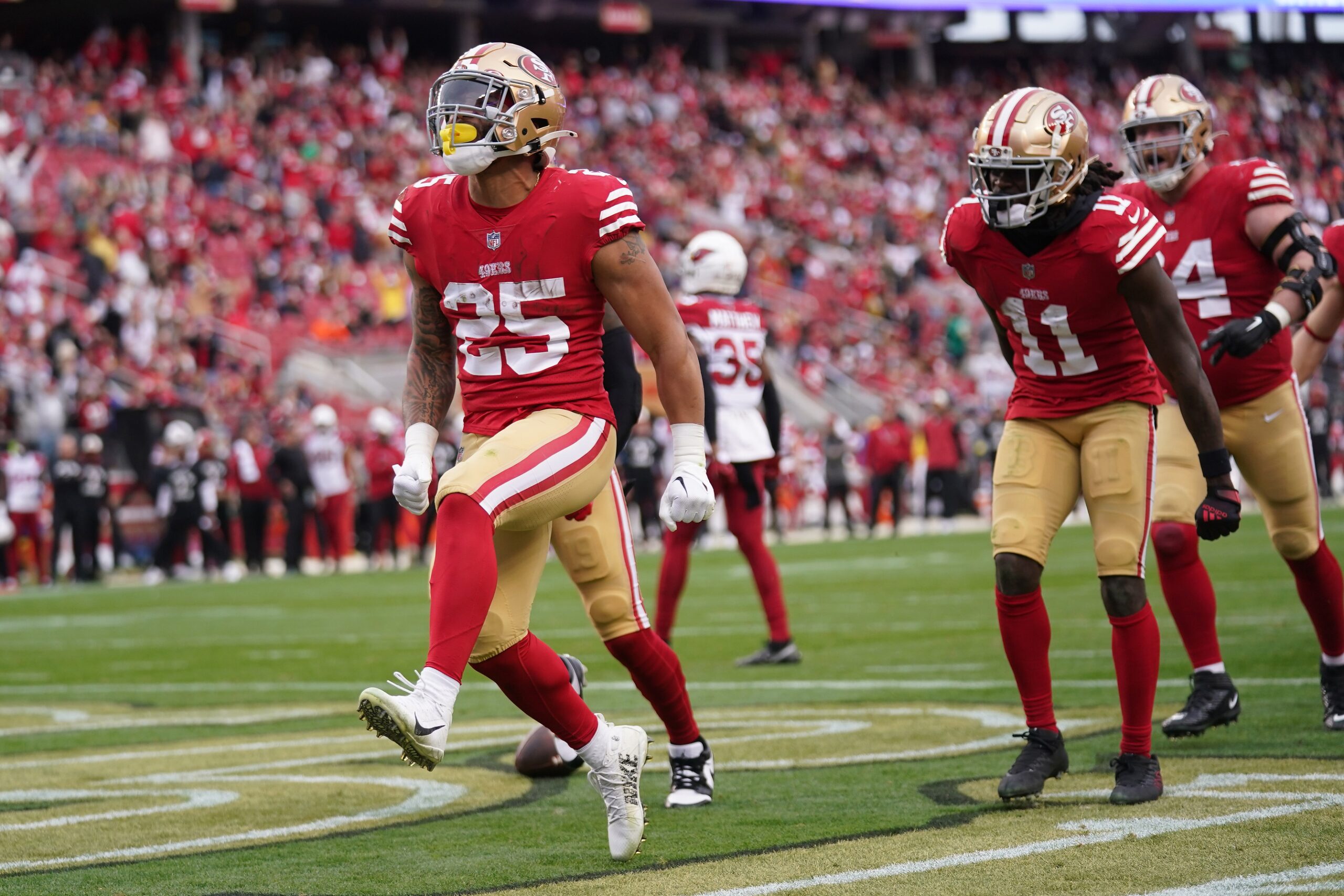 Mitchell is not startable unless McCaffrey goes down. Of course, if that happens, Mitchell will undoubtedly be far more valuable than Williams. Williams is startable now, but he's not exactly exciting.
The answer to this question comes down to what your team needs. Do you need someone who can plug an immediate hole and not get you zero? Then go Williams. Are you just stashing this guy on your bench? Then Mitchell has the higher upside.
Should You Roster Kenneth Gainwell or Zach Charbonnet?
The most unpredictable backfield in the entire NFL entering Week 1 was that of the Eagles. Now, we have our answer. Gainwell is the clear lead back for one of the best offenses in the league.
Meanwhile, Charbonnet was limited to a pure backup role, playing just 24% of the snaps. He played just one more snap than DeeJay Dallas.
Charbonnet was someone I was targeting a lot because I believe in his skill set, as well as his draft capital. One week does not a season make, but this sure looks like Walker's backfield until further notice. Give me Gainwell by a country mile.
Should You Roster Sean Tucker or Tyjae Spears?
Here, we have two backs with no current fantasy value, but both with the potential to be fantasy starters if things break in their favor. For Spears, the only path to fantasy relevance is a Derrick Henry injury. However, if the near-30-year-old Henry does go down, Spears will almost certainly be the lead back and startable in fantasy.
Tucker, on the other hand, does not need an injury. But the full extent of his barriers to entry may not merely be what's on his team.
Fantasy managers should feel reasonably confident Tucker can overtake White as the lead back if things remain the same. White is slow, has poor vision, and is already embarking on his second season of incredible inefficiency.
I'm not saying Tucker is some sort of second coming of Arian Foster. But he is more talented than White. He can take this job without an injury.
Unfortunately, if White predictably continues to struggle, the Bucs may look outward to bolster their backfield. It's entirely possible that the outcome where Tucker takes over as the lead back simply does not exist — meaning that's not something the Bucs are willing to do. As a result, for now, I would still rather stash Spears on my bench.
Listen to the PFN Fantasy Podcast
Listen to the PFN Fantasy Podcast! Click the embedded player below to listen, or you can find the PFN Fantasy Podcast on iTunes, Spotify, and all major podcast platforms.  Be sure to subscribe and leave us a five-star review! Rather watch instead? Check out the PFN Fantasy Podcast on our Fantasy YouTube channel.