The New York Jets took an aggressive stand during the 2022 NFL Draft, injecting a stable of young premium prospects into their depth chart. The Jets used four picks in the top 36 selections, adding notable pieces on both sides of the ball. On offense, the Jets made a point of upgrading the pieces around QB Zach Wilson by landing wideout Garrett Wilson and running back Breece Hall in the first two rounds.
Last season, the Jets had a mediocre offensive attack. Their passing game ranked 17th in the league, and their running game sported the 27th overall ranking. With the additions of Garrett Wilson and Hall, they improved both attacks and set up Zach Wilson with a pair of dynamic playmakers who could boost the second-year signal-caller's production.
How Garrett Wilson and Breece Hall can help Zach Wilson in the Jets' passing game
Last season, Zach Wilson was all over the place as a rookie. While he flashed potential and showcased his trademark athleticism and arm strength in his first season, he also struggled mightily with accuracy and mental errors. Wilson completed just 55.6% of his passes for 2,334 yards, nine touchdowns, and 11 interceptions. Wilson, like first overall pick Trevor Lawrence, struggled to find his footing with mediocre talent around him. That's why the Jets were so aggressive this offseason with their offensive improvements.
Garrett Wilson was the second wideout off the board with the 10th overall pick. The Jets saw receiver as a dynamic complement to Elijah Moore and Corey Davis, and he could be the possession weapon that grows his game with the young QB.
Garrett is coming off a strong season at Ohio State, catching 70 passes for 1,058 yards and 12 touchdowns as a junior. Several draft pundits believed he was the top receiver in the class, despite his selection coming after Atlanta's eighth overall selection of Drake London.
Zach Wilson needs a wideout who can play all three receiver positions and do a bit of everything, and that's what Garrett brings to the table. Moore is the deep threat, Davis is the big body, and Garrett Wilson is the versatile chess piece.
Hall, the 36th overall pick, is a dual-threat out of the backfield. Zach Wilson struggled with throws to the flat last season, but he'll be aided by Hall's athleticism and soft hands at running back. During his career at Iowa State, Hall caught 82 passes for 734 yards and six touchdowns, which is excellent receiving production from a college tailback. He was also dynamic on the ground, averaging 5.5 yards per carry during his three-year career.
While the Jets are expected to use a heavy rotation in the backfield — which will include Michael Carter and Tevin Coleman — Hall should be able to lead the charge as a rookie and take some pressure off Zach Wilson. – Mike Kaye, PFN Lead NFL Reporter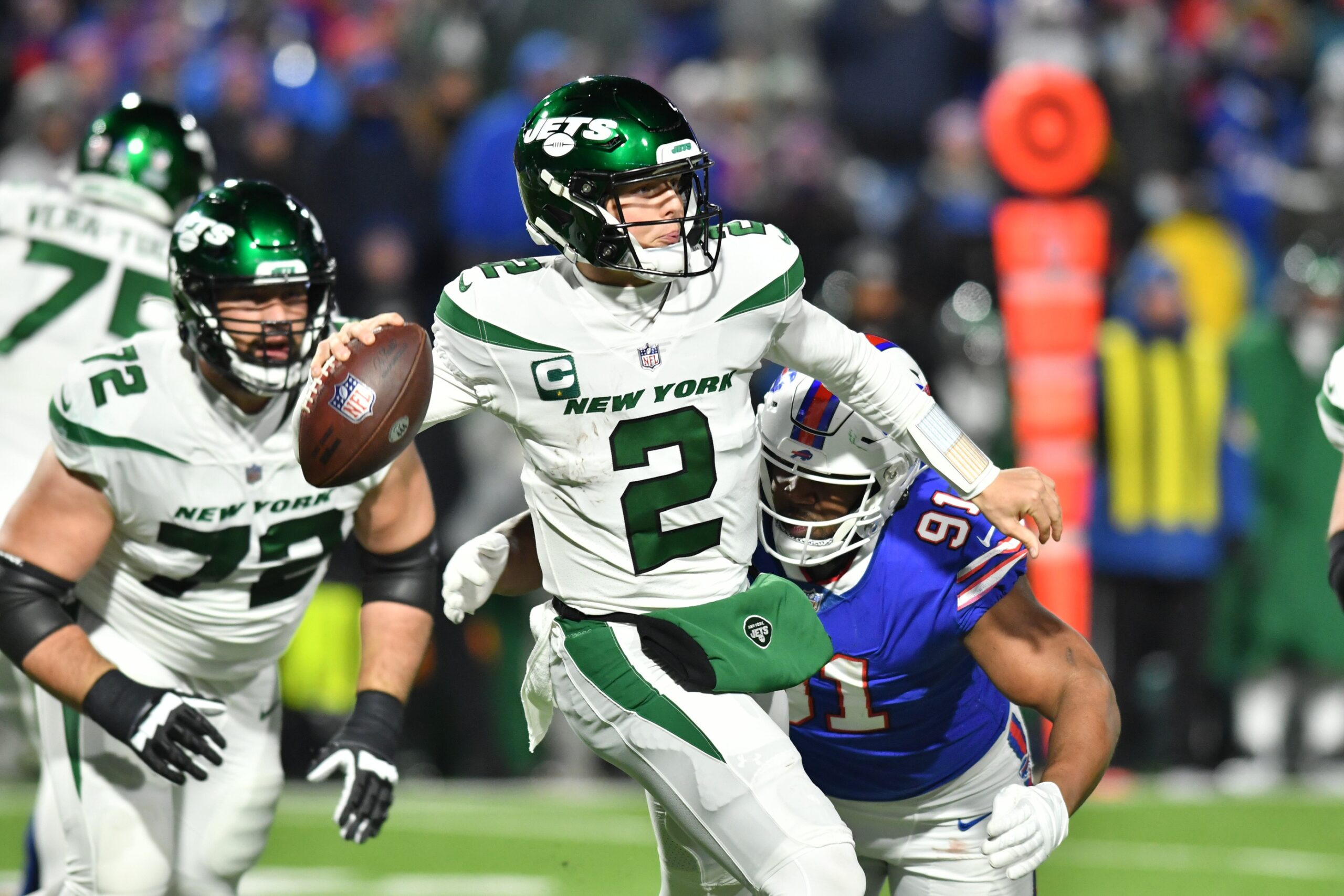 How Wilson and Hall impact fantasy football
For those in PPR (point per reception) fantasy football formats, the Jets present a surprising opportunity. Not known as a pass-happy offense similar to that of maybe Buffalo or Tampa Bay, Robert Saleh's Jets racked up the attempts while playing from behind. In 2021, the Jets were No. 2 in overall passing rate (63%) and threw the ball 55% of the time in neutral game scripts (19th). With so many targets to go around, there is value to be had.
After a draft in which they knocked it out of the park, the Jets added arguably the two top players of their position on offense in Hall and Wilson. Hall did everything at Iowa State, and while his footwork and rushing prowess elevated his stock, his receiving ability will allow him to be a three-down back. Hall is likely being drafted at his floor as he should finish inside the top 20 in 2022. However, he's not alone, as Carter will deserve his own share of the touches.
A rookie last season, Carter came just shy of 1,000 scrimmage yards (14 games) but still finished with double-digit fantasy points seven times, including a 32.2-point performance in Week 8. As a reliable rusher between the tackles and in the receiving game, Zach Wilson will have dump-offs to the best athletes on the field anytime he wants.
But if he wants to push the pace and impress his Mom's friends, Wilson has more than enough talent at receiver. A do-it-all receiver, Garrett Wilson can win in any situation, both intermediate and deep, along with contested situations. Garrett backed up his explosiveness with a 4.38 40-yard dash, 36″ vertical, and 123″ broad jump in Indy. He has all the makings of a Stefon Diggs-level talent at receiver.
While the Jets do have other pass catchers such as Davis, Moore, and Braxton Berrios, Garrett Wilson adds extra gear to this offense. Now the Jets can attack vertically in a way they could not before. They can take advantage of Zach Wilson's arm and ability to throw off-platform accurately. While Moore will push Garrett Wilson for targets, if not exceed him, the Wilson-to-Wilson combo will be where explosive plays are found. – Tommy Garrett, PFN Senior Fantasy Analyst
How Wilson and Hall impact Jets' betting odds
The Jets unquestionably have a more talented roster in 2022 than they did in 2021. Amongst the many improvements they made was drafting Garrett Wilson and Hall in this past year's draft.
Between the four AFC East teams, the Jets were always going to have the longest odds to win the division. They're still favored to finish last in the division., but their odds ticked up a bit following the NFL draft.
Caesars opened the Jets at +3000 to win the AFC East. Then, free agency bumped their odds to +2500, and after the draft, they moved to +1800. As of now, their odds have settled in at +2000.
The Jets did a lot more than just draft two offensive players. So, it's impossible to know how much each pick individually impacted their betting odds. I can't imagine Hall moved the needle at all as running backs never do. However, Wilson likely had a small impact on the post-draft bump.
Ultimately, whether you buy into the Jets as a team in 2022 comes down to their quarterback. If you are a believer in Zach Wilson, there is value on backing the Jets this season. I wouldn't necessarily bet them to win the division, but a sprinkle on them to make the playoffs at +650 isn't a bad move.
Caesars currently has their win total at 5.5 with the over juiced to -175. I would never lay -175, but if you could get 6 somewhere at more reasonable odds, that's not a bad idea either. Personally, I'm not sure what to think of Zach Wilson so I'm just going to watch this season play out. – Jason Katz, PFN Fantasy and Betting Analyst
How the Jets' new-look offense could impact their 2023 NFL Draft plans
On paper, the Jets seem to be starting the boarding process, with their sights set on returning to contention. The next major step was completing the team's offensive attack around Zach Wilson. That's what New York was able to accomplish, not just in the 2022 NFL Draft, but in free agency as well.
The additions of Garrett Wilson and Hall in the 2022 NFL Draft got the most publicity, and deservedly so. Wilson is a versatile, dynamic three-level threat at WR, who can create separation, compete at the catch point, and serve as a prolific RAC threat. Then there's Hall — the explosive, agile workhorse set to complement Carter in the backfield.
Wilson and Hall each project to complete their respective position groups, but they were the closing pieces of an already strong offseason for New York. The Jets re-signed Berrios, who's expected to have an increased role on offense alongside Wilson, Moore, and Davis. They also added tight ends C.J. Uzomah and Tyler Conklin, who should form a solid duo.
None of the Jets' premier offensive skill position players are scheduled to be free agents in 2023, so there's both talent and stability in New York — both key factors in any projected ascent. This talent and stability should allow the Jets to address other areas of concern in the 2023 NFL Draft.
Strengthen the offensive line or keep building the defense
Those are the options the Jets have going into next year's draft. Still projected to have an early pick, the Jets have several different avenues to consider in 2023, but they fall under those two categories.
George Fant is a free agent in 2023, and Mekhi Becton's future is uncertain. Thus, it may be prudent for New York to pick a tackle like Paris Johnson Jr. or Darnell Wright early in 2023, to help sustain the team's offensive stability. As we've seen many times before, it's hard to maximize your team's weapons when your protection unit is unreliable. Center may also be an area of need, as Conor McDermott joins Fant in free agency next spring.
On defense, adding to the interior DL rotation is a very compelling option early on. Depending on how high the Jets pick, they could wind up with Georgia's Jalen Carter or Clemson's Bryan Bresee — both top-flight DT prospects with rare athletic tools. Either of those two alongside Quinnen Williams would form a fearsome interior rush presence. Linebacker and safety may also be options in the early rounds. But at this point, the better value might be found on Day 2 at those positions.
At the very least, the Jets have flexibility and hope for the future. Those are two things they haven't had all at once in a long time. – Ian Cummings, PFN NFL Draft Analyst