Imagine the sweetest moment of your life. That picture-perfect moment when you felt utterly triumphant and unstoppable. For people my age, it could be our graduation from school. For older people, it could be a moment like their wedding day or seeing their child do great things. That moment for Jalen Hurts came against Georgia in the 2018 SEC Championship game.
The season before, Hurts was pulled at halftime against Georgia in the 2018 National Championship. Backup Tua Tagavailoa came in and ultimately pulled off a comeback victory for the Tide. Hurts ended up as the backup for Alabama to Tua the following season. People called for him to transfer out, to go somewhere else. But Hurts believed in himself and his abilities and kept on pushing and growing. And he got his opportunity.
Hurts entered the SEC title game with 11 minutes left on the clock. He proceeded to go 7-of-9 for 82 yards and a touchdown, as well as run the ball 5 times for 28 yards and the go-ahead touchdown with a minute left. In a complete 180 of the script from the national championship game, Hurts is the one calmly leading the Tide to victory. In the same building and against the same team, just 11 months later. Incredible. That's Hollywood-esque storytelling.
Now, Jalen Hurts has the opportunity to build on that legacy elsewhere after transferring from Alabama to Oklahoma.
Competition
Hurts is the presumed starter for the Sooners going into the upcoming season, but he will face stiff competition between former backup Tanner Mordecai and incoming 5-star Spencer Rattler. Hurts had a fantastic showing in the Sooners spring game throwing the ball, which was a question mark of his while at Bama. His last season as the backup and his comeback in the Georgia game showed some promise, but nothing concrete. Considering Oklahoma's last two starting quarterbacks ended up as number one overall picks in the NFL Draft, Hurts has a lot of expectations riding on his arm to deliver.
Hurts said he's used to the pressure though. After all, he did lead the Tide to back-to-back national title games. Now he has to replace and replicate two of the most electric quarterbacks in college football. "There's always more we can do…there's always more we can accomplish", Hurts remarked after his spring game at Oklahoma. "I'm trying to learn as much as I can [by watching tape of Baker Mayfield and Kyler Murray] to help this team be as successful as we desire to do. I'm…building comfort by watching those guys and kinda taking it day by day."
It's easy to see Jalen Hurts' process for learning the offense and terminology has worked out so far. In just a few short months after his arrival, he looked comfortable controlling the offense out there, outplaying Tanner Mordecai, who had been on the roster for a year already.
His future with the Oklahoma Sooners
As Hurts progresses in the offense, so too will his comfort level and skill with the offense. The question Sooner fans want to know is how good can Hurts be at quarterback. As remarkable as his story is, he was still benched in the national title game and lost the starting job.
I imagine Lincoln Riley will keep the playbook relatively similar to how it was with Kyler Murray. Last season, the Sooners utilized several quarterback draws and option plays to utilize Kyler Murray's speed, the most famous being the quarterback counter which Ted Nguyen of The Athletic breaks down here.
While Jalen Hurts is not the speedster Kyler Murray is, Hurts can still do some damage with his legs and he's a more powerful runner. Riley's acumen as a play-caller will lead to some interesting play designs to take advantage of this power and athletic ability. Hurts' ability as a runner will also help in the passing game. When Kyler Murray was quarterbacking the Sooners, his scrambling ability was a huge boost to the offense by converting negative plays to positive ones. Expect that to stay the same with Hurts.
The passing game
As good of a runner Hurts is, the Oklahoma Sooners will live or die off of his arm in 2019. Hurts will need to take steps as a passer for OU to continue their streak of winning the Big-12 and making another run at the Playoffs. While Hurts does not project to be a first-round pick as of yet, he's offered enough of a glimpse for Sooner fans to have hope for 2019.
Last season, Hurts took steps as a passer under QB coach Dan Enos. His touch on downfield throws improved and so too did his general accuracy. We have to view throws like these with a modest grain of salt because Hurts mostly played against backups and the Bama guys were just more talented than just about every team Hurts played against. However, if you studied Falcons receiver Calvin Ridley while he was at Alabama like me, you'd remember the amount of overthrows Hurts would have targeting Ridley deep.
Throws like this are encouraging of his development in this area.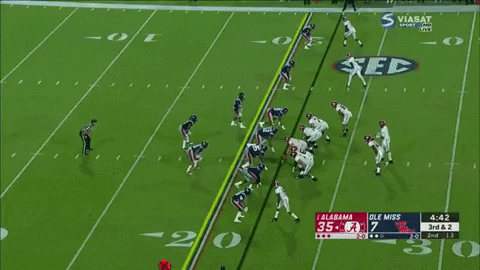 His work in the intermediate area and the middle of the field improved as well.
Hurts did not make many complicated or incredible throws in the OU spring game, but he showed off on a few deep balls like this one.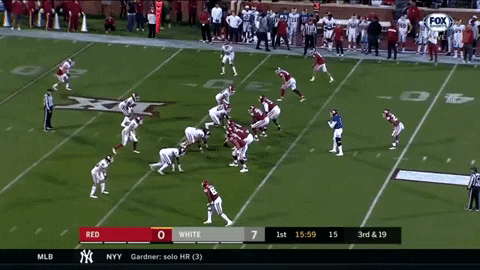 Conclusion
Jalen Hurts will face a lot of noise taking over for two Heisman Trophy winners at quarterback for the Oklahoma Sooners. He's already being viewed as a potential Heisman dark horse due to his previous success and head coach Lincoln Riley's record with quarterbacks. This process will be difficult for him, but he's already got the right mindset about it and his teammates are already respecting him.
"None of this has been easy…but I think it shows true character and true heart trying to fight to the finish. I trust my abilities and I know there are always things that I can improve on. Being silent about all the other stuff being said about me, that's not easy. People have doubted me." Jalen Hurts said these words after his triumph over the Bulldogs last December. He carries this with him to Oklahoma. With his heart and mind in the right place and Lincoln Riley helping coach his arm, Jalen Hurts is poised to be one of the nation's best next season.