My NFL Week 2 Recap takes a look at the biggest stories as a result of Sunday's games from around the National Football League. And with Russell Wilson putting on a spectacular performance on Sunday Night Football against the Patriots, I explain why it's time for the MVP train to start rolling.
This week, NFL Recap also discusses how Kirk Cousins and the Vikings can't keep having days like this and how the Atlanta Falcons are an absolute disgrace. Additionally, I look at injury replacements such as Jordan Reed who stepped up in the absence of others, 2-0 pretenders and contenders, what's next for the 49ers and other injury-riddled teams, and the NFL Week 2 Studs and Duds.
Editor's Note: If you'd like to jump around throughout this column, use the black box above titled "This Week in NFL Recap." At the end of each segment, you'll see a divider that allows you to scroll back up to the top of this page if you wish to keep jumping around. If not, keep scrolling!
[sv slug=mocksim]
[su_heading style="default" size="13″ align="center" margin="20″ id="" class=""]
NFL Recap: The Russell Wilson MVP train starts rolling
[/su_heading]
As you probably know, Russell Wilson has never received a single NFL Most Valuable Player vote, let alone come close to winning the award. And yes, NFL Recap agrees: that's an utter travesty. But now that Wilson has started the 2020 season with 610 yards, a (gulp) 82.5% completion rate, nine TDs and a pair of wins over the tough Patriots and the not-so-tough Falcons, it's time to start revving up the Wilson MVP bandwagon.
Russell Wilson Recap vs. the New England Patriots
Sunday night's 35-30 Seattle Seahawks victory over the New England Patriots began with a Wilson pick-6: a high throw glanced off tight end Greg Olsen's fingertips and into the hand of defender Devin McCourty. Wilson caught fire soon after that, completing 21-of-28 passes and delivering touchdown strikes to five different receivers (Tyler Lockett, D.K. Metcalf, David Moore, Freddie Swain, Chris Carson); there have been seasons in which Wilson didn't even appear to have five different receivers.
Wilson needed every bit of the production, as the Patriots scored 13 fourth quarter points and drove to the goal line at the game's end. Only a last second goal-line stuff of Cam Newton by L.J. Collier preserved the Seahawks win.
What this means for Russell Wilson
Wilson is locked in a back-and-forth battle with Aaron Rodgers for the all-time lead in quarterback rating. Rodgers currently has the highest career rating in history at 102. 6, Wilson is second at 102.0, and Drew Brees entered Monday night a distant third at 98.4.
No one pays much attention to passer rating, and Patrick Mahomes will trounce everyone on the list when he throws enough passes to become eligible, but the rating is a reminder of how great Wilson has been for almost a decade: as a dual-threat, as a gritty clutch leader guy, and as a pure passer. He has never quite gotten the credit he deserves on that third point.
Wilson keeps getting upstaged in the MVP balloting by Mahomes, Lamar Jackson, Tom Brady or someone else, and that's fine. But the fact that he has never gotten a single measly vote is a sign of how easy it is to overlook and undervalue Wilson. It's also an indictment of the Seahawks coaching staff and front office, which surrounded him with an offensive line full of mediocre prospects and position-change experiments, built subpar receiving corps, and grew too fond of establish-the-run tactics in the second half of the 2010s.
Wilson became the guy who runs around the sandlot and throws last-second touchdowns to squeak his team into a Wild Card berth every year, not someone at the top of the standings or statistical leaderboards.
This year may be different because the Seahawks may be different: better weapons, better blocking, slightly updated scheme. Their defense is hoping that the uniforms will fool you into thinking they're good, but a few more high-scoring shootouts like Sunday's game against the Patriots are good for an MVP campaign.
Jackson, Rodgers, and others are also dealing so far this year, but let's make sure Wilson stays in the conversation if he keeps playing at a high level. His team is likely to remain in the playoff conversation as well.
What's next for Russell Wilson and the Seahawks?
The Seahawks host the Dallas Cowboys next week in Week 3. The over-under opened at 49.5. The way these two offenses and defenses are playing, it may move by the end of the week to 99.5.
[su_divider top="yes" text="Go to top" anchor="#" style="double" divider_color="#999999″ link_color="#999999″ size="6″ margin="15″ class=""]
[su_heading style="default" size="13″ align="center" margin="20″ id="" class=""]
NFL Week 2 Studs 'n' Duds: Stefon Diggs, Falcons and more
[/su_heading]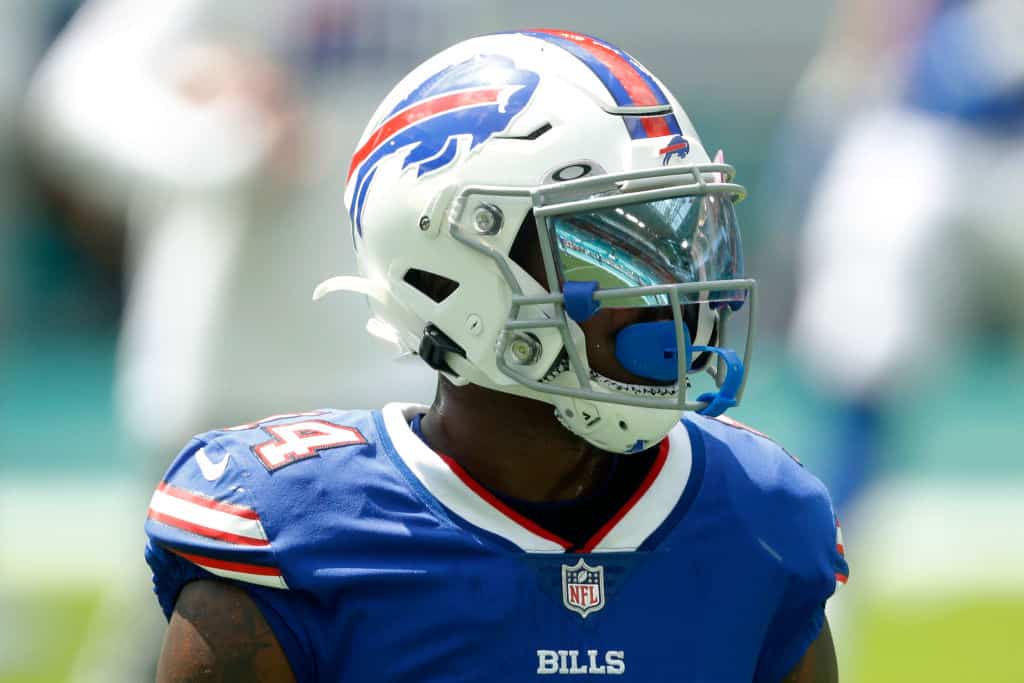 Buffalo Bills WR Stefon Diggs, Los Angeles Rams TE Tyler Higbee, and the Green Bay Packers offensive line came up big. The Atlanta Falcons hands team and New York Jets offensive line came up small. The Week 2 edition of NFL Recap Studs 'n' Duds has all the details, and much more.
Stud: Stefon Diggs, WR, Buffalo Bills: 8 catches, 153 yards, 1 TD
Diggs' production came on a mix of Josh Allen rockets, some deft touch passes of the sort Allen is supposed to be incapable of throwing, and at least one instance of Diggs leaping to haul in a gopher ball in traffic. Frankly, that's a fine mix for a Pro Bowl receiver acquired to take a young quarterback and team to their next stage of development.
Interestingly, Diggs did most of his damage against rookie CB Noah Igbinoghene while top defender Xavien Howard covered lesser receivers, even after Byron Jones was forced out of the game early with a groin injury. We're watching Brian Flores carefully for signs that he attended the Matt Patricia School of Never Adjusting Your Defense. 
Dud: New York Jets run defense
The San Francisco 49ers rushed for 182 yards, but that only tells part of the story. Raheem Mostert rushed untouched for 80 yards on the first play from scrimmage. Mostert later had a 67-yard touchdown negated by a holding penalty. Jerick McKinnon rushed for 55 yards on 3rd-and-31. (That's third-and-thirty-one). Nick Mullens knelt to kill the clock at the end of the game and somehow gained 12 yards. (Not really). There's poor talent, there's poor scheme, and then there's an utter lack of pride. The Jets defense executed the trifecta on Sunday.
Stud: Tyler Higbee, Tight End, Los Angeles Rams: 5 catches, 54 yards, 3 TDs
Higbee is a fine player who had a great game, but except for one crisp deep pass up the left sideline for a touchdown, most of his production came on rollout "waggles" that are designed to get the tight end open in space for an easy toss. Maybe the real "stud" is Sean McVay, who appears to have designed 2,500 different variations on the rollout waggle.
Duds: Julio Jones, Jaeden Graham, Olamide Zaccheaus, Sharrod Neasman, Josh Harris, and Hayden Hurst – Hands Team, Atlanta Falcons
Oh, you guys thought you could stand still and stare at an onside kick like it was a pair of dice you were hoping would come up "boxcars" and NOT get individually dimed out by name on NFL Recap because most of you are obscure special teamers? WRONG. And yes, Julio was there: He can clearly be seen running up toward the ball and then stopping as if he were struck by a force field about five yards away.
Stud: Bobby Massie, Offensive Tackle, Chicago Bears
Who needs to keep wide receiver Allen Robinson happy when you have a 315-pound lineman who can catch deflected passes for fourth down conversions?
"That's not how we drew it up," quipped Mitch Trubisky about Massie's clutch look-what-I-found catch during a fourth quarter in which the Bears tried to hand the win to the Giants, who wouldn't accept it.
Duds: Folks criticizing the play call at the end of the Seahawks-Patriots game
Sure, Tailgate Joe: The "play" you would have "called" would have worked perfectly and given the Patriots the win, even though you spent the whole game referring to Cam Newton's receivers as "Nickel Henry" and "Danny Welker."
We've played you in Madden, dude: You only call four plays, and you execute all of them by running your quarterback 25 yards straight backward and just jamming a button. Oh, and you didn't know what you were talking about at the end of Super Bowl XLIX, either. There were just more of you.
Maybe the Falcons should trade for Massie and put him on their hands team.
And now for your NFL Recap Week 2 Awards:
Offensive Line of the Week: Green Bay Packers
David Bakhtiari, Elgton Jenkins, Corey Linsley, Lucas Patrick, and Ricky Wagner helped Aaron Jones and company rush 35 times for 259 yards and two TDs in a 42-21 rout of the Detroit Lions. On some of Jones' runs, the Packers line appears to drive the entire Lions defense five yards off the ball.
Defensive Player of the Week: T.J. Watt, Pittsburgh Steelers
Watt was credited with 2.5 sacks but had a hand in many of the sacks and big plays produced by his teammates. For example, Bud Dupree delivered the hit that produced a strip sack and knocked Drew Lock out of the game, but Watt made the play possible by spilling Lock from the pocket in Dupree's direction.
Special Teamer of the Week: Derek Watt, Pittsburgh Steelers
CJ Goodson recovered the week's most important onside kick for the Dallas Cowboys, but we've already addressed the fact that he would not have gotten near the football if the Atlanta Falcons didn't suffer from successophobia. So let's make this a Watt family reunion. Derek Watt crashed through the line after Broncos punter Sam Martin mishandled a snap and tackled Martin in the end zone for a safety that gave the Steelers some breathing room in a too-close-for-comfort win. 
Best Supporting Actor in Someone Else's Highlight
Baltimore Ravens running back Mark Ingram put his team's eventual 33-16 victory over the Houston Texans out of reach with a 30-yard touchdown run off a direct snap. But Ingram might not have even gotten first down yardage if fullback Patrick Ricard didn't squash safety Justin Reed coming off the edge. Ricard fumbled on 4th-and-short last week, so that block offered some redemption.
[su_divider top="yes" text="Go to top" anchor="#" style="double" divider_color="#999999″ link_color="#999999″ size="6″ margin="15″ class=""]
[su_heading style="default" size="13″ align="center" margin="20″ id="" class=""]
NFL Recap: What's next for the 49ers and other injury-riddled teams?
[/su_heading]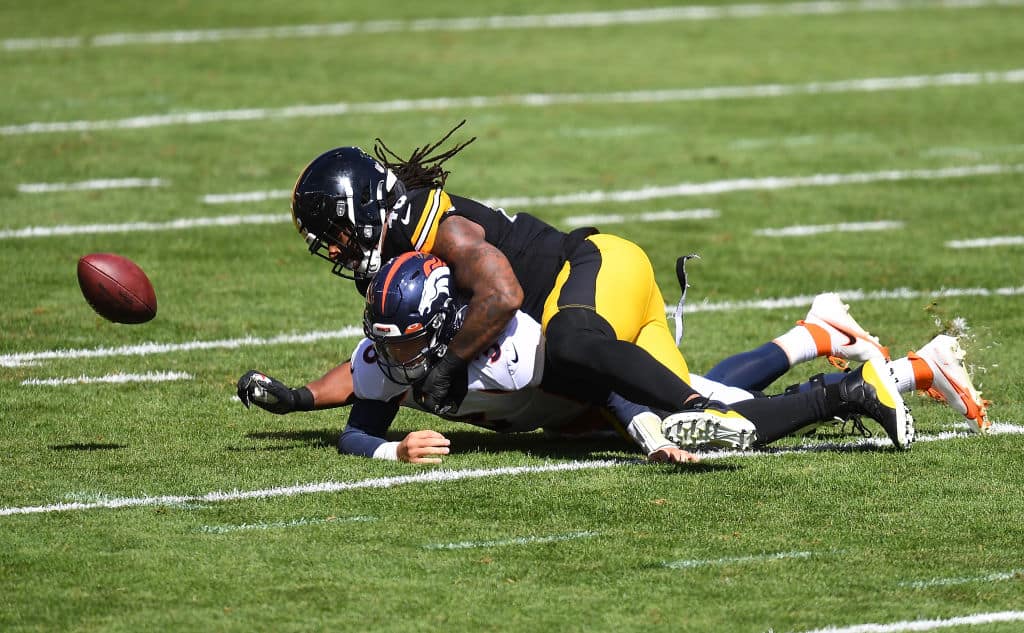 It was a rough week for injuries: Edge rusher Nick Bosa, quarterback Jimmy Garoppolo, running back Raheem Mostert, defensive tackle Solomon Thomas … and that just covers the poor San Francisco 49ers. Giants running back Saquon Barkley, Panthers running back Christian McCaffrey, and Broncos quarterback Drew Lock headline an injury list so long that NFL Recap doesn't have space to list them all (nor enough up-to-date information at press time to really process some of the injuries). But we know enough now to speculate about "what's next" for the 49ers and some of the NFL's other injury-riddled teams.
What's next for the San Francisco 49ers?
Nick Mullens is a capable backup quarterback who has spent three years in Kyle Shanahan's system and went 3-5 for a bad 49ers team in 2018. Under normal circumstances, Mullens could manufacture wins while Garoppolo recovers from a high ankle sprain.
But these are hardly normal circumstances. Bosa likely has a torn ACL. Fellow edge rusher Dee Ford did not play on Sunday because of a neck injury. Thomas is the top reserve along the defensive line. Richard Sherman is on the injured reserve list. George Kittle, Deebo Samuel, and now Mostert are missing from the 49ers offense. They are currently fielding the roster of a 6-10 caliber team while playing in what's probably the toughest division in the NFL – the NFC West.
And now the good news: The 49ers face the New York Giants next week, then host the Eagles and Dolphins. Even with a depleted lineup, they can go 2-1 during that stretch. Ford, Samuel, and Sherman could all ride to the rescue by the end of that stretch (remember that IR works differently this year, and players can come off of it earlier). So might Garoppolo, though the others may be much more important.
With any luck, the 49ers will still be in the playoff hunt when they return to something close to full strength. But the loss of Bosa will cast a long shadow over the rest of the season.
What's next for the Denver Broncos?
The Broncos' only real objective this season should be developing Drew Lock. Any hope that they could squeak into the Wild Card conversation evaporated when top defender Von Miller got injured at the end of camp. Lock now has a sprained AC joint and was waiting on additional testing when NFL Recap went to press. His backup is Jeff Driskel, who is the kind of quarterback a team acquires when Andy Dalton is their starter and they don't want controversy. 
Driskel can actually be pesky in stretches, as he was in Sunday's loss to the Pittsburgh Steelers, and the one thing Broncos big boss John Elway doesn't want to do is search for a quarterback on the waiver wire because Elway can barely find a quarterback in free agency or the top of the draft.
If NFL Recap ran the Minnesota Vikings, we would offer Elway Kirk Cousins in exchange for all of the draft picks under heaven. But if we ran the Broncos, we would just hunker down and chalk 2020 as yet another rebuilding year.
What's next for the New York Giants and Carolina Panthers?
The injuries to Barkley (knee) and McCaffrey (ankle) are exhibits Y and Z in the case against over-drafting or overpaying a running back. Both backs can be a thrill to watch, but the Giants and Panthers are rebuilding teams whose plan for 2020 appeared to be to feed Barkley and McCaffrey to the line (mixing in a few very predictable screens) while they figured other things out on offense.
Neither team has displayed much interest in developing change-up backs, which is why the soon-to-be-30-year-old Dion Lewis (his birthday is next Sunday; he has made a career out of one fine year for Bill Belichick and several disappointing ones for all the Baby Belichicks) earned 10 carries for 20 yards on Sunday, while Mike Davis (a poor man's Dion Lewis) took over for McCaffrey.
The Giants and Panthers should use their time without their workhorses to get smarter about how they use running backs in general and then cross their fingers that they still get some return on investment when Barkley and McCaffrey return.
What's next for the NFL?
As stated at the top, there were just too many injuries on Sunday to break down. We'll know more about Indianapolis Colts WR Parris Campbell, Vikings linebacker Anthony Barr, Los Angels Rams RB Cam Akers, and others as the start of the week unfolds. 
There are already plenty of theories about why we saw such an injury rash in Week 2. Well, actually two theories: They were caused by the "sticky turf" in the Meadowlands and/or the shortened offseason. The playing surface in MetLife Stadium is indeed new, and bad turf can lead to injuries, so the NFL should look into a situation that will impact the Giants, Jets, and their opponents. Heck, the 49ers might not have anyone left after two straight games in the Meadowlands next week if the turf truly is an issue. 
As for the short preseason, well, maybe there is something to that. But it's odd that Week 1 was relatively mild from an injury standpoint. And NFL Recap has seen plenty of rough injury weeks over the years. And the other pet theory about the short offseason (it would cause lots of sloppy play) holds zero water after two weeks. Finally, several of this week's most noteworthy injuries came as the result of big hits, not because anyone appeared improperly conditioned or unready to play at NFL speed.
It's football. Injuries stink, but they were part of the game long before shortened preseasons and social distancing were part of the game.
[su_divider top="yes" text="Go to top" anchor="#" style="double" divider_color="#999999″ link_color="#999999″ size="6″ margin="15″ class=""]
[su_heading style="default" size="13″ align="center" margin="20″ id="" class=""]
NFL Week 2 Recap: Pretenders and contenders among the 2-0 teams
[/su_heading]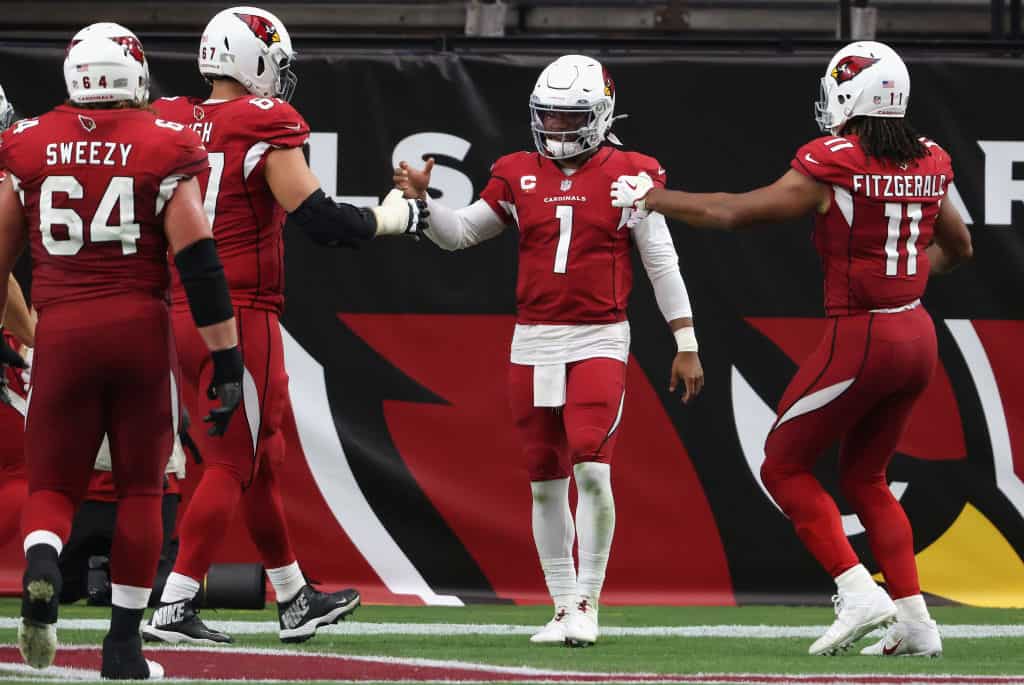 It wouldn't be Week 2 of an NFL season without a segment asking which 2-0 teams are "for real." And far be it for NFL Recap to break from tradition! Sure, we think the Baltimore Ravens are legit and the Chicago Bears are suspect, and you think so too. But read on for more details, some deep thoughts, and perhaps a surprise or two.
Are the 2-0 Arizona Cardinals for real?
The Cardinals may not be "for real," but they are really delightful. Kyler Murray is a joy to watch when throwing and scrambling, their offense looks like something dreamed up during College Coaches' Tequila Night, and DeAndre Hopkins has picked up right where he left off in Houston (he's once again the binkie for a fine young quarterback who could use a little more help from his offensive line and defense).
The Cardinals may not have what it takes to hang with the pack in the NFC, but I would hate to be a divisional foe with Super Bowl aspirations and a ton of injuries because the Cardinals could sail past a team like that in the standings. Sorry, San Francisco 49ers.
Verdict: Wild Card contender.
Are the 2-0 Baltimore Ravens for real?
Yes. Duh. 
Verdict: Super Bowl contender.
Are the 2-0 Buffalo Bills for real?
Who knows? First, there were technical difficulties that blacked out Sunday's eventual 31-28 victory over the Miami Dolphins for a while. Then came a lightning delay. By the time play resumed, most of the early games were already heating up in the fourth quarter. While this game was getting wild early in the fourth quarter, the Cowboys and Falcons were getting wilder at the end. Finally, Patrick Mahomes and Lamar Jackson took the field, and it was time to stop caring about the Bills.
Josh Allen's stats (417 yards, four TDs) were great, which will make the Internet a fun place to work this week. He led a fourth-quarter comeback, which begs the question of whether a true contender should need a fourth-quarter comeback to defeat the Dolphins. 
The Bills can only play the opponents on their schedule, and they came out of the first two weeks relatively healthy, which is a positive sign. Their schedule is about to stiffen up with a visit from the Rams. We'll know more about them in a week. Until then, note that the Patriots started out a few seasons with a schedule as soft as the Jets-Dolphins doubleheader the Bills just won. But they tended to win the games by a combined score of about 69-10, not 58-45.
Verdict: Playoff contender.
Are the 2-0 Chicago Bears for real?
Mitch Trubisky in the first half of Sunday's 17-13 win over the New York Giants: 13-of-18, 159 yards, two TDs, zero INTs. Trubisky in the second half: 5-of-10, 31 yards, zero TDs, two INTs (one of which was wrestled from his receiver's hands), and one fourth-down conversion to help munch the clock which caromed off a defender into the belly of offensive lineman Bobby Massie.
Someday, the two Trubiskys should come face-to-face and really duke it out, like a superhero symbolically battling his demons in a comic book, or Good and Evil Kermit the Frog in that meme. Until then, the Bears' model for success is not sustainable. 
Verdict: Pretender.
Are the 2-0 Kansas City Chiefs for real?
If some other contender needed an overtime field goal for a 23-20 win over the Los Angeles Chargers and rookie quarterback Justin Herbert, I would worry about their consistency and their inability to get out of their own way on the first few series of the game. But the Chiefs are more like a perennial NBA powerhouse that comes out flat once in a while in mid-December road games against cupcakes. They'll be fine.
Verdict: Super Bowl contender.
Are the 2-0 Los Angeles Rams for real?
Here are some of the encouraging signs from the Rams' back-to-back wins against the NFC East "powerhouses," including Sunday's 37-19 win over the Philadelphia Eagles.
The scheme looks unpredictable again. Opponents appeared to have Sean McVay figured out at times last year. This season, all of the presnap motion and misdirection is once again creating the matchups that McVay hopes to create.

Small-money players are stepping up. Micah Kiser recorded 16 total tackles after making some big stops (and a big whiff or two) in Week 1. Darrell Henderson and Malcolm Brown (168 scrimmage yards on Sunday) are getting the job done as a running back platoon with Cam Akers out. Andrew Whitworth is playing like he's 27 years old again, but more importantly, lesser-known (and lower-paid) linemen are also stepping up. High-priced stars like Aaron Donald and Jared Goff are going to need lots of contributions from the bottom of the payroll.

The Rams are doing little things. They are blocking well on screens and handling their coverage assignments with few lapses. They haven't been killing themselves with penalties. 
All in all, these Rams look more like the 2018 version of the team than last year's model. Let's see how they look after a meeting with the Bills.
Verdict: Super Bowl contender.
Are the 2-0 Pittsburgh Steelers for real?
The Steelers are the Bills, but with street cred. Ben Roethlisberger, like a certain starter in Buffalo, looks fantastic until you start digging into all the stalled drives and miscues. The defense looks overwhelming until it allows someone like Jeff Driskel to throw for 256 yards and two TDs. A win is a win, but the Steelers allowed both the Giants and injury-plagued Broncos to linger a little too long in their games. 
Like the Bills, the Steelers are about to face some stiffer tests in the form of the still-dangerous Houston Texans, the Titans in Tennessee, and the maybe-possibly-still-dangerous Philadelphia Eagles. They need to prove that they can make more routine plays on offense and allow fewer big ones on defense.
Verdict: Wild Card contender.
Are the 2-0 Seattle Seahawks for real?
The biggest takeaway from both the Seahawks Week 1 victory over the Atlanta Falcons and Sunday night's down-to-the-wire 35-30 win over the Patriots is that Russell Wilson finally has a real supporting cast. Tyler Lockett has always been reliable, but DK Metcalf can be counted on one or two big plays per game, and Chris Carson is more effective when rotating with Carlos Hyde. Most importantly, the offensive line is now fairly competent, though it won't draw any comparisons to The Hogs.
The Seahawks' defense still has a way to go before it becomes more than Jamal Adams and fond memories. And we saw a little bit of the old Seahawks offense (Wilson runs around in circles trying to make things happen with no support) at times in the first half. But Wilson + Decent Weapons + a playmaker or two in the secondary has always been a recipe for a Seahawks playoff run, and this year the weapons may be better than decent.
Verdict: Super Bowl contender.
Are the 2-0 Tennessee Titans for real?
If NFL Recap was forced to rank the 2-0 AFC middleweights right now, we would rank the Bills first, then the Steelers, then the Titans. At least the Bills win over the Jets was convincing. The Titans almost let the Jacksonville Jaguars come back from a 30-17 deficit on them; and no, that's not an indication that the Jaguars are secretly good, stop being silly. 
Everything about the Titans still screams "final Wild Card berth," from the plodding running game they rely too much upon to a defense that doesn't quite live up to its billing. A Vikings-Bills-Steelers-Texans slate before the bye will help us find the Titans' level. Right now, it's probably close to the bottom of that pack.
Verdict: Wild Card contender that could win the division because the AFC South is pretty much the Sun Belt Fun Belt.
[su_divider top="yes" text="Go to top" anchor="#" style="double" divider_color="#999999″ link_color="#999999″ size="6″ margin="15″ class=""]
[su_heading style="default" size="13″ align="center" margin="20″ id="" class=""]
NFL Week 2 Recap: Jordan Reed, Justin Watson, and other replacements rise to the occasion
[/su_heading]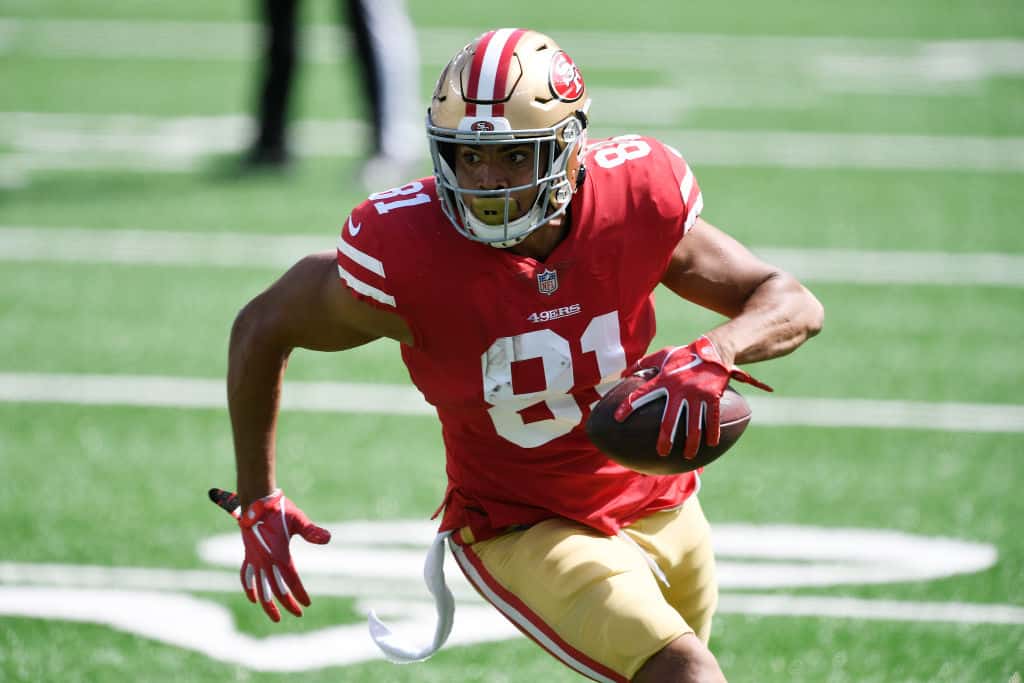 No go-to wide receiver or All-Pro tight end? No problem! Well, no problem in some cases, anyway. Several teams entered Week 2 without the focal point of their passing game or offense as stars like George Kittle and Chris Godwin dealt with Week 1 injuries. But as NFL Recap reveals, most teams had a Plan B that worked out just fine. 
George Kittle, TE, San Francisco 49ers
Jimmy Garoppolo threw a routine screen pass about three feet over Kittle's head in Week 1, and defender Budda Baker T-boned the defenseless tight end as he was landing, resulting in a sprained MCL and leaving Garoppolo dangerously short of weapons.
Replacement: Jordan Reed
Remember Reed? He had Rob Gronkowski-level talent but an injury history longer than the Lord of the Rings trilogy (director's cut). Reed caught seven passes for 50 yards and two second-quarter touchdowns in a Pyrrhic 31-13 victory over the Jets in which the 49ers lost quarterback Jimmy Garoppolo (high ankle sprain), edge rusher Nick Bosa (a feared ACL tear at press time), and others.
You know 2020 has gotten strange when Reed becomes one of the healthiest guys on a team's roster. The 49ers really need him to stay that way for a while. 
Chris Godwin, WR, Tampa Bay Buccaneers
Godwin took a shot to the head from New Orleans Saints defender D.J. Swearinger in Week 1 and experienced what was being described as "delayed symptoms" during the week. Tom Brady almost certainly did not spend the two "delay" days rubbing $250-per-ounce TB12 echinacea-and-unicorn-tear ointment on Godwin's scalp and telling him that concussions are caused by negative spirit energy before Godwin finally broke down and demanded to speak to someone with an actual medical degree. But it's entertaining to imagine that they did.
Replacements: Scott Miller and Justin Watson
Miller and Watson are such Patriots-like receivers that Brady probably slips and calls them "Wes" and "Julian" now and then (that was a white wide receiver joke: LAUGH AT IT). They combined for four catches for 59 yards, with Waston hauling in a badly underthrown flea-flicker — or hey, maybe Brady threw it perfectly, and it was Watson's fault for being too fast and wide open.
Meanwhile, Mike Evans rebounded from a weak performance in the season opener by going 7-104-1, and Brady proved without a doubt that he can still throw for 217 yards, one TD, and one interception against one of the worst defenses in the league. 
A.J. Brown, WR, Tennessee Titans
Brown is dealing with a bone bruise in his knee. Details are sketchy, because Titans coach Mike Vrabel is ultra-secretive about injuries, and also because no one on earth was able to stay awake through the second half of last week's Titans-Broncos game, so Brown could have been hit by a truck and no one would really know. 
Replacements: The usual suspects.
Someone named Kalif Raymond got the start in place of Brown but was not targeted once in the 33-30 victory over the Jacksonville Jaguars. Instead, Ryan Tannehill threw touchdown passes to tight end Jonnu Smith and wide receivers Adam Humphries and Corey Davis, while also delivering a few passes to backup TE Adam Firkser and slot guy Cameron Batson.
If you are seeking fantasy lineup clarity about what to do in Brown's absence, the inconsistent Davis, low-upside Beasley or suddenly plodding Derrick Henry, NFL Recap advises you to steer clear of kicker Stephen Gostkowski. 
Kenny Golladay, WR, Detroit Lions
The Lions are taking things slowly and cautiously with Golladay's hamstring injury. I won't make a wisecrack because Matt Patricia should be praised for taking an injury seriously instead of, say, accusing Golladay of being on social media when he's supposed to be on a stationary bike and then trading him for a midround pick.
Replacement: Quintez Cephus
Cephus got off to a rocky start (that's a Latin joke: LAUGH AT IT!) with just three catches on 10 targets in the season opener, though Calvin Johnson would have had trouble hauling in several of the throws. Marvin Hall got the start in Cephus' place this week and caught a late touchdown pass but was ineffective early in the game. Cephus wasn't targeted until the second half but finished with three catches for 54 yards, including a 36-yarder in garbage time.
Neither Cephus nor Hall is likely to play much of a role when Golladay returns, though whoever is coaching the Lions by then may be tempted to give the youngsters a longer look.
Le'Veon Bell and Jamison Crowder, RB and WR, New York Jets
Bell and Adam Gase can never see eye to eye on the state of Bell's hamstrings. If Bell feels healthy, Gase holds him out of practice. If Bell comes up gimpy in the first half against the Bills, Gase puts him on the field in the second half and then claims to be angry at himself about the decision. Bell is now on IR with a hamstring injury, which by Gase logic, could mean that he's healthy enough for a mountain triathlon. 
As for Crowder, Gase said he "gets tight" sometimes with his own hamstring injury, which is probably exacerbated by Crowder's status as the only functional weapon in the Jets offense. I don't know about you, but I can listen to Gase talk about hamstrings all night and day.
Replacements: Frank Gore and futility.
Did you think Gase would take this opportunity to look at an intriguing youngster like rookie Lamical Perine? Not when he had the opportunity to work a 37-year old like a punch press! Gore rushed 21 times for 63 yards as the Jets tried harder to milk the clock than the banged-up 49ers did in the 31-13 win.
Former Patriots sorta-prospect Braxton Berrios caught six passes for 59 yards and a garbage-time touchdown in Crowder's role (that's literally Crowder's role, down to the garbage-time touchdown). With Berrios and Chris Hogan on the field for the Jets for much of the second half, it looked like the Patriots fourth preseason game circa 2018.
Gore performed about as well as Bell would have; the only difference is that Gase won't try to blame him for the loss.
[su_divider top="yes" text="Go to top" anchor="#" style="double" divider_color="#999999″ link_color="#999999″ size="6″ margin="15″ class=""]
[su_heading style="default" size="13″ align="center" margin="20″ id="" class=""]
NFL Week 2 Recap: The Atlanta Falcons are an absolute disgrace
[/su_heading]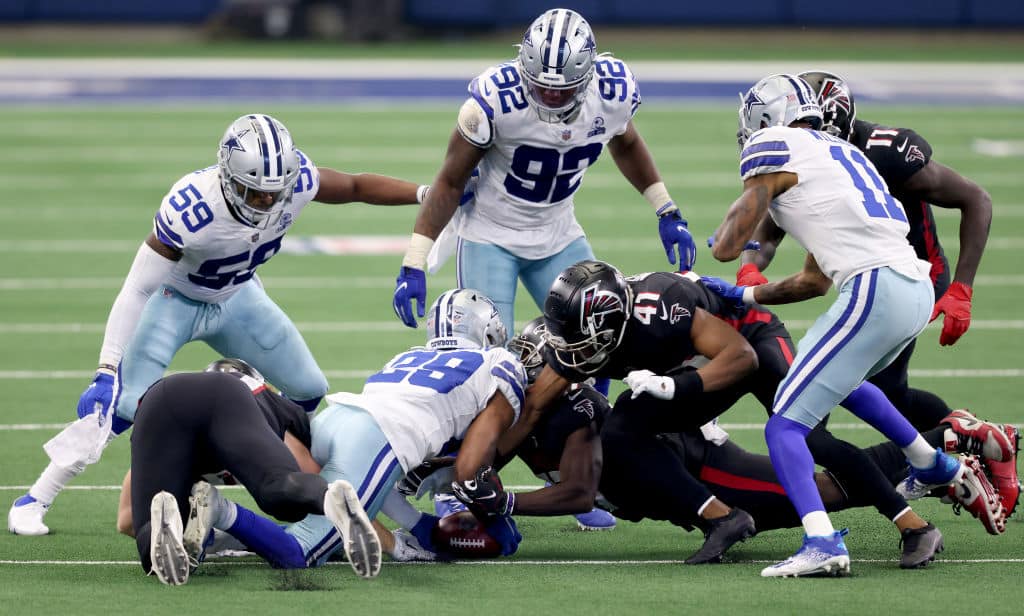 What's worse than blowing a 28-3 lead in the Super Bowl? The Atlanta Falcons provided the answer to a question no one had the heart to ask on Sunday, blowing 26-7 and 39-24 leads to a Dallas Cowboys team that played the first half as if the gang from It's Always Sunny in Philadelphia snuck onto the field wearing Dak Prescott and Ezekiel Elliott jerseys (with Frank Reynolds in a Mike McCarthy mask).
The Falcons are now 0-2 after allowing 78 points in their first two games, leaving NFL Recap to wonder if the Dan Quinn era is finally coming to a merciful end.
Atlanta Falcons vs. Dallas Cowboys Recap
The Cowboys didn't look hungover in the first quarter. They looked like they were just rescued from a laboratory that was using them as human guinea pigs for experimental hallucinogens in the first quarter. Prescott, Elliott, Tony Pollard, and tight end Dalton Schultz all fumbled in the first half (Pollard's was recovered by the Cowboys, as was a second Elliott fumble).
Meanwhile, punter Chris Jones attempted the first fake-punt pass of his 10-year career and demonstrated why Jason Garrett never tried it before, badly underthrowing his target to give the Falcons great field position. By halftime, the Falcons were cruising with a 29-10 lead on Matt Ryan touchdowns to Calvin Ridley (2) and Hayden Hurst.
However, if you know two things about Falcons football, it's that a) their defense starts most games looking decent but then switches to the Madden "toddler" setting, and b) their offense never met an opportunity that it could not leave on the table.
Prescott found WRs CeeDee Lamb, Amari Cooper, Michael Gallup, and even Noah Brown over the middle of the field for chunk gains to set up Cowboys touchdowns. Julio Jones dropped a touchdown lob. The Falcons settled for field goals. The Falcons got flagged for having too many men on the field while attempting to go for it on 4th-and-2. The Cowboys cut the Falcons lead to 39-37 with 1:48 to play.
Then came the onside kick, which hypnotized the entire Falcons team the way Kaa hypnotized Mowgli in The Jungle Book. Three Falcons watched the ball spin until C.J. Goodwin pounced upon it. The Falcons defense then obligingly allowed Lamb to scamper 24 yards on a shallow cross so Greg Zuerlein could kick a 46-yarder to break what's left of Falcons fans' hearts.
What it means for the Atlanta Falcons
Quinn has proven to be a ninja when it comes to avoiding the hot seat over the last three years. He sacrifices coordinators. He gets a pass from ownership because of injuries. The Falcons go on hot streaks to save his job, like when they went 6-2 down the stretch last year to finish 7-9. Meanwhile, Ryan and the offense keep the Falcons just competitive enough each week to make it look like the team is a few defensive stops and some injury luck away from returning to the Super Bowl.
But over the last two weeks, the Falcons have looked flat-out unprepared on defense and special teams. That's inexcusable for a defensive coach and a veteran-laden team. Quinn has squandered two of the remaining productive Ryan-Jones years on 7-9 finishes, and he is in the process of wasting a third.
Quinn isn't a bad coach in the Adam Gase class (now that's damning with some faint praise), but there comes a time when a once-effective coach loses his team once and for all. That time came on Sunday when the Falcons stared at an onside kick on the ground and wondered what they were supposed to do with it.
What's next for the Atlanta Falcons?
The Falcons host the Bears next week. If Mitch Trubisky somehow drops 35-plus points against their defense, Quinn's key fob shouldn't work at the entrance to team headquarters on Monday morning.
[su_divider top="yes" text="Go to top" anchor="#" style="double" divider_color="#999999″ link_color="#999999″ size="6″ margin="15″ class=""]
[su_heading style="default" size="13″ align="center" margin="20″ id="" class=""]
NFL Recap: Kirk Cousins and the Vikings can't keep having days like this
[/su_heading]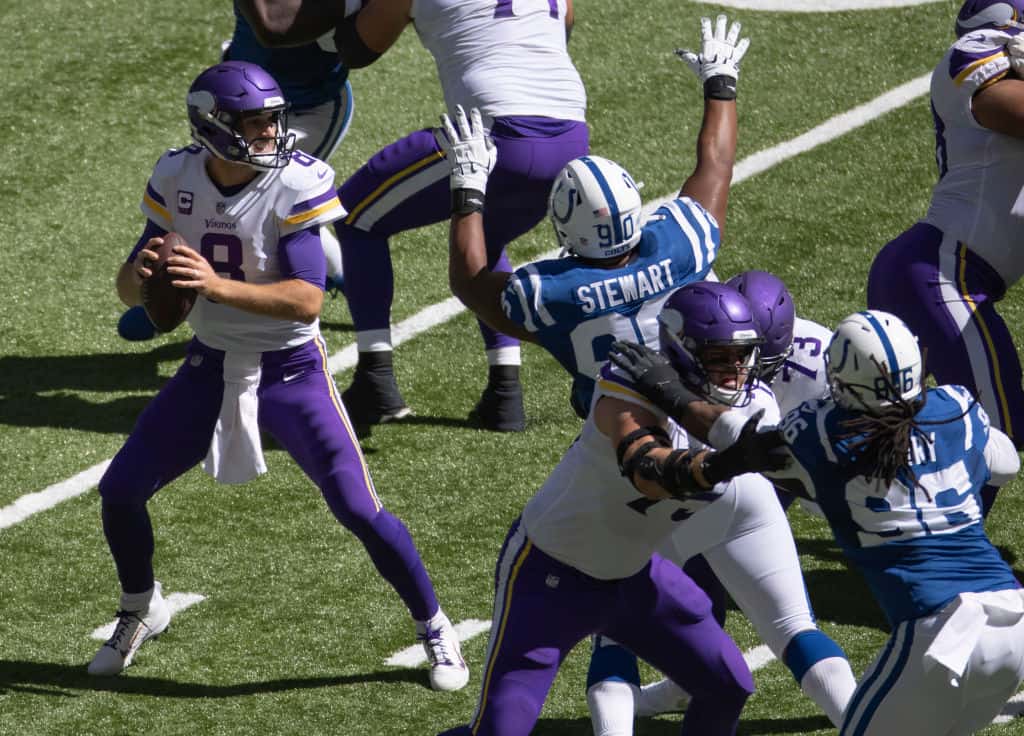 There comes a time in every NFL season when NFL Recap and fans around the league all look at Kirk Cousins and ask ourselves the philosophical question, "Why?"
Not "Why is Kirk Cousins still a starting quarterback in the NFL?" mind you: He is clearly one of the 32 best quarterbacks on earth, almost certainly one of the top 20, and he deserves a job, say, holding down the fort until someone like Tua Tagovailoa is ready to replace him.
No, the real questions are: Why do teams pay Cousins so much money? Why do they tie their fortunes to him year after year? What makes them think this Cousins year will be different when every Cousins year is precisely the same?
NFL Recap doesn't have many solutions, but after Cousins threw three interceptions and was sacked for a safety in a 28-11 loss to the Indianapolis Colts, dropping the Minnesota Vikings 0-2, it's clear that the Vikings need to start asking themselves some hard questions about their overpaid, underwhelming franchise quarterback.
Recapping Kirk Cousins' Week 2 performance
Cousins completed just 11 of 26 passes for 113 yards, 0 touchdowns, three interceptions, and three sacks, one of them a strip-sack in the end zone by DeForest Buckner for a safety. Cousins was 7-of-22 for 61 yards and as many completions to the Colts defense as to top receiver Adam Thielen before fluffing his stats up slightly on a meaningless fourth-quarter drive.
In fairness to Cousins, one of the interceptions came on a Hail Mary before halftime, and a second one was tipped by his receiver. But the first one was an ill-advised bomb to a double-covered Thielen that defender Julian Blackmon volleyball-batted to teammate Khari Willis. And then there was the safety, Cousins' second in two weeks – inexcusable for someone who is supposed to make his living as a veteran game manager who takes care of the football.
The Vikings finished the game with seven possessions of four plays or fewer. The Colts had the ball for 38 minutes and 25 seconds and slowly pulled away on field goals until the Vikings defense finally buckled. Their average time of possession after two weeks is 20 minutes and 10 seconds per game. They are a ball-control team incapable of controlling the ball.
What it means for Cousins and the Vikings
Cousins has no one to throw to right now besides Thielen and his running backs. His offensive line is nothing special. Due to injuries and free-agent defections, the Vikings defense lacks the pass rush to generate enough big plays and turnovers to make things easier on the offense. It's tempting to give Cousins a pass under the circumstances.
But that's always been the book on Cousins: great from a clean pocket in a good system with lots of weapons and a dash of help from the defense (and really, what NFL-caliber quarterback isn't?). The Vikings knew they weren't going to surround him with much veteran talent this year when they traded Stefon Diggs and held a clearance sale on defense. Yet they handed Cousins a contract which all-but guarantees him nearly $66 million through 2022.
What can the Vikings do about Cousins' contract?
The only way the Vikings can escape three more years of Cousins mixing terrible performances like Sunday's performance with just games good enough to fool you into believing in him again would be to make a final decision on him this year: His 2022 contract doesn't become fully guaranteed until the third day of next year.
Sean Mannion is the only other quarterback on the roster, so Cousins is about as safe as a starting quarterback of his pedigree can be (Cousins' coaches often go out of their way to make sure his backup is not a threat, perhaps because they know they would reach for the backup like he was a bottle of milk of magnesia on days like Sunday).
But the Vikings should at least be scouring the failed prospect market looking for Josh Rosen or Jameis Winston-types, who might become available when their teams go in other directions. And if the Vikings are scuffling below .500 as the trade deadline approaches, they should at least entertain the idea of throwing a Hail Mary of their own and offering Cousins to some team whose quarterback got injured or is Mitch Trubisky or something.
The alternative is to go 8-8 or so for a few more years. Sunday showed just how unappealing that alternative is.
What's next for Cousins and the Vikings?
The Vikings face the Tennessee Titans, Houston Texans, Seattle Seahawks, and Atlanta Falcons before they reach the bye. NFL Recap estimates that they will be 2-4 at the end of that run, at best. The idea of trading Cousins or searching for an alternative on some other team's bench doesn't sound so absurd now, does it?
Mike Tanier is the Senior NFL Writer for Pro Football Network and the author of NFL Recap. You can follow him on Twitter: @MikeTanier.