With Week 14 of the NFL season coming to fruition, NFL Recap has all of the news, notes, and highlights gift-wrapped for your pleasure. We start the Week 14 NFL Recap by looking at the Kansas City Chiefs, who are atop the standings yet a bit of an enigma, and break down the Chicago Bears' pummeling of the Houston Texans. We also take a look at the debut of Jalen Hurts and then hand out our weekly Studs 'n' Duds.
NFL Week 14 Recap: Super Bowl picture is foggier than ever after Week 14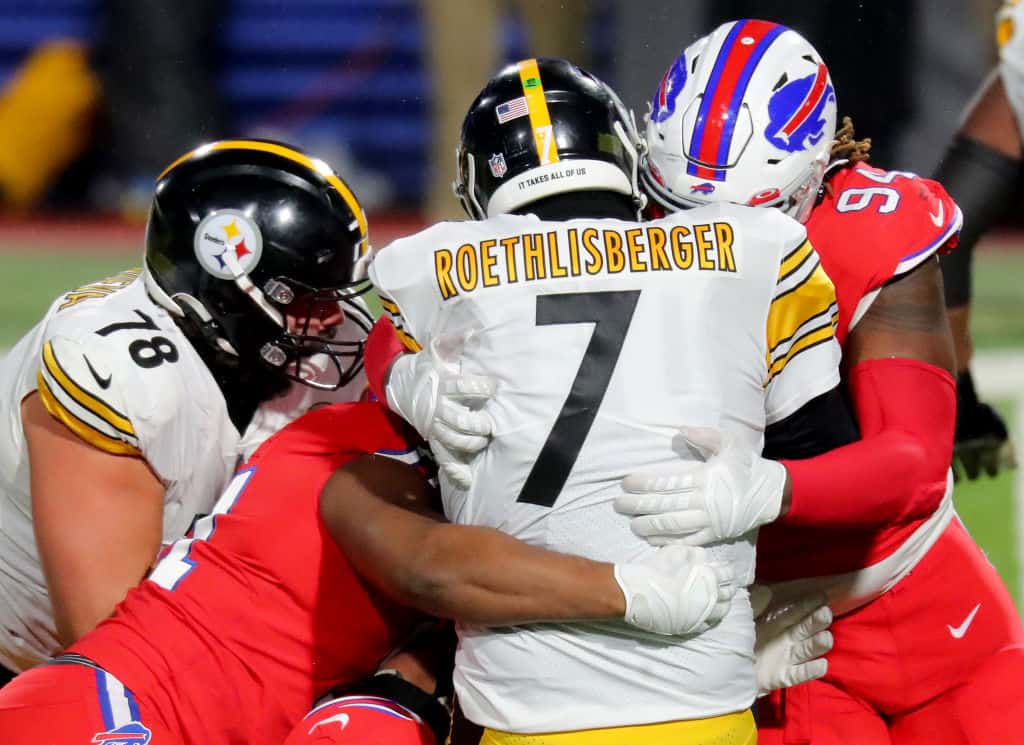 The Pittsburgh Steelers are suddenly on the skids. The New Orleans Saints have run out of Taysom Hill magic. The Philadelphia Eagles have found a short-term solution with long-term ramifications at quarterback, while the Washington Football Team's defense has taken temporary control of the Division of Doubt and Despair. Week 14 somehow made the NFL playoff picture and Super Bowl chase cloudier instead of clearing things up, and NFL Recap has both the headlines and links to analysis and deeper dives into Sunday's action. 
The Pittsburgh Steelers are heading in the wrong direction
Everything the doubters said about the Steelers during their 11-0 start turned out to be true. They really were inflating their record and reputation by beating up on weak opponents and third-string quarterbacks. Ben Roethlisberger's deep arm really has turned into a water pistol.
The Buffalo Bills exposed both Roethlisberger and the weaknesses in the Steelers secondary in Sunday Night's 26-15 victory, and suddenly nothing about the AFC Super Bowl race can be taken for granted. 
NFL Recap broke down Roethlisberger's deep-passing deficiencies before the Washington loss, and if anything, things have gotten worse. The Steelers will get their aggressions out on the lowly, fumble-happy Cincinnati Bengals in Week 15, but they close out the season against the Indianapolis Colts and Cleveland Browns, two opponents who appear capable of tripping them up before they reach the playoffs — or sending them home early come January.
The Kansas City Chiefs are a danger to themselves and others
The Chiefs gained breathing room in their quest for a first-round bye. But another sloppy, too-close-for-comfort victory (33-27 over the Miami Dolphins, despite a three-interception afternoon by Patrick Mahomes) revealed just how self-destructive the Chiefs can be when they grow bored with mere mortal football and attempt to play the arcade version of NFL Blitz 2000 instead.
The Chiefs have won their last five games by just 21 combined points and appear slightly less vulnerable to a playoff surprise than the Steelers. For more, here is NFL Recap's breakdown on how the Chiefs are letting inferior opponents hang with them each week.
The Saints need Drew Brees back — like, now
The Taysom Hill Faux Tebowtime Magic wore out in Sunday's 24-21 loss to the Philadelphia Eagles. Hill's final stats looked pretty good — 291 passing yards, 2 touchdowns, 1 interception — but he threw for just 65 yards as the Saints were shut out before halftime, was sacked five times (including a strip-sack), and was consistently off target against a depleted secondary which a more traditional quarterback would have picked apart.
The Saints blew a chance to clinch the NFC South with Sunday's loss after the Minnesota Vikings obediently bowed down before the altar of Tom Brady in early afternoon action. The Green Bay Packers now look like the team to beat in the NFC.
So the time for noodling and pet projects is over. Sean Payton needs Drew Brees back for the stretch run. And if Brees isn't ready, Payton needs to consider Jameis Winston. Opponents who spent the last month getting a "book" on Hill won't know what hit them.
The Eagles' quarterback controversy has been renewed for 2021
Of course, the big story of the Eagles-Saints game was Jalen Hurts' debut, and NFL Recap has a thorough breakdown of Hurts' performance for you. Hurts was good! You have to imagine that our voices got about an octave higher at the end of that sentence. He was good! (Another octave higher) Pretty good!
The NFC East remains a source of deep and abiding national shame
Daniel Jones returned to the New York Giants lineup and immediately commenced coughing up fumbles again. Dwayne Haskins was pressed into relief for an injured Alex Smith and played poorly. But, Chase Young and the Washington defense extended the team's four-game winning streak with almost no help from the offense. Here's more on Jones, Young, and Week 14's Studs, Duds, and award winners.
The Chicago Bears won a sad little Super Bowl of spite against the Texans
The Bears played like they had something to prove when they faced a nearly single-handed Deshaun Watson on Sunday. Unfortunately, their 36-7 win over the quarterback they should have selected instead of Mitch Trubisky in the 2017 draft only served as a reminder of how good the Bears are supposed to be, and how much of an opportunity they have squandered over the last three years. Here's more on a win that kept the Bears in the playoff hunt but did nothing to change the team's long-term outlook.
NFL Week 14 Recap & Highlights: The weakness that could keep the Chiefs out of the Super Bowl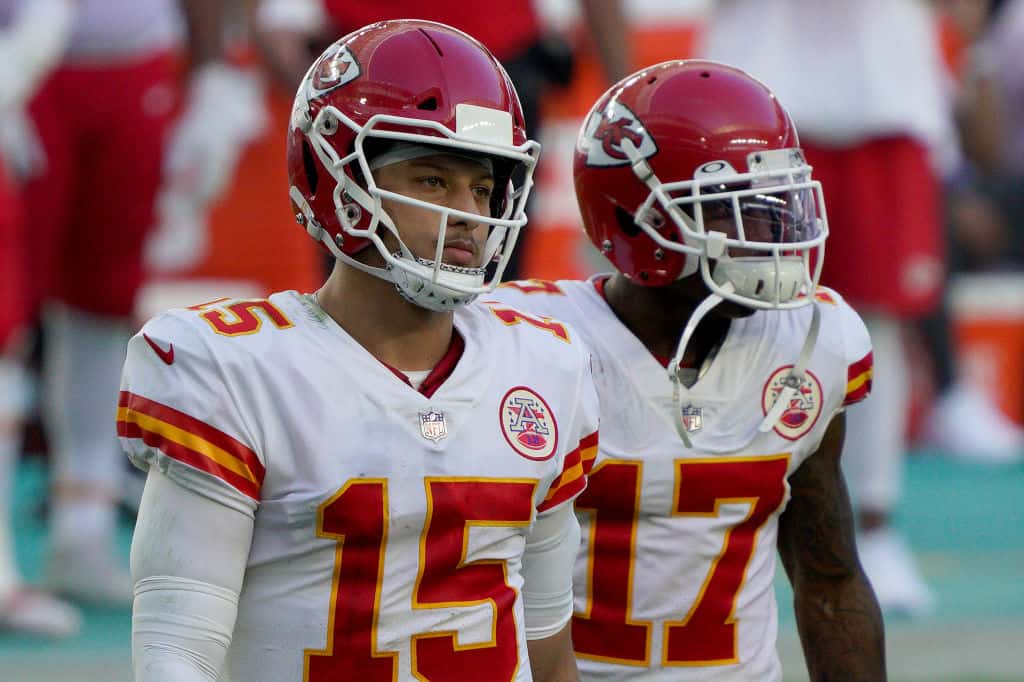 The Kansas City Chiefs are great at Chiefs football but are not very good at normal football. Their relative inability to play the game the way mere mortals play it nearly doomed them in a sloppy, bafflingly close 33-27 Week 14 win over the Miami Dolphins. NFL Recap worries that the Chiefs' habit of turning every game into some fascinatingly flawed performance art installation (instead of, you know, a football game) could cost them a shot at the Super Bowl.
Week 14 NFL Recap of the Chiefs and Dolphins shootout
Patrick Mahomes started the game by throwing a short tip-drill interception to Dolphins cornerback Byron Jones. On the next series, he dropped back 30 yards as if your nephew was controlling him in Madden for a sack that gave the Dolphins a short field, setting up a Tua Tagovailoa touchdown pass to tight end Mike Gesicki. Then Mahomes threw a short screen over Clyde Edwards-Helaire's head and straight to safety Eric Rowe to start the second quarter.
Week 14 NFL Highlights | Travis Kelce with another impressive catch
Finally, the Jameis Winston peyote wore off, and Mahomes turned back into the NFL's best player again, with a little help from Tyreek Hill (rushing and receiving touchdowns), Mecole Hardman (a punt return touchdown), and Chris Jones (safety). A 30-10 lead turned out to not be as safe as it looked; as the Chiefs made yet another mistake and a turnover allowed the Dolphins to pull within a touchdown with 4:15 play. Mahomes needed a late field goal drive to run enough time off the clock to preserve a win.
What the narrow Chiefs victory means
Mahomes is not going to have many three-interception games or start making a habit of taking 30-yard sacks. So the Chiefs have nothing to worry about, right? Not quite: Sunday's turnovers were a symptom of the Chiefs' habit of making lots of little mistakes that they get away with because whenever an opponent gets too close, Hill just outruns the entire defense for a touchdown.
For example, the Chiefs entered Sunday's game having lost 156 net yards on penalties, one of the highest figures in the league, per the NFL Penalties website. Per NFLGSIS.com, they lost 284 yards of offense to penalties entering Week 14, the highest total in the league. On Sunday, the Chiefs committed eight penalties for 56 yards, while the Dolphins committed just three penalties for 35 yards. The Chiefs have kept opponents like the Las Vegas Raiders and Denver Broncos in games by losing big plays (Hill's delayed-backflip touchdown last Sunday night, for instance) to penalties or other mistakes.
Another potential problem for the Chiefs
Here's another issue: per Football Outsiders, the Chiefs rank dead last in the NFL in short-yardage success both on offense and on defense. In other words, the Chiefs are the worst team in the NFL at both stopping opponents on 3rd-and-1 and 4th-and-1 (and in goal-to-go situations) and at converting those situations on offense. That's absolutely shocking for a 12-1 team.
Yet we've seen plenty of examples this year of the Chiefs running some intricate goal-line trick play instead of just sending Edwards-Helaire or Le'Veon Bell up the gut, and the Dolphins offense kept easily converting on 3rd-and-1 on a late touchdown drive on Sunday. A team that can score from anywhere on the field should be able to convert more than 41% of the time in power situations, but the Chiefs keep making things hard on themselves.
NFL Week 14 Highlight | 21 unanswered points for the Chiefs
Penalties, short-yardage miscues, overcomplicated play designs, and a general effort to score a 21-point touchdown on every play don't hurt the Chiefs in most weeks. But they are exactly the sorts of mistakes that could play right into the hands of the turnover-hungry Pittsburgh Steelers or a team that strives to play mistake-free football like the Tennessee Titans.
If the Chiefs hope to avoid a playoff upset, they must find ways to not risk beating themselves. That means cutting down on the penalties and keeping things simple. Not every play requires three fakes and Mahomes himself going in motion before the snap. The Chiefs are too good at too many difficult things to risk losing games because they refuse to sweat the details. If they can figure out a way to be as good at normal football as they are at the chaotic playground stuff, the Chiefs will be unstoppable. 
NFL Week 14 Recap: What's next for the Kansas City Chiefs?
The Chiefs face the Saints in New Orleans next week. It will be their toughest test before the playoffs. With the Steelers neck-and-neck with them for a first-round playoff bye, they can't afford to play next week the way they did in the first and fourth quarters on Sunday.
NFL Week 14 Recap & Highlights: Bears blowout keeps them in NFL playoff hunt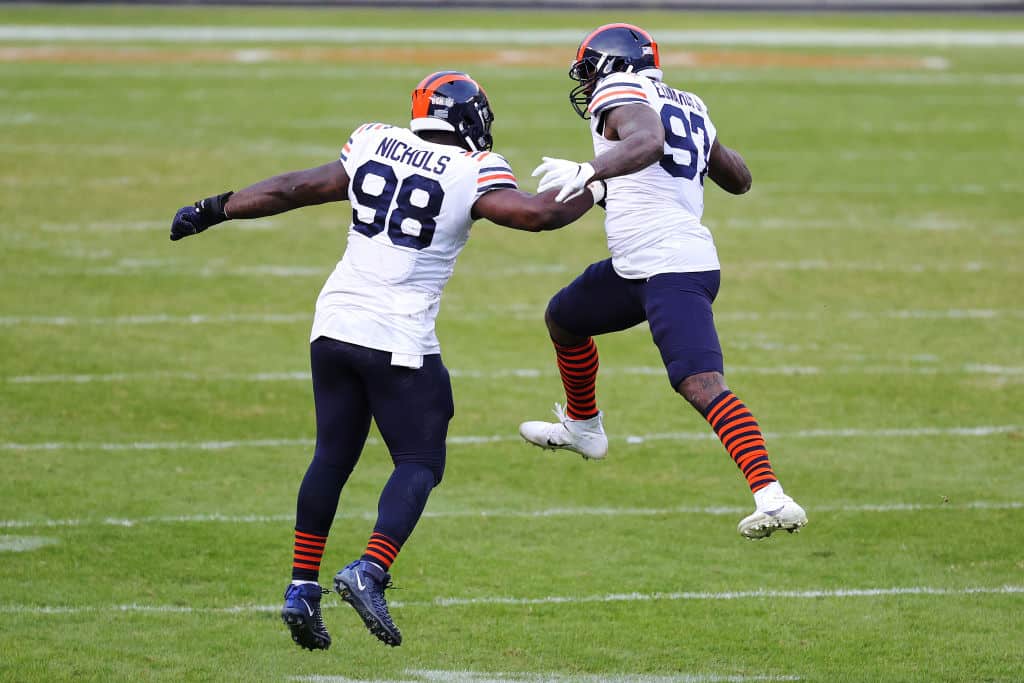 The Chicago Bears tried to send a message on Sunday. "We're sick of hearing about what a terrible idea it was to choose Mitch Trubisky instead of Deshaun Watson" they wanted to tell us. And in one sense, that message came through loud and clear. The Bears dominated Watson and the hollowed-out shell of the Houston Texans by a 36-7 final score, keeping their own faint playoff hopes alive.
But in another sense, the Bears merely reminded us of how great they could have been over the last three seasons if they had not picked the wrong quarterback. The Week 14 Bears win may have even extended the Matt Nagy/Ryan Pace era in Chicago. NFL Recap does not think that's a good thing.
NFL Week 14 Bears and Texans Recap
The Texans were without receivers Brandin Cooks, Will Fuller, Randall Cobb, and the now-former Texan Kenny Stills. Running back David Johnson, defensive backs John Reid and Phillip Gaines, and several others on Sunday also missed the game. Needless to say, it showed. Watson could do little except scramble around and hope the likes of Chad Hansen and Keke Coutee would get open. He absorbed seven sacks, one of them for a safety, and was briefly knocked out of the game.
NFL Week 14 Highlights | Mitch Trubisky throwing as many TDs as incompletions
Meanwhile, David Montgomery kicked off the Bears scoring with an easy 80-yard touchdown against a Texans run defense that is terrible even at full strength. Mitch Trubisky then picked apart a depleted secondary for 267 yards and three touchdowns, which must have felt great while facing the quarterback he has been compared to unfavorably since the moment the Bears traded up to select him over Watson with the second overall pick in the 2017 NFL Draft. 
The win pushed the Bears to 6-7, keeping them alive at the bottom of the NFC wild-card race on a Sunday where the Minnesota Vikings damaged their own playoff hopes with a self-destructive performance against the Tampa Bay Buccaneers.
Why the Bears victory sent the wrong message
What we witnessed on Sunday was a team without a quarterback beating up on a great quarterback without a team. It was downright depressing watching Watson stumble around without receivers, protection, a real coaching staff, a functional front office, or hope. No quarterback since Archie Manning of the "Ain'ts" Saints of the late 1970s and 1980s has demonstrated more talent and perseverance in circumstances as hopeless as the ones Watson faced. 
The fact that Deshaun Watson made more of an impression in defeat than Mitch Trubisky made in victory just made the Bears victory even more galling. The Bears would be on the Super Bowl shortlist with Watson at quarterback. They would have been top contenders in 2018 and 2019 as well.
Related | Bears targeting Pat Fitzgerald if head coach Matt Nagy is fired?
The Bears didn't demonstrate what they are capable of — anyone could see they were just stomping all over a glorified preseason lineup — but what they have squandered: prime seasons by Khalil Mack, Kyle Fuller, Akiem Hicks, Allen Robinson (a free agent after this season) and several other players who deserved better than to hover around .500 for the last two years while the team dithered among Trubisky, Nick Foles, and (ugh) Chase Daniel.
Yes, the Bears could still reach the playoffs as fodder for some true contender. But Sunday's win felt like little more than an effort to get out their aggressions on a player and team that have haunted them for three years than proof that they could do real damage in the postseason. Congratulations, Bears: you won the Super Bowl of Spite. It's the closest the current version of the team will ever, ever come to the real thing.
Week 14 NFL Recap: What's next for the Chicago Bears
The Bears face the Vikings, Jacksonville Jaguars, and Green Bay Packers down the stretch. The playoffs remain a long shot, but a .500 finish is very likely, and that might be enough to save the jobs of Ryan Pace and Matt Nagy.
But make no mistake about it: The Bears are a veteran team that's likely to see diminishing returns in seasons to come if they do not begin thoroughly overhauling their roster and payroll. Ryan Pace and Matt Nagy should not be the guys who get to do that. They're the reason the Bears are in this predicament in the first place.
NFL Week 14 Recap & Highlights: Jalen Hurts is the future of the Philadelphia Eagles, for now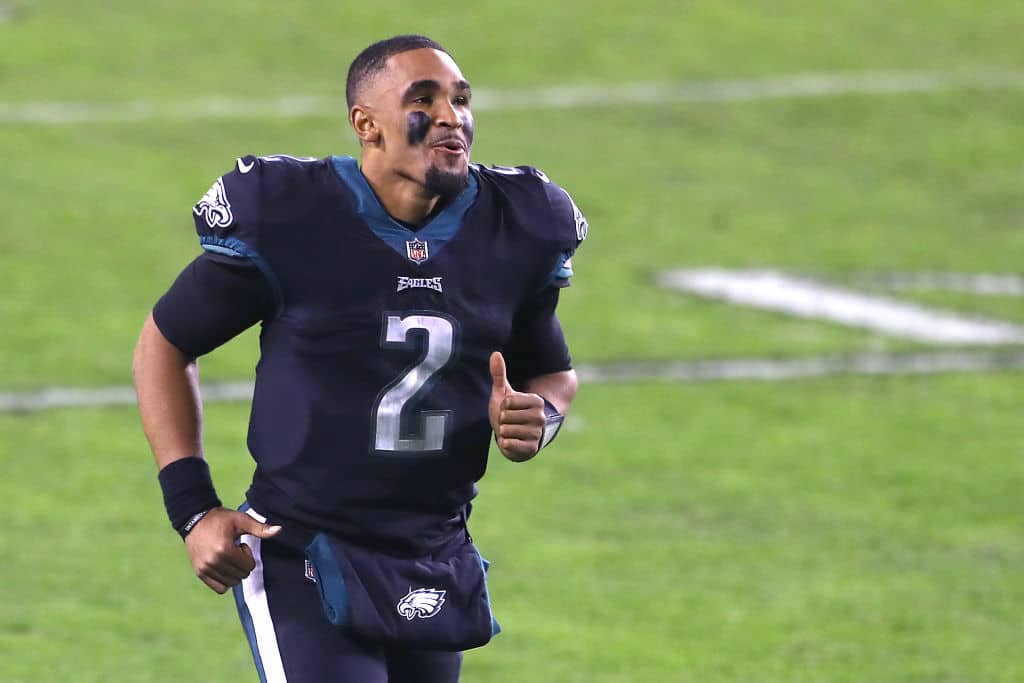 Is Jalen Hurts a future Hall of Famer? Or is he little more than a future three-time MVP and six-time All-Pro? That's right, folks: it's Overreaction Season in Philadelphia! Hurts led the Eagles to a 24-21 victory over the New Orleans Saints, which means it's time to hand him the keys to the franchise and ship Carson Wentz off to the Indianapolis Colts for a conditional 2027 seventh-round pick. Or perhaps we're getting ahead of ourselves.
Kidding aside, NFL Recap isn't about to buy into any hysteria, and we don't know what the future holds. But with his Week 14 victory, Hurts earned the right to hold on to the Eagles' starting job. Temporarily, at least.
Jalen Hurts' Week 14 NFL Debut Recap
Hurts looked just fine executing the Rookie Dual-Threat Quarterback Training Wheels Game Plan: swing passes, screen passes, shovel passes, rollouts, sprintouts, designed runs, and play-it-safe tactics on 3rd-and-long. Hurts' longest pass play of the day was a shallow cross that Jalen Reagor took upfield for a 39-yard gain. His touchdown was a 15-yard strike at the pylon to oft-injured and usually-disgruntled receiver Alshon Jeffery. 
The Eagles got three points from a Taysom Hill interception in Saints territory and an 82-yard touchdown run from Miles Sanders. They benefited from Hill running out of designer knockoff Tebow magic and throwing for just 65 yards before halftime. The Eagles survived a near pick-six by Hurts to start the fourth quarter (cornerback Marshon Lattimore did not jump the route precisely enough) and a Hurts fumble when trying to run out the clock. Hurts finished 17-of-30 for 167 yards and one touchdown, plus 18 carries for 106 rushing yards.
NFL Week 14 Highlights | Eagles secure a victory vs. the Saints
All in all, Hurts didn't have the sort of debut that prompts a team to scrap its long-term organizational plan and send the incumbent quarterback off with any team willing to tow his gigantic contract away. It looked a lot like the sort of game most rookies enjoy when running a carefully-scripted game plan against an opponent that cannot move the ball behind its own backup quarterback. But by the time you read this, folks might be swearing that Hurts looked like a cross between Steve Young and Lamar Jackson because that's just how quarterback controversies work.
What Jalen Hurts' debut means for the Eagles
The best thing that can be said about the Eagles offense on Sunday is that it looked like an NFL offense. Wentz increasingly looked in recent weeks like someone who had just been rescued from a pile of rubble, afraid the walls would topple down on him again at any moment. Hurts completed some easy rollouts and swing passes that didn't reveal much about his long-range prospects as a starter, but Wentz was taking sacks on rollout passes and throwing interceptions on swing passes before getting benched.
Hurts' mobility offers him another short-term advantage over Wentz: he was able to break containment and generate some big running plays, particularly just before halftime. The Saints began blitzing Hurts effectively up the middle in the second half, which future opponents are sure to take note of. Hurts, however, is more likely to escape and throw the ball away or pick up a few yards more than Wentz was. 
All in all
In summary, Hurts did enough against the Saints to keep his job. Just as importantly, Wentz did plenty to lose his job in the month leading up to last week's benching against the Green Bay Packers. The Eagles may not have been playing "harder" for Hurts — that's the sort of storyline someone spins when trying to spice up the drama in a quarterback controversy — but they were playing smarter.
The defense was not pressing to force a turnover on every play. The offensive line didn't get beaten at the snap as often. The game plan wasn't just Doug Pederson daydreaming about what a great year 2017 was.
The Eagles starting job is Hurts' to lose until he loses it. If he does keep it until the end of the season, the Eagles should hold an open quarterback competition in 2021. They could come away from such a competition with two potential quality starters if Hurts develops and Wentz hits the reboot button on 2020. That's not hype. It's hope. And the Eagles will take it because their quarterback situation looked really hopeless about two weeks ago.
What's next for the Philadelphia Eagles?
The 4-8-1 Eagles could still make the playoffs because the NFC East is a warehouse of regret and shame. The Cardinals (at Arizona), Cowboys (at Dallas), and Washington Football Team are all beatable foes.
The Eagles really shouldn't be thinking about the playoffs right now. However, if they do reach the postseason with Hurts running their offense, any 2021 quarterback competition might not turn out to be all that competitive.
NFL Week 14 Recap & Highlights: Derrick Henry, Dan Bailey headline Week 14's Duds 'n' Studs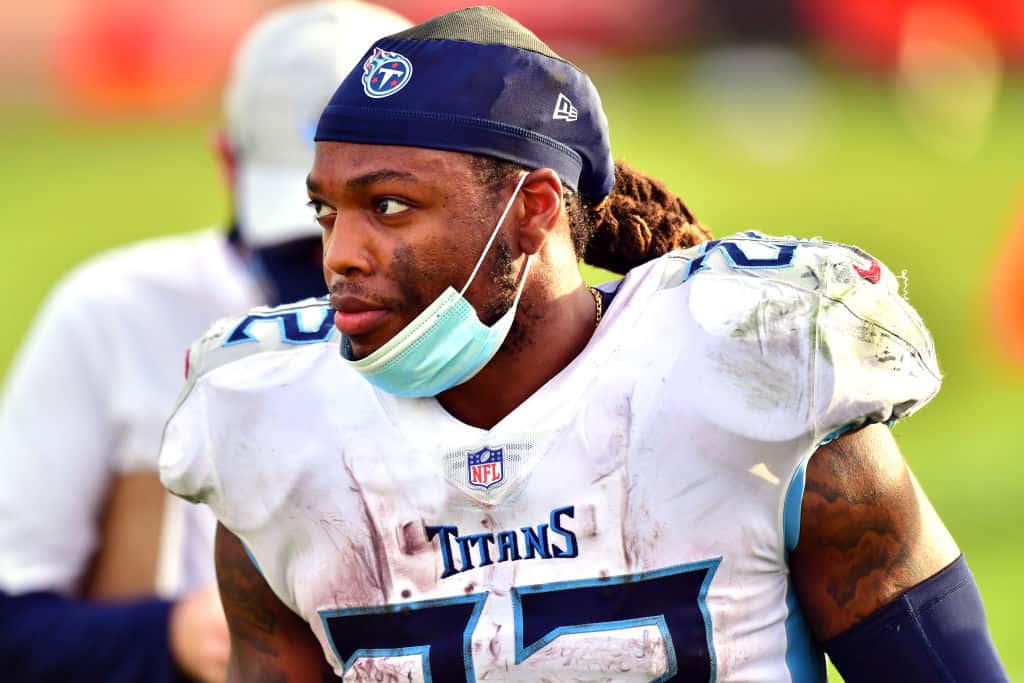 Derrick Henry does his usual December thing for the Tennessee Titans. Chase Young makes the Washington Football Team the football team to beat in the NFC Yeesh. A Minnesota Vikings kicker makes life easy for Tom Brady. And an Arizona Cardinals defender enjoys a five-sack New Jersey homecoming. All that plus the unsung hero of the strangest sack of the year in NFL Recap's Week 14 Studs 'n' Duds.
Stud: Derrick Henry, Running Back, Tennessee Titans
Henry rushed 26 times for 215 yards and two touchdowns in the Titans' 31-10 victory over the Jacksonville Jaguars. Ho-hum.
NFL Highlight | AJ Brown with another highlight-reel catch
Henry now has 1,786 career rushing yards on 322 carries (5.54 yards per carry) and 20 rushing touchdowns in 19 December games. He also leads the NFL with 1,532 rushing yards in 2020, meaning that he could crack the 2,000-yard barrier by averaging 156 yards per game over the next three games. With the Detroit Lions (ready to surrender), Green Bay Packers (defensive coordinator Mike Pettine believes run defense is entirely optional), and the Houston Texans (already surrendered) on the remaining schedule, that's entirely possible.  
Dud: Dan Bailey, Kicker, Minnesota Vikings
Dan Bailey may have cost the Vikings a playoff berth with one of the worst kicker performances of the year. He missed from 36, 54, and 46 yards, and most of them were comically off-target. In addition, Bailey also missed an extra point. 
Bailey should get a king-sized fruit basket from Tom Brady. His ineptitude, plus some other Vikings blunders (pass interference in the end zone on a Hail Mary before halftime, for example), helped the Tampa Bay Buccaneers maintain control of their 26-14 victory despite a very ordinary 196-yard passing day from their peerless leader.
Stud: Chase Young, Edge Rusher, Washington Football Team
Young scooped up a strip-sack by Da'Ron Payne and raced up the left sideline for a touchdown, swallowed Nick Mullens on a delayed-rush sack, and pursued Jeff Wilson across the formation to force a fumble in Washington's 23-15 win over the San Francisco 49ers.
Washington has now won four straight games and is in sole possession of the NFC East. If they had a quarterback, Young and their defense would make them an actual threat to some opponent in the postseason. Unfortunately, Alex Smith was ineffective before getting hurt on Sunday, and Dwayne Haskins was a catastrophe waiting to happen in relief. Maybe the New Orleans Saints can lend them Taysom Hill when Drew Brees returns… 
Dud: Daniel Jones, Quarterback, New York Giants
Daniel Jones fumbled three times (losing one) and went 11-of-21 for just 121 yards and one touchdown in his return from a hamstring injury in the New York Giants' 26-7 loss to the Arizona Cardinals. 
The Giants entered the game on a four-game winning streak, and general manager Dave Gettleman was starting to get some respect from the football world for having assembled a pretty good defense and a promising 2020 draft class. Jones' return to his bumbling, fumbling ways was a reminder that Gettleman also drafted Jones, who will likely hold the Giants back for the foreseeable future, and that wins against the Bengals and NFC East opponents are not a reliable tool for appraising the performance of a general manager. 
Stud: Josh Sweat, Edge Rusher, Philadelphia Eagles
Lost in Jalen Hurts' impressive starting debut was a big day by Josh Sweat, a young defender the team has been waiting three seasons for a breakout performance from. Sweat sacked Taysom Hill twice in the fourth quarter, strip-sacking him with 9:57 to play to set up the Eagles' game-winning drive. The Eagles need to see step-up performances from other young players on both sides of the ball down the stretch.  
Dud: The New York Jets
Last week's late-game collapse against the Las Vegas Raiders finally broke the Jets once and for all. They surrendered pathetically and pridelessly in Sunday's 40-3 loss to the Seattle Seahawks. They gained just 185 net yards and watched as their former backup Geno Smith mopped up an effortless four-touchdown victory by Russell Wilson. 
NFL Week 14 Highlights | Russell Wilson throws a smorgasbord of touchdowns 
Yes yes yes, Jets losses will turn into a top draft pick and a chance to select Clemson quarterback Trevor Lawrence. Jets losses have also turned them into a glorified expansion team with such a weak and demoralized roster that it's hard to name five current Jets who are likely to still be on the team if they ever someday reach the playoffs.
Try to at least show a little dignity over the next three weeks, Jets. Lawrence will be counting on at least a few of you to prove that you will be worth keeping around. 
Thud: Xavier Rhoades, Cornerback, and Darius Leonard, Linebacker, Indianapolis Colts 
At press time, it sounded like the Indianapolis Colts got some good news on the injury front. Frank Reich said that neither Xavier Rhodes (knee) nor Darius Leonard (back) were ruled out after leaving the victory over the Las Vegas Raiders with injuries. That means neither injury may be as serious as it looked at the time, which is encouraging because Rhodes at least appeared to be seriously injured.
The Colts are 9-4 and neck-and-neck with the Titans for the AFC North title. They cannot afford to be without two of their best defenders.
And with that, let's hand out the NFL Recap Week 14 awards — here are the highlights.
Defender of the Week
Arizona Cardinals linebacker Haason Reddick recorded five sacks and forced all three of Daniel Jones' fumbles in Sunday's win over the Giants. It was the first five-sack game in the NFL since Adrian Clayborn of the Atlanta Falcons recorded six sacks against the Dallas Cowboys in November 2017. It was also just the 16th five-plus sack game since sacks became an official stat in 1982, putting Reddick in such company as Derrick Thomas (twice), Howie Long, Fred Dean, Osi Umenyiora, and Khalil Mack. 
What an excellent New Jersey homecoming for Reddick, who hails from just down the street from NFL Recap headquarters! And did we mention that this week's praise of Gettleman was a little silly and premature?
Offensive Line of the Week
Left tackle Anthony Castonzo returned from injury just in time to prevent an offensive line emergency after backup Le'Raven Clark got injured last week. Castonzo joined Quenton Nelson, Ryan Kelly, Mark Glowinski, and Braden Smith to pave the way for Jonathan Taylor and Nyheim Hines to combine for 208 yards on 27 carries in a 44-27 Colts victory. Philip Rivers was not sacked at all in the game.
Special Teamer of the Week
Diontae Spencer appeared to be totally bottled up when he fielded a punt at his own 17-yard line in the first quarter against the Carolina Panthers. But Spencer stutter-stepped his way through both defenders and his own blockers for an 83-yard touchdown. The Denver Broncos eventually prevailed in a wild 32-27 victory.
Week 14 NFL Recap: Best Supporting Actor In Someone Else's Highlight
Miami Dolphins linebacker Jerome Baker received credit for sacking Patrick Mahomes for this 30-yard loss. However, he could not have done it without teammate Emmanuel Ogbah. Ogbah beat right tackle Mike Remmers to get in Mahomes' face and start the quarterback's endless backpedal toward oblivion. Once Baker picked up the chase, Ogbah alertly throttled down and moved into position to keep Mahomes from breaking containment and escaping. Ogbah gets credited with a big ol' nothing on the play, but he's the one who made it possible.