With Week 13 of the NFL season coming to a halt, NFL Recap has all of the news, notes, and highlights gift-wrapped for your delight. We start the Week 13 NFL Recap with a global overview of what we saw this past week, then we continue by looking at the Cleveland Browns, who are having their best season of the century, and break down the mishandling of the quarterback situation in Philadelphia. We also discuss the 10 players to watch during the 2020 playoff stretch and hand out our Stud 'n' Duds for this week's action.
[su_note note_color="#f1f0f0″ text_color="#000000″ radius="3″ class="" id=""]Eagles QB mess, Browns triumph headline the Week 13 NFL Recap[/su_note]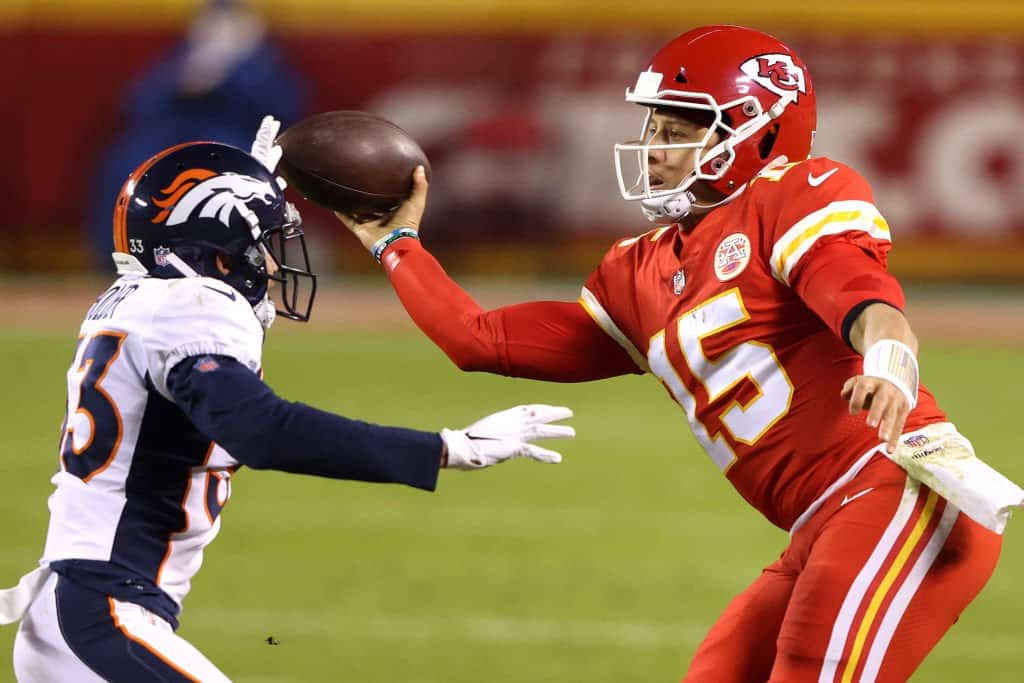 From a nuclear Philadelphia Eagles quarterback controversy to another Patrick Mahomes highwire act to some of the worst special teams play in living memory, Week 13 offered something for every NFL fan, even Cleveland Browns fans. NFL Recap tees it all off with first reactions, quick takes, and links to some of our deeper dives into Sunday's action.
It's time to stop apologizing for the Cleveland Browns
Yes, the Browns have ridden a soft schedule to a 9-3 record. Yes, they were pummeled by the Steelers and Baltimore Ravens earlier in the season. But which AFC challenger can claim to be any better? Not the Tennessee Titans, whom the Browns clobbered in a 41-35 victory with a misleading final score. Not the Las Vegas Raiders, who needed typical New York Jets jetsy-ness to escape Week 13 with a 31-28 win. Not the Miami Dolphins, whose offensive MVP this season is kicker Jason Sanders. And not Indianapolis Colts or Buffalo Bills teams with "playoff also-rans" permanently stamped on their foreheads. Click here for more on a Browns season that's ordinary in some ways and historic in others.
Doug Pederson made a mess of the Carson Wentz-Jalen Hurts situation
The Eagles don't know who their starting quarterback will be next week. They didn't learn much about Hurts in his NFL Recap Week 13 cameo. And there's no reasonable path forward for Hurts as a starter due to Wentz's budget-obliterating contract. Otherwise, Pederson's decision to bench Wentz in favor of Hurts in Sunday's 30-16 loss to the Green Bay Packers worked out just peachy keen. Click here for NFL Recap's take on a quarterback controversy that's destined to get much, much worse before it gets better.
The AFC Super Bowl contenders are closer to the challengers than they appear
The Kansas City Chiefs survived a 22-16 close call to the Denver Broncos which found them once again calling cutesy-poo reverses at the goal line instead of pounding the ball in for easy touchdowns and losing breathtaking Mahomes-to-Tyreek Hill touchdowns to holding penalties. The Chiefs are like the bored genius who gets an A-plus every week without bothering to study; one of these days, they'll face a test they cannot ace through sheer brilliance alone.
The Pittsburgh Steelers, meanwhile, have a Ben Roethlisberger problem: the future Hall of Famer has become an increasingly mistake-prone dink-and-dunker, forcing the Steelers to rely too much on their devastating pass rush and youthful receivers. Click here for a deep dive into Roethlisberger's deep passing woes, and get ready for a playoff tournament where just about anything can happen.
Several playoff dark horses are not dead yet
The New England Patriots can claw their way back into the playoff chase if they keep playing like they did in Sunday's 45-0 humiliation of the Los Angeles Chargers, though they will need more from Cam Newton as a passer. The Minnesota Vikings are still in the hunt thanks to their too-close-for-comfort 27-24 overtime win against the Jacksonville Jaguars, though they will need even more big games from rookie sensation Justin Jefferson down the stretch. Click here for more on players besides Newton and Jefferson who will help shape the playoff picture down the 2020 stretch.
Anthony Lynn's seat is lava
Speaking of the Chargers, they experienced what may have been the most catastrophic special teams meltdown in NFL history on Sunday, and that doesn't bode well on Lynn's future as the team's head coach. Click here for NFL Recap's Duds 'n' Studs, which breaks down the Chargers' miscues, outlines how the New York Giants upset the Seattle Seahawks, and much, much more.
[su_note note_color="#f1f0f0″ text_color="#000000″ radius="3″ class="" id=""]NFL Week 13 Recap & Highlights: Celebrating the greatest Cleveland Browns team of the century[/su_note]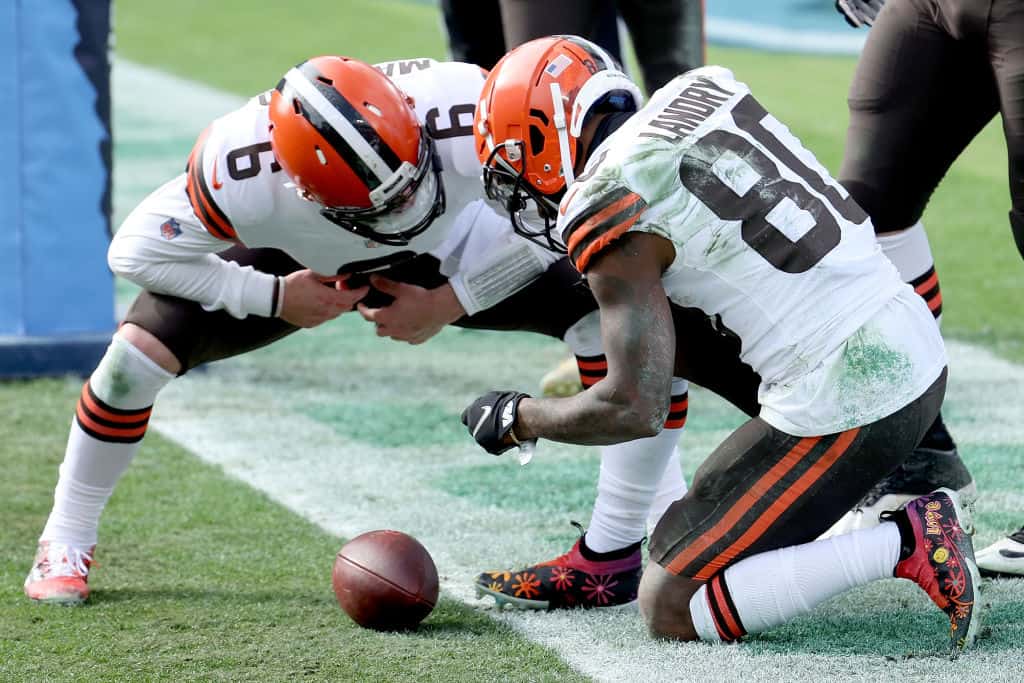 The Cleveland Browns probably won't win Super Bowl LV. They'll be hard-pressed to even win a first-round playoff game. But who cares? With their not-nearly-as-close-as-the-final 41-35 win over the Tennessee Titans in Week 13, the Browns guaranteed their first winning season since 2007. They are all-but-guaranteed to reach the playoffs for the first time since 2002.
They're 9-3 for the first time since 1994. For all their flaws, this is the best Browns team that NFL Recap has seen since the Dawg Pound days of the mid-80s. So let's take a moment to celebrate their remarkable 2020 season before we worry too much about how far the Browns can go in the postseason.
NFL Week 13 Browns-Titans Recap
The Browns rolled out to a 38-7 lead thanks to the best first half of Baker Mayfield's career (290 yards, 4 touchdowns) plus two uncharacteristic December failures by Derrick Henry: a stuff on 4th-and-1 on the first Titans series and a fumble to start their second. 
Week 13 NFL Highlights | Browns intercept Tannehill to solidify the win
The Titans made things interesting with a pair of quick touchdowns to start the fourth quarter, but a 29-yard Nick Chubb run set up a field goal to provide the Browns with extra breathing room. An M.J. Stewart interception in the red zone late in the third quarter quashed the Titans rally.
Things got ridiculous at the end when the Titans scored what looked like a meaningless late touchdown with 1:26 to play. Baker Mayfield fumbled a fourth-down conversion attempt, and a long return set up another not-quite-so-meaningless Titans touchdown. Andy Janovich recovered the final onside kick to prevent a catastrophe.
How good are the 2020 Cleveland Browns?
The Browns were blown out by the Baltimore Ravens and Pittsburgh Steelers early in the season and have spent the last two months hammering out narrow victories against weak opponents like the Jacksonville Jaguars, Houston Texans, and Cincinnati Bengals. As a result, the Browns still have a negative-15 point differential after Sunday's win, making it tempting to write them off as schedule-assisted playoff wannabes. However, victories over the Titans and Indianapolis Colts prove that the Browns can hold their own against fellow second-tier AFC playoff hopefuls.
Related | NFL Standings: Division, Conference, Wild Card, and Playoffs
There are also reasons to believe that the Browns are better than they were early in the season. After making far too many mistakes in the first half of the season, Mayfield has thrown 11 touchdowns and just one interception in his last six games. Yes, some of those games were handoff-heavy zero-touchdown affairs, but a few of them also took place in monsoon conditions, so it all balances out.
More importantly, the Browns are getting healthy at the right time. Myles Garrett was back from the reserve list on Sunday and recorded a sack. Jarvis Landry went 8-62-1 and threw an option pass after being limited for much of the season with a rib injury. Chubb and All Pro-caliber guard Wyatt Teller have been back for a few weeks, and it shows. These are not the Browns you chuckled at earlier this season, and they are perfectly capable of beating non-Kansas City Chiefs level playoff opponents.  
The Cleveland Browns team of the century
The greatest Browns teams in history were the Paul Brown teams of the 1940s and early 50s. The Jim Brown teams of the early 1960s are a close second. NFL Recap wasn't born yet, you probably were not either, and some of the earliest success came in the AAFC, a league that no longer exists and no one remembers. So let's move on.
NFL Highlight | Baker Mayfield with a 75-yard TD bomb
The greatest Browns in modern history are the Marty Schottenheimer-coached 1988-1989 squads that lost AFC championship games to the Denver Broncos due to "The Drive" and "The Fumble" (The 1989 team was actually coached by Bud Carson and lost to the Broncos due to "The We're As Good As They Are"). Those teams won with tight defense, great running games, occasional Bernie Kosar heroics, and general Schottenheimer-ness, which also explains how they always lost in the playoffs. They were very good teams but were also dreary to watch, winning a lot of low-scoring field goal festivals.
The hoodie returns?
Speaking of very good-but-dreary teams, the Bill Belichick-coached 1994 Browns overcame 21 interceptions from quarterbacks Vinny Testaverde and Mark Rypien to finish 11-5, with more than their share of victories by 13-6, 19-4, and (NFL Recap kids you not) 11-8 finals. This was the last Browns team to win a playoff game.
The 2002 Browns reached the playoffs at 9-7. Butch Davis was the head coach. Tim Couch was the quarterback. Everything about them was unimpressive. The same can be said of the 2007 Browns, coached by Romeo Crennel and quarterbacked by Derek Anderson, though at least that team enjoyed big years from exciting-but-unreliable young playmakers like Braylon Edwards and Kellen Winslow, both of whom would quickly start letting the team down.
So let's stop and savor this moment in Browns' history. It's been decades since they have been this competitive. It's been over a half-century since they have been this much fun to watch. And the Browns are experiencing the kind of success they can build on in future years.
What's next for the Cleveland Browns?
The upcoming schedule includes the Ravens, New York Giants, New York Jets, and Pittsburgh Steelers. The Ravens game should be much closer than the season opener and could be an easy win over a fading contender with an utterly disrupted schedule. The Giants and Jets games should be wins. The Steelers game will probably matter for both teams, something which has rarely happened in the long history of Ravens-Steelers season finales.
A 12-4 Browns finish? Is the NFL ready for such a thing? Ready or not, it's entirely possible.
[su_note note_color="#f1f0f0″ text_color="#000000″ radius="3″ class="" id=""]NFL Week 13 Recap & Highlights: Eagles are mishandling the Wentz-Hurts controversy[/su_note]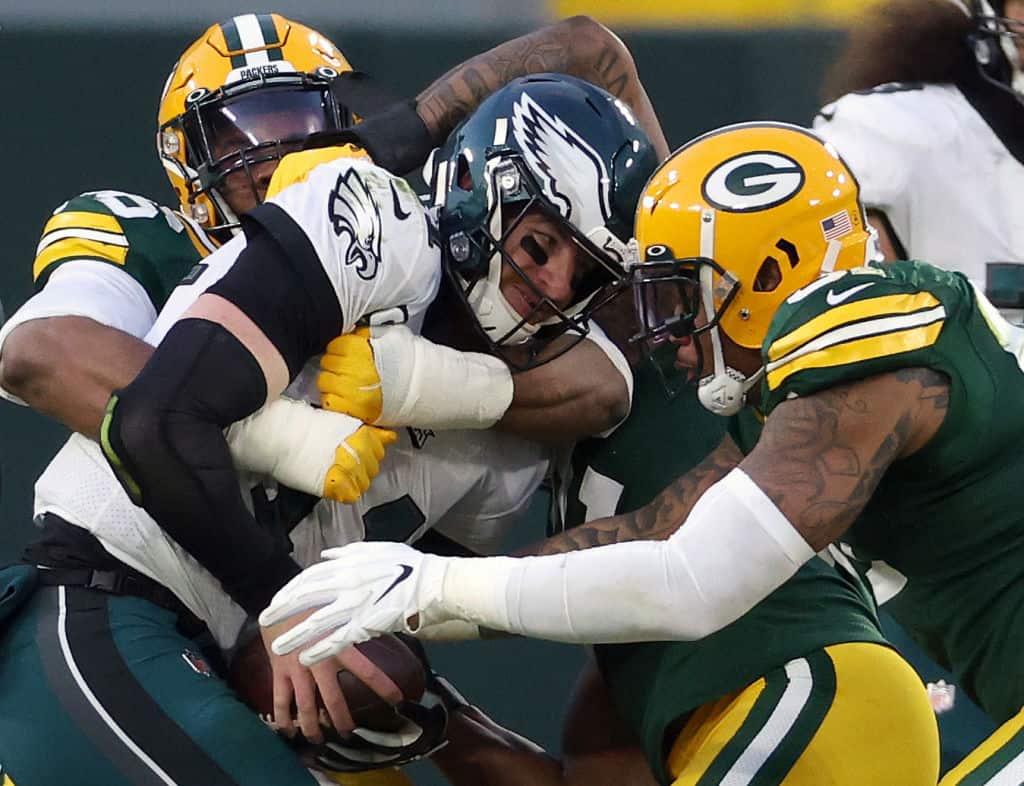 Brace yourselves, NFL fans: The Philadelphia Eagles quarterback controversy is about to become louder, dumber, and sadder! Jalen Hurts played moderately well after Carson Wentz was benched in a 30-16 Week 13 loss to the Green Bay Packers.
This only further escalates a quarterback conundrum which has been brewing since the day the Eagles made Hurts their second-round pick to DEFCON 1. Unfortunately, Hurts' semi-promising cameo is likely to cause more problems for the Eagles than it solves. NFL Recap is certain that head coach Doug Pederson painted himself into a corner by switching quarterbacks at the worst possible time.
NFL Week 13 Recap of the Eagles and Packers matchup
The Packers took a 20-3 lead on the strength of three Aaron Rodgers touchdowns while Wentz did typical 2020 Wentz stuff: He took four sacks, missed wide-open targets, ran for his life now and then, and generally failed to move the Eagles offense.
Hurts took over late in the third quarter and provided an immediate jolt, mixing some productive scrambles with a few deep completions, including a 32-yard touchdown to Greg Ward. A Jalen Reagor punt return touchdown narrowed the Packers' lead to 23-16 midway through the fourth quarter. A 77-yard touchdown run by Aaron Jones, however, put the game out of reach and Hurts threw an interception to end the final Eagles series.
Week 13 NFL Highlight | Jalen Reagor gave the Eagles hope
Hurts finished the game 5-of-12 for 109 yards, one touchdown, and one interception, with five carries for 29 yards. Wentz was 6-of-15 for 79 yards, with three carries for 18 yards.
What Jalen Hurts' performance means for the Eagles
Pederson did not appear all that comfortable with his decision to replace Wentz with Hurts. He ordered Hurts to hand off to Miles Sanders on 3rd-and-19 on his first possession, then punted on 4th-and-13 with just over three minutes to play and the Eagles trailing by a touchdown, setting up Jones' game-clinching score.
Pederson would have made Wentz drop back and let 'er rip in those situations, probably with catastrophic results. A skeptic might suggest that Pederson ceded the game when he inserted Hurts and didn't let the fact that his team staged a comeback change his mind. If that's the case, why switch quarterbacks in the first place?
NFL Highlight | Hurts with his first career TD pass
The fact that Hurts faced 3rd-and-19, 4th-and-13, and 4th-and-18 (when he threw his touchdown pass) gives a better sense of his performance and the persistent problems the Eagles offense faces than any highlight montage or game summary could provide. Hurts only moved the ball semi-effectively in comparison to Wentz. Hurts was forced to scramble often and was hit as he released the ball on his interception.
The Eagles' pass protection is poor. Their receiving corps (despite having big names like Zach Ertz and Alshon Jeffery back) remains unreliable, and their offense as a whole remains uncoordinated. Hurts' mobility and willingness to pull the trigger gave him a leg up on Wentz against an unprepared defense, but it was not much of a leg.
Pederson may have made the problem worse by inserting Hurts now
The Eagles needed the Wentz-Hurts situation handled delicately because Wentz's contract will kneecap the team financially for at least two more seasons if his career cannot be revived. Pederson, however, just took a sledgehammer to the whole operation. He should have let Wentz take Sunday's game on the chin and waited until later in the season to unveil Hurts in what could have been justified as "giving the kid a look" in meaningless games.
Instead, Pederson has forced his own hand to exacerbate a problem that will consume Philadelphia for the next month and could swallow the futures of Wentz, Pederson, general manager Howie Roseman, and the whole franchise as well.
Long story short: fail to control a quarterback controversy, and that quarterback controversy will control you instead. 
What's next for the Philadelphia Eagles
Doug Pederson would not name the starter for next week's meeting with the New Orleans Saints in his post-game press conference. Frankly, NFL Recap is hoping for Taysom Hill versus Jalen Hurts so all the storylines in the NFL can converge at once into a boom cyclone of quarterback takes.
[su_note note_color="#f1f0f0″ text_color="#000000″ radius="3″ class="" id=""]NFL Week 13 Recap & Highlights: 10 players to watch during the 2020 playoff stretch[/su_note]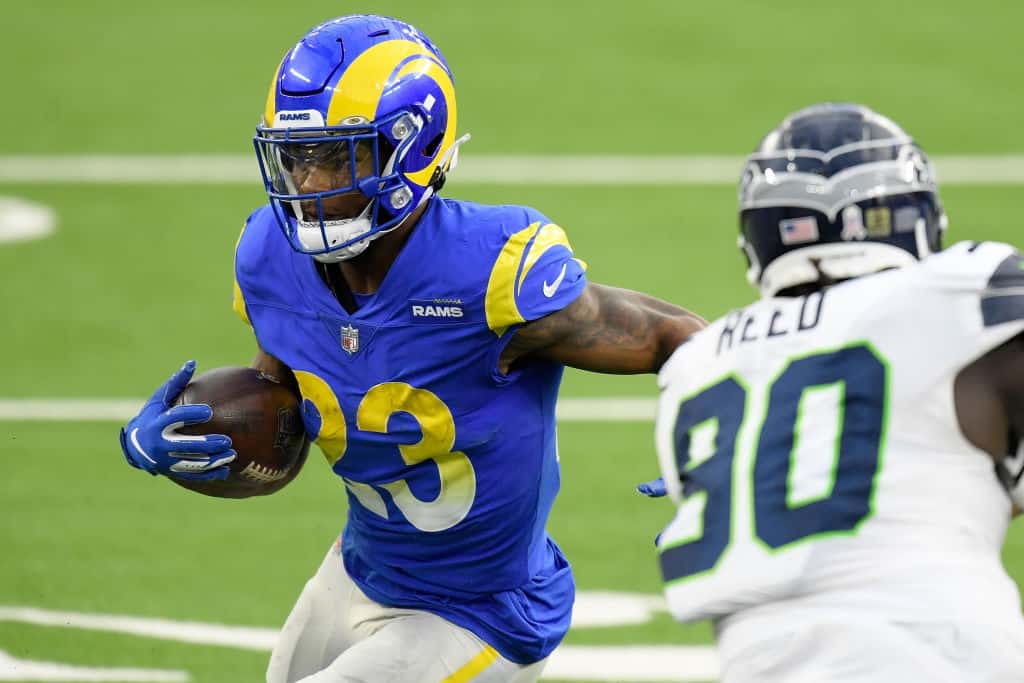 Cam Newton needs to do more than run quarterback keepers and cheer for special teams touchdowns. Darren Waller needs to keep doing what he did on Sunday (or something close to it) for the rest of the year. DeForest Buckner and Xavien Howard must continue playing at an All-Pro level, while a pair of NFC West running backs must lighten the load for their quarterbacks.
The following list of players who will shape the 2020 playoff stretch run only includes guys who were on the field on Sunday in Week 13 and skips most of the obvious choices: You don't need NFL Recap to tell you that Aaron Rodgers is important. All of the players on this list have the potential to cause a ripple effect involving more teams than just their own. That makes them important in ways we won't be able to measure until the season ends.
10 players to watch during the 2020 playoff stretch
Cam Akers, Running Back, Los Angeles Rams
Cam Akers followed up his nine carry, 84-yard performance in the Week 12 loss to the San Francisco 49ers with 21 carries for 72 yards and one 22-yard reception in Sunday's 38-28 victory over the Arizona Cardinals, dragging a defender nine yards into the end zone for a touchdown. Akers is the most dynamic member of a three-headed backfield which also features Malcolm Brown and Darrell Henderson. He now has enough knowledge of the offense and his pass protection assignments to be more of an every-down factor. 
NFL Week 13 Highlights | Cam Akers carried a defender into the end zone
The Los Angeles Rams close out the season with the New England Patriots, Arizona Cardinals, and Seattle Seahawks, with an extra bye week (oops, we mean a New York Jets game) in Week 15. If Akers can make their running game more consistent, the Rams should be able to make it through the rest of the season without tripping over another beatable opponent. 
DeForest Buckner, Defensive Tackle, Indianapolis Colts
When DeForest Buckner is available, the Indianapolis Colts defense is great. When he's unavailable, they look like the Detroit Lions used to look after Matt Patricia cursed everyone out for liking an Instagram post.
Maybe it's not as simple as that, but Buckner had two sacks in the Colts' victory over the Houston Texans. He helped hold Texans running backs to just 52 rushing yards, and his presence also contributed to Justin Houston's three-sack performance.
If Buckner can gum up the middle of the line and make the Las Vegas Raiders one-dimensional next week, the Colts will be in a position to sew up a playoff spot and stay in the race for the AFC South title. 
Chris Carson, Running Back, Seattle Seahawks
Chris Carson missed the middle of the season with a foot injury, and his absence was noticed in turnover-filled Seahawks losses to the Buffalo Bills and Los Angeles Rams. Carson's presence wasn't enough to keep the Seahawks from self-sabotage in their 17-12 loss to the New York Giants, but he did catch a deep pass up the sideline for a touchdown to keep his team alive. His presence gives the Seahawks offense a balance it lacks when Russell Wilson is forced to hand off to DeeJay Dallas and Travis Homer.
The Seahawks appear to be playoff shoo-ins at 8-4, but the NFC West title is still up for grabs. Week 16's rematch with the Rams is likely to decide the division. Carson wasn't available last time, but he could be the difference next time. 
Demario Davis, Linebacker, New Orleans Saints
The Falcons reached the Saints' 13-yard line trailing 21-16 late in the fourth quarter. On 2nd-and-2, Todd Gurley was stuffed for no gain. Demario Davis made the tackle. On 3rd-and-2, Gurley got bottled up in the backfield and desperately retreated for a loss of seven, which put a fourth-down conversion — and a Falcons comeback — out of reach. Davis made that stop too, his second tackle for a loss of the game.
NFL Highlights | Matt Ryan makes an incredible throw against the Saints
The Saints' defense is a true team effort, with Cameron Jordan, Trey Hendrickson, Malcolm Jenkins, Marcus Williams, and others making major contributions. Davis though is the leading tackler and the heart-and-soul guy who provides both pass pressure off the blitz and reliability in coverage. He is a major reason why the Saints have not tripped over any opponents during the Taysom Hill era and why they should be in the driver's seat for a first-round playoff bye when Drew Brees returns. 
Xavien Howard, Cornerback, Miami Dolphins
Xavien Howard deserves Defensive Player of the Year consideration. He intercepted his league-leading eighth pass of the season on Sunday, increasing the Dolphins takeaway total for the year to 19, the third-highest total in the league. Howard was later ejected from the game for a sideline slap fight with Tyler Boyd, who was also ejected (they made contact with the officials who intervened). 
Howard's ability to capitalize on the mistakes of opposing quarterbacks may not be enough to keep the Dolphins in the game against the Kansas City Chiefs next week. It may, however, help them secure wins over the New England Patriots (no real passing game), Las Vegas Raiders (they needed a miracle to beat the Jets, for heaven's sake), and Buffalo Bills (we've seen about as much Bad Josh Allen as Good Josh Allen lately). The Dolphins need wins in some of those games to clinch a playoff berth and possibly an AFC East title.
Justin Jefferson, Wide Receiver, Minnesota Vikings
The Minnesota Vikings are 6-6 and very alive in the NFC playoff picture. Justin Jefferson's Offensive Rookie of the Year-worthy performance is a big reason why. Jefferson caught nine passes for 121 yards and one touchdown in the narrow 27-24 Vikings overtime escape against the Jacksonville Jaguars. He has five 100-yard performances this season and has caught at least one touchdown pass in three straight games. Jefferson is third in the NFL with 1,039 receiving yards after Sunday's action, a remarkable feat for a rookie.
NFL Week 13 Highlights | Justin Jefferson surpasses 1,000 yards on the season
The Vikings visit the Tampa Bay Buccaneers next week, then close out the season against the Chicago Bears, Saints, and Detroit Lions. Climbing all the way back into the playoff picture against a schedule that tough will be a tall order. But the Vikings can play spoiler if Jefferson has another big game against the Bucs or Saints. Without Jefferson, the Vikings would probably be about 4-8 and totally irrelevant right now.
Harold Landry, Edge Rusher, Tennessee Titans
The Titans recorded zero sacks and hit Baker Mayfield just once in their wild loss to the Cleveland Browns. The Browns were 10-of-16 on third-down conversions. Landry, who leads the Titans with just 4.5 sacks, needs to step up to fill the void left by the team's other attempts (Jadeveon Clowney, Vic Beasley) to upgrade their pass rush. The Titans may be entering a soft patch of the schedule, but with no AFC second-tier contenders falling off the chase in Week 13, they can't afford any more games where they allow opponents to sit in the pocket and pick them apart. 
Cam Newton, Quarterback, New England Patriots
Maybe you love Cam Newton. Maybe you've written four letters to the editor of your local newspaper about his rompers. Either way, we all can agree that his current method of leading the Patriots to victory — basically impersonating Tim Tebow while appealing to the exact opposite demographic — is not sustainable. 
For the Patriots' last-ditch playoff effort to succeed, Newton must complete the occasional downfield pass and generate more than 126 yards of passing offense per game. What worked against the reeling Los Angeles Chargers won't work against the Los Angeles Rams and Miami Dolphins in the next two legs of the Patriots' three-game road trip. Their next loss will be the one that knocks them completely out of the playoff picture.
Matt Ryan, Quarterback, Atlanta Falcons
Matt Ryan missed out on his opportunity to play the spoiler in a pair of losses to the Saints over the last three weeks. However, Ryan and the Falcons face the Buccaneers twice in the final three weeks, with the Kansas City Chiefs sandwiched in between. If Ryan can win even one shootout with Tom Brady or Patrick Mahomes, he can cause chaos in the playoff picture. Of course, all of that starts with the Falcons scoring more than 16 points against a decent opponent. 
Darren Waller, Tight End, Las Vegas Raiders
The Raiders tried everything they could to lose to the Jets. Darren Waller though was having none of it. Neither was Jets defensive coordinator Gregg Williams at the end of the game, but let's set that aside for now. Waller caught 13 passes for 200 yards and two touchdowns on an afternoon where nothing else was consistently working for the Raiders on either side of the ball. It was Waller's best performance since his 12 catch, 105-yard, one-touchdown effort in the Raiders upset of the Saints in Week 2.
The Raiders remain alive at 7-5 in the AFC playoff race, but they'll need to be able to beat either the Indianapolis Colts or Dolphins or probably both, down the stretch to amass enough tiebreakers. That won't be possible without more big games from Waller, Derek Carr's security blanket, and the focal point of Jon Gruden's retro-chic offense. 
[su_note note_color="#f1f0f0″ text_color="#000000″ radius="3″ class="" id=""]NFL Week 13 Recap & Highlights: Taysom Hill, Davante Adams headline Week 13's Studs 'n' Duds[/su_note]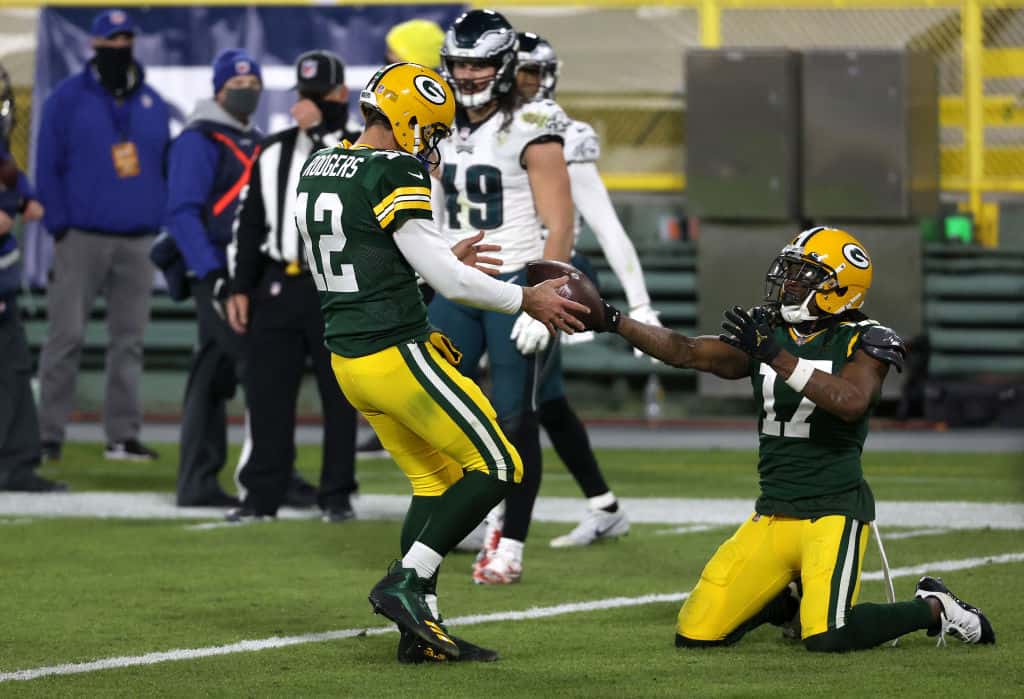 Wayne Gallman Jr. and the New York Giants offensive line sparked a stunning upset. The Los Angeles Chargers special teams played like a bunch of lemmings leaping off a cliff. And a Cincinnati Bengals special teamer delivered some of the cheapest shots of the 2020 season. It's all part of the Week 13 edition of NFL Recap's Studs 'n' Duds.
Stud: Davante Adams, Wide Receiver, Green Bay Packers
Davante Adams caught 10 passes for 121 yards and two touchdowns, and generally, could not be covered in the 30-16 Packers win over the Eagles. 
Lost in all of the Eagles quarterback mayhem was the fact that the Packers only led 14-3 at halftime. They were having one of their regularly-scheduled mistake-prone Sundays when Adams caught a 42-yard teardrop from Aaron Rodgers from the Packers' one-yard line, then essentially put the game out of reach a few plays later with his second touchdown of the game.
Dud: Mike Thomas, Special Teamer, Cincinnati Bengals
Mike Thomas delivered two cheap shots on Miami Dolphins punt returner Jakeem Grant in the 19-7 Dolphins victory over the Bengals on Sunday. The second sent Dolphins head coach Brian Flores into the middle of a bench-clearing fracas to come to the defense of the diminutive Grant and resulted in multiple ejections for both teams.
NFL Week 13 Highlights | The brawl between Miami and Cincinnati 
Thomas is a veteran special teams gunner who knows better than to wallop a returner a full second before the football arrives. NFL Recap isn't sure what was going through Thomas' mind when he decided to become a WWE heel, but the NFL should suspend him for a week or two to think about it. What he did to Grant is the type of unnecessary hit that can cause a career-threatening injury.
Stud: Wayne Gallman Jr., Running Back, New York Giants
Wayne Gallman ripped off runs of 60 and 23 yards, the two longest plays of the afternoon for the New York Giants in their 17-12 upset of the Seattle Seahawks. Gallman finished with 135 rushing yards in a game where starting quarterback Colt McCoy threw for just 105 passing yards.
Dud: Pete Carroll, Head Coach, Seattle Seahawks
The best way to lose to an inferior opponent is to play not to lose. That's exactly what head coach Pete Carroll did on Sunday. Carroll passed up a 53-yard field goal attempt early in the second quarter to take a delay-of-game penalty and punt instead. Early in the third quarter, the Seahawks punted on 4th-and-2 from their own 40-yard line: perhaps not surefire "go for it" territory, but a down-and-distance situation that a team led by Russell Wilson should have no problem converting against an opponent from the NFC Yeesh. Shockingly, the 5-0 lead Carroll was trying to preserve did not hold, and the Seahawks blew yet another opportunity to assert themselves as legitimate Super Bowl contenders.
Stud: Taysom Hill, Quarterback, New Orleans Saints
Pinocchio has turned into a real live boy! Taysom Hill threw for 232 yards and two touchdowns on Sunday. While too much will probably be made of his performance in a 21-16 victory over the Atlanta Falcons — Hill couldn't move the ball at all late in the game, which allowed the Falcons to stage an ill-fated comeback (the only kind the Falcons are capable of staging). Hill has vindicated Sean Payton's faith in him as Drew Brees' long reliever and (temporarily) silenced all of us chuckleheads who wrote him off as a silly daydream. 
Dud: The Chargers special teams
Gunner Olszewski returned one punt for an 80-yard touchdown and a second one 60 yards. Justin Bethel blocked a field goal, which Devin McCourty scooped up for a touchdown. The Los Angeles Chargers had 10 men on the field for one return and 12 for a second; the latter resulted in a penalty that gave the New England Patriots a first down. Throw in a missed field goal, and it may have been the worst special teams performance in history. Which is remarkable, because the Chargers have been plagued by miserable special teams since the Norv Turner era.
NFL Week 13 Highlights | One of the Patriots' punt return TDs
NFL Recap has been supportive of head coach Anthony Lynn despite the Chargers' 3-9 record because Justin Herbert has been performing well, and Lynn is a clever play-caller. But special teams play is often a sign of overall team preparedness. In Sunday's 45-0 loss, all the Chargers looked prepared to do is draw the curtains, dim the lights, and hide in their beds until the end of December. Sunday's loss may have ended Lynn's career with the Chargers.
NFL Recap Week 13 awards
Defender of the Week
Indianapolis Colts' edge rusher Justin Houston recorded three sacks in a tight 26-20 victory over the Houston Texans, including a fourth-quarter safety and a 17-yard strip sack on 3rd-and-4 early in the fourth quarter, which prevented the Texans from creeping into scoring range. 
Offensive Line of the Week
The much-maligned Giants offensive line of Andrew Thomas, Shane Lemieux, Nick Gates, Kevin Zeitler, and Cameron Fleming wins this week's award for helping Gallman, Alfred Morris, and others rack up 190 rushing yards while allowing just two sacks. Not bad for a line featuring two rookies. Say, do you think that maybe general manager Dave Gettleman really has done a good job of … nah, that can't be right. Can it?
Special Teamer of the Week
Gunner Olszewski, Patriots punt returner and stereotype. It's hard to pull off two long punt returns in a game, even when you are facing the Chargers.
Best Supporting Actor in Someone Else's Highlight
It's hard to upstage a 300-plus pound backup offensive lineman scoring a touchdown on the ol' "play-action goal line toss to the chonkster" play. But check out Nick Chubb totally selling his over-the-top leap after the play fake on Kendall Lamm's touchdown catch. Chubb doesn't have anyone to leap over, but that does not stop him from leaping. Or bunny hopping, really, like a kindergartener playing leapfrog. No wonder the Titans were too distracted to notice a huge person sneaking into the back of the end zone.