The NFL Divisional Round is set after a wacky Wild Card Weekend. The Divisional Round is four games over a two-day slate — will it drip with the same drama as WCW?
Day 1 of the 2022-2023 playoffs certainly didn't disappoint, as the Jacksonville Jaguars erased a 27-point deficit to win an improbable home victory over the Los Angeles Chargers. Let's look at the NFL schedule for the second round of the playoffs.
NFL Divisional Round Schedule
Saturday, Jan. 21
Jacksonville Jaguars at Kansas City Chiefs
4:30 p.m. ET | NBC
New York Giants at Philadelphia Eagles
8:15 p.m. ET | FOX
Sunday, Jan. 22
Cincinnati Bengals at Buffalo Bills
3 p.m. ET | FOX
Dallas Cowboys at San Francisco 49ers
6:30 p.m. ET | CBS
Looking at the NFL Playoff Bracket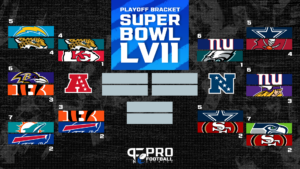 The Kansas City Chiefs and Philadelphia Eagles earned first-round byes, watching the action from the friendly confines of home. And action it sure was.
While the San Francisco 49ers showed their Super Bowl mettle against the Seattle Seahawks, the aforementioned Jaguars had a top-three-ever playoff comeback. Even elevators would've blushed with the number of ups and downs Trevor Lawrence's box score had during the Jags vs. Chargers game. 'Twas a thrilling game between two of the premier young quarterbacks in the league.
MORE: PFN's 2022-23 NFL All-Pro Team
(Within a month, a top-three playoff comeback and the biggest regular-season comeback have occurred. You simply can't turn the TV off. Or use fuboTV, that would work, too.)
Sunday started with the 14-point-favorite Buffalo Bills squeaking by the Miami Dolphins 34-31 in Orchard Park. The Dolphins had Ralph Wilson Stadium quiet enough to hear a mouse fart in the third quarter after a forced fumble led to a Zach Sieler touchdown and a Dolphins 24-20 lead. However, Josh Allen and Co. rallied for two consecutive touchdown drives, and they wouldn't relinquish the lead.
The Giants secured a win over the Vikings, holding Dalvin Cook and Justin Jefferson in check. The nightcap saw the Bengals defeat the Ravens on the heels of a 98-yard fumble return TD by Sam Hubbard. And then, on Monday, the Cowboys made easy work of the Buccaneers.