The end of the regular season allows us time to sit back and reflect on what we've seen. The best part about that is being able to recognize the league's most productive players with the PFN NFL All-Pro Team for 2022-2023. Many of the positions were incredibly difficult to choose between, while others were obvious.
2022-23 NFL All-Pro Team
Some positions were incredibly strong in 2022. Wide receiver, edge rusher, running back, defensive tackle, and kick returner. Each had players who will be considered "snubs" by their respective fanbases but lost out because another player simply had a stronger season.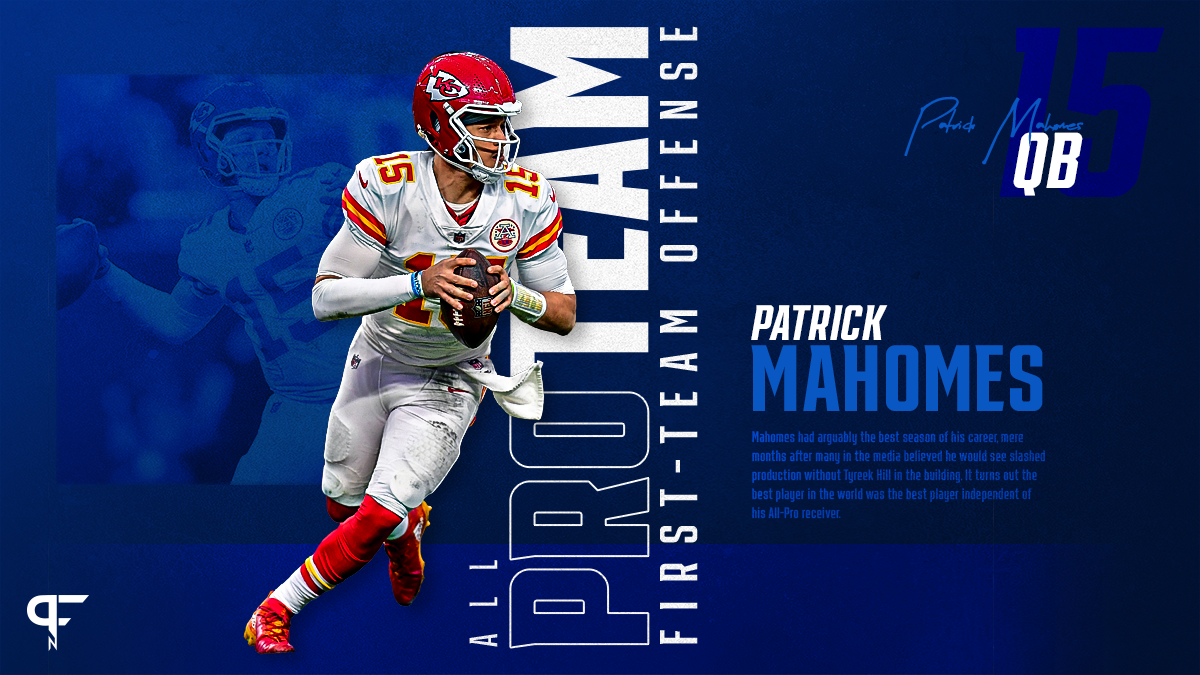 First-Team NFL All-Pro Offense
Quarterback: Patrick Mahomes, Kansas City Chiefs
It doesn't get too much easier. Mahomes had arguably the best season of his career, mere months after many in the media believed he would see slashed production without Tyreek Hill in the building. It turns out the best player in the world was the best player independent of his All-Pro receiver. He finished head and shoulders above the rest in EPA and was second in CPOE.
Running Back: Josh Jacobs, Las Vegas Raiders
The internal dialogue choosing between Jacobs, Nick Chubb, and Christian McCaffrey was like watching three hornets from rival hives trying to fight over the same queen bee. But in the end, Jacobs' analytical profile was too good to ignore, even with the amount of volume he racked up in his first season with Josh McDaniels.
Wide Receiver: Justin Jefferson, Minnesota Vikings
Justin Jefferson had a marvelous season. He led the league in targets, receptions, and yards in 2022. He also finished fourth in yards per route run, fourth in yards per target, and first in Sports Info Solution's WAR. For a while, it looked like both he and Tyreek Hill would break Calvin Johnson's receiving record, but Jaire Alexander had other thoughts for Jefferson.
Wide Receiver: Tyreek Hill, Miami Dolphins
Hill was again the league's most dangerous offensive weapon. His unbelievable speed and ability allowed Jaylen Waddle to produce like a top-five wide receiver in Mike McDaniel's offense. Hill was second to Jefferson in yards and receptions. Hill also finished first in yards per route run and third in yards per target. His impact allowed Tua Tagovailoa to completely turn his career around, finishing at or near the top of most more traditional efficiency metrics as a passer.
Wide Receiver: A.J. Brown, Philadelphia Eagles
Speaking of the impact of new receivers, look no further than Brown. His physicality helped the Eagles' offense ascend to new heights in 2022, helping make Jalen Hurts an MVP candidate for most of the season. Brown destroyed the league on slants, but nobody would confuse Brown for being a "slant boy" either. He runs and was effective throughout the entire route tree.
Tight End: Travis Kelce, Kanas City Chiefs
Kelce led all receivers and tight ends in yards after the catch and was behind only Brown in yards after contact. The 33-year-old tight end took over his role as the primary target hog for Mahomes, and the two continued their dominance together. He had 400 more yards than T.J. Hockenson, who finished second among tight ends in yards.
Left Tackle: Andrew Thomas, New York Giants
Seeing Andrew Thomas blossom into one of the best left tackles in the NFL warms the heart. Many considered him a bust after a difficult rookie season, particularly because Tristan Wirfs and Jedrick Wills hit the ground running. While Laremy Tunsil had a prettier season statistically, Thomas had an impact in the run game that Tunsil could not match.
Right Tackle: Lane Johnson, Philadelphia Eagles
Johnson may have been the best player in the NFL this season. The 32-year-old continues to somehow get even better, and in 2022 it culminated in a near-perfect season, which is unheard of as an offensive tackle. He's an outrageous athlete who continues to evolve with his hands and plan, making him a brick wall with wheels and a jet engine at right tackle.
Left Guard: Joel Bitonio, Cleveland Browns
Zack Martin is the standard for guard play, but Joel Bitonio has given Martin a run for his money over the past two seasons. That is saying something, considering Martin is one of the five best players of the current generation. Bitonio's marriage with Bill Callahan has been a match made in heaven.
Right Guard: Zack Martin, Dallas Cowboys
According to PFF, Martin didn't allow a sack in 2022. Martin had no false starts, and his only hold was a bad call on a run play where Martin dominated the defender. However, he was less dominant than he's been in prior seasons overall and could be starting to crest the hill at 32.
Center: Creed Humphrey, Kansas City Chiefs
We shan't ever forgive the league for allowing one of the most decorated college centers of all time, who then tested as the most athletic center ever, to fall to the end of Round 2. And in shocking news to exactly zero people who paid attention to him during his illustrious college career,  Humphrey quickly rounded into an incredible talent at the NFL level.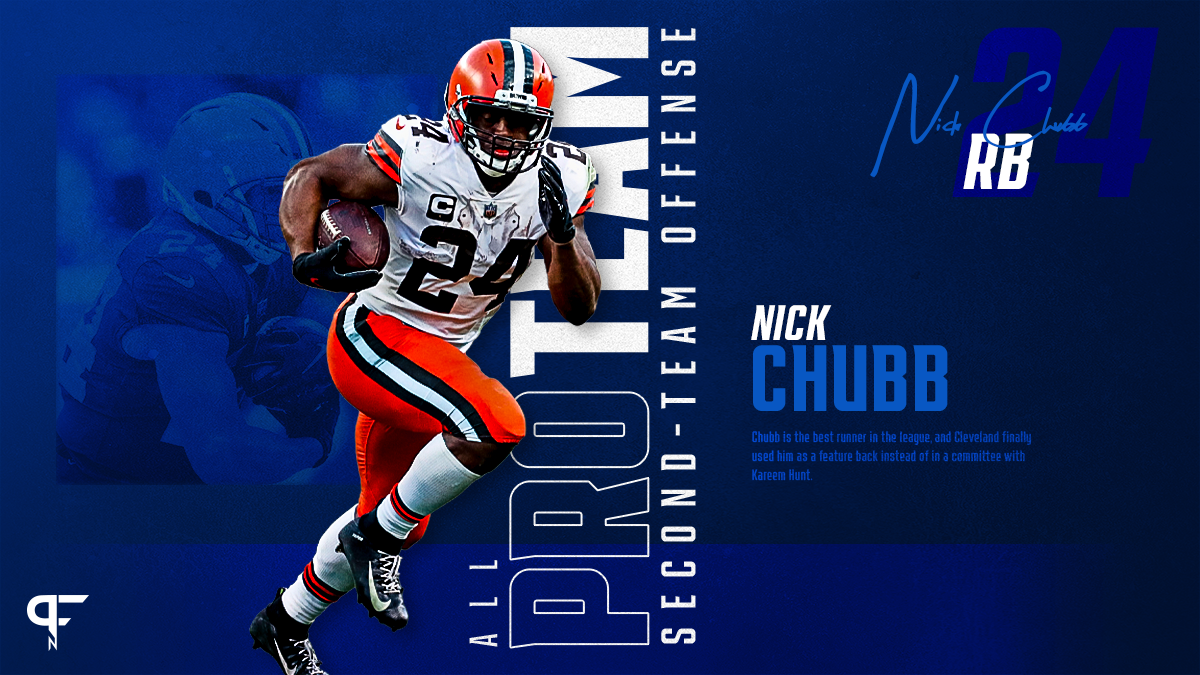 Second-Team NFL All-Pro Offense
Quarterback: Joe Burrow, Cincinnati Bengals
Burrow came from LSU as one of the most NFL-ready quarterbacks in a long time. However, no QB is a finished product coming from the college ranks, and Burrow still had growth to undergo. And in 2022, he showed how high his ceiling could rise. Cincinnati finished as one of the most dominant teams in the NFL over the back half of the season, and Burrow's efficiency was a big reason for it.
Running Back: Nick Chubb, Cleveland Browns
Chubb is the best runner in the league, and Cleveland finally used him as a feature back instead of in a committee with Kareem Hunt. Chubb could not unseat Jacobs for first-team honors because what Jacobs did behind a much less talented offensive line was unbelievable.
Wide Receiver: Stefon Diggs, Buffalo Bills
Diggs finished fourth in yards, third in catches, and second in touchdowns. Since arriving in Buffalo, Diggs ranks fourth in yards, playing a massive role in Josh Allen's ascension as one of the best quarterbacks in the league. In 2022, he also ranked third in EPA per target, ahead of the three first-teamers.
Wide Receiver: Davante Adams, Las Vegas Raiders
Adams suffered from worse quarterback play and different usage in his first season as a Raider. There was a lot more variance on a game-by-game basis, but Adams also got to show off some ability that had largely been forgotten in Green Bay. His downfield presence and prowess were much more prevalent this season, proving further that he is a three-level threat.
Wide Receiver: Ceedee Lamb, Dallas Cowboys
The first five spots for wide receiver were simple enough, but the sixth spot was a difficult discussion. Amon-Ra St. Brown and Jaylen Waddle were also in the discussion, but Lamb got the nod over Waddle because he was the top option in Dallas, and he had a slightly better production profile than St. Brown, who has emerged as the WR1 in Detroit.
Tight End: George Kittle, San Francisco 49ers
Kittle got the nod over T.J. Hockenson despite commanding fewer touches. Hockenson has never rounded into the all-around monster we expected coming out of Iowa. In fact, he's been an underwhelming blocker at the NFL level because of his lack of technical consistency. Kittle is one of the best blocking tight ends in the NFL, and he's still the most dangerous tight end in the league after the catch.
Left Tackle: Laremy Tunsil, Houston Texans
Tunsil was in a heated battle with Trent Williams for the second-team spot. Tunsil is often forgotten because he plays for the Houston Texans. Still, he has been outstanding since the trade and was particularly impressive in 2022, allowing just one sack and just 17 total pressures.
Right Tackle: Penei Sewell, Detroit Lions
Seeing Penei Sewell switch from left to right tackle over the course of 24 months to become second-best only to arguably the most dominant player in the league has been a treat. Sewell was completely dominant on an impressive offensive line in Detroit, allowing just two sacks while being an absolute road grader on the ground.
Left Guard: Joe Thuney, Kansas City Chiefs
Thuney has been outstanding since going to Kansas City. Thuney and Humphrey play well off one another, which is part of why the Chiefs rushing attack evolved in 2022, along with the introduction of Isiah Pacheco. Thuney might also be the best pass protector in the NFL from the interior.
Right Guard: Chris Lindstrom, Atlanta Falcons
Lindstrom's pass protection numbers are a bit inflated because the Falcons ran the ball a lot and avoided the dropback passing game as often as possible. Lindstrom only allowed nine pressures in over 500 pass-blocking snaps while being an even more impressive run blocker. The only thing keeping him from first-team honors is a first-ballot Hall of Famer.
Center: Jason Kelce, Philadelphia Eagles
Kelce was the anchor of the best offensive line in the NFL. Kelce is still one of the best athletes at the position, getting to the second level in a flash. Humphrey is younger and larger than Kelce, but they are very similar players.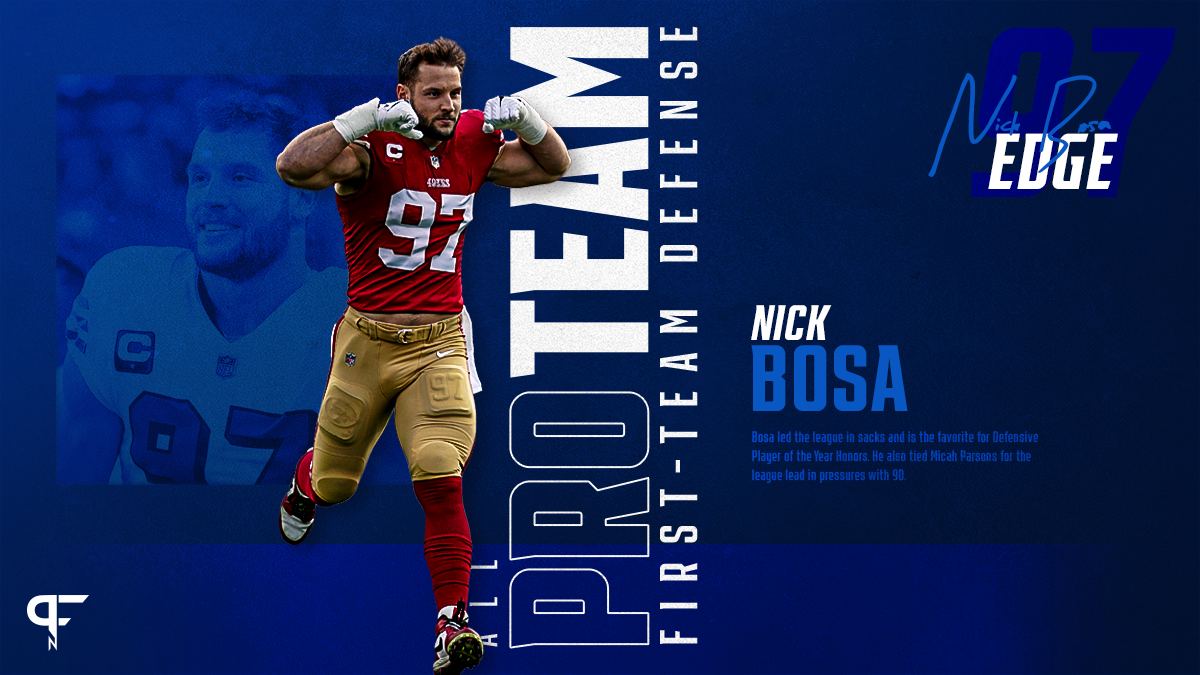 First-Team NFL All-Pro Defense
Edge Rusher: Nick Bosa, San Francisco 49ers
Bosa led the league in sacks and is the favorite for Defensive Player of the Year Honors. He also tied Micah Parsons for the league lead in pressures with 90. The debate between Parsons, Bosa, and Garrett was fierce. Bosa's sack production was impossible to ignore and acted as a tie-breaker with two other players who rank among the 10 most dominant in the league, regardless of position.
Edge Rusher: Myles Garrett, Cleveland Browns
Garrett is often forgotten because he plays in Cleveland with very little help around him. However, Garrett is the best pass rusher in the NFL, and he's a very good run defender as well. He posted the highest win rate of the trio on all pass rushes, and he also created a gap on true dropbacks.  The speed and bend he possesses at his size is otherworldly.
Interior Lineman: Dexter Lawrence, New York Giants
When a 340-pound athletic marvel finally figures things out as a technician, you end up with Dexter Lawrence's 2022 season. Only Chris Jones had more pressures than Lawrence, and although he had lower sack production than other candidates on the interior, few can even pretend to match Lawrence's impact on run defense. Nose tackles don't get the chance to produce like Lawrence, which is why he got the nod over Williams.
Interior Lineman: Chris Jones, Kansas City Chiefs
It still may be too early to call Jones the best interior defender in the NFL (Aaron Donald had a down season but still has a pulse), but there's no denying he had more impact than any interior defender in the league. His 15.5 sacks led all interior defenders, as did his 77 pressures. He's no slouch as a run-defender, either.
Linebacker: Fred Warner, San Francisco 49ers
Duh.
No, really, this may be the most obvious All-Pro selection on the ballot, other than Lane Johnson at right tackle. Warner is the best coverage linebacker in the NFL, and it's not particularly close. His ability to influence opposing QBs to not attack the middle is unmatched. He's a free safety who happens to be 230 pounds and able to also be an incredible run defender at linebacker. He has no equal in the league.
Linebacker: Matt Milano, Buffalo Bills
Tremaine Edmunds and Milano make for the best linebacking duo in the NFL. Even though Edmunds was the first-rounder, Milano is currently the better player. He may be the second-best coverage linebacker in the NFL, and like Warner, he's no slouch as a run defender either.
Cornerback: Patrick Surtain II, Denver Broncos
It's incredibly difficult to be a boring cornerback, but Surtain accomplishes that task. The second-year player from Alabama is the best cornerback in the NFL. He's as technically sound as a cornerback comes. Although the Raiders were able to get the better of Surtain in Week 11, it's incredibly rare to see Surtain out of position.
Cornerback: Sauce Gardner, New York Jets
Nobody in the league had a lower completion rate against than Gardner. It's rare to see a cornerback come to the NFL level and immediately dominate. It's one of the most difficult positions to adjust to the NFL level, and Gardner was coming from Cincinnati and not a blue blood like Alabama. But Gardner's transition was as seamless as we've seen.
Slot Cornerback: L'Jarius Sneed, Kansas City Chiefs
Slot cornerbacks don't get enough recognition for the important and incredibly difficult role they play in a defense. Receivers have a two-way go and are also off the ball, making press coverage an even more difficult assignment. They also have added responsibilities in zone coverage, especially as the league shifts to more match-based principles. Sneed has been a gem since his rookie season and is one of the few bright spots in the Kansas City secondary.
Safety: Minkah Fitzpatrick, Pittsburgh Steelers
At times it felt like Minkah Fitzpatrick was the only thing keeping the Pittsburgh Steelers from being the team their roster said they should be. Cam Heyward is obviously outstanding, but without T.J. Watt for a majority of the season, it was Fitzpatrick's playmaking ability that allowed Pittsburgh to finish with a winning record.
Safety: Talanoa Hufanga, San Francisco 49ers
Speaking of playmaking ability, Hufanga emerged in 2023 as one of the premier playmakers at the position. Hufanga is a heat-seeking missile in the run game and against the pass. He finished with four interceptions on the year, and his 30 stops ranked fourth among safeties.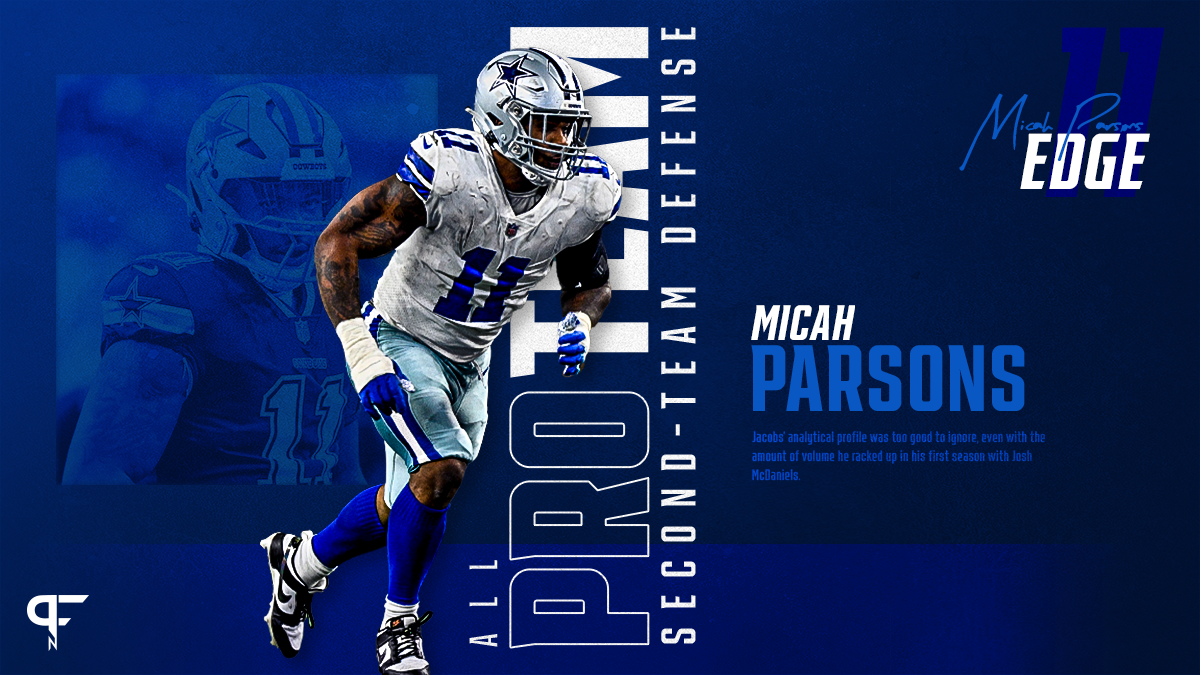 Second-Team NFL All-Pro Defense
Edge Rusher: Micah Parsons, Dallas Cowboys
Parsons' injuries slowed him down to the point of missing out on first-team honors when he was once a shoo-in for the DPOY award. In the end, playing primarily on the edge as a 240-pound former linebacker took its toll on Parsons. The scary thing is, he still tied for the league lead in pressures and still has a lot more growth to undergo before he's a finished product as a pass rusher.
Edge Rusher: Matthew Judon, New England Patriots
Judon has been unbelievable since joining the Patriots. He finished with 69 pressures and his 15.5 sacks were the fourth-most in the league. Haason Reddick made a case, but Judon dominated on a defensive line that, although insanely productive, had far less star-power than Philadelphia's.
Interior Lineman: Quinnen Williams, New York Jets
Williams' 12 sacks ranked him second on the interior, and there is no denying he makes a huge impact against the run and pass. He missed out on first-team honors not because of anything he didn't accomplish but because the two first-teamers had truly unbelievable seasons on the interior. But after years of being considered the second-best interior defender from his draft class, he finally showed all of us why he was so highly regarded coming from Alabama.
Interior Lineman: Christian Wilkins, Miami Dolphins
Approximately zero interior defenders are more dominant against the run than Wilkins. Although he didn't have the sack or overall pass-rushing production of some of his contemporaries, he was often the only shining light on a dull Dolphins defense. His 55 defensive stops were seven more than the next-closest defender, and his tackle numbers dwarfed any other interior defender because Wilkins plays sideline to sideline like a linebacker.
Linebacker: Bobby Wagner, Los Angeles Rams
Leaving Seattle, Bobby Wagner was clearly rolling down the hill of his career. But he turned back time in 2022, having one of his best seasons over the past half-decade. Along with Warner and Milano, Wagner could have easily been a first-team All-Pro for his performance this season.
Linebacker: Lavonte David, Tampa Bay Buccaneers
David has long been one of the most underrated linebackers in the NFL. His veteran savvy consistently puts him in the right place at the right time, and he oftentimes has to compensate for his partner's overzealous antics. He's also an impressive player in coverage, carrying running backs from sideline to sideline and consistently making plays in passing lanes.
Cornerback: Jaire Alexander, Green Bay Packers
Alexander is everything a CB1 should be. If it weren't for a slow start to the season, he would have been a first-team All-Pro. Alexander plays mind games with opponents, which only supplements his gnat-like coverage abilities. He gets under the opponent's skin unlike any defender currently in the league.
Cornerback: Jalen Ramsey, Los Angeles Rams
Jalen Ramsey had a bit of a down season in coverage, but no cornerback in the league impacts the run game the way Ramsey can. He had four interceptions and 11 PBU's on the year, but he was tested more in coverage this season and allowed more chunks than we're accustomed to.
Slot Cornerback: Mike Hilton, Cincinnati Bengals
Darious Williams was outstanding in the slot for Jacksonville, but by the end of the season, he was playing primarily on the outside. Hilton is a true slot defender, and is one of the reasons why the Bengals' secondary didn't fall apart after Chidobe Awuzie's injury. Hilton didn't have the same ball production he had a season ago, but he had a cleaner year in coverage overall.
Safety: Chauncey Gardner-Johnson, Philadelphia Eagles
It's unfortunate that Gardner-Johnson missed time or else he'd have been a first-team All-Pro. He was ready to run away with the league lead in interceptions before his injury, and there's no denying the Eagles' defense took a step back after his injury.
Safety: Kevin Byard, Tennessee Titans
By the end of the season, it felt like Byard was the only thing standing between opposing offenses and the end zone. He remains in a battle with Fitzpatrick as the NFL's standard bearer for free safety play. Hopefully, he can get back to the playmaking he accomplished in 2021 behind a much better, much healthier defense.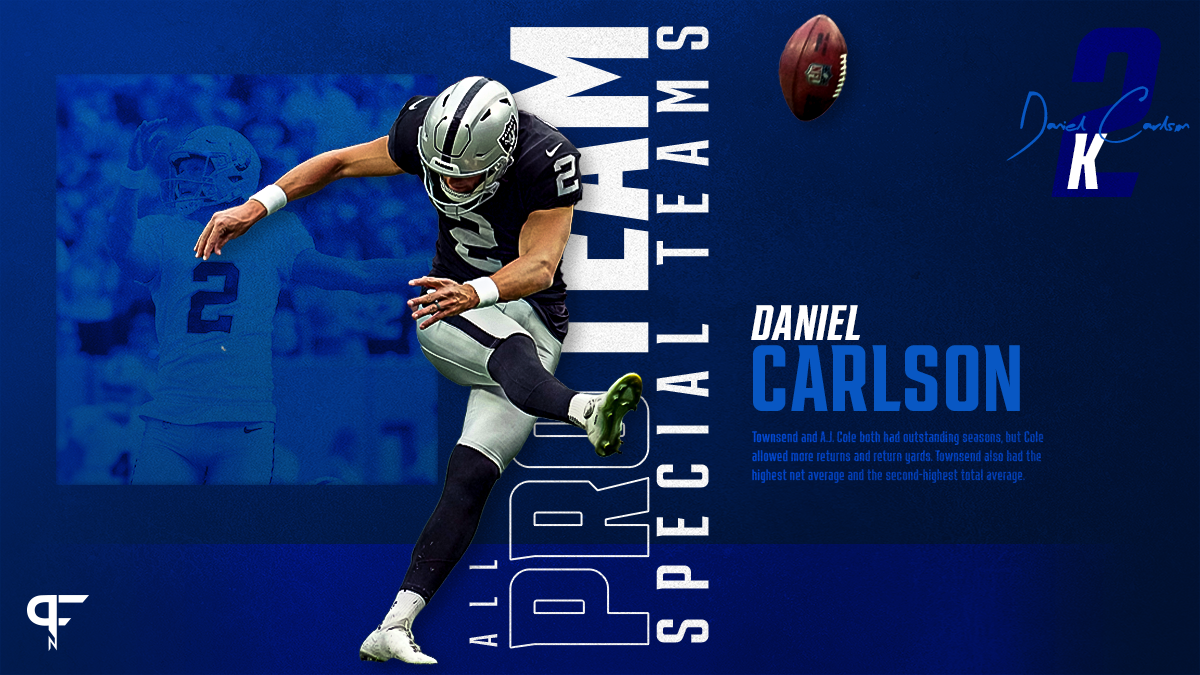 NFL All-Pro Special Teams
Placekicker: Daniel Carlson, Las Vegas Raiders
Justin Tucker is the best kicker in the world, but Carlson had the better season. Tucker missed three kicks from 50-59 yards. Carlson was the only kicker to make double-digit kicks from 50-plus, and he went 11 of 13 on the season from that distance.
Punter: Tommy Townsend, Kansas City Chiefs
Townsend and A.J. Cole both had outstanding seasons, but Cole allowed more returns and return yards. Townsend also had the highest net average and the second-highest total average.
Kick Returner: Nyheim Hines, Buffalo Bills
It was Keisean Nixon's award until it wasn't. Hines, in the final game of the season, returned the opening kickoff for a touchdown. It was the first play Buffalo took the field after Damar Hamlin's horrific injury. There was no more significant moment in the NFL this season. And then he did it again, making him the only returner with two kick return TDs on the season.
Punt Returner: Marcus Jones, New England Patriots
Jones was a no-brainer for All-Pro punt returners. Nobody had more 20-plus returns than Jones, and he had the league-long of 84 yards this season.