In 2022, the Tennessee Titans suffered their first losing season since 2015, finishing 7-10 after injuries decimated their roster. With a new general manager calling the shots this offseason and a new offensive coordinator in place, the Titans are hoping to restore their AFC South dominance.
With that in mind, we dive into what the best and worst-case scenarios are for the Titans in 2023.
Predicting the Best-Case Scenario for the Tennessee Titans' 2023 NFL Season
Since Mike Vrabel started as Tennessee's head coach in 2018, the franchise has been incredibly consistent in its identity. Until 2022, the Titans had an above-average offense that was dependent on their running game to create more favorable opportunities for play-action passes. For four straight years, the defense was a top-15 unit.
Both the offense and defense dipped in 2022, leading to general manager Jon Robinson being fired in December and the Titans promoting Tim Kelly from passing game coordinator to offensive coordinator. Quarterback Ryan Tannehill missed five games, and the offense clearly missed star wideout A.J. Brown, who was traded for the rights to draft rookie Treylon Burks during the 2022 NFL Draft.
Tennessee now enters 2023 in a strange spot due to salary cap limitations and the roster teetering between a rebuild and a veteran, top-heavy structure. For the Titans to reach their best-case scenario, a lot of the young players they've recently invested in must play at levels we haven't seen yet.
Tennessee's win total at DraftKings Sportsbook is 7.5, and they're -370 to miss the playoffs. Yet, it could help that the Titans have the eighth-easiest schedule in the league.
MORE: Tennessee Titans Schedule 2023
Health will be a big factor for the Titans. Because Tennessee lacks a star quarterback and their recent draft hauls have yet to pan out, the team can't afford Derrick Henry or one of their defensive cogs to miss time. Though the Titans drafted Will Levis in Round 2 of the 2023 draft, Vrabel said he's starting out third on the depth chart behind Tannehill and second-year QB Malik Willis.
Ryan Tannehill Needs To Be Better and Stay Healthy
Tannehill not only needs to be on the field, but he also has to play better despite a very limited surrounding cast. He's seen his efficiency crater since his first two breakout seasons in Tennessee (2019 and 2020), and he'll turn 35 years old this summer. Since Tannehill is unable to overcome a limited cast, the blocking and playmaking must improve around him for 2023 to be any different.
For everything to go right in 2023, Burks must lead a young receiving corps that includes slot specialist Kyle Philips, fourth-year receiver Nick Westbrook-Ikhine, and second-year tight end Chigoziem Okonkwo. Though Burks and Okonkwo had some excellent flashes as rookies, major progress is needed since they combined for only 894 yards and four scores last year.
This can't be the worst receiving corps in the NFL for the Titans to reach its ceiling. A healthy Henry should once again be able to approach 1,500 rushing yards, as Vrabel has made it clear he doesn't "know what else to do" other than ride their star back. If Henry continues to play like a future Hall of Famer and the receiving corps shows a pulse, the offensive line must also take a major step.
Tennessee added Andre Dillard, Peter Skoronski, and Daniel Brunskill to their OL room in hopes of finding two or three better starters than what they had in 2022. It remains to be seen how it'll shake out as far as where Skoronski will play.
Meanwhile, center Aaron Brewer is taking over for Ben Jones, and second-year right tackle Nicholas Petit-Frere must be at least decent.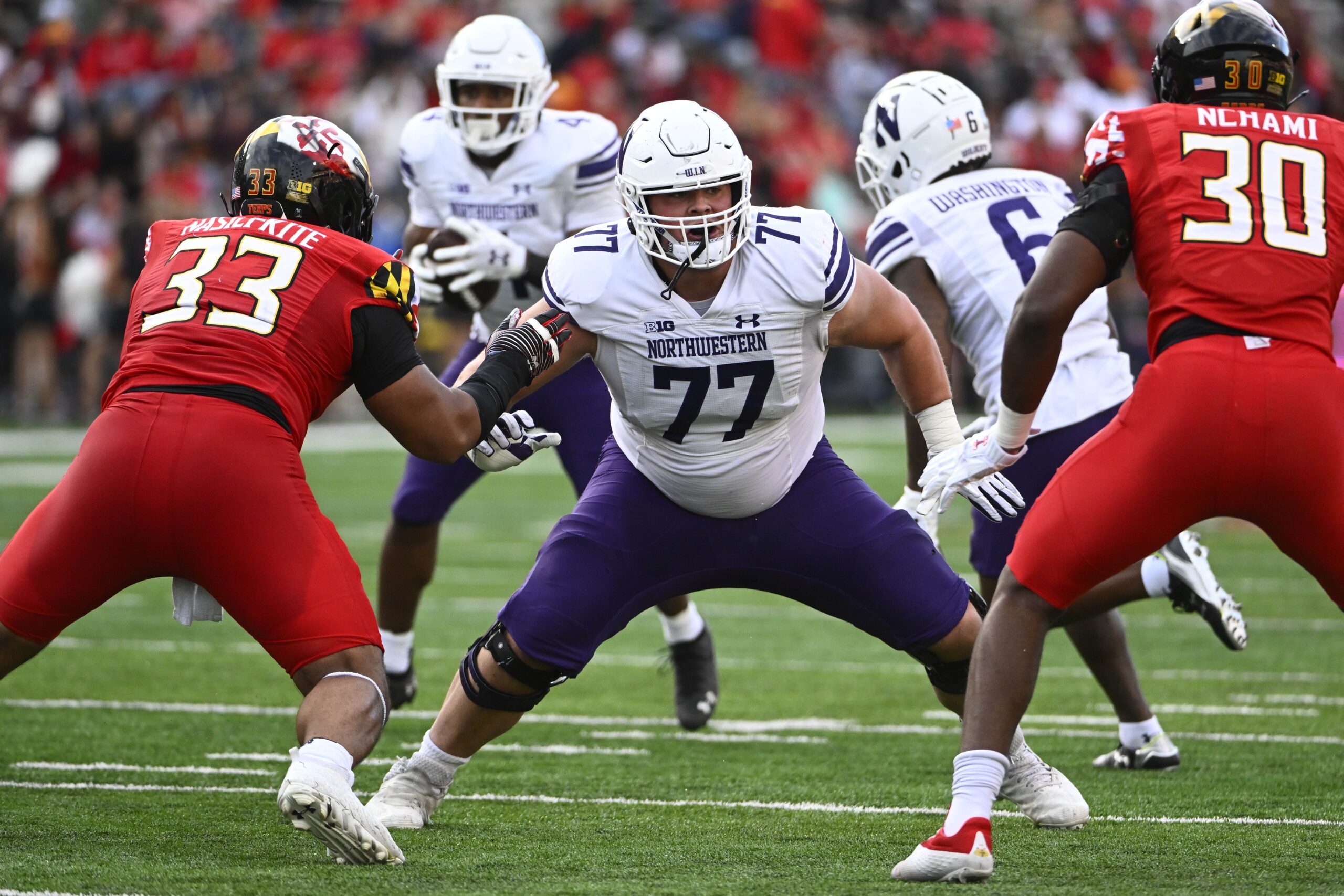 Tennessee's Defense Needs To Get Back to Form
Having all of that happen can get Tennessee back to its average offensive form of 2020. Then, it's up to the defense to turn back the clock. With star defensive tackle Jeffery Simmons inked long-term, Harold Landry III back, and assuming safety Kevin Byard and the team hammer out a long-term resolution, the unit has a good backbone.
However, the ancillary players must step up. This unit finished 14th in scoring last year but was dead last against the pass. Free agent additions Arden Key, Azeez Al-Shaair, and Sean Murphy-Bunting aren't overly exciting but will help their depth. The pressure is on young players Monty Rice, Kristian Fulton, Roger McCreary, and Caleb Farley to become more than warm bodies in 2023.
MORE: Is Kevin Byard Facing a Future Move From the Titans?
With the AFC South improving around them, the Titans' ceiling appears to be nine wins and a contender to make the playoffs. A lot would have to go right, but that's why it's their best-case scenario.
Predicting the Worst-Case Scenario for the Titans' 2023 NFL Season
If the Titans can't quickly reclaim the magic that led to them finishing 11-5 and 12-5 in 2020 and 2021, respectively, then they may need to embrace the current status of their roster. A single injury to Tannehill, Henry, or a lack of development across the roster from role players can quickly lead to a losing season. This isn't a well-rounded team.
The offensive line could be disastrous. If Skoronski plays at left guard instead of tackle, Dillard will be in line to take Tannehill's blindside instead. Despite being a first-round pick with the Eagles, Dillard has been outright bad in his limited playing time thus far. Skoronski may need to play LT regardless of whether it's his best long-term spot or not. Otherwise, Tannehill will be at-risk of taking extra hits.
Tennessee's receiving corps could be the worst in the NFL due to both the lack of high-end talent and depth. Kelly is bringing a "lot of speed" and tempo to the unit, but that's not an unusual claim at this point of the year for offenses that still end up bad. Talent matters, and the Titans must prove they have enough to win consistently.
Burks' rookie campaign had some great moments but was also as likely to produce a goose egg in the production department. He looked every bit as raw as evaluators expected, and neither Joshua Dobbs nor Willis was able to consistently get the ball to him in a way that maximizes his athleticism. It's hard to imagine Willis or Levis doing any better for Burks if Tannehill misses any time.
Will Tennessee Trade Derrick Henry?
Another potential point of contention is with Henry. First-year general manager Ran Carthon denied any trade rumors regarding Henry this offseason, but the Titans' worst-case scenario has to include moving the franchise icon. Henry, in the final year of his contract and turning 30 in January, has been tremendous. But he has less value to a team that could be embracing a rebuild sooner than later.
MORE: Tennessee Titans Season Preview 2023
The defense, despite seeing several high draft picks and signings allocated to the unit, failed to live up to expectations last year. The Titans were stellar against the run, but that's not valuable in today's NFL. If the young cornerback unit doesn't progress, and if Key isn't ready to be a No. 2 pass rusher across from Landry, Tennessee won't stop opponents.
The margins are thin for this Titans team. Despite being well-coached and boasting some great veteran presences, they could end up as one of the worst teams in the NFL. It's often difficult for teams built on extreme strengths and weaknesses to reliably produce, and the Titans showed major cracks in their foundation last year.