The road to the Lombardi Trophy started on Saturday with the NFL playoff bracket set for Super Wild Card Weekend. Fourteen teams entered the postseason with hopes of representing their conference in Super Bowl LVI. The Tennessee Titans and Green Bay Packers get to watch this week after clinching the top seeds in the AFC and NFC.
With postseason football action kicking off, let's take a look at the 2022 NFL playoff bracket matchups. Keep reading below for everything you need to know for Super Wild Card Weekend and beyond.
To see the latest updates check out the playoff bracket as the Divisional Round games draw to a conclusion.
NFL Playoff Bracket 2022
The field features 14 teams following playoff expansion last season. Here's how the seeding shook out in the NFL playoff bracket after a tumultuous Week 18. The bracket has also been updated to reflect the Cincinnati, Buffalo, Tampa Bay, San Francisco, Kansas City, and Los Angeles victories.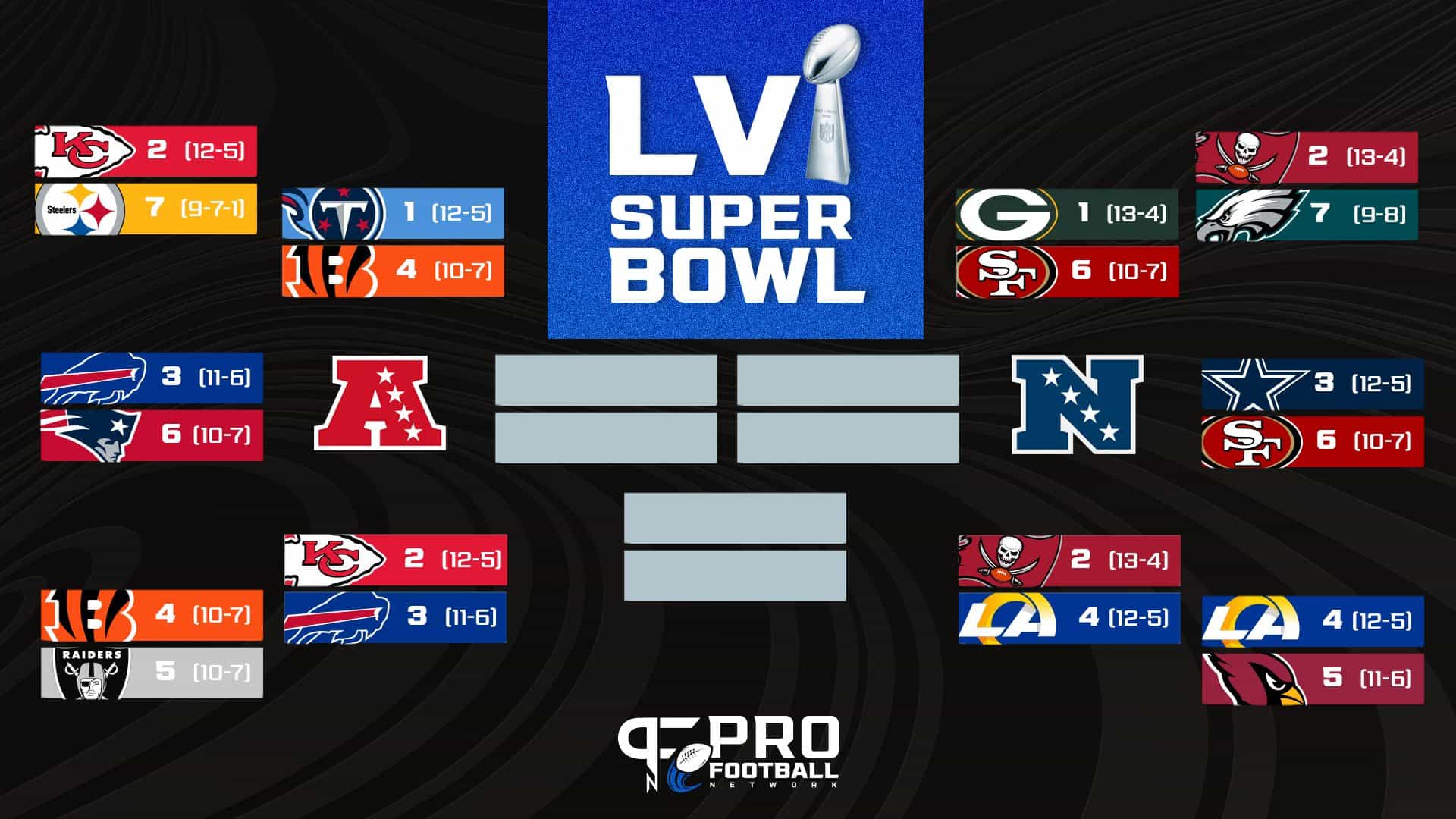 AFC
(1) Tennessee Titans (Bye)
(5) Las Vegas Raiders, 19 vs. (4) Cincinnati Bengals, 26
(6) New England Patriots, 17 vs. (3) Buffalo Bills, 47
(7) Pittsburgh Steelers, 21 vs. (2) Kansas City Chiefs, 42
NFC
(1) Green Bay Packers (Bye)
(6) San Francisco 49ers, 23 vs. (3) Dallas Cowboys, 17
(7) Philadelphia Eagles, 15 vs. (2) Tampa Bay Buccaneers, 31 
(5) Arizona Cardinals, 11 vs. (4) Los Angeles Rams, 34
Super Wild Card Weekend NFL playoff bracket matchups | AFC
Let's take a look at the AFC matchups for the first round of the 2021-22 NFL playoffs.
Kansas City Chiefs (No. 2 seed) 42, Pittsburgh Steelers (No. 7 seed) 21
After a slow start by the Chiefs, the Steelers were actually able to get out to a lead early on in this game. Unfortunately, after T.J. Watt took a fumble for a touchdown, Kansas City's offense woke up and scored 28 unanswered points. They tacked on a couple of more TDs to put Pittsburgh away for good.
In what was most likely Big Ben's final game of his storied career, the Steelers QB finished with one of his best stat lines of the season (albeit most of it came in garbage time). Up next, the Chiefs will host the Buffalo Bills in the Divisional Round.
Buffalo Bills (No. 3 seed) 47, New England Patriots (No. 6 seed) 17
After an incredibly competitive season between these two teams, Buffalo put on an absolute show against New England in the Wild Card round. After putting up 27 first-half points, Josh Allen and the Bills never took their foot off the gas, blowing out the Patriots 47-17.
The Bills scored on all seven of their drives and never punted the ball. Allen threw for over 300 yards for 5 touchdowns, adding another 65 yards rushing. The Bills now head to the Divisional Round for the second year in a row.
Cincinnati Bengals (No. 4 seed) 26, Las Vegas Raiders (No. 5 seed) 19
The Bengals broke their 31-year drought of playoff wins with a last-minute victory over the Raiders. The game was never going to be easy for Cincinnati, and Las Vegas took it down to the final minute with three shots to the end zone from the Bengals' 9-yard line.
The Bengals held strong and became the first team from Wild Card Weekend to clinch their spot in the Divisional Round.
Super Wild Card Weekend NFL playoff bracket matchups | NFC
Here are the Super Wild Card Weekend games in the NFC.
Los Angeles Rams (No. 4 seed) 34, Arizona Cardinals (No. 5 seed) 11
Unfortunately for the NFL, this one was another Wild Card Weekend blowout. The Los Angeles Rams got up early off of a combination of big plays and Arizona mistakes. Matthew Stafford finally shook off his playoff issues by throwing for 2 touchdowns and rushing for another. The star of this game, however, was Odell Beckham Jr., who hauled in a TD and made a spectacular 40-yard pass.
Unfortunately for Arizona, even after an excellent start to the season, they finished the year not only losing the NFC West at the hands of the Rams but also their playoff aspirations.
San Francisco 49ers (No. 6 seed) 23, Dallas Cowboys (No. 3 seed) 17
The Cowboys' playoff woes continued against the 49ers as the higher-seeded home team fell 23-17. The same problems the Cowboys have had all season — a bad run defense and too many penalties — reared their ugly heads once again. In the first half, Dallas struggled to move the ball as the 49ers ran all over them. Deebo Samuel was unguardable both as a receiver and out of the backfield.
Although the Cowboys made it exciting late with a last-minute potential game-winning drive, the 49ers' defense did just enough to get the win. Now, with a playoff loss under his belt, questions surround Mike McCarthy and his future with the team. Next week, the 49ers will travel to Lambeau to take on the Packers.
Tampa Bay Buccaneers (No. 2 seed) 31, Philadelphia Eagles (No. 7 seed) 15
Well, unfortunately for Eagles fans, this one wasn't much of a contest. The defending Super Bowl Champion Tampa Bay Buccaneers got up early and never really looked back. The Eagles' run-heavy approach didn't work against the Buccaneers, and when putting all the pressure on Jalen Hurts to throw the ball, the Philly offense simply fell apart. Some late-game heroics weren't enough to stop Tom Brady from winning his 35th playoff game and advancing to his 17th Divisional Round.
Divisional Round TV Schedule
With the Super Wild Card round almost finished, we turn our attention to the divisional round. Here are the times and TV channels for the games set to be played next weekend.
Saturday, January 22
Cincinnati Bengals at Tennessee Titans

Start Time: 4:30 PM ET
Channel: CBS, Paramount+

San Francisco 49ers at Green Bay Packers

Start Time: 8:15 PM ET
Channel: FOX
Sunday, January 23
Los Angeles Rams at Tampa Bay Buccaneers

Start Time: 3 PM ET
Channel: NBC, Peacock

Buffalo Bills at Kansas City Chiefs

Start Time: 6:30 PM ET
Channel: CBS, Paramount+
Should your team be knocked out of the playoffs and you want to see what options they might have in the offseason, be sure to check out PFN's Mock Draft Simulator with trades and pilot your team's offseason journey.