As we wind down the third week of the NFL season, it's time to take an inside look at why Chicago Bears quarterback Justin Fields continues to struggle.
Also in today's column, we'll take an inside look at a few key injuries that transpired on Sunday.
NFL News and Rumors Week 3
Chicago Bears
When GM Ryan Poles and the coaching staff decided to go forward with third-year QB Fields as the starter at the position to begin their offseason program, at least one team that was in contact with the Bears during the NFL Combine back in February said that it was pretty clear that while Poles didn't draft Fields, he wanted to be able to get a full evaluation this season of him before deciding what to do at the position for the 2024 season and beyond.
"In our discussions with their guys (Bears front office members), it was clear to us that they didn't want to move him," a high-ranking NFC personnel executive told Pro Football Network when we asked what the conversations were like with the Bears earlier this year.
"We were trying to get a feel for their plans, and it sure seemed like they wanted to go forward with him," the source added.
That source added that while Poles didn't come out and say he wouldn't trade him, it was clear they wanted to get a full evaluation of Fields with better talent around him before deciding what to do with him for the future.
A look at Justin Fields' struggles inside the pocket since the start of last season. Since 2022, Fields has the worst QBR (25) and yards per dropback (4.6) from inside the pocket among QBs with at least 200 passes in that time. @ESPNStatsInfo pic.twitter.com/yB52FJEvPW

— Courtney Cronin (@CourtneyRCronin) September 25, 2023
The Bears would wind up trading with the Panthers and received WR D.J. Moore in that blockbuster deal. They also added speedy fourth-round WR Tyler Scott in this year's NFL Draft, a player who other multiple NFL wide receiver coaches told Pro Football Network leading up to the draft that he projected to be a starter eventually due to his speed and overall skill set.
Fields, the 11th pick in the first round of the 2021 NFL Draft, was selected by former Chicago GM Ryan Pace, who traded up for the former Ohio St. signal-caller. Pace traded from No. 20 to No. 11 with the New York Giants. Pace had called several teams in front of him in order to secure Fields, sources said, finally landing a deal with the Giants.
But Fields was somewhat of a polarizing prospect for several reasons.
According to a personnel executive who turned in an "over the top" evaluation on Fields, you could see his talent very clearly on tape, but there were issues.
MORE: NFL Week 3 Winners and Losers
Most, if not all, first-round projected picks typically have anywhere from five to 10 grades turned in from scouts and personnel executives from a given team, depending on how high the pick is expected to be. The grades that are not from an area scout or scouting director are typically called over the top.
"I can't speak to the character stuff because I was just asked to grade his tape," that personnel executive who turned in a grade on Fields two years ago told us. "What I recall was that you could see the arm talent, size, movement — all that stuff.
"What I didn't like is he would miss some throws that clearly he should be able to make. Ones that he has to make at our level (NFL)."
Fields, while he possesses what scouts like in size, arm strength, and athleticism, continues to have accuracy and performance issues with the Bears.
What another league source said this past weekend after watching his game tape of the previous two games was that he has not progressed as a passer so far in the early going.
"He stares down guys, doesn't process what he's seeing as well as he should. I don't see this as a coaching problem," the source said.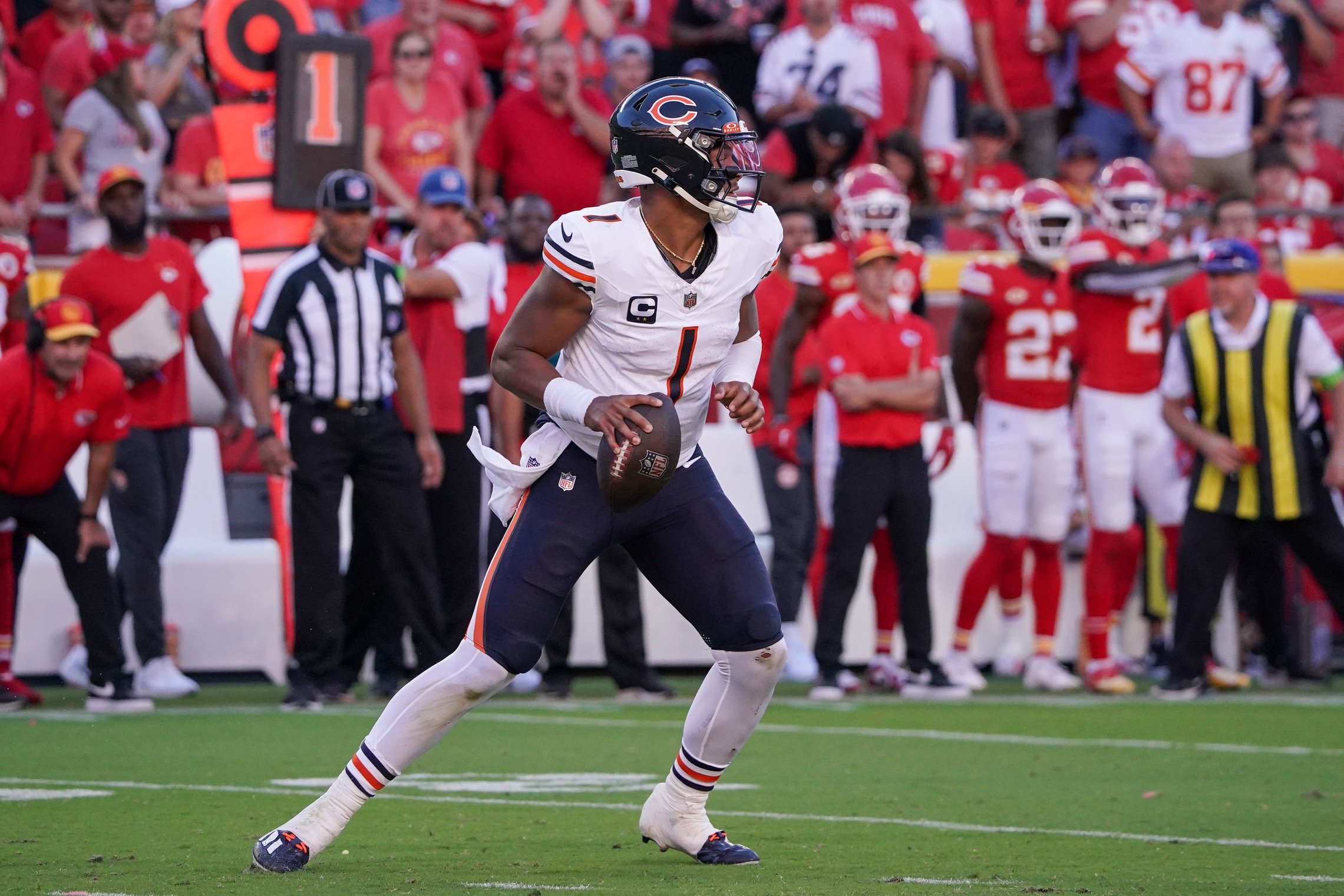 The source added he has yet to see the game tape from Week 3 (vs. Chiefs) because it wasn't available yet, but can't imagine it's much better than the other two games.
Fields, after three games, is only completing 58% of his passes and clearly does not look comfortable behind center.
The team has until May 2 to decide on Fields' fifth-year contract option, but unless he improves greatly the rest of the season, the decision to decline that option will be that much easier for Poles.
Los Angeles Chargers
When starting WR Mike Williams left Sunday's overtime win over the host Minnesota Vikings in the third quarter with a left knee injury, he wound up not returning to the game.
And by video analysis, it looks to be a serious injury.
"It looks like [he] tore his MCL and ACL by video," former Chargers team physician Dr. David Chao explained to Pro Football Network Sunday evening when we contacted him for early word on the injury.
MORE: Week 4 NFL Power Rankings
Chao, who says he has a 95% accuracy rate when predicting what injuries look like by video analysis, said Williams appeared to suffer a non-contact injury on a plant step inward. Williams took contact to his body on a catch and run but did not appear to have his knee contacted.
Chargers Mike Williams is likely out for the season. @ProFootballDoc shares why he believes Williams suffered a significant knee injury during this play on Sunday. #BoltUp

Watch: https://t.co/YVxrMJtlgv pic.twitter.com/3VmUsyMFw4

— Sports Injury Central (@SICscore) September 25, 2023
Chao, the former Chargers team physician for over 17 years when they resided in San Diego, is the only former NFL team physician doing video analysis that's available to the public through his website.
Chao did video analysis of the injuries after every Chargers game when he worked for the team in order to give their front office an early idea of the severity of the injury they were dealing with.
If Chao is correct in his analysis of Williams' injury — and his data would suggest he's almost certain to be — that means first-round WR Quentin Johnston, who hasn't seen much playing time so far this season, is in line for an increased role.
However, third-year WR Josh Palmer, who has seen time in Williams' spot and veteran WR Keenan Allen's spot over his first two seasons when either couldn't play due to injury, could still wind up starting over Johnston for the time being due to his playing experience.
Williams, who agreed to a contract restructuring back in March so the team could clear up some salary cap space, carries a non-guaranteed salary of $17 million for 2024, which is the final year of his contract.
New Orleans Saints
We also talked to Dr. Chao about veteran QB Derek Carr's right (throwing) shoulder injury that he suffered during Sunday's 18-17 loss to the host Green Bay Packers.
"For an AC joint injury, you wouldn't go to the hospital (for that). For an SC joint injury (sternoclavicular), you would. And it's harder to play through that," Dr. Chao told us.
Saints head coach Dennis Allen confirmed to the media after Sunday's loss to the host Packers that Carr was at a local hospital getting testing done.
"I don't know. They're doing an evaluation," Allen said when asked if he knew what they are looking for at the hospital on Carr. "I think it's X-rays. I haven't heard yet. He's being evaluated. I can't tell you really any more than that. It's a shoulder injury, and he's being evaluated. When we know what it is, we'll let you know."
The sternoclavicular joint is at the other end of the clavicle, next to the sternum, which Dr. Chao says is a less frequent injury. But a player will be more sore than from an AC joint injury, which is located at the end of the collarbone and shoulder.
Carr, who left the game during the third quarter and didn't return, was replaced by veteran QB Jameis Winston.
Carr is in the first year of a four-year, $150 million deal that includes $60 million fully guaranteed at signing.
It's important to note that his $30 million base salary in 2024 is fully guaranteed, which makes it almost a virtual certainty that he'll be starting next season for the Saints.