The NFL power rankings return after a wacky week that included multiple upsets and a continuation of incredibly sloppy play around the league. Which teams are rising and falling most heading into Week 4?
Might we be overreacting to an incredibly small sample size? Absolutely. But we can really only base these rankings on what we have seen so far this year because there is so much turnover in the NFL from season to season.
Dolphins and Colts Climb in Week 4 NFL Power Rankings
Scoring 70 points feels like a BCS move by a coach looking to add some style points to their résumé. Well, guess what? It worked.
32) Chicago Bears (31)
Try unplugging them and plugging them back in? There hasn't been a more embarrassing football team in the past decade than this version of the Chicago Bears.
There is no fight. There is no talent. The coaching is terrible. They have off-field controversy. It's over. They need to begin self-destruction protocol.
31) Denver Broncos (28)
Momma taught that if you don't have anything nice to say, keep your yap shut.
The possible silver lining? Russell Wilson is playing better than a season ago, although his shortcomings are still quite obvious.
30) Las Vegas Raiders (30)
The Raiders and Steelers face off on Sunday Night Football. It'll be a battle between a stoppable force and a moveable object. The Steelers offense has struggled mightily in 2023, and the Raiders defense has struggled for the past half-decade. No defense has struggled more against the pass since 2018.
MORE: NFL Week 3 Winners and Losers
Despite fielding a better pass-protecting roster, the offense has not been as sharp as we expected, and a lot of it comes down to the decision-making of their new quarterback, who already has suffered his fair share of turnovers in 2023.
29) Carolina Panthers (27)
The Panthers offense was better with veteran Andy Dalton under center, but it wasn't enough to keep up with the Seahawks' offensive efficiency. The Panthers have a pass-rush problem. Brian Burns, who the Panthers don't seem keen on paying, is their only legitimate pass-rushing option.
28) Minnesota Vikings (26)
The Minnesota Vikings' final offensive play summarizes their season to date. They looked discombobulated and slow getting the play ready after T.J. Hockenson caught a first-down pass with over 30 seconds left.
There was hardly even a brisk walk going on with the Vikings' offensive personnel, who practically acted like it was a normal mid-game sequence. With about 12 seconds remaining on first down, Cousins forced a pass to Hockenson. The pass was intercepted, and the Vikings fell to 0-3.
27) New York Jets (25)
The Jets' season has quickly turned into an abject disaster. They simply cannot continue to trot Zach Wilson onto the field as their starting quarterback. Their defense is doing everything in its power to keep the game close and give the offense a chance, but Wilson and the offensive line don't have enough juice to score points.
It doesn't get much worse than facing the Bills, Cowboys, and Patriots in consecutive weeks when you weren't expecting to play in the 2023 NFL season. But for the defense's sake, Robert Saleh and Joe Douglas have to try something – or someone – else.
26) Houston Texans (29)
Maybe the Jaguars have fallen apart again. But maybe the Texans were a team that were going to start slow with a rookie QB, HC, and young defense and then put it together to actually compete in the AFC South. It's far too early to tell for sure, but they thoroughly dominated the team that many believed would be the cream of the AFC South crop.
Tank Dell and C.J. Stroud seem to have a special rapport early on. Robert Woods still knows how to come up big in crucial moments. And Nico Collins had a massive game in Week 2 against the Colts, albeit in a loss.
25) Arizona Cardinals (32)
The Arizona Cardinals played their third consecutive scrappy game, and this time, the outcome ended in their favor, with a win against what looked like one of the best teams in the NFL through two weeks: the Dallas Cowboys.
James Conner and the rushing attack, in general, was dominant against Dallas. Their defense allowed yards, but they tightened up once Dallas got down into the red zone, allowing just one touchdown in five trips.
The Cardinals roster, on paper, looks like one of the worst in recent memory. But the difference between how they operate and how the Bears do is night and day. Arizona, despite being outgunned, battle.
24) Tennessee Titans (21)
Ryan Tannehill and Derrick Henry should sue the Titans organization for gross negligence. No sane human would think a line consisting of Andre Dillard (who they added this offseason), Peter Skowronski, Aaron Brewer, Daniel Brunskill, and Chris Hubbard was a suitable unit for the field.
Yes, the rookie left guard is hurt, and their starting right tackle is suspended. But Hubbard has been the bright spot of this line, and that is a massive problem. If Tennessee gets down early in a game, they don't have the juice in the dropback game to climb back against teams.
23) New York Giants (20)
Speaking of horrific offensive lines, the New York Giants can't keep Daniel Jones upright. He's under siege on nearly every dropback, and while he's playing relatively well considering his surroundings, he is unable to elevate the operation enough to be competitive against good teams.
The Cowboys and 49ers are two of the league's best teams, and New York couldn't keep up offensively, and they certainly couldn't get the stops they needed on defense to keep the game close.
22) Los Angeles Chargers (22)
The Chargers are inevitable, and not in dominating Thanos style. In fact, Webster's should have already added "Chargering" into our natural vocabulary. They don't always screw things up and lose. Sometimes they screw things up, and they still find a way to win. That was their day against Minnesota, who simply tried harder to lose.
Justin Herbert played incredibly well. Keenan Allen was open on every play. But despite their Week 1 showing against Miami, they have not learned how to be a good running team. Mike Williams' injury, if serious, would put a massive amount of pressure on Allen to be as target-rich as his 31-year-old body will allow until Austin Ekeler returns from injury.
21) New England Patriots (19)
The Patriots avoided falling to 0-3 for the first time since Bill Belichick's first season as their head coach in 2000 with a win over the Jets.
The New England defense remains one of the most well-rounded units in the league. The offense moved the ball here and there against New York, but they didn't have a single drive with more than three first downs, only managing that feat twice during the game.
They punted six times in a row in the second half while gaining only four first downs in the process.
20) Pittsburgh Steelers (17)
Even with a win against the Las Vegas Raiders, if the offense doesn't have a really good day, it will be hard to feel very good about the Steelers' season outlook.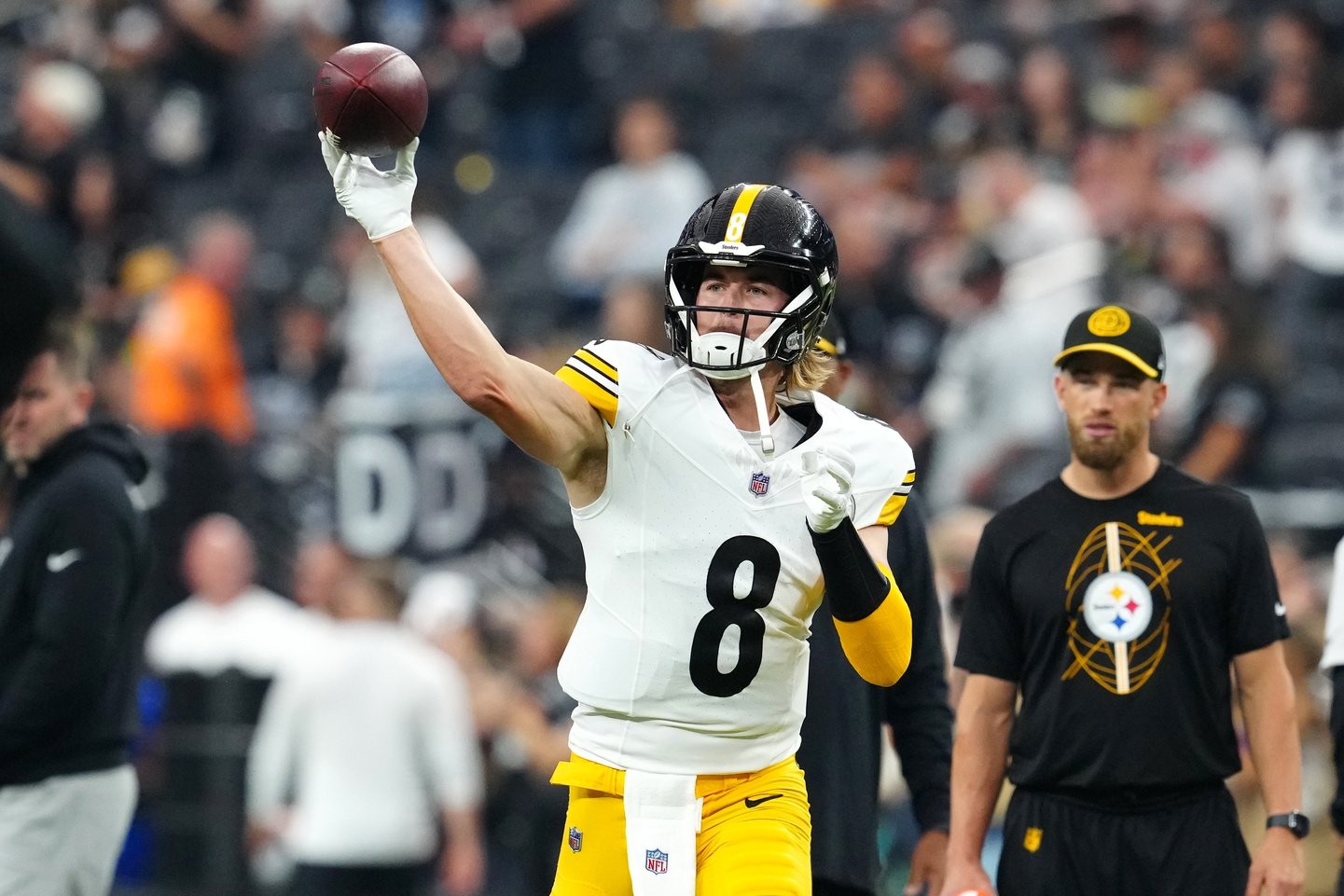 But not all hope is lost yet. The 49ers and Browns likely have two of the five or so best defenses in the entire league. There is no denying that the offensive line was outclassed by the likes of Nick Bosa, Myles Garrett, and Za'Darius Smith.
The Steelers handled business on Sunday Night Football against the Raiders. In what looked and sounded like a neutral field environment even on the road, the Steelers dominated the matchup.
19) Washington Commanders (14)
Sam Howell took his lumps today against an outstanding Buffalo defense. Young players develop differently. Will throwing four interceptions and being sacked nine times become a learning experience for Howell, or will it cripple his confidence early in his second NFL season?
18) New Orleans Saints (12)
Carr's injury appears significant enough to need further medical evaluation at the hospital to understand the extent of his shoulder injury. That likely means he'll miss time, and it likely will be somewhat significant.
Jameis Winston was having a career year in 2021 before his injury. Maybe the Saints are able to replicate that success with the weapons he has at his disposal. The problem remains that offensive line, which has kept Carr on his back far too often so far this season.
The defense wore down against Green Bay but has played well through three weeks.
17) Green Bay Packers (23)
Jordan Love and the Packers offense played their worst game of the season, but the Saints defense is no pushover. Although this game may look slightly different with a healthy Derek Carr for four quarters, Love and the Packers offense battled their way back late to complete the comeback.
Additionally, Love ended up being the team's leading rusher, although his 24-yard scamper made up over half of his yards for the game.
Meanwhile, Rashan Gary bullied the Saints offensive line to the tune of three sacks and four QB hits, one of which injured Carr. The Saints line has struggled in 2023, and Week 3 was no exception.
16) Atlanta Falcons (13)
The Falcons dominated the Panthers in Week 1 and then eeked out a close win against the Packers in Week 2. But when it came down to business against their toughest opponent of the season, their offensive woes were evident.
MORE: NFL Player News Tracker
Detroit isn't necessarily known as a defensive juggernaut, but the Falcons offense had five three-and-outs on the day, and only three times could they string together multiple first downs in their 12 offensive drives.
15) Jacksonville Jaguars (8)
The Jacksonville Jaguars look broken. Trevor Lawrence looked better this week than the week prior, but the offense can't seem to get out of its own way. Despite not having a single three-and-out on the whole day, the Jaguars only managed two red-zone trips.
And their defense looked lost in the secondary against Bobby Slowik's offense. Tank Dell ran free too often, and C.J. Stroud continues to look better under center.
14) Tampa Bay Buccaneers (15)
The Buccaneers crashed back down to Earth on Monday Night Football against the Eagles, mimicking the team we imagined we'd see before the season started. A close win against the Vikings feels less impressive knowing they're 0-3, and beating the Bears by 10 feels like little accomplishment at all after seeing them against the Chiefs in Week 3.
Baker Mayfield and the Tampa Bay offense leveled out, even though they converted on half of their third downs, a number that remains impressive. The Eagles dominated the ball, holding it for nearly 40 minutes.
13) Indianapolis Colts (24)
There may not be a nicer surprise than the Indianapolis Colts so far in 2023 – despite losing an opportunity to see Anthony Richardson and Lamar Jackson face off in a dynamic duel. Instead, Gardner Minshew was busy doing his best Dan Orlovsky impression.
Dan Orlovsky is somewhere smiling after this Gardner Minshew play pic.twitter.com/JxlBLMJzdi

— Pro Football Network (@PFN365) September 24, 2023
But despite fielding an underwhelming career backup, the Colts toppled a Ravens team that, while facing injury issues, should still be one of the better teams in the AFC. The Colts gutted out the win thanks to some decent fortune and a strong defensive performance that forced Lamar Jackson into "doing too much" mode.
12) Los Angeles Rams (9)
The first two weeks have been a great surprise in Los Angeles. Unfortunately, Week 3 did not go as well for them. With a banged-up offensive line, the Rams traveled into Cincinnati and fell to the hobbled Joe Burrow-led Bengals.
The fear preseason was that the offensive line would struggle to protect Matthew Stafford, and those fears were realized against a dominating Bengals pass rush. Everyone from D.J. Reader to Dax Hill got in on the sack party against the Rams.
Los Angeles is far more competitive than we originally anticipated, but they are also an incredibly young team that will likely struggle with consistency throughout the season because of their inexperience.
11) Cincinnati Bengals (16)
The Bengals went into Monday Night Football in a dire situation. A loss would mean a 0-3 start, which is a near death blow to a team's playoff chances. A win would get them to 1-2 on the year and only one game behind the AFC North division lead. With a hobbled Joe Burrow who was questionable all the way up until inactives were released, could the Bengals save their season?
MORE: Cincinnati Bengals Observations From Their Victory Against the Los Angeles Rams
The Cincinnati defense, much like during their Super Bowl run, deserves a ton of credit for sneaking out the win against Los Angeles. They sacked Matthew Stafford six times and allowed just one of 11 third-down attempts in the game. Burrow is less than 100%, but Ja'Marr Chase started looking like his normally dominant self again in Week 3.
10) Cleveland Browns (18)
The Cleveland defense is a real problem for their opponents, and it sure seemed like Deshaun Watson found a little bit of a rhythm against a good Titans defense. There were a few awkward coverage leaks involved, but that was Watson's cleanest performance since joining Cleveland.
If Watson can produce even league-average passing efficiency while taking relatively good care of the ball, this defense might be good enough for Cleveland to have a legitimate chance of winning the division and being a contender in January.
9) Detroit Lions (11)
Jahmry Gibbs' explosiveness is perverse. He absolutely explodes at the first and second levels with the ball in his hands. He will be a fantastic piece for the Lions down the stretch, particularly once David Montgomery returns, and they can maximize that explosiveness with a lighter workload.
Meanwhile, only four players were targeted on a pass for the Lions today. Amon-Ra St. Brown caught nine passes, while Sam LaPorta caught eight, Kalif Raymond caught four, and Gibbs caught one.
8) Seattle Seahawks (10)
The Seahawks offense had its way against the Panthers defense. They averaged over six yards per play and over five in the run game and the passing attack. Since their Week 1 implosion against the Rams in the second half, they have been outstanding on offense.
The crazy thing about it is there were even a few missed opportunities in the passing game throughout the game. Seattle can put points on the board, but their defense must sharpen their iron if they're going to compete against the top of the NFC in January.
7) Baltimore Ravens (7)
The Ravens played an ugly game against a lesser opponent while battling the injury bug for the third consecutive season. Lamar Jackson once again flashed brilliance as a passer from the pocket, but the Colts defense forced him to get late into his progressions, which allowed the rush to close in.
Jackson, for all his ability, has a tendency to attempt physics-defying acts with the football, and too often, it leads to the turnovers we see from him.
6) Dallas Cowboys (2)
The Dallas Cowboys have a red-zone problem. Even in their blowout win over the New York Jets, Dallas only finished twice in six red-zone trips. It was their undoing against the Cardinals. They only scored one touchdown in five trips.
The run defense that hadn't really been an issue since adding Johnathan Hankins reared its ugly head, allowing 7.4 yards per carry in their 28-16 loss to the Cardinals.
5) Buffalo Bills (5)
For the second consecutive week, the Buffalo Bills did what great football teams are supposed to do against lesser opponents. The savvy, veteran Bills defense toyed with Sam Howell and the Commanders passing attack, forcing the young passer into multiple mistakes throughout the game.
4) Philadelphia Eagles (3)
Jalen Hurts and the Eagles passing attack finally found their form in Week 3. His interception late in the first half was a throw he'll want back, but the shot he took deep was a calculated risk that just barely had too much loft to reach its destination in time.
More importantly, the Eagles appear to have a nice balance between their backs. D'Andre Swift's explosion is becoming a legitimate weapon, and the ball distribution between him and Kenneth Gainwell appears balanced now.
3) Miami Dolphins (6)
The Dolphins gained 726 yards on offense against the Broncos, which is the most all-time. They scored 70 points, just three shy of the 73 points that Chicago scored in 1940. For a modern-day game in a salary cap league, it's embarrassing to allow a day like that.
The Dolphins have all FIVE of top-5 fastest @NextGenStats top NFL ball carrier speeds this season.

1. Tyreek Hill, 22.07 MPH, Week 3 vs DEN
2. Tyreek Hill, 21.66, WK1 vs LAC
3. Raheem Mostert, 21.62, WK2 vs NE
4. Tyreek Hill, 21.52, WK1 vs LAC
5. De'Von Achane, 21.5, WK3 vs DEN

— Cameron Wolfe (@CameronWolfe) September 24, 2023
But boy, does this Dolphins offense look special. They did that to Denver without Jaylen Waddle! For a while, it appeared Tua Tagovailoa wouldn't have an incompletion all game. Rookie De'Von Achane ran for 200 yards. Raheem Mostert picked up 82 himself.
2) Kansas City Chiefs (4)
The Chiefs looked bejeweled in the first half against the Bears. They went in with their eyes open, saw red, and beat down the Bears like there was bad blood between the franchises.
To put the Taylor Swift puns to bed, the Chiefs just showed up against a franchise that barely has a pulse at this point. Even though they hadn't looked like their normal selves in the first few weeks, we should have expected this result.
1) San Francisco 49ers (1)
Brock Purdy faced more pressure against the Giants' defense on Thursday night than a weightlifter being pinned to the bench by press too heavy to lift.
MORE: NFL Standings
Despite that, the 49ers offense remained a well-oiled machine. With no Brandon Aiyuk, Deebo Samuel took back his No. 1 WR role, and they featured George Kittle in the passing attack more than we normally see at this point in the 49ers' offensive evolution.