The 2021 NFL Draft class has a great crop of senior running backs. Guys like Travis Etienne, Chuba Hubbard, and Kylin Hill make it a dominant class, but my favorite of the group is Alabama's Najee Harris. Harris was a dominant high school recruit and many viewed him as the top prospect in the nation. This led him to Alabama.
However, unlike most number one recruits, it took Harris some time to see substantial playing time. Names like Damien Harris, Bo Scarbrough, and Josh Jacobs crowded the running back room. That changed last season when Harris became the undisputed top dog in Alabama's backfield. So how does Harris' game translate to the NFL, and why am I so high on the Alabama prospect?
[sv slug="mocksim"]
Najee Harris scouting report
Size
At 6'2 and 230 pounds, Harris has dominant size for the running back position. Defenders struggle to tackle him as he's a load to bring to the ground. His height makes falling forward an easy 2-3 extra yards. However, he does have a tendency to stand straight up while running which could potentially lead to injuries in the future.
Athletic ability
There's a strange narrative going around that Harris is a poor athlete but this is a profoundly inaccurate sentiment. Yes, Harris lacks the long speed to pull away from an entire defense. However, his lower body is impressively powerful, making him an explosive athlete. His short-area burst is strong, but his vertical leaping ability is some of the best I've seen. His tape his littered with him hurdling over defenders. He might lack the ability to outrun all 11 defenders, but don't confuse that with being a "poor athlete."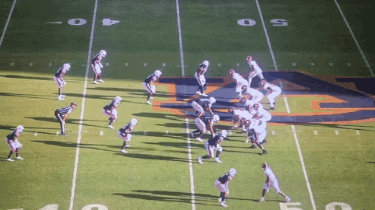 Agility
Despite being one of the bigger running backs in recent memory, Harris is sneakily elusive. He uses impressive footwork and convincing head fakes to force defenders to miss tackles. You wouldn't expect it from a player of Harris' stature, but he shows an impressive wiggle, and his ability to make defenders miss is a very real strength of his.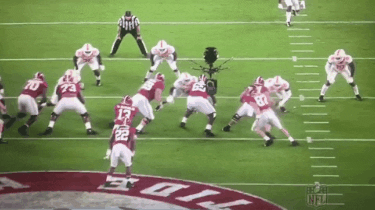 Contact balance
Harris eats hits for breakfast. His frame allows him to take on defenders without going to the ground. Both at the line of scrimmage and in the open field, he's nearly impossible to bring down with an arm tackle and unless you get his knee on the ground there's no guarantee he'll be going down any time soon. His ability to land and continue running after leaping over a defender is another example of his exemplary balance.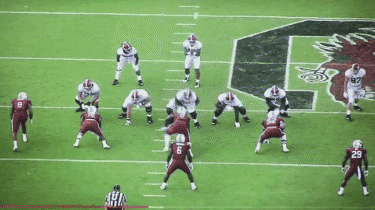 Vision
Sometimes vision is a great strength for Harris while other times he shows a need for improvement. He does his best work in the wide zone where he locates the hole and hits it with conviction. He also shows flashes in other schemes like power and counters but is much less consistent in doing so. He could also work on his consistency locating blitzers in pass protection.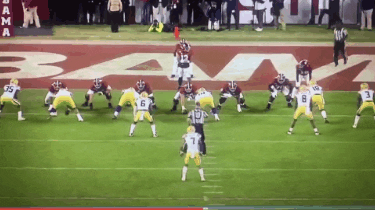 Power
One of the most impressive parts of Harris' game is his ability to deal with punishment to defenders. He wears them down rush by rush and by the fourth quarter they're putty in his hands. The size of most NFL linebackers, Harris has more than the requisite size to dominate in the second level. His legs constantly churn, and this creates extra yardage after first contact.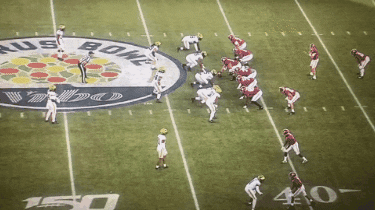 Receiving
This is my personal favorite part of Harris' game as he possesses some of the best hands I've ever evaluated at the RB position. He is dominant at the catch point with natural soft hands and is a YAC threat. He has the tools to be a valuable three-down asset in the NFL. Alabama was more than willing to utilize Harris as a receiver both out of the backfield and lined up out wide. He produced seven receiving touchdowns on just 27 receptions.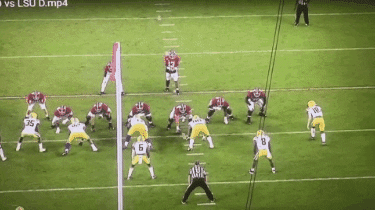 Production
Once he became the lead guy in the Alabama backfield, Harris became one of the nation's most productive rushers. He averaged nearly six yards a carry on over 200 carries and over 11 yards per reception on nearly 30 receptions. He was also able to produce 20 touchdowns on just 236 touches, good for one touchdown every 11.8 touches.
Podcast: Between the Hashes Note: This article continues after the podcast player. To subscribe to Between the Hashes with Tony Pauline and Cam Mellor, find us on Apple Podcasts, Spotify, or your favorite podcast player.
Najee Harris 2021 NFL Draft outlook
Harris is one of the nation's most productive rushers while also being one of the 2021 NFL Draft classes' most talented running backs. He has potential as a three-down running back in the NFL with his natural receiving chops. He has the size to eat and breakthrough weak tackle attempts, and his vision has shown flashes of brilliance.
I share the same concerns about his long speed as other draft pundits, but I don't view it as a detriment to his NFL prospectus. Harris will be a name to watch as one of the best running back prospects in the class.