Can storied college head coach Matt Rhule revitalize the Nebraska Cornhuskers program and bring their 2024 NFL Draft hopes to life? He was able to do it at Temple and Baylor, and all eyes will be on Nebraska to see if he can do it again with all of the talent present.
Nebraska Cornhuskers NFL Draft Prospects
The tumultuous Scott Frost era is over in Lincoln — an era that arrived on a wave of optimism but left spectators empty and uninspired. The new man in charge is Matt Rhule — a former collegiate head coach who made successful stops at Temple and Baylor, before unsuccessfully trying his hand in the NFL with the Carolina Panthers.
Rhule is better suited for the college environment, and already, he's gotten to work revamping Nebraska's program. The Cornhuskers lost a few key contributors to the NFL Draft, among them Trey Palmer and Ochaun Mathis — plus others to the transfer portal. But Rhule's staff was also able to secure a few high-upside additions from the same medium.
Nebraska's transfer portal class for 2023 is very boom or bust, but in college football, you bank on upside. A group headlined by Jeff Sims, Arik Gilbert, and MJ Sherman has an incredibly high ceiling. And surrounding them are some high-impact returners, such as Quinton Newsome, Luke Reimer, Turner Corcoran, and Anthony Grant.
Jeff Sims, QB
A tumultuous three-year Georgia Tech career and middling passing stats may cause some to sour on Jeff Sims' surface-level evaluation. But Sims is quietly one of the most exciting QB prospects entering the 2024 NFL Draft cycle.
He has a new supporting cast and staff at Nebraska, plus the tools to develop into an early-round passer if everything goes his way. At 6'4″, 220 pounds, Sims is a high-energy athlete with a high-velocity arm and improving mechanics.
Anthony Grant, RB
Anthony Grant will be a 25-year-old rookie, so the 5'11", 205-pound running back's chances of being drafted might be slim. But in an NFL where RB bargains are coveted, he could be a popular PFA candidate.
Grant began his career at Florida State before dominating at New Mexico Military Institute from 2020 to 2021. In 2022, he shined with the Cornhuskers, using his hard-charging running style to amass 915 yards and six touchdowns on 218 carries.
Billy Kemp IV, WR
The loss of Trey Palmer will hurt for the Cornhuskers, but they've added a new perceived top target through the transfer portal in Virginia's Billy Kemp IV. Kemp had a down year along with the rest of the Cavaliers' offense in 2022, but in 2021, he caught 74 passes — nearly a team-high figure — for 725 yards and six touchdowns.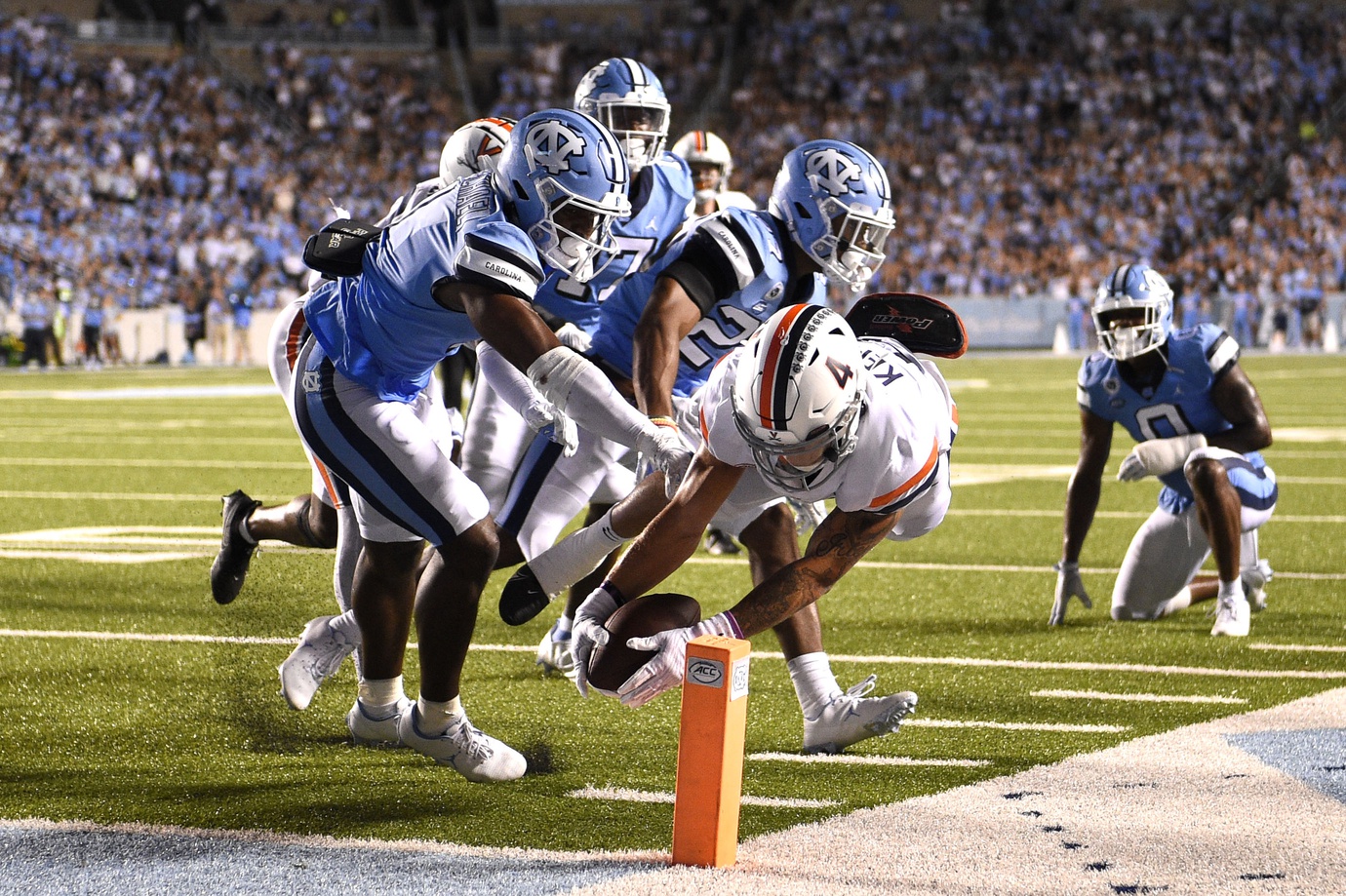 As his averages imply, the 5'9″, 180-pound wideout is more of an underneath threat than Palmer, but Kemp can separate and move the chains.
Zavier Betts, WR
Talent can emerge at any time, even if the timeline is delayed. Palmer was a great example of this in 2022, and Zavier Betts has that breakout potential for the Cornhuskers in 2023.
A homegrown four-star talent, Betts started out his career fairly strong with 32 catches, 417 yards, a score, 109 rushing yards, and a rushing touchdown in his first two seasons. He was away from the team in 2022, but now he's back. At 6'2″, 205 pounds, Betts has speed, versatility, and impressive sinking ability as a separator for his size.
Marcus Washington, WR
Alongside Kemp, another resident veteran in Nebraska's receiving corps is Marcus Washington. The 6'2″, 190-pound Washington originally committed to Texas back in 2019, and he saw rotational snaps early in his career. But after three years of play produced little opportunity growth, Washington transferred to Nebraska in 2022 and notched career-high numbers with 31 catches, 471 yards, and a score.
Arik Gilbert, TE
We're still awaiting confirmation on Arik Gilbert's transfer waiver, but if it's accepted, he could see consistent action for the first time since 2020 — when he accumulated 368 yards and two scores at LSU.
Gilbert's raw talent is well-documented. At 6'5″, 275 pounds, he's a special athlete who blends the line between receiver and tight end roles with his physical gifts. The hope is that he's granted eligibility and that his change of scenery at Nebraska is what he needs mentally to find his stride again.
Ben Scott, OL
There's been some movement on the offensive line this offseason for Nebraska, but Arizona State transfer Ben Scott should help provide some stability. The 6'5″, 305-pound Scott has 28 games of starting experience to fall back on, with 17 total starts at right tackle and 11 at center. That all-encompassing positional flexibility could be a big boost to Scott's NFL Draft profile if he can prove his mettle against Big Ten competition.
Turner Corcoran, G
It's been an up-and-down collegiate career for Turner Corcoran, who fielded some lofty NFL comparisons as a four-star high school recruit. The 6'6″, 300-pound blocker saw starting action as early as his true freshman season and has logged starts at LT, RT, and LG across his career.
Corcoran is truly a plus athlete with impressive flexibility, but concerns with balance and strength have relegated him to guard at times. Regardless, his tools and versatility remain intriguing.
Ty Robinson, DT
The Cornhuskers didn't get an excess of production from their interior defensive line in 2022, but Ty Robinson was a lone bright spot. The 6'6″, 310-pound defender manned the middle admirably and came away with 24 tackles, four tackles for loss, two sacks, and a pass deflection.
Now returning to the fold as a starter, Robinson has the size and strength to hold the line and potentially field more 2024 NFL Draft interest.
MJ Sherman, LB
One of the most intriguing transfer additions for Rhule's Cornhuskers will be versatile linebacker MJ Sherman. Sherman, who's listed at 6'2″, 250 pounds, was a high four-star recruit with a documented 4.53 40-yard dash who played at Georgia from 2020 to 2022.
He never lived up to his potential with the Bulldogs, but a change of scenery at Nebraska could prove fruitful. Sherman has experience playing both off-ball and as a designated pass rusher, as well as the talent to fulfill both roles.
Luke Reimer, LB
At 6'1″, 225 pounds, Luke Reimer is Nebraska's leading tackler for two years running. Over that same span, he has 9.5 TFLs, two sacks, two interceptions, 11 pass deflections, and three forced fumbles.
Reimer's production serves as confirmation of his playmaking ability. Although he's a bit underweight for the position, he's an incredibly rangy second-level defender who uses his speed and instincts to pursue plays laterally.
Quinton Newsome, CB
Outside of Sims, the Nebraska 2024 NFL Draft prospect with the most upside might be cornerback Quinton Newsome. In 2022, Newsome logged 44 tackles, four TFLs, two sacks, and a team-high 10 pass deflections, and could have been selected in the 2023 NFL Draft had he declared.
Newsome is an incredibly long and physical coverage defender at 6'1″, 185 pounds. He dominates at the catch point with his reach, tenacity, and ball skills.
Isaac Gifford, DB
Set to play the role as the ROVER defensive back in Nebraska's defense, Isaac Gifford profiles as a name to watch in the coming 2024 NFL Draft cycle. He was one of the Nebraska defense's top producers behind Reimer in 2022, with 70 tackles, five TFLs, a sack, and three pass deflections.
At 6'1″, 205 pounds, Gifford doesn't always hold up as well as preferred in the box, but his in-built role versatility can be valuable.
Marques Buford Jr., S
Especially with Myles Farmer entering the transfer portal, look for Marques Buford Jr. to take on an increased role in the Cornhuskers' secondary at the safety position.
In 2022, Buford had a career-best campaign, accumulating 59 tackles, 2.5 TFLs, two interceptions, three pass breakups, and a forced fumble. The 5'11", 190-pound defender has some playmaking ability when the ball's in the air, and that could come under the spotlight in 2023.
Other Notable Names
Gabe Ervin Jr., RB
Thomas Fidone II, TE
Teddy Prochazka, OT
Bryce Benhart, OT
Nouredin Nouili, G
Elijah Jeudy, DT
Nash Hutmacher, DT
Nick Henrich, LB
Nebraska Cornhuskers Schedule
Week 1
BYE
Week 2
Aug. 31: at Minnesota Golden Gophers
Week 3
Sept. 9: at Colorado Buffaloes
Week 4
Sept. 16: vs. Northern Illinois Huskies
Week 5
Sept. 23: vs. Louisiana Tech Bulldogs
Week 6
Sept. 30: vs. Michigan Wolverines
Week 7
Oct. 6: at Illinois Fighting Illini
Week 8
BYE
Week 9
Oct. 21: vs. Northwestern Wildcats
Week 10
Oct. 28: vs. Purdue Boilermakers
Week 11
Nov. 4: at Michigan State Spartans
Week 12
Nov. 11: vs. Maryland Terrapins
Week 13
Nov. 18: at Wisconsin Badgers
Week 14
Nov. 24: vs. Iowa Hawkeyes
Week 15
BYE
Listen to the PFN Scouting Podcast
Listen to the PFN Scouting Podcast! Click the embedded player below to listen, or you can find the PFN Scouting Podcast on iTunes, Spotify, and all major podcast platforms.  Be sure to subscribe and leave us a five-star review! Rather watch instead? Check out the PFN Scouting Podcast on our Scouting YouTube channel.