The college football regular season is officially over as NCAA conference championship week is now upon us with a great slate of games and playoff implications. Utah, Georgia, Oklahoma, and Baylor will all be the upstart teams looking to gain entry into the playoff as they face top opponents this week. Utah gets Justin Herbert and the Oregon Ducks, Georgia gets Joe Burrow and the undefeated LSU Tigers, and Baylor and Oklahoma face off for their rematch.
Still, more than ever, with more and more Senior Bowl and postseason bowl invites going out to Seniors and the declaration period starting to heat up for players, draft stock implications are massive this week for those who want to be known as big-game performers. Top talents will face other top talents, and that gives the ability for prospects to show off just how far along they are on the learning curve.
Matchup to Watch: LSU WR Justin Jefferson vs Georgia CB Eric Stokes
LSU and Georgia will have a fantastic battle between a talented wide receiver corps for LSU and a very talented cornerback group for Georgia, which is headed by the matchup between juniors Justin Jefferson and Eric Stokes. Both have been great this year and playmakers, with Jefferson eclipsing over 1000 receiving yards and Stokes being straight up lockdown not only the outside but also showing versatility and moving into the slot at times. Stokes has excelled in both roles, just like Jefferson has been in all the roles he is asked to do in that Tigers offense. Jefferson moves into the slot as well as play at the X-receiver position.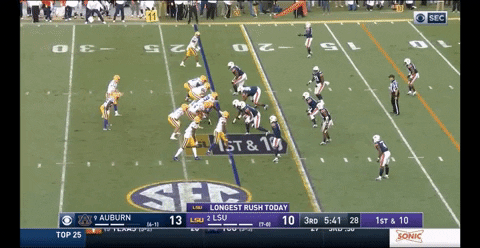 One of my favorite traits of Jefferson, though, is by far his blocking. Sure, he runs excellent routes and has a magnificent route tree in addition to good athleticism, but he plays like he is a player off the top of the trash heap and goes hard every play. Out of a stacked alignment here, Jefferson takes on a defensive back and makes a great effort at blocking here for Clyde Edwards-Helaire. It is the little things that make me higher on a player, and all-out effort like this by Jefferson is one of those things.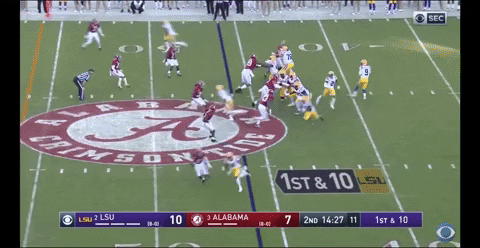 Add to that some insane after the catch ability with his open-field dynamic ability, vision, and elusiveness. This is an incredibly sharp and fluid cut that Jefferson executes to get this Alabama defender turned around en route to getting a great first down. Jefferson is a well-rounded receiver.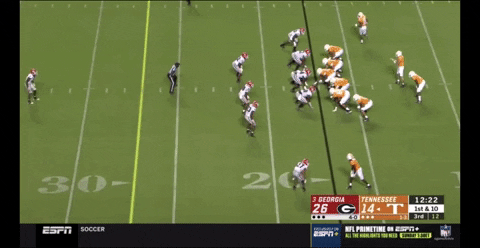 As for Stokes, there is still a lot to like about him, even if he is criminally underrated at this point. There is not enough talk about him, but he bails here with a clear inside shade on the wide receiver and clearly trusts his transitions and hips to turn and make this play should it go outside. It is a hitch, and the target does head outside, but Stokes mirrors and produces a fluid hip flip to stay here. These are NFL traits that will translate.
Stokes is 6'1″ but plays with the tenacity of a tiny slot cornerback. Georgia sends him on blitzes a lot, and he is an excellent blitzer, so it is no question as to why they do it. Here he comes screaming off the edge and forces a critical fumble here against Tennessee. The more versatility you have, the better, and Stokes has it in spades.
Player to Watch: Clemson RB Travis Etienne
I have talked about a lot of running backs on here, from J.K. Dobbins to Zack Moss, but none are as dynamic as Clemson running back Travis Etienne. Etienne faces the best defense he has met all year long in Virginia this week. With NFL prospects scattered throughout that linebacker corps with Jordan Mack and Charles Snowden in there, Etienne's elusiveness and contact balance will be tested, but he has shown incredible traits so far this season.
This is just an example of the type of runs Etienne has been able to pull off. Yes, he can shrug off those arm tackles only by how strong his center of gravity and legs are, but there is something to be said about how fast he gains speed after making moves, cuts, and breaking tackles. His burst to acceleration motor is elite. The long speed with him is his most publicized trait, but people do not talk enough about the fact that he has effortless start and stop speed and burst. That allows him to score a touchdown here.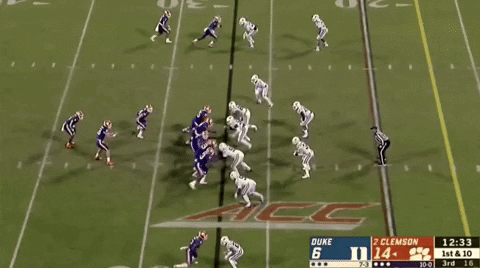 There is more where that came, but looking at just how quickly Etienne hit this gap and accelerated through it is great stuff. Etienne is a world-class athlete, and it shows. This burst and speed will still be top tier at the NFL level, and he is the best home run hitter in the upcoming for a reason.
Sleeper to Watch: Appalachian State WR Jalen Virgil
Appalachian State has had a great story to their season as they have finished 11-1 and have proven that they have multiple NFL talents on the squad in Akeem Davis-Gaither and Darrynton Evans. However, a guy that does not get nearly enough love is wide receiver and returner Jalen Virgil. Virgil has freaky speed to his game, and man does it ever show up on tape. And when I say freaky, I mean legitimate 4.3 speed with great burst and explosiveness as well.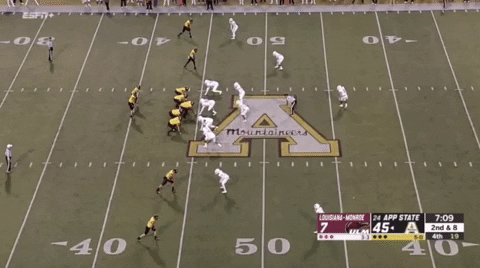 This is just an example of the big-play ability that Virgil has in his arsenal, and the yards after catch ability he has been able to display during his time at Appalachian State is one of his most significant assets by far. Virgil has returned punts and kicks his entire career and been wildly successful at it. And on this play, he shows just why he has been so successful. He outruns the entire defense through pure long speed alone. Virgil is shot out of a missile every time he gets his hands on the football and a sleeper that people need to start paying attention to as a whole.