While the Minnesota Vikings won 13 games and the NFC North crown last season, nearly all of their underlying metrics painted them as more of an eight-to-nine-win club. Still, results are results, and the Vikings will have the chance to repeat as a division winner in 2023. Can Kirk Cousins and Co. make another trip to the postseason, or will they fall victim to regression? Here's what the Vikings' schedule looks like this year.
Minnesota Vikings Schedule and Opponents
Week 1: vs. Buccaneers
CBS | 1 p.m. ET (Sunday, Sept. 10)
Week 2: at Eagles (TNF)
Amazon Prime | 8:15 p.m. ET (Thursday, Sept. 14)
Week 3: vs. Chargers
FOX | 1 p.m. ET (Sunday, Sept. 24)
Week 4: at Panthers
FOX | 1 p.m. ET (Sunday, Oct. 1)
Week 5: vs. Chiefs
CBS | 4:25 p.m. ET (Sunday, Oct. 8)
Week 6: at Bears
FOX | 1 p.m. ET (Sunday, Oct. 15)
Week 7: vs. 49ers (MNF)
ESPN | 8:15 p.m. ET (Monday, Oct. 23)
Week 8: at Packers
FOX | 1 p.m. ET (Sunday, Oct. 29)
Week 9: at Falcons
FOX | 1 p.m. ET (Sunday, Nov. 5)
Week 10: vs. Saints
FOX | 1 p.m. ET (Sunday, Nov. 12)
Week 11: at Broncos (SNF)
NBC | 8:20 p.m. ET (Sunday, Nov. 19)
Week 12: vs. Bears (MNF)
ESPN | 8:15 p.m. ET (Monday, Nov. 27)
Week 13: BYE
Week 14: at Raiders
FOX | 4:05 p.m. ET (Sunday, Dec. 10)

Week 15: at Bengals
TBD
Week 16: vs. Lions
FOX | 1 p.m. ET (Sunday, Dec. 24)
Week 17: vs. Packers (SNF)
NBC | 8:20 p.m. ET (Sunday, Dec. 31)
Week 18: at Lions
TBD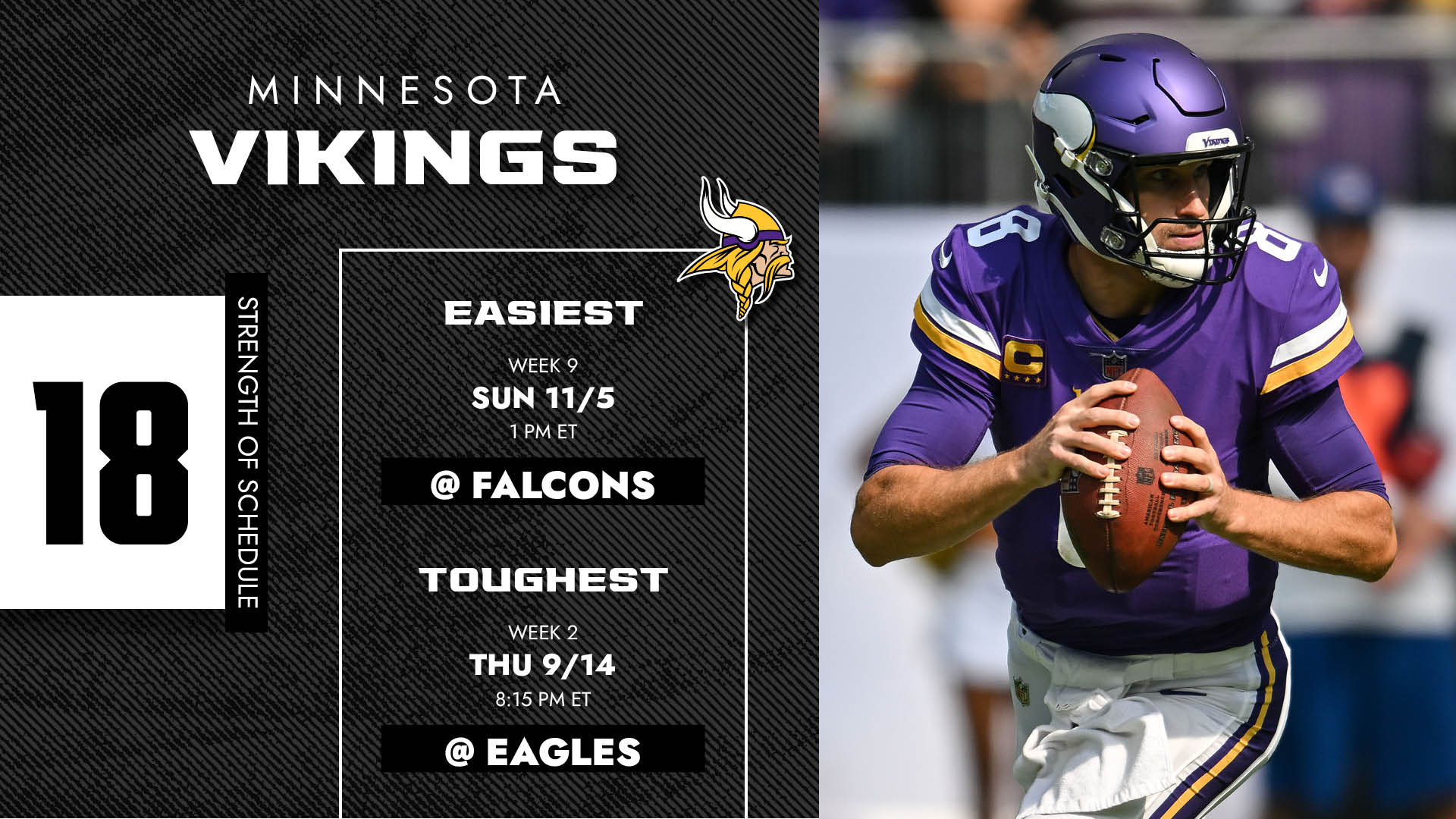 Minnesota Vikings Strength of Schedule
Based on PFN's strength of schedule matrix, the Vikings project to have the 18th-hardest NFL schedule next season. As usual, Minnesota will play each of its NFC North rivals at home and on the road.
The Vikings could benefit from playing the NFC South, which projects as one of the least-imposing divisions in the league. However, they'll also have to face the AFC West, and matchups against the Chiefs and Chargers will be anything but cakewalks.
Additionally, Minnesota will play the two remaining NFC teams that finished in first place in their respective divisions: the Philadelphia Eagles and San Francisco 49ers. Lastly, Minnesota will round out its schedule by facing the Cincinnati Bengals, who finished first in the AFC North in 2022.
If the Vikings are still in contention following their Week 13 bye, their remaining schedule could decide the NFC North. Following games against the Raiders and Bengals, Minnesota will face Detroit twice and the Packers once to close the season.
Minnesota Vikings Record Prediction
There's no other way to say it: the Vikings were the NFL's luckiest team in 2022.
Minnesota became the first NFL team to win at least 12 games with a negative point differential and was just the ninth club to make the playoffs after allowing more points than they scored. The Vikings posted an 11-0 record in one-score games during the regular season, with their only single-score loss coming in their playoff defeat.
Kevin O'Connell's team may only have the 18th-hardest schedule in the league, but they will face a daunting set of opponents. Minnesota will play all four teams that appeared in last year's conference championship games, including road tilts against the Bengals and Eagles. The Vikes also have the most difficult slate of any team in the NFC North, where they are no longer the betting favorites.
Dalvin Cook and Adam Thielen are gone on the offensive side of the ball, but Alexander Mattison, first-round receiver Jordan Addison, and a full season of tight end T.J. Hockenson should be enough to keep the Vikings' offense afloat. If Mattison and Addison prove to be upgrades over the veterans they're replacing, Minnesota could improve from its No. 20 ranking in offensive DVOA.
But the Vikings' most pressing questions are on defense. Minnesota parted ways with coordinator Ed Donatell after he ran one of the more static, zone-heavy units in the NFL and replaced him with former Dolphins head coach Brian Flores, who will bring a man coverage-centric approach to the Vikings' roster.
Front-seven defenders like Za'Darius Smith, Dalvin Tomlinson, and Eric Kendricks are gone. Meanwhile, Minnesota revamped its entire cornerback room, cutting ties with starters and contributors like Patrick Peterson, Cameron Dantzler, Chandon Sullivan, and Duke Shelley.
Free agent additions such as edge rusher Marcus Davenport and corner Byron Murphy and rookies like Mekhi Blackmon will be asked to play significant roles in their first seasons with the Vikings.
Will that be enough for Minnesota to contend in what could be Cousins' final season in purple? Regression feels inevitable, but the Vikings' 8.5-win total seems a bit low. There's still enough talent on this team to sneak into the playoffs, and a 9-8 campaign is well within their reach.
Projected Record: 9-8