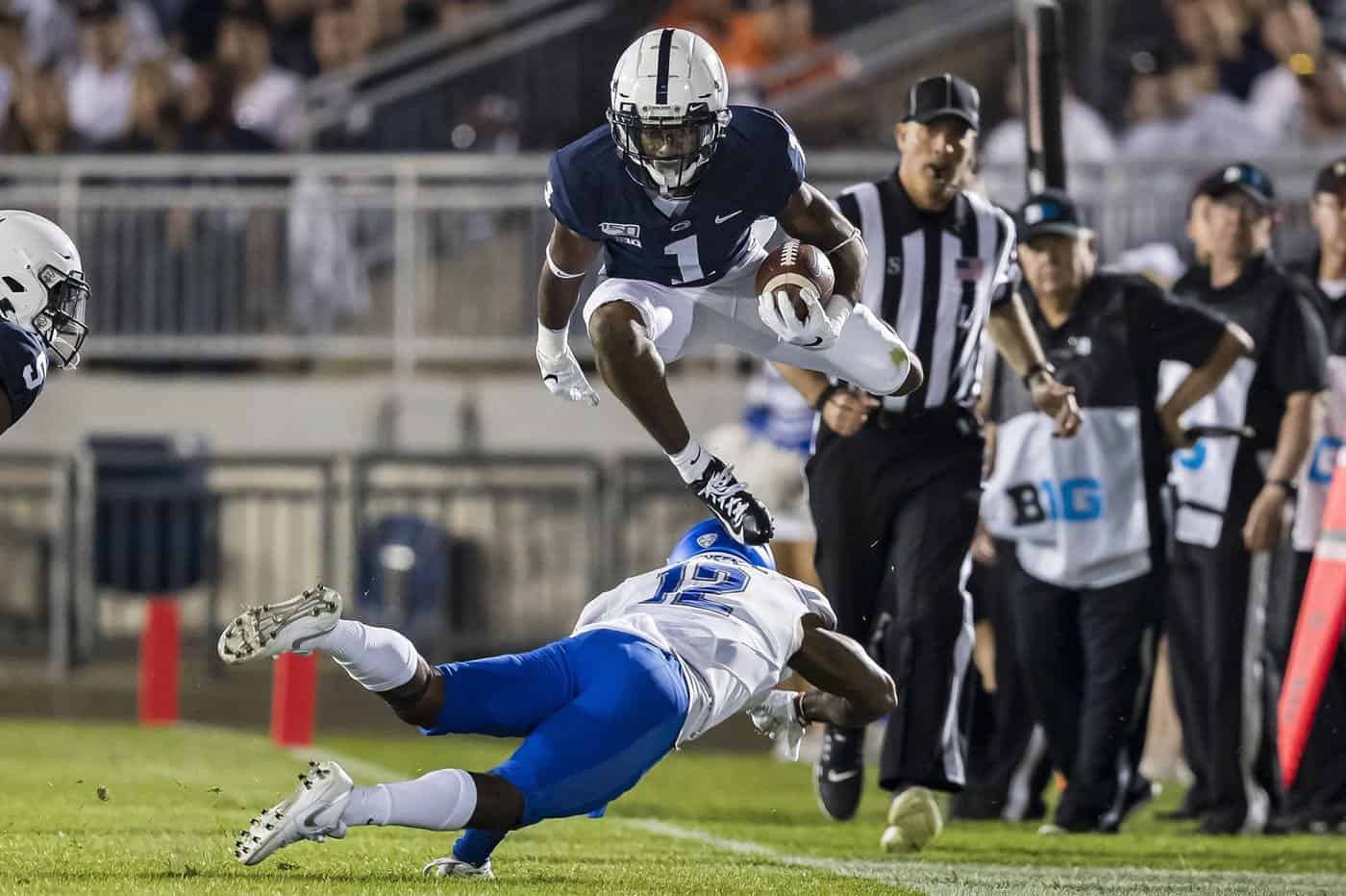 #65. Cincinnati Bengals: Ezra Cleveland, OT, Boise State
#66. Miami Dolphins: Jared Pinkney, TE, Vanderbilt
#67. Washington Redskins: Ashtyn Davis, Saf, Cal
Ball skills, instincts, athleticism. It's all there for Ashtyn Davis. A perfect running mate to Landon Collins. With Davis, the Redskins suddenly just got one of the most versatile and talented duos on the back end. Davis may slip in the draft due to some concerns about his size, but he can flat out ball.
#68. Atlanta Falcons: Antoine Brooks Jr., Saf, Maryland
#69. New York Jets: KJ Hamler, WR, Penn State
#70. New York Jets(via NYG): Leki Fotu, DL, Utah
It seems only fitting for the Jets to replace one long-haired Pac-12 defensive tackle with another long-haired Pac-12 defensive tackle. Fotu has a non-stop motor and is very strong at the point of attack. The Jets defensive line suddenly got very talented.
#71. Denver Broncos: Jeff Gladney, CB, TCU
#72. Cleveland Browns: Reggie Floyd, Saf, Virginia Tech
#73. Tampa Bay Buccaneers: Rashard Lawrence, DL, LSU
The perfect fit to go with Vita Vea. While Vea is naturally a "nose" or "one-tech," Lawrence is a natural "3-tech." A good pass rusher and very strong run defender, the addition of Lawrence and Epenesa from this draft make this Tampa defensive line scarily good.
#74. Los Angeles Chargers: Jake Hanson, IOL, Oregon
#75. Las Vegas Raiders(via CHI): Collin Johnson, WR, Texas
#76. Las Vegas Raiders: Joe Bachie Jr., LB, Michigan State
#77. Denver Broncos(via PIT): Jalen Reagor, WR, TCU
The Broncos have put together a very young and talented receiving corps. Headlined by Courtland Sutton, the unit has the potential to be very special, However, the desperately lack someone who can stretch the field vertically. Reagor fits the bill to a tee. He's a threat to score anytime the ball is in his hand, and his speed is special. The fit, talent, and value make this one of my favorite draft picks.
#78. Arizona Cardinals: Hunter Bryant, TE, Washington
#79. Tennessee Titans: Myles Bryant, DB, Washington
#80. Detroit Lions: Markus Bailey, LB, Purdue
Listen to the PFN Scouting Podcast
Listen to the PFN Scouting Podcast! Click the embedded player below to listen, or you can find the PFN Scouting Podcast on iTunes, Spotify, and all major podcast platforms.  Be sure to subscribe and leave us a five-star review! Rather watch instead? Check out the PFN Scouting Podcast on our Scouting YouTube channel.