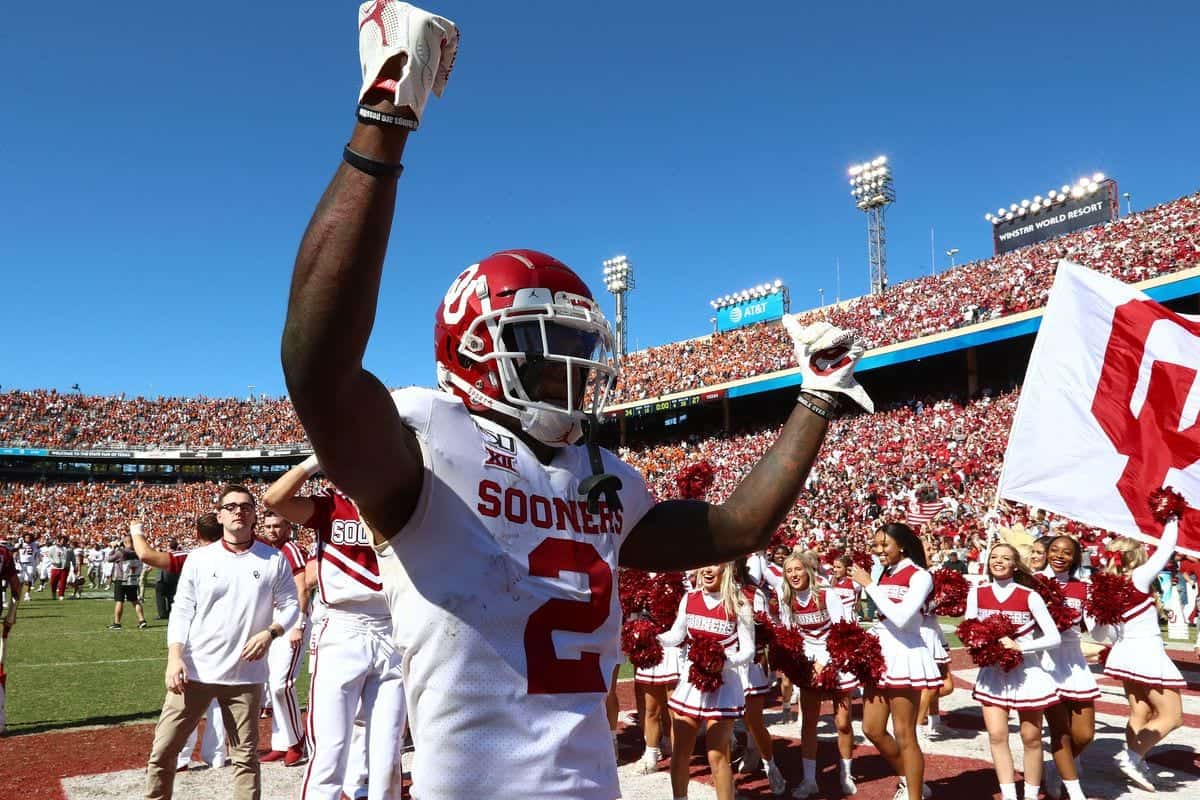 #16. Jacksonville Jaguars: CeeDee Lamb, WR, Oklahoma
DJ Chark has come along very well and looks to be an excellent threat for the Jaguars offense. However, the team still lacks a go to target who can move the chains and win on a down to down basis. Enter: CeeDee Lamb. My personal WR1, I believe Lamb possesses DeAndre Hopkins level potential, and if he can reach it, the Jaguars would possess the best young receiving duo in the NFL.
#17. Tennessee Titans: Jacob Eason, QB, Washington
Marcus Mariota isn't the guy. Neither is Ryan Tannehill, which means the Titans would love to be in a spot where they can select their choice of QB. Unfortunately, their roster is strong enough to win them enough games to be just outside the playoff race, and just outside the reach of the top QBs. However, that shouldn't stop them from taking one if the value is good enough. Jacob Eason has the best arm in the 2020 draft class and has repeatedly made throws that lead me to believe he could be the best in the class. However, he lacks consistency and refinement. Eason and Tennessee are a perfect match because the strength of the roster can make up for his occasional off-game.
#18. Detroit Lions: Henry Ruggs III, WR, Alabama
Potentially the fasted player in college, and maybe even the NFL. The Lions are lacking a receiver who can stretch the defense, and the value of Ruggs is too great to pass up. Ruggs is a serious contender to break the 40-yard dash record, and I'm not sure there's a quarterback who can utilize his speed better than Matthew Stafford.
#19. Carolina Panthers: Derrick Brown, DT, Auburn
Brown is unlikely to fall this far, but we've seen crazier things before. Brown is a wreaks havoc on opposing offenses. Whether it's shooting the gap and ending a run play, or it's carrying lineman into the QB for a sack. Brown does it all. The Panthers need interior depth and end up with a star. A duo of Brian Burns and Brown would give offensive lines nightmares.
#20. Jacksonville Jaguars: Trevon Diggs, CB, Alabama
Jags traded Jalen Ramsey, so why not use the first pick they got to replace him. Diggs is a similar player to Ramsey. They both possess elite length and strong athletic ability while possessing receiver level ball skills. Diggs should fit right in the scheme at Jacksonville that saw Ramsey be so successful.
#21. Dallas Cowboys: Javon Kinlaw, DT, South Carolina
Oh man, Kinlaw in a Rod Marinelli scheme is something frightful. The Cowboys are lacking talent in the interior defensive line, and it's hurting what could be a top-three defense. Kinlaw has flashes that surpass that of Derrick Brown, but a lack of consistency and a high-end motor is what's holding him back. Working for Marinelli will likely fix those issues. This is maybe my favorite pairing of the first round.
#22. Miami Dolphins(via Houston): D'Andre Swift, RB, Georgia
The Dolphins have struggled to run the ball all season, and after trading Kenyan Drake, it likely won't get any better. They need a back who can see the holes as they develop and can also be a weapon in the passing game. Swift fits the bill. He's a do it all back with really no weaknesses. Although he may never be Adrian Peterson, nobody will complain about having a back like Swift. He provides a boost in all facets of the game.
#23. Kansas City Chiefs: CJ Henderson, CB, Florida
The idea of CJ Henderson getting selected in the first round is, worrisome to me. Teams let corner Greedy Williams fall to the middle of the second round last year because he was a poor, almost scared tackler. Well, Henderson is much worse. With that being said, Kansas City is desperate for a cover corner, and we all know beggars can't be choosers.
#24. Minnesota Vikings: Lucas Niang, OT, TCU
The Vikings offensive line has been better this season. However, it's still far from being good. Lucas Niang is a high upside tackle prospect who lost the second half of this season to injury. That means he's getting an extra eight or so weeks to prepare for the NFL combine. Expect a good showing from Niang, followed by his name being called early.
#25. Buffalo Bills: Laviska Shenault, WR, Colorado
Shenault's stock is extremely hard to predict. Teams will love his physical traits but will be scared by his constant injuries and bad usage. The University of Colorado has done him no favors by the way they play him. The Bills are a team that can afford to take a chance. They're lacking star offensive powers and are currently being carried by their defense. A Josh Allen-Devin Singletary-Laviska Shenault trio would be full of potential, and damn hard to tackle.
#26. Indianapolis Colts: Marvin Wilson Jr., DT, FSU
Someone who has shocked me this season, Marvin Wilson Jr. has been absurd. His motor constantly runs hot, and at times plays like a man among boys. He's a constant headache in the backfield and hasn't even sniffed his full potential yet. he lacks discipline and can commonly overrun plays. He also lacks a pass rush repertoire and get off. However, most of the issues are coachable. The Colts need a force on their defensive interior, and Wilson is a great match.
#27. Seattle Seahawks: Xavier McKinney, DB, Alabama
The Seahawks secondary has held it together, for the most part, this season, however, they still lack talent. Something that would've been laughed at three years ago. Xavier McKinney is a corner/safety hybrid who thrives in coverage. He's exactly what the Seahawks are missing, and will be a nice addition to the defense.
#28. Green Bay Packers: Creed Humphrey, IOL, Oklahoma
Not necessarily the biggest need for the Packers, but Humphrey is the best player on the board. Humphrey is an instant upgrade over LG Billy Turner and would be an upgrade over C Corey Linsley too. Protecting Aaron Rodgers and opening holes for Aaron Jones is exactly what Creed Humphrey can do.
#29. Baltimore Ravens: Julian Okwara, EDGE, Notre Dame
The Ravens have been getting pitiful play by their edge rushers. 9 total sacks from their top-four edge rushers isn't exactly inspiring. Okawra is a strong athlete who possesses natural hands and projects perfectly into the Ravens 3-4 defensive scheme. Okwara could go for 9 sacks as a rookie.
#30: New Orleans Saints: Dylan Moses, LB, Alabama
A very exciting prospect, Moses sadly missed the entire season due to an ACL tear he received in the summer. Luckily, Moses will have more than a year to recover before the start of his rookie season and a lucky team will get him for a steal.
#31. San Francisco 49ers: Tyler Biadasz, IOL, Wisconsin
The Niners run the football more than anyone else in the NFL, so why not add the best-run blocker in the draft class? Biadasz could have been a top-50 pick last year but chose to return to school for his senior year. Biadasz is an instant upgrade over the current center Weston Richburg.
#32. New England Patriots: Raekwon Davis, DL, Alabama
Physical freak, Raekwon Davis was someone we viewed as a potential top 5 pick, two summers ago. Unfortunately, Davis has never lived up to his potential and we're left wondering if he'll ever reach it. What better place to develop into all you can be than New England?
Listen to the PFN Scouting Podcast
List to the PFN Scouting Podcast! Click the embedded player below to listen, or you can find the PFN Scouting Podcast on iTunes, Spotify, and all major podcast platforms.  Be sure to subscribe and leave us a five-star review! Rather watch instead? Check out the PFN Scouting Podcast on our Scouting YouTube channel.