Miami Dolphins head coach Mike McDaniel has constructed one of the league's most dynamic offenses through the first two weeks of the regular season. But it's not just the explosive nature of the unit that has been so impressive.
The fact that Miami put points on the board in each of its first two contests in wildly different ways makes McDaniel's attack even more dangerous. In Week 1, QB Tua Tagovailoa tore apart the Los Angeles Chargers' secondary. In Week 2, RB Raheem Mostert rumbled for over 120 yards on the ground.
And all this was done with arguably the most talented player on the offense not named Tyreek Hill. Four-time Pro Bowl left tackle Terron Armstead missed each of the team's first two matchups with a knee injury. Now, he has a real chance to suit up for Miami's Week 3 showdown with the Denver Broncos.
While Armstead is trending up, another key piece of Miami's offensive unit, star wideout Jaylen Waddle, has his status very much up in the air for Sunday.
Terron Armstead Hoping to Play, WR Jaylen Waddle Still In Concussion Protocol Ahead of Week 3
Update: Waddle was ruled out Saturday.
Waddle suffered a concussion during last week's 24-17 victory over the New England Patriots. The third-year pass catcher took an illegal helmet-to-helmet hit delivered by Patriots linebacker Marte Mapu and was quickly ruled out.
Waddle — listed on the final injury report as questionable — sat out of practice on Wednesday and Thursday before returning to limited action on Friday, sporting a red non-contact jersey.
"We'll see how he progresses, and we'll see what the medical staff tells him about his position in the [concussion] protocol," McDaniel said about Waddle's status for Sunday's game.
If Waddle is unable to take the field, expect Braxton Berrios and River Cracraft to see increased reps. Second-year pass catcher Erik Ezukanma, who was inactive for most of his rookie season, will also likely see more snaps at wide receiver.
Ezukanma has largely played a gadget-type role for Miami through two weeks, with five rushing attempts for 22 yards and one target.
MORE: Tua Tagovailoa on Much-Improved Miami Dolphins O-Line
Waddle's absence could also open the door for Cedrick Wilson Jr. to be active for the first time this season. Wilson restructured his contract this offseason to remain in Miami, but he's yet to see regular-season playing time.
Armstead, who is listed as questionable, appears to have a good shot of making his season debut just in time for Miami's home opener. "I'm optimistic," McDaniel said about Armstead's availability against the Broncos. "He's had a real good work week, and I feel good about where he's at. I'm hoping there's just green lights and no red lights until Sunday."
In Armstead's absence, veteran Kendall Lamm has been starting at left tackle and has played remarkably well. He currently sits 10th in the NFL in ESPN's pass block win rate among all offensive tackles, something Dolphins fans should be thrilled to see given Miami's struggles to protect Tagovailoa in games that Armstead missed last season.
The question now: Will Miami find space on the line for a player who's performing so well when he's removed from the left tackle spot to make way for Armstead?
The only other logical spot is right tackle, a position at which Lamm has plenty of experience after starting 13 games there with the Houston Texans in 2018.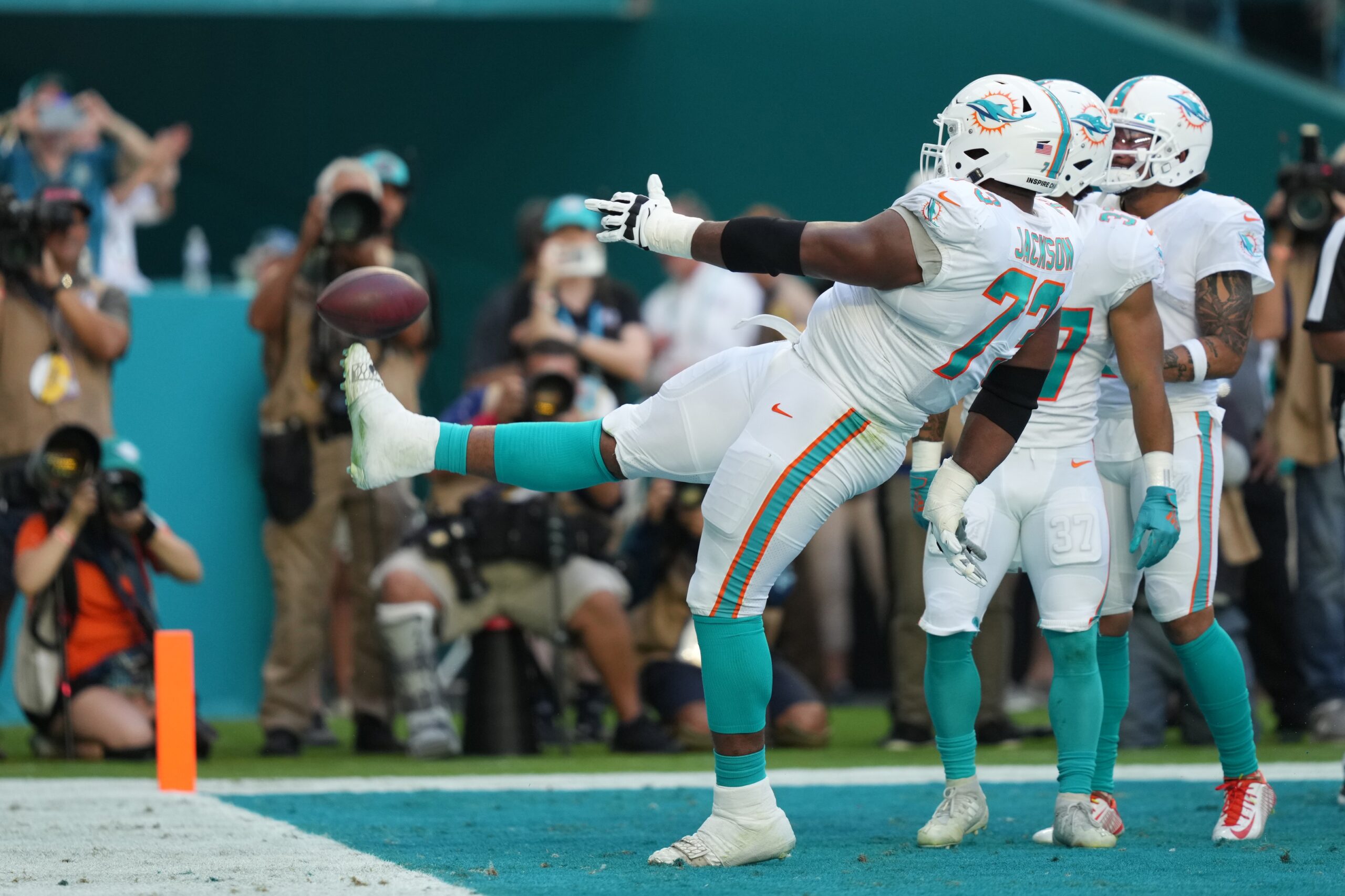 But Austin Jackson is currently the starting right tackle. Not only does Miami have a heavy investment in Jackson, who was a first-round pick in 2020, but he has also played above expectations.
Jackson struggled mightily both in terms of performance and injury over his first three seasons in the league, but he has shown substantial improvement through this season's first two games.
When asked about the possibility of removing Jackson to make way for Lamm at right tackle, McDaniel made it clear that, while all options are on the table, Jackson has made a positive impression thus far.
"Austin Jackson is playing awesome, and it's on Austin Jackson to continue his progress, which I'm very confident he will. If he doesn't, or if somebody gets hurt, you're not tied to anything when you have a group of people working together in one direction," the head coach explained.
Elsewhere on Miami's injury report, Jaelan Phillips, who officially has a questionable tag, appears ready to return to action following a brief one-game absence due to a back injury suffered in practice last week.
McDaniel made it sound like keeping Phillips out of Miami's victory over the Patriots was more about keeping an eye on the long game as opposed to a serious concern.
"He's doing good, and I feel very optimistic about him as well," McDaniel said about Phillips' status for this week. "You're fortunate enough to make decisions that aren't short-sighted with players that are as important to your team as Jaelan Phillips or Terron Armstead when you have a team that has a lot of capable contributors."
MORE: Tracking Every Week 3 NFL Injury
Miami's No. 2 running back, Salvon Ahmed, is listed as doubtful with a groin injury he suffered against the Patriots. Raheem Mostert will carry the load on the ground, while rookie third-round pick De'Von Achane, who was active for the first time last week, should continue to see his role expand.
Rookie undrafted free agent RB Chris Brooks, who has been active in both of Miami's games but has yet to see a carry, could be called upon to spell Mostert as well.
Denver Broncos at Miami Dolphins Week 3 Injury Report
Miami Dolphins
Doubtful
Questionable
OT Terron Armstead (back/ankle/knee)
WR Jaylen Waddle (concussion)
TE Tyler Kroft (back)
TE Julian Hill (ankle)
DB Elijah Campbell (knee)
DT Raekwon Davis (wrist)
LB Jaelan Phillips (back)
Denver Broncos
Out
LB Frank Clark (hip)
S Justin Simmons (hip)
Questionable