Lamar Jackson is making waves with the Baltimore Ravens right now as a former star quarterback at Louisville. Three years after he left, his successor, quarterback Micale Cunningham, is making national waves. Last season, Cunningham proved that he was a threat with both his legs and his arm.
Similar to Jackson, Cunningham is a dangerous dual-threat quarterback, but on tape, there are vastly different play styles between the two. On a broad scale, Cunningham has not received even close to the hype that Jackson has. However, he still has the tools to be a very intriguing riser. How high can Cunningham go?
[sv slug=mocksim]
Cunningham's tools are special
Cunningham's mentor is the aforementioned Jackson. They talk and text every single day. It is natural given some similarities in their skillsets, and the tape showcases some of that very dynamic ability between them both. However, Jackson is a far better natural athlete with the ball in his hands, and Cunningham has a pretty deep ball that deserves some recognition.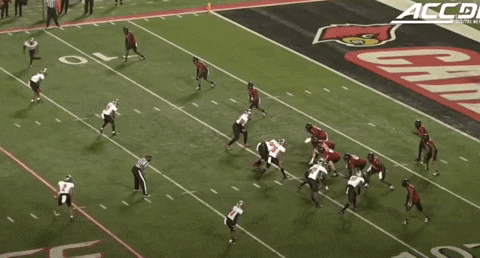 Cunningham has smooth mechanics. His release is swift and tight, and his feet are rather crisp. Cunningham's deep ball, as a result, is one of the prettier deep balls in the ACC. He does a nice job to hold the safety and essentially open up this play as a middle of the field open (MOFO) play and hits it.
Cunningham has a live arm and can push the ball down the field rather well. This one is right in stride thanks to Cunningham's arm strength and smooth mechanics. That was the first thing that stuck out from the Western Kentucky tape.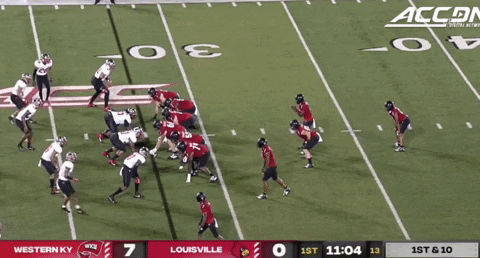 One of the best parts of Cunningham's game is his play out of structure. The rollout was designed well, and he did not face a ton of pressure from Western Kentucky on the night, but it showcases what he does outside the pocket well. Cunningham makes great off-platform throws on the run. This is a perfect pass off his base as he is jumping. He maintains his eyes downfield and has a pass-first mentality outside of the pocket. For an athletic quarterback, Cunningham's last resort is taking off with his legs.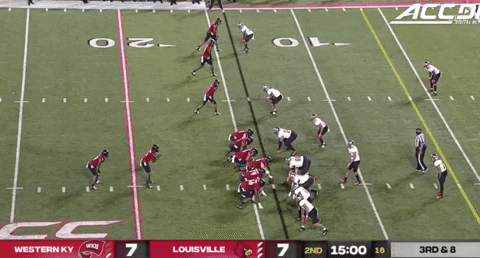 Cunningham is always a threat with the ball in his hands, however. He does an excellent job of seeing and avoiding the rush, and realizing that the blitz has left all the run fit gaps vacant. With his speed and explosiveness, it was always going to be a touchdown here. He makes it look easy here, but he has some moves and is shifty in the open field, too.
One key problem for Cunningham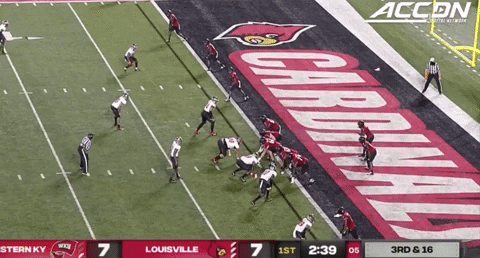 Cunningham has far too many turnover worthy throws. He is a blast and gets away with this risk here, but he is lucky. Against higher-level competition, I suspect this is an interception. The issue is a processing one, where Cunningham too often relies on his arm and misses changes in the post-snap picture. He has to read through his progressions much better and know the situational hot route based on the coverage he sees, even if that changes. If he does not, turnovers could be the reason he falls.
Outlook for quarterback Micale Cunningham
It was yet another good performance for Cunningham against Western Kentucky, kicking off his Junior season. The concerns in his game are obvious. Cunningham still struggles with some anticipation skills and makes too many bad decisions based on an overall incorrect process post-snap. He has to fix how he uses his eyes to look off safeties as well to create open receivers.
Related | What is Jamie Newman's NFL Draft outlook after opting out?
There is no denying there is some element of Lamar Jackson here, but Cunningham is too different to be compared directly to him. His live arm, dynamic athleticism, and ability to win out of structure with ease are encouraging similarities, however. The accuracy and playmaking ability are there. Cunningham has the requisite tools to make some noise if he declares for the draft.
I sincerely doubt he will be a first-round pick. The mental processes are a little too hard to overlook for teams. On the other hand, there is no reason why he can not be a high-upside day two pick. Cunningham embraces his strengths and showcases abilities that few other quarterbacks have. That alone makes him intriguing. His ceiling makes him a legitimate prospect to watch as the season goes on.
Listen to the PFN Scouting Podcast
Listen to the PFN Scouting Podcast! Click the embedded player below to listen, or you can find the PFN Scouting Podcast on iTunes, Spotify, and all major podcast platforms.  Be sure to subscribe and leave us a five-star review! Rather watch instead? Check out the PFN Scouting Podcast on our Scouting YouTube channel.