Under Jeff Brohm, can the Louisville Cardinals start to climb up the ranks in the college football world? Here's a look at what the Cardinals' corps will look like in 2023 and how many 2024 NFL Draft prospects they might have on deck next April.
Louisville Cardinals Roster and Depth Chart Changes
More than most programs, Louisville has been rebuilt by the transfer portal in the 2023 offseason. Five of the Cardinals' projected starters on offense are transfer additions, including QB Jack Plummer, who'll replace Malik Cunningham. Several more rest on the defensive side, and there are over a dozen more transfer additions filling out the roster's depth.
Of course, the changes of scenery on offense amount more to retooling. On defense, it's replenishment that Louisville will need after losing YaYa Diaby, Yasir Abdullah, and Kei'Trel Clark to the 2023 NFL Draft. Ashton Gillotte will now anchor the team's EDGE rotation, and he'll be joined by Stanford transfer Stephen Herron.
In the secondary, the Cardinals added a coveted transfer portal player in Storm Duck at CB and also brought in Cam'Ron Kelly to bolster the safety room. It may take time for all these new pieces to come together for Louisville, but the team at least appears ready to go through ACC play.
Louisville Cardinals NFL Draft Prospects
Jack Plummer, QB
Jack Plummer started his career with Jeff Brohm at Purdue, trading hands with Elijah Sindelar and Aidan O'Connell for the starting job before he lost out and transferred to California in 2022.
With the Golden Bears, Plummer found new success, completing 282 of 451 passes for 3,095 yards, 21 touchdowns, and nine picks. Plummer's arm and athleticism are both average at best, but the 6'5″, 215-pound QB flashes solid situational precision.
Jawhar Jordan, RB
Jawhar Jordan is the Cardinals' top returning rusher, having amassed 142 carries for 815 yards and four touchdowns in 2022. Having Malik Cunningham alongside him as a rushing threat undoubtedly helped take pressure off Jordan, but the 5'10", 180-pound runner has some appealing qualities. He's not incredibly explosive or fast for his size, but Jordan has some snappy short-area movement, and he shocks defenders with his physicality downhill.
Isaac Guerendo, RB
Jordan will still command plenty of volume for Louisville, but Isaac Guerendo is a potential breakout candidate after putting up 500 yards from scrimmage and six touchdowns at Wisconsin in 2022.
At 6'1″, 225 pounds, Guerendo looks like a traditional workhorse — and he plays like it with his toughness and contact balance. But he's also an urgent runner with ample foot speed, the hip flexibility to adjust attack angles, and the speed to stretch open seams.
Jamari Thrash, WR
We've seen wide receivers flourish in Brohm's system before, and Jamari Thrash is situated to be the primary beneficiary in 2022. Thrash was a fringe All-American for Georgia State last season, picking up 1,122 yards and seven touchdowns on 61 catches. He might not test as an elite vertical athlete, but Thrash is already an expert blind-spot manipulator, a nuanced separator, an instinctive catcher, and a surprisingly physical RAC threat at 6'1″, 180.
Jadon Thompson, WR
Amidst the Brohm renaissance at Louisville, no WR is worth overlooking. And Jadon Thompson — a 6'2″, 185-pound long-strider with shiftiness, burst, and speed — could be a player who takes a step up.
At Cincinnati in 2022, Thompson caught 27 passes for 393 yards and a touchdown. He also housed a kick return. Thompson has the necessary physical tools, and a chance in a more stable passing offense could yield dividends for his development.
Ahmari Huggins-Bruce, WR
Entering his third season with the Cardinals, Ahmari Huggins-Bruce has yet to eclipse 31 catches, 444 yards, or four touchdowns as his career highs. At 5'11", 170 pounds, Huggins-Bruce might not have the play strength to take on heightened volume, but he's at least an able separator who can track passes over his shoulder. He's also a good run blocker for his size. Brohm's arrival could help Huggins-Bruce gain more opportunities.
Joey Gatewood, TE
Joey Gatewood was a highly-rated dual-threat QB in the 2018 recruiting class. But after several years of marginal production at Auburn, Kentucky, and UCF, he's now starting the next chapter of his football career as a tight end at Louisville.
The 6'3″, 230-pound positional convert has proven his mettle as a rushing threat with dual-sided toughness and suddenness. That natural running ability could translate well in the RAC phase.
Renato Brown, OT
Renato Brown carries some intrigue as a potential OT sleeper in the 2024 NFL Draft. As of now, the 6'4″, 315-pound blocker is still likely a PFA at best, but Brown has upside to note.
He does need to strengthen his lower body and incorporate his base more in general. Brown can also struggle at times with his pad level. But Brown flashes good quickness and change of direction for his size, is an assignment-sound run blocker, and has the length to drive power.
Eric Miller, OT
Following Brohm to Louisville, Eric Miller will close out his collegiate career manning one of the Cardinals' tackle spots. Miller's already started games at both left and right tackle for Purdue, proving his versatility, which is one of Miller's more appealing traits.
Despite being underweight at 6'7″, 305 pounds, Miller's not an explosive or a free-flowing recovery athlete. He's likely a PFA at best but a good college OT.
Bryan Hudson, C
Bryan Hudson has played tackle, guard, and center before, and that versatility alone may earn him fans on the 2024 NFL Draft circuit. But for the 2022 and 2023 stretch, he's set to play out as the Cardinals' full-time starting center.
Despite being 6'4″, 305 pounds, Hudson's leverage can be inconsistent, and he lets opponents into his frame too easily. Still, Hudson surges into contact at the second level and has the shock in his hands to delay rushes.
Jermayne Lole, DT
Jermayne Lole has scarcely played for two full seasons. He missed the entire 2021 campaign after suffering a triceps injury near the tail end of the 2020 season. And then, in his first game at Louisville in 2022, he again suffered a season-ending injury.
It's been a long time since Lole put up 6.5 sacks and 10 tackles for loss in a breakout 2019 showing. He'll need to prove he's 100%, but the 6'3″, 320-pound DT has the size, lateral twitch, and violent hands to make an impact.
Dezmond Tell, DT
If Lole is healthy, he's the primary name to keep tabs on within Louisville's interior defensive line rotation. But also keep an eye on Dezmond Tell, who logged two sacks and 4.5 TFLs in 2022.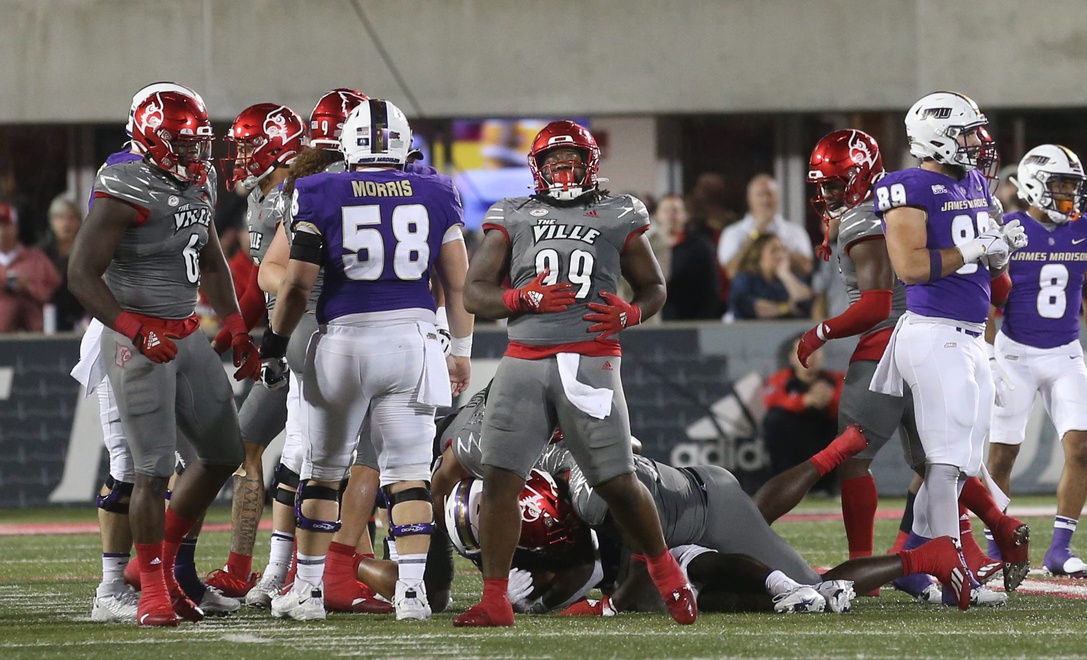 The 6'1″, 290-pound Tell doesn't have the mass or solidity at contact that Lole does, and he's not an overly dynamic or fluid mover at his size. But at the very least, Tell can stunt across alignments and absorb hits with his frame, and he has a good motor.
Ashton Gillotte, EDGE
Last cycle, the Cardinals produced an early-round pick at EDGE in Diaby. In the 2024 NFL Draft cycle, they could mirror those results with junior defender Ashton Gillotte.
The Boca Raton product stands around 6'3″, 270 pounds, and logged seven sacks and eight TFLs in 2022. He has a very unique frame and physical makeup — one that blends qualities like burst, bend, leverage, density, length, and power together into a venerable mix.
Stephen Herron, EDGE
Gillotte is the primary force in Louisville's EDGE rotation, but Stephen Herron gives the Cardinals an ideal veteran complement. Herron comes to Louisville after four seasons at Stanford, including a career-best 2022 campaign that saw him put up 5.5 sacks and 6.5 TFLs.
At 6'4″, 240 pounds, Herron has a degree of quickness and bend capacity that can stress tackles. He also has the length to attack the torso and capitalize on imbalance.
Mason Reiger, EDGE
Strengthening the Cardinals' EDGE rotation further is redshirt junior Mason Reiger. The 6'4″, 250-pound defender distinguished himself as a pursuit player and run support asset in 2022, with seven TFLs to his name.
Reiger doesn't have as much pass-rushing production to this point, with just two sacks across two seasons. But there's hope another offseason of development can further hone that part of his game.
Jarvis Brownlee Jr., CB
After transferring to Louisville from Florida State, Jarvis Brownlee Jr. put up career-best numbers, amassing 66 tackles, 2.5 TFLs, two interceptions, and 12 pass deflections in a standout 2022 campaign.
Brownlee is a tenacious and aggressive cornerback, and that style can sometimes invite volatility. But Brownlee is an extremely energetic mover at 6'0″, 190 pounds, with the torrid foot speed and corrective mobility to engulf receivers.
Storm Duck, CB
A three-interception and nine-deflection showing in 2022 earned Duck interest on the transfer trail. He initially chose to make the move to Penn State but eventually recanted that commitment and instead transferred to Louisville.
At 6'1″, 200 pounds, Duck is a rocked-up CB who tipped the food chain on its head, eating Hurricanes, Cavaliers, and Demon Deacons in 2022. Duck lacks Brownlee's suddenness, but he wins with physicality and keen eye discipline.
Quincy Riley, CB
Rounding out the Cardinals' talented CB trio is Quincy Riley, a springy catch-point menace who's made a career out of terrorizing risk-indulgent QBs. Riley logged five picks and nine pass deflections with Middle Tennessee State in 2021, before carrying his playmaking ways over to Louisville in a 2022 campaign that saw him add three more picks and a pick-six against Wake Forest. With Kei'Trel Clark gone, Riley might step into his role.
Benjamin Perry, DB
Though he likely won't declare for the 2024 NFL Draft as a redshirt sophomore, Benjamin Perry is an intriguing player to follow within Louisville's talented secondary.
The 6'3″, 205-pound Perry is slated to man the hybrid slot, or "STAR" position, after putting up 43 tackles, a TFL, and three pass deflections in 2022. While his long and lanky frame doesn't always bear fruit in space, Perry's intelligent beyond his years and can ID underneath routes.
Josh Minkins, S
In a very deep 2024 NFL Draft safety class, Josh Minkins is perhaps another name to know. The 6'2″, 195-pound Minkins had a career-best season in 2022, registering 55 tackles, two TFLs, a sack, one pick, three pass deflections, and a forced fumble.
He's a willing support defender whose long-strider build grants him solid range. Even beyond that, however, Minkins has the foot quickness to recalibrate in space and is very patient playing overtop routes.
M.J. Griffin, S
At 6'1″, 210 pounds, M.J. Griffin might overlap more with Kenderick Duncan's previous role in 2023. Griffin, a former Temple transfer, has been a respectable producer since 2021, and he has the size and density to roam in the box and make his presence felt. But at the same time, he's also proven to make plays in coverage; his two interceptions in 2022 serve as corroborating evidence.
Cam'Ron Kelly, S
Cam'Ron Kelly initially chose the Virginia Cavaliers as his intra-conference transfer destination, but he'd soon re-enter the portal and sign on with Louisville. At 6'2″, 210 pounds, Kelly has good size, as well as a degree of functional versatility and playmaking ability for his size. He showed glimpses of his ball-hawk potential in multiple zones with four interceptions in 2021, even without overly dynamic athleticism.
Louisville Cardinals Schedule
Week 1
BYE
Week 2
Sept. 1: vs. Georgia Tech Yellow Jackets
Week 3
Sept. 7: vs. Murray State Racers
Week 4
Sept. 16: vs. Indiana Hoosiers
Week 5
Sept. 23: vs. Boston College Eagles
Week 6
Sept. 29: at NC State Wolfpack
Week 7
Oct. 7: vs. Notre Dame Fighting Irish
Week 8
Oct. 14: at Pittsburgh Panthers
Week 9
BYE
Week 10
Oct. 28: vs. Duke Blue Devils
Week 11
Nov. 4: vs. Virginia Tech Hokies
Week 12
Nov. 9: vs. Virginia Cavaliers
Week 13
Nov. 18: at Miami Hurricanes
Week 14
Nov. 25: vs. Kentucky Wildcats
Week 15
BYE
Listen to the PFN Scouting Podcast
Listen to the PFN Scouting Podcast! Click the embedded player below to listen, or you can find the PFN Scouting Podcast on iTunes, Spotify, and all major podcast platforms.  Be sure to subscribe and leave us a five-star review! Rather watch instead? Check out the PFN Scouting Podcast on our Scouting YouTube channel.