The first thing that will catch the eye of most fans that watch dynamic, speedy receivers is that track speed itself. The impressive nature of watching these guys run at speeds the average Joe can not even fathom is one of the mystical wonders of sports itself. However, that often can allow their other impressive traits to lurk in the shadows. For impressive Alabama speedster Jaylen Waddle, that trait is his underrated route running.
What makes Waddle's route running so underrated, and how does he use his speed as a weapon to enhance it?
[sv slug=mocksim]
How Waddle uses his speed as a threat
Now, to give context to Waddle's route running, you can not avoid talking about his explosiveness, quickness, and speed. When it comes down to it, those natural athletic gifts are the very base of Waddle's game. His route running is a mere branch off of all those athletic tools that he has. Still, as a technician, Waddle is better than people give him credit for.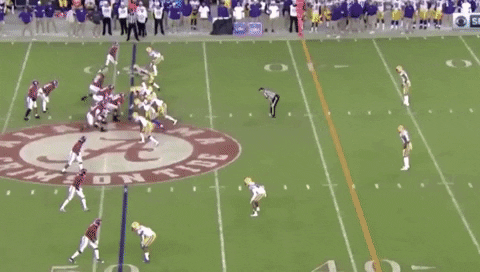 This is a nasty route, and it has everything to do with Waddle's elite speed. The vertical threat of him taking this right up the seam gets the safety on his heels. However, there is a little bit more to this route than just the fact that Waddle is so fast and can threaten the vertical plane so effectively.
Related | 2021 NFL Draft: Receivers Smith and Waddle next great Alabama duo
Waddle does a terrific job of giving that inside job to threaten the vertical route. What that jab does so effectively is close the space between him and the defender, thus throwing the defender off balance and giving Waddle separation. The key to this dig route is how Waddle flattens it out after that pressure step. He pumps his arms inside his frame and runs a very clean, flat route. Waddle is open here due to a mix of technical ability and natural tools.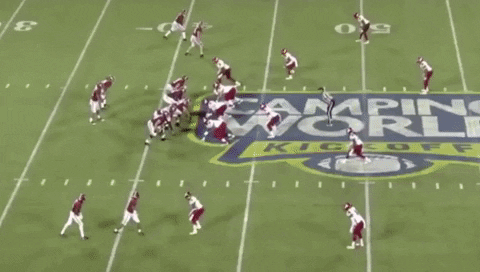 When you combine deadly speed with great body deception, you have a recipe to be a lethal deep threat. Waddle does a great job of using a violent head and shoulder fake commits his eyes and gets the defensive back to flip his hips. A speed turn will not even be enough to recover, as Waddle's speed is simply too much. A sneaky arm over to avoid contact from the defensive back allows Waddle to maintain separation and stack the defensive back. That is how you use speed as a weapon in your route running.
How Jaylen Waddle creates separation using route running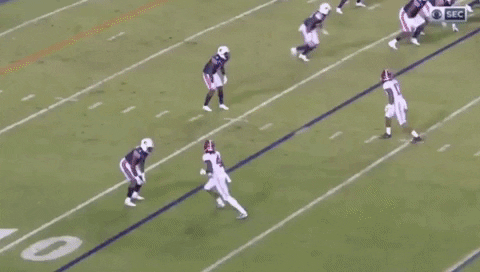 Again, this is the art of deception by Waddle. He does a fantastic job of selling routes right off the line of scrimmage. Alabama uses Waddle prevalently over the middle of the field, and Waddle uses that to his advantage.
Related | The best slot receivers in the 2021 NFL Draft
He sells that he may go over the middle here with his eyes and hips as he stems inside. That causes the defensive back to turn inside and open the gate outside. After that, Waddle does a great job of accelerating to the sideline to create separation and get this touchdown.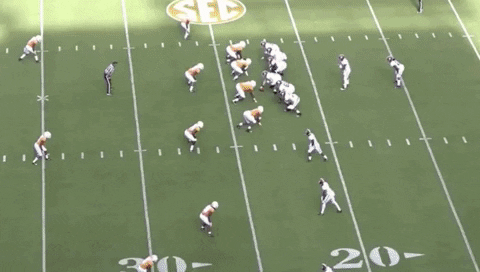 Waddle's vertical route running is ridiculously impressive. A lot of it comes down to how good he is at stemming his routes to get defensive backs to hesitate and open their hips. On this play, Waddle takes a sharp outside stem and entirely sells as if he is going to push right up the seam.
By pumping his arms, he sells that vertical exceptionally well. The defensive back is on his heels once Waddle is on him, and thus opens his hips up to the outside. As he did against LSU, Waddle does a fantastic job of pumping his arms to take an angle on this route to create separation.
Waddle's 2021 NFL Draft outlook
With elite speed, quickness, and explosiveness, Waddle already has the makings of a high draft pick. More and more, the need for speed is showing up with NFL teams grabbing speed demons off the board early. Henry Ruggs, John Ross, and Marquise Brown all show this to be true. Waddle is likely the next one in the line of those players.
Waddle has true, teach tape route running form for smaller, speedy receivers. There are many nuances that he has down. The art of deception for a wide receiver is one of their biggest strengths over defensive backs, especially when you have as much speed as Waddle. Everything he has in his game merits a high draft pick as well. Waddle looks like he could be a future game-changer that defenses will have to scheme around. In a word, Waddle is magnetic and is an exciting prospect.