We don't often see a top-three player at their position traded right before the beginning of the league year, but the NFL was treated to a meteoric trade when the Miami Dolphins traded for Jalen Ramsey from the Los Angeles Rams earlier this year.
The Dolphins were already among the favorites to make a deep playoff run before the trade, but now, they look like they could have a top-tier defense. But a trade always has multiple components. Who were the real winners and losers of the Ramsey trade?
Jalen Ramsey Trade Details
Ramsey was traded on the first day of the NFL league year, March 15, 2023.
The Dolphins received:
The Rams received:
TE Hunter Long
2023 third-round pick, No. 77 overall (EDGE Byron Young)
The Rams retained the third-round pick they received from the Ramsey trade, choosing to select Tennessee edge defender Byron Young.
The Dolphins, meanwhile, extended Ramsey to a three-year, $55 million deal. There are two void years added to the deal to spread out the impact of the $8.8 million signing bonus, with $35.5 million of the contract guaranteed at signing. Ramsey doesn't have rolling guarantees attached to his contract, but his 2025 roster bonus will be guaranteed near the beginning of the 2025 league year.
Players Involved in the Jalen Ramsey Trade
There are few players directly involved in the Ramsey trade. In addition to the cornerback himself, tight end Hunter Long was traded as part of the trade compensation to Los Angeles. Young, as mentioned, was drafted by the Rams with the pick they acquired from Miami.
Winners and Losers from the Ramsey Trade
The Rams are not in a position to compete meaningfully for a title next year. They have more rookies on their roster than any other team in the NFL, and that's by design. L.A. has excised most of its veteran talent, with the exceptions of Matthew Stafford, Aaron Donald, and Cooper Kupp.
It became pretty clear to Ramsey that he didn't want to be a part of that and so moved the team to initiate a trade out in order to continue competing. He was apparently so committed to this particular prospect that he prayed for a trade for a month.
On top of that, the Rams had the opportunity to get out from under an impending roster bonus that would have come into effect on the fifth day of the 2023 league year — $7.5 million guaranteed that they would be liable against the cap for. Even so, Los Angeles is still liable for $19.6 million of Ramsey's contract on this year's cap.
The trade did, however, immediately save $5 million against the cap and prevented another $7.5 million from guaranteeing and making his contract difficult to offload.
Ramsey is still a high-level NFL corner. Pro Football Network's CB power rankings place him as the second-best cornerback in the league, and he finished the season with the third-highest PFF grade at the position. Even at 28 years old, that type of play would typically earn a first-round pick — even with a burdensome contract.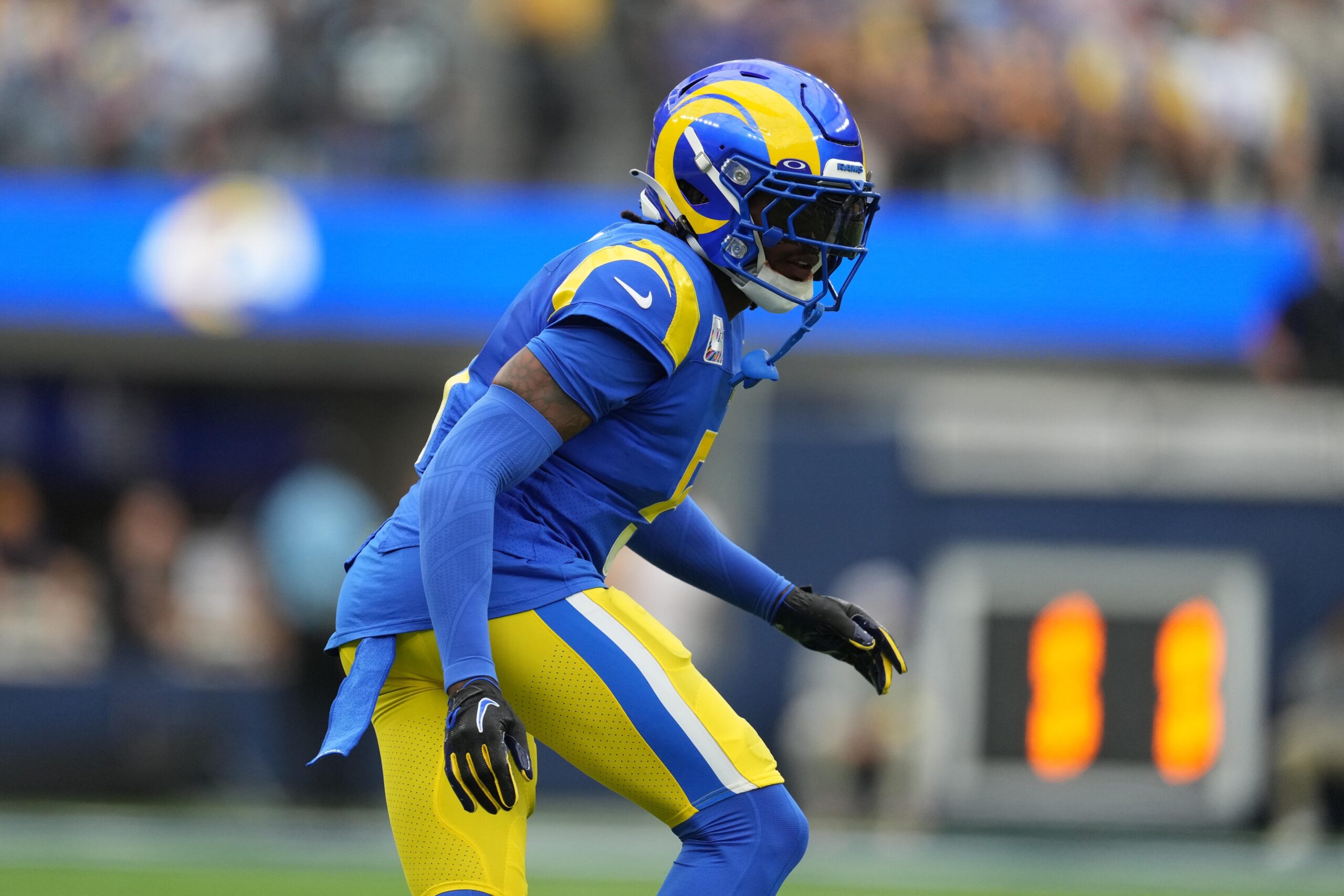 The Rams come out as losers on the trade because they took on a big cap hit to offload him and received just a third-round selection and backup tight end.
Ramsey himself comes out as a big winner. Not only did he sign a new deal — and therefore added to his projected $9.6 million cash flow with another $10 million in instant earnings — he also finds himself genuinely competing for a ring with Miami, who has a stellar roster when healthy. Pairing Ramsey with Xavien Howard could mean a high-level defense to pair with their high-flying offense.
That means that the Dolphins come out as winners, too. Miami let go of Byron Jones after a disappointing three seasons, the last of which was marred by an injury that took him out for the entire year. This replacement allows them to field a fierce starting unit while retaining some of their excellent depth, including Nik Needham. With newly acquired Bradley Chubb up front with Jaelan Phillips, Miami seems to have the basic formula to produce an elite defense.
Long ends up as a bit of a loser as well. He wasn't traded to a team that doesn't have a clear pathway to snaps, especially if the Rams continue to play in three-receiver sets. He won't displace Tyler Higbee and could even lose out to 2020 fourth-round pick Brycen Hopkins or rookie fifth-rounder Davis Allen.
On top of that, there's a good chance that the passing game won't recover with Stafford's return. When healthy last year, he was a liability, and at his age, he's less likely to return to form. Even if Stafford's the same quarterback he was in 2021, the offensive line has gotten worse, and so has the receiving environment. It's simply more difficult to generate receiving yards and use those yards to earn a bigger contract.
Conversely, Young is a bit of a winner. While the Rams aren't likely to be a very good team in the near future, they could be a contender in the future with the Tennessee EDGE under contract. Young has a clear path to starting and will get to play alongside Donald, the best defender in the NFL. He's in a very good environment.
It's a big trade that should have enormous ramifications for the AFC East and the NFL, but the number of direct winners and losers is relatively small.