The Denver Broncos surprised onlookers when they decided to trade Bradley Chubb to the Miami Dolphins. The Broncos and Dolphins were headed in opposite directions as a franchise, however, and it allowed both teams to better achieve their goals. Denver received assets to build for the future, and Miami was able to round out a team better capable of challenging in the AFC East.
Even so, Denver found itself moving multiple elite pass rushers over just a couple of seasons — first losing Von Miller, then Chubb. Not only that, they let Shaquil Barrett walk in free agency just a few seasons prior, establishing a consistent pattern of developing or acquiring high-level pass rushers before letting them go.
It's not as if the Broncos were ever wrong to do it, but it certainly makes for an intriguing storyline. At the same time, it helped shift the balance of power in the NFL's toughest division and could mean we have a new set of dynasties emerging.
Bradley Chubb Trade Details
Chubb was traded to Miami on the day of the NFL trade deadline for the 2022 season, which was Nov. 1.
The Miami Dolphins Received:
EDGE Bradley Chubb
2025 fifth-round pick
The Denver Broncos Received:
RB Chase Edmonds
2023 first-round pick, No. 29 overall (DT Bryan Bresee)
2024 fourth-round pick
The Broncos traded the 29th overall pick they received from the San Francisco 49ers by way of the Dolphins to the New Orleans Saints, along with a second-round pick in 2024. In so doing, they received a new head coach (Sean Payton) and a 2024 third-round pick.
Players Involved in the Bradley Chubb Trade
Chase Edmonds was directly traded for Chubb, so he's the most clearly impacted player, though players like Jaelan Phillips, Christian Wilkins, Emmanuel Ogbah, and others were impacted by the decision as well.
Edmonds' career was already in a rocky place when he was traded. The Broncos let him play out the season as part of a rotation replacing the injured Javonte Williams before releasing him in March. The pick that was traded for Chubb ended up being used to select defensive tackle Bryan Bresee by the Saints.
Winners and Losers from the Bradley Chubb Trade
According to Seth Walder at ESPN Stats & Info, Phillips was double-teamed by pass protectors at about a league-average rate throughout the year until the week Miami traded for Chubb. After the trade, Phillips' double-team rate dropped, and he ended the season with one of the lowest double-team rates among high-performing edge defenders.
Double team rate at Edge (x) by pass rush win rate at Edge (y) for the 2022 NFL season.

(ESPN / NFL Next Gen Stats) pic.twitter.com/PDSa4L5xTs

— Seth Walder (@SethWalder) January 13, 2023
Phillips is certainly a winner of the process, and the added pass-protection attention Chubb received freed up Phillips to do more, which is why his pass-rush win rate went up after the trade. Wilkins, a high-level defensive tackle, should also see a bump in performance just from the effect of having Chubb on the team.
Despite significant injuries across Miami's defense — Ogbah, Brandon Jones, Nik Needham, and Trey Flowers all missed the second half of the season — the defense actually improved after adding Chubb, mobbing up from 23rd in EPA per play allowed to 19th.
It's difficult to find pass rushers of Chubb's quality in the draft, especially given the fact that the pick they traded, San Francisco's selection, was going to be a late first-rounder. It's not a clean win, of course. Miami had to offer Chubb an extension commensurate with his market value and will absorb a big hit in 2024 as a result.
Still, Miami has acquired the player they thought they were acquiring and did so at a market rate. They come out as slight winners after accounting for the onerous contract.
That contract might be a reason to consider Chubb a bit of a winner as well. He may have been able to get a better contract in free agency, but he receives his second-contract money much sooner than most first-round picks, and it helps make up for some of the annoyances that come with the fifth-year option (receiving below-market value money from a team that has clearly acknowledged his level of talent).
Receiving $33.4 million in guarantees, including $13.7 million up front, has to be a nice welcome to Miami. And the signing bonus is tax-free.
Denver was not so lucky. They went from first in EPA per play through the first eight weeks of the season to 25th, plus their sack rate was cut in half in the second half of the season.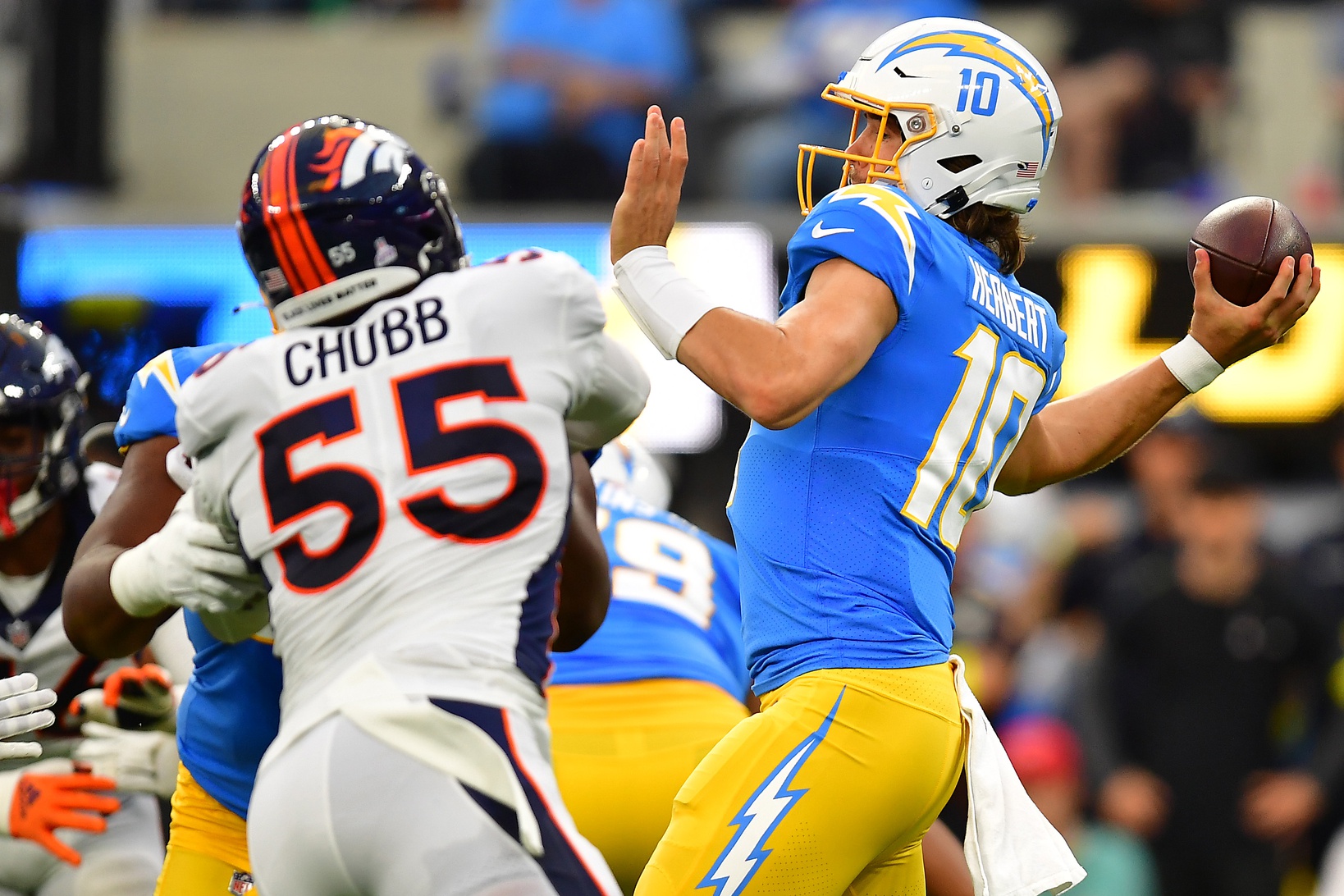 That said, after using the pick to acquire a new head coach, the trade-off might be worth it for Denver.
Payton is already on his way to the Hall of Fame as a head coach and could turn the team around. After having gone through a season of Nathaniel Hackett, the Broncos know the difference between a good coach and a bad one.
Payton could help turn Russell Wilson around, and that alone would be worth the price of the trade. Even if he doesn't, he'll remain the coach of the Broncos as they navigate whatever future they have in store, and that has immense value.
It's possible that Payton's best days as a coach are behind him, in which case the trades look worse in hindsight. But the odds are pretty good, and the Broncos certainly come out winners here, even though the personnel on their team has clearly become worse on paper.
Baron Browning comes out as a winner as well. He had been playing well before the Chubb trade and, because of an injury to Randy Gregory, ended up starting before Chubb was traded. Browning thrived in that starting role, and he's slated to start again — this time alongside Gregory.
By the same token, the Dolphins' Ogbah ends up as a bit of a loser in the trade. He'll end up taking fewer snaps as Chubb and Phillips dominate the snap counts for edge rushers. However, it should be noted that Melvin Ingram, who is no longer on the team, will likely have more snaps "replaced" by Chubb than Ogbah will.
In the sense that Edmonds had signed with Miami and wasn't able to stay there for the better part of a season, he lost from this trade. He seemingly has an affinity for the state, as he returned to Florida to sign with the Tampa Bay Buccaneers for the 2023 season.
From a quality-of-life perspective, it's clearly a hindrance for Edmonds. But from a contract and playing status perspective, it's probably a wash. Edmonds never earned starter status in Arizona and didn't expect that in Miami. He was traded to Denver as a throw-in, and though getting cut likely stung, he probably knew that was part of the package.
All in all, the biggest winners seem to be Chubb's new teammates.