Shortly before the start of this year's NFL free agency period, the Green Bay Packers signed running back Aaron Jones to a new contract, reportedly worth $48 million over four years. Jones has performed at a high level for the last two years, so he was likely going to get a big contract somewhere. The question is, should the Packers have spent so much money on a running back?
Aaron Jones' traditional statistics speak for themselves
Jones has been one of the NFL's most productive running backs over the last two seasons. In 2019, he rushed for 1,084 yards and 16 touchdowns, along with 474 yards and 3 touchdowns through the air. Then, he followed up that performance with 1,104 rushing yards, 355 receiving yards, and 16 total touchdowns in 2020, despite missing two games.
[sv slug="drizly"]
In total, his yards from scrimmage ranked inside the top 10 in both 2019 and 2020. Those are undeniably excellent statistics, and they seem to indicate that Aaron Jones deserves his massive new contract. However, the advanced metrics don't reflect on him so favorably.
Despite his box score statistics, Jones' advanced metrics are underwhelming.
Aaron Jones' traditional statistics look great on the surface, but according to the Offensive Value Metric (OVM), he hasn't contributed as much to Green Bay's offense as you might think. The OVM is a grading system created by the (Bx) Movement to measure players based on how much value they provided to their respective offenses.
Jones' overall OVM grade from 2020 was 8.44. That isn't terrible for a running back, but it is far from extraordinary. Compared to all other qualifying players at the position from last season, Jones' grade ranked in the middle of the pack. Despite his impressive box score statistics, Jones' OVM grade indicates that he provided less value to his offense than many of the NFL's other running backs.
Many of Aaron Jones' advanced metrics are excellent, but one particularly holds his OVM grade back
To explain Jones' relatively low OVM grade, we need to look at the advanced metrics that go into calculating those grades for running backs.
On many of them, he actually performed quite well. In 2020, Jones averaged 5.5 yards per carry — the third-highest average in the NFL. That number was 0.9 yards higher than expected, the sixth-highest differential. Jones also had the ninth-lowest efficiency rating among all qualifying running backs. In simple terms, that number means he ran 3.44 yards of physical distance for each statistical yard he gained.
Related | Dynasty Running Back Rankings: Top assets heading into 2021
All of those are excellent statistics. The problem for Jones is that OVM grades are calculated relative to a player's situation. And opposing defenses only had eight or more defenders in the box against Jones on a relatively low 19.4% of his snaps. Because of that low amount of resistance, all of Jones' other statistics look less impressive. He ranks highly in many categories. However, he needed to work less hard than many other running backs to earn those numbers.
Jones' weekly grades were inconsistent last season
In addition to his overall OVM grade being quite low, Aaron Jones' OVM grades also varied dramatically from week to week. The chart below shows his OVM grades from each week of the 2020 season, represented by the black dots. The yellow line represents the regular season average grade for running backs.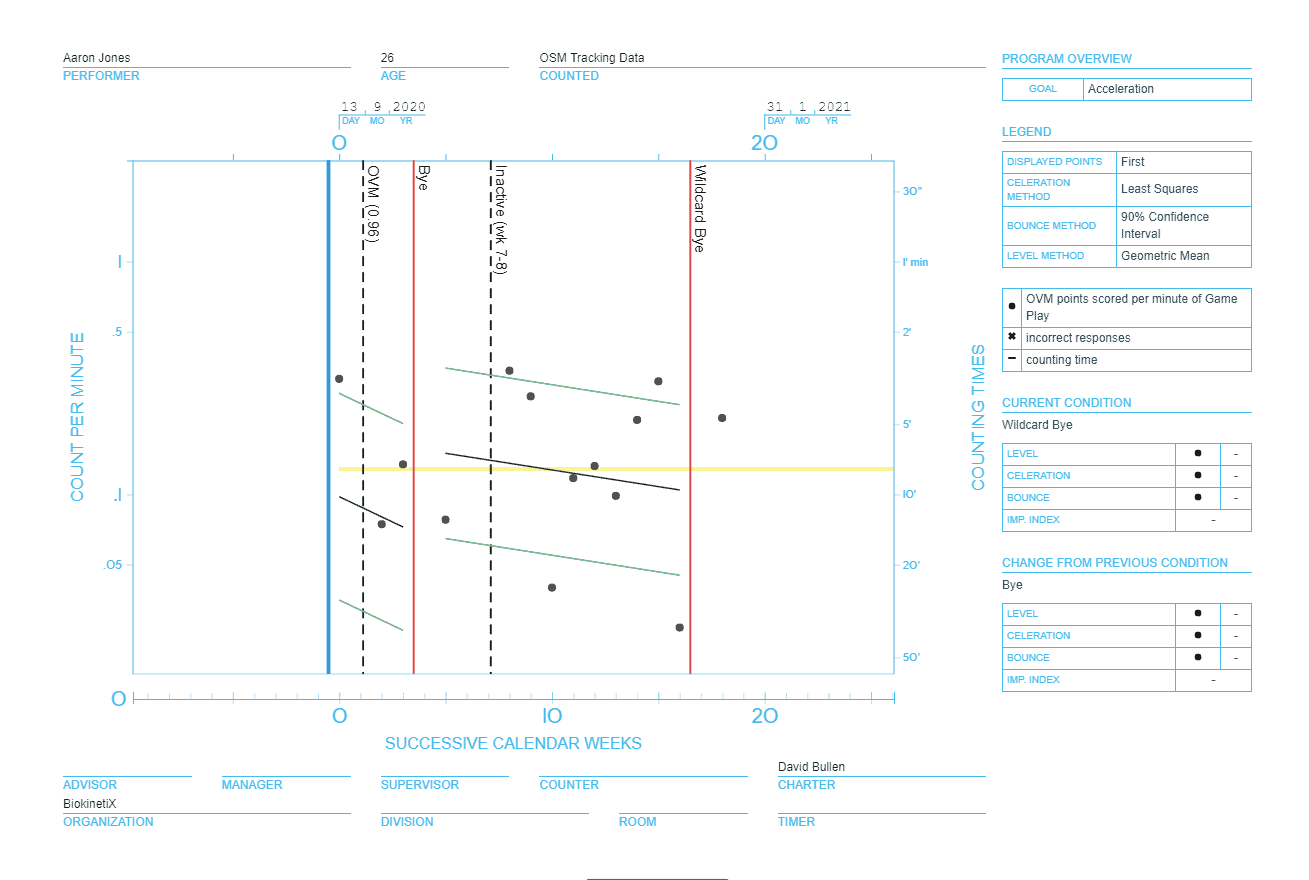 As you can see, Jones' OVM grades were wildly inconsistent. They ranged from a low of 0.96 in Week 2 to a high of 20.39 in Week 9. One could argue that having excellent games mixed with poor ones is better than playing at a mediocre level every game. However, a bad game at the wrong moment can be devastating for an offense.
Evaluating Jones' receiving statistics
It is important to note that Jones' OVM grades do not factor in his receiving numbers. The NFL does not record advanced statistics for running backs as receivers. Thus, we can't include them. That's unfortunate for Jones since his receiving numbers make up a decent percentage of his production. He's no Christian McCaffrey, but Jones is a valuable contributor to Green Bay's passing game.
The value of Aaron Jones' new contract depends on the other moves the Packers make
In general, I am against giving running backs lucrative contracts. Their careers tend to be short-lived, and smart teams can find less expensive replacements in the draft. Occasionally, you will find a player at the position who is so crucial to their respective offenses that they are functionally irreplaceable. Derrick Henry is the primary example. However, while Jones is a solid player, he isn't in the same category.
Related | NFL Free Agency Tracker 2021: Signings, trades, contracts details
That said, the Packers are in a difficult position. They need to make the most of Aaron Rodgers' remaining years. If they aren't happy with the other running backs currently on their roster and don't want to invest draft capital into the position, spending big at running back seems more reasonable. And Jones was set to be the highest-profile running back on the market this offseason.
Of course, if signing Jones prevents them from spending money on a more valuable position, it might be a mistake. We'll need to see what Green Bay does with the rest of their offseason before coming to a conclusion.
Want more NFL news and analysis?
Be sure to follow us on Twitter (@PFN365) to stay in the loop on all things around the NFL. Also, continue to visit Pro Football Network for NFL news and in-depth analysis concerning the 2021 season and beyond.