PFN's dynasty 101 series continues with perhaps the most challenging endeavor in dynasty fantasy football leagues: rebuilding a last-place dynasty orphan. How can you turn a roster with minimal assets into one that can contend for a championship?
Did you get a trade offer in your dynasty or redraft league? Not sure who to start or sit this week? Make championship-winning decisions with PFN's FREE fantasy tools — the Fantasy Football Trade Analyzer and Calculator and Start/Sit Optimizer!
What Is a Dynasty Orphan?
An orphan dynasty team is a roster left behind by a manager that retired from a league for whatever reason. Managers leaving leagues is an inevitable reality. Most leagues I have been in have seen turnover after just one year. Dynasty fantasy football is a large commitment. People's lives change, and all too often, they just can't do it anymore. That's called being an adult, as much as it sucks sometimes.
When someone leaves a dynasty league, the commissioner has to find someone else to join unless it was agreed by the manager leaving he would find a replacement. In redraft, this is easy because the new manager gets to draft their team. After all, that's the best part of the whole season.
It can be far more challenging in dynasty because the new manager has to take over a preexisting team with a roster that may not be very good. While saying "life got busy" happens, it's also used as an excuse for a manager who simply failed at building a roster and wants to get away as quickly as possible as if it was a bad Hinge date.
If you're the one taking over, it's now on you to figure out how to turn a disastrous roster into a team that can win — something I consider the biggest achievement for a fantasy manager.
How To Rebuild a Last-Place Dynasty Orphan Team
Last-place teams come in all different shapes and sizes. There are varying degrees of bad. For the sake of this exercise, let's assume this last-place roster at least has a few assets.
Prioritize Getting Younger To Maximize Your Window
If you're inheriting a dynasty orphan in last place, you need to accept that you're not going to be able to turn things around in one year, barring some crazy circumstance like a dispersal draft or wild trade that will have league-mates screaming collusion in the league chat.
By approaching your first season controlling the team with the knowledge that it will be at least two years before you compete, you can better rebuild the roster and won't have knee-jerk reactions to the in-season ups and downs.
The first step is to get younger. There will always be teams at the top in need of win-now players. They are known commodities. Hopefully, your roster at least has two or three veterans that are useful.
Trade those guys for rookies and sophomore players you think will break out, like Skyy Moore or George Pickens. You want to target players that competing teams don't have a massive need for in the current season but who have the upside to be very productive in future years.
Stockpile Rookie Draft Picks for the Coming Years
In theory, a last-place dynasty orphan should have all of its rookie draft picks, if not more. Although, sometimes you will find orphan teams who already traded those away. That is the hardest rebuild of them all.
The rookie draft is the only place you have full control. Trading veteran players for young future stars is important, but it requires other managers to trade with you. In the rookie draft, you get to choose the players that will be the foundation of your roster for the next several years — the guys that will help you dig out of this hole and put you in contention!
But you are also subject to the market value in your league. If someone isn't high on a player or the class as a whole, your return will be below value.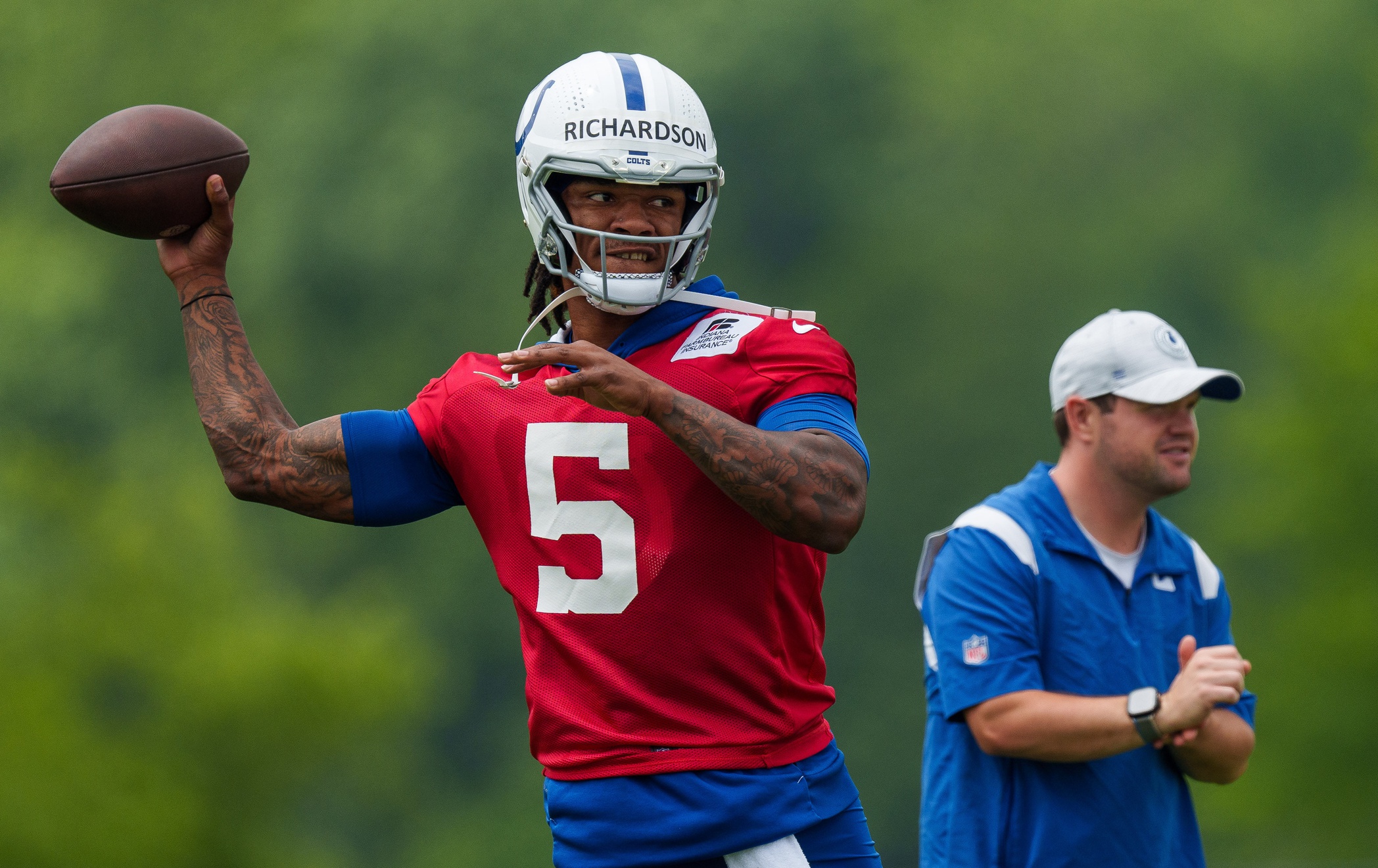 It's often easier to trade for picks than players in dynasty leagues, especially early in the season. Competing managers will be far more apt to give away a pick for a win-now player than to give away one of their young prospects. Use this to your advantage. It's why knowing the cyclic nature of the dynasty calendar is imperative.
Entering your first season, you should have your five rookie draft picks or however many rounds your draft is. Try and get 2-3 more if possible. You can do this either by trading away veterans or trading down in your rookie draft. Is there no clear 1.01 for the upcoming season?
Perhaps you can sell someone else on the value of the 1.01 and accumulate multiple first- and second-round rookie picks.
Also, consider the "sweet spot" of the draft. The mid-rounds can be easier to acquire, and the talent there, especially in the first half, are guys who could have been first-rounders and have the requisite talent to shine. Think of Tee Higgins and Amon-Ra St. Brown as players who slid, but if we redrafted those classes, they would be vastly higher.
The reality is the roster you're inheriting is more than one superstar away from competing. Of course, you ultimately need superstars, but you need more than one. If you trade down and acquire more picks, it provides more chances to hit on more players.
For your rebuilding roster, two WR2s and an RB2 will be more valuable than one RB1. Be honest with yourself about the strengths and weaknesses, not only of your current roster, but for you as a fantasy manager and play to them.
Focus on Wide Receivers in Your Rookie Drafts
Rookie RBs are easier to project in the short term compared to rookie WRs in most scenarios. Running backs can also produce at a higher level more quickly if they have the right skill set and landing spot, as did Breece Hall and Kenneth Walker III last season.
This can be very appealing to a manager looking to quickly turn around a depleted roster. However, this is a bit of a trap. The key to a successful rebuild is the longevity of wide receivers.
Running backs have a much shorter NFL shelf life than wide receivers. If you prioritize RBs for two seasons of a rebuild, by the time you're ready to contend, those backs may only have a couple of years left at the top. We see the NFL as a whole devaluing the position, and dynasty leagues mirror that behavior.
On the other hand, elite wide receivers (if you can find them) will remain elite for up to a decade. Whereas running backs typically peak by the age of 25, wide receivers are in their absolute prime from ages 25-29. Many of these WRs will break out and become elite by age 23 or 24 and can produce for nearly a decade.
You will get way more mileage out of wide receivers than running backs. Imagine if you started a rebuild and were able to draft Ja'Marr Chase or Justin Jefferson. You'd have the two highest-valued non-QBs on your team right now.
Put together a nucleus of strong wide receivers during the first two years of your rebuild. Then, fill in the running backs. You want to shift the focus to RB once you're ready to compete, but not before.
In fact, I'd rather be a year late in targeting running backs than a year early: Make sure you're stable elsewhere and basically treat the position as annual rentals to help put you over the top.
In 2011, we could reasonably project Julio Jones and A.J. Green to be great for the next 8-10 years. In 2012, if you built your roster around Trent Richardson or Doug Martin, that didn't go so well. That's a cherry-picked example, but you get the idea.
Rebuilding an orphan team is tough, no doubt, but it can be done with patience and savvy management … you up for the challenge?
Listen to the PFN Fantasy Podcast
Listen to the PFN Fantasy Podcast! Click the embedded player below to listen, or you can find the PFN Fantasy Podcast on iTunes, Spotify, and all major podcast platforms.  Be sure to subscribe and leave us a five-star review! Rather watch instead? Check out the PFN Fantasy Podcast on our Fantasy YouTube channel.