Odell Beckham Jr.'s time with the Cleveland Browns was rocky at best. But a midseason trade to the Los Angeles Rams proved fruitful for both the wide receiver and his new team, as they now find themselves in Super Bowl LVI. Let's use the advanced metrics to see if he can be an impact player on the game's biggest stage.
Odell Beckham Jr. has seen a resurgence since joining the Rams
During the regular season, Beckham Jr.'s statistics were split between two teams. And the numbers clearly suggest that the switch has worked in his favor. In six games with the Browns this season, Beckham Jr. only totaled 232 receiving yards and didn't score a touchdown. Those are not great numbers from such a talented wide receiver.
After his trade to the Rams, he totaled 305 receiving yards in eight games, which isn't much of an increase. Far more importantly, though, he caught 5 touchdown passes.
That's more than Beckham Jr. caught in either of his years in Cleveland. Granted, he was injured in one of those seasons, so it's a slightly unfair comparison, but it still represents a substantial uptick in production.
Beckham Jr. has played an even more significant role since the playoffs started, totaling 236 yards and a touchdown in three games. He has become a vital part of the Rams' offense, especially during their postseason run.
Looking at Beckham Jr.'s advanced metrics
To help us understand how Beckham Jr.'s level of play has changed since heading to the West Coast, let's turn to the Offensive Value Metric (OVM). The OVM is a grading system created by the (Bx) Movement to measure how much of a player's statistical production they were actually responsible for.
During the regular season, Beckham Jr. earned a grade of 24.15. A surface reading of that grade reflects exceptionally poorly on the wide receiver. It is the lowest overall grade of Beckham Jr.'s career and ranks 91st out of 98 qualifying wide receivers this season.
However, it is also somewhat misleading. Beckham Jr. switched teams part way through the year and needed to integrate into a new offense. To give us a sense of how his performance changed after the switch, we'll need to look closer at how his grades shifted throughout the season.
Beckham Jr.'s advanced metrics have improved dramatically in the playoffs
For a more accurate picture of Beckham Jr.'s OVM grades, let's take a look at how he performed on a weekly basis. You can see every grade Beckham Jr. earned this season in the chart below, marked by the black dots. For comparison, the yellow line represents the average OVM grade for wide receivers during the regular season.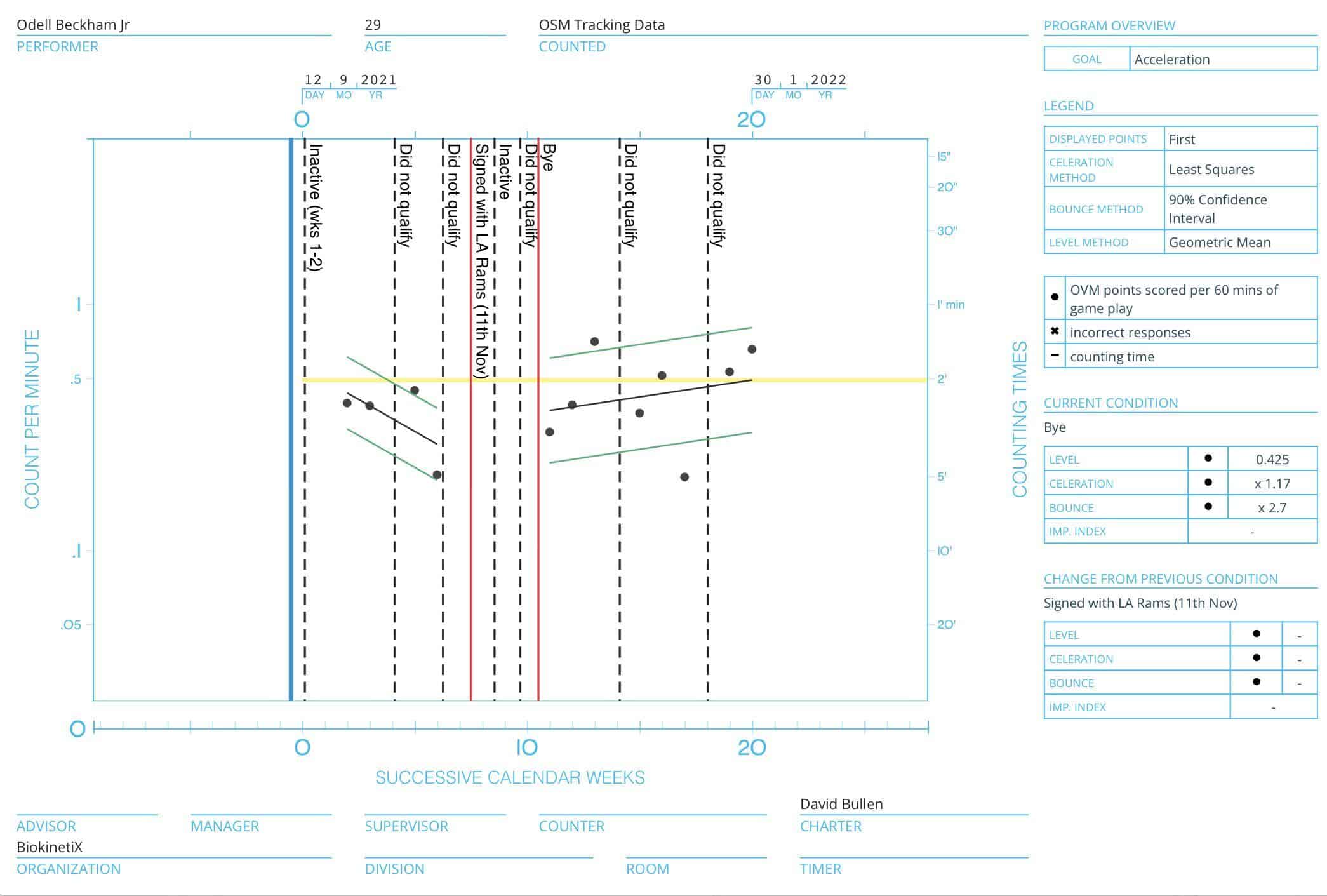 With the Browns, every grade Beckham Jr. received was below the league average. And after he was traded, many of his grades were still in that range. However, he also earned quite a few grades above that average.
Most notably, his last two playoff games have seen him earn grades above 30 points. Beckham Jr. hasn't done that in back-to-back games since 2019. It is a remarkable turnaround from the veteran wide receiver, and it has helped power the Rams to the Super Bowl.
The statistics behind Beckham Jr.'s OVM grades
To understand why Beckham Jr.'s grades have spiked in the playoffs, we need to look at the advanced metrics involved in calculating them. In Beckham Jr.'s case, the primary difference lies in his catch percentages.
During the regular season, he caught just 53.66% of his targets, which ranked 93rd in the NFL. However, his percentage jumped to 75% in the Divisional Round and 81.82% in the NFC Championship Game.
It is also worth noting that, while sample size from the Wild Card Round was too small to earn Beckham Jr. a grade, if he had been targeted one more time and reached the necessary threshold, there's a good chance his grade would have been quite high, as he caught all four of his targets in that game.
In short, the version of Beckham Jr. we've seen in the playoffs has been much more efficient than the one we saw during the regular season.
Can Beckham Jr.'s success continue in the Super Bowl?
Los Angeles is going into the Super Bowl as the favorites, but it's tough to count out the Bengals given all they've done so far in the playoffs. If the Rams are going to win on Sunday, a heavy contribution from Beckham Jr. could be crucial.
If he steps up and continues to perform at an elite level, it will complete the redemption arc for a player who has been much maligned in recent years, often unfairly. We'll see if he can silence the doubters on Sunday.