We've seen the landscape of the highest-paid tight ends in the NFL develop significantly over the past couple of years. Heading into 2023, there are 13 players at the position earning $10 million or more per year. Who is the highest-paid tight end in the NFL, and which TEs make up the remainder of the top 10?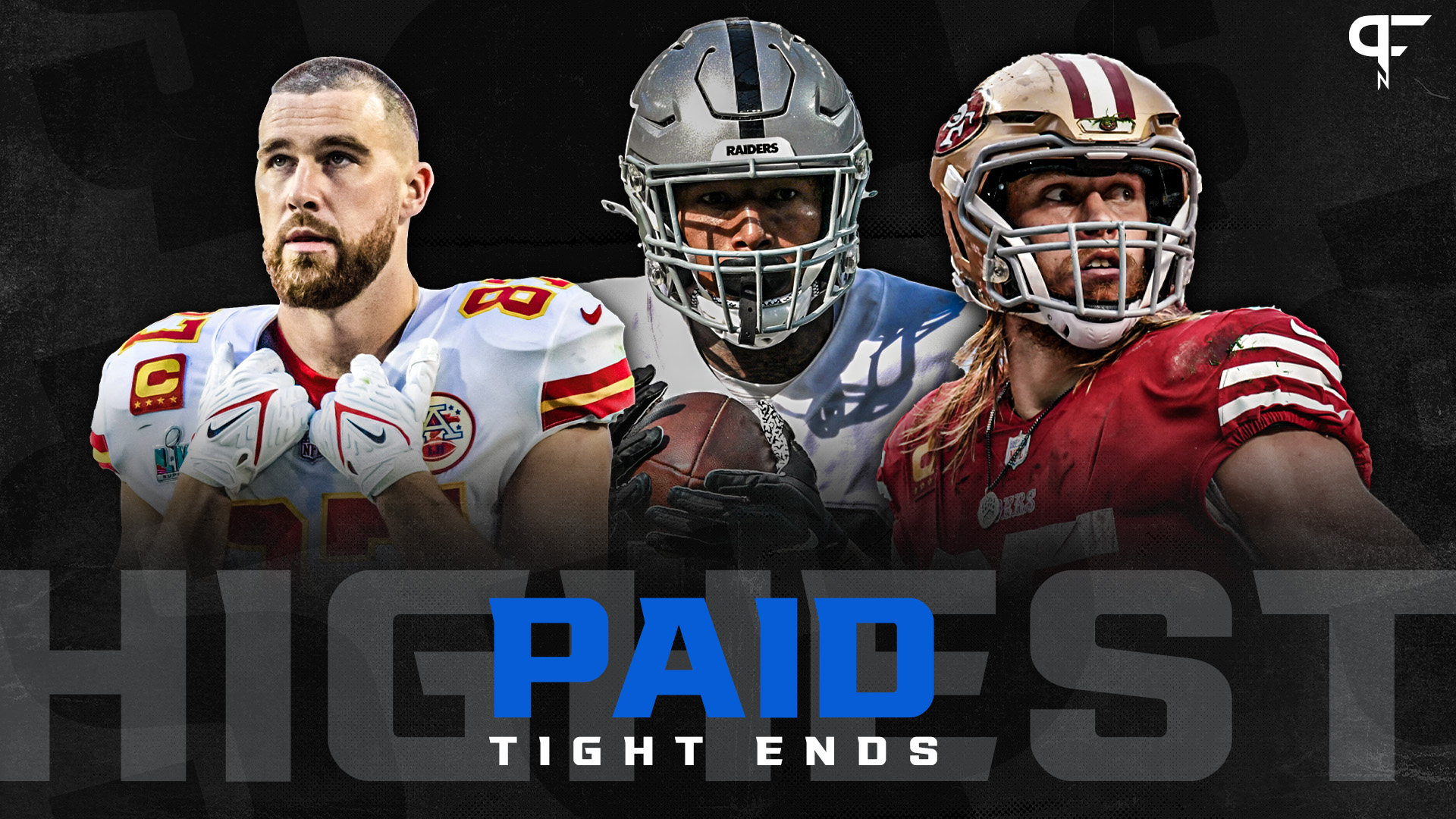 The Highest-Paid Tight Ends in the NFL
There are multiple ways to judge which players are the highest paid at the position. There are benefits and flaws to each of them as judge of value, but for this article, we're going with average annual value (AAV). That is the most common way to judge the value of players, so utilizing data from Over the Cap is the metric that will form our list.
T-10) Hunter Henry, New England Patriots | AAV: $12.5 million
The first of two New England Patriots tight ends on this list of highest-paid tight ends is Hunter Henry. The 2023 season will be the final year of Henry's three-year, $37.5 million contract. There is no more guaranteed money remaining, but if the Patriots were to consider moving on, the $15 million signing bonus would leave behind $5 million in dead money in 2023.
T-10) Cole Kmet, Chicago Bears | AAV: $12.5 million
Cole Kmet matched Henry's $12.5 million AAV by agreeing to a four-year, $50 million extension with the Chicago Bears in July 2023. While Kmet ranks just ninth among tight ends in annual salary, he is fourth at the position in total guarantees ($32.8 million) and will receive $20 million in first-year cash (third).
Kmet was entering the final year of his rookie contract. Because he wasn't a first-round pick, the Bears did not hold a fifth-year option. Kmet is now under contract in Chicago through the 2027 campaign.
9) Dawson Knox, Buffalo Bills | AAV: $13 million
Heading into the 2022 season, the Buffalo Bills and Dawson Knox agreed to a four-year contract extension worth $52 million. Of that, just $19.92 million was fully guaranteed at signing.
Yet, another $10.25 million in terms of 2024 salary and roster bonus will become guaranteed in March 2023. Knox's cap number this season is currently set at $6.425 million but will rise to $14.4 million in 2024.
8) David Njoku, Cleveland Browns | AAV: $13.7 million
It was somewhat of a surprise to see David Njoku get a four-year contract worth $54.75 million. He was expected to play on the franchise tag in 2022 before signing the long-term deal.
As part of the deal, there was an $11.465 million signing bonus as part of $17 million in full guarantees and a total of $28 million in total guarantees. Njoku will count $8.393 million against the salary cap, climbing to over $18 million next season.
7) Evan Engram, Jacksonville Jaguars | AAV: $13.75 million
The Jacksonville Jaguars initially assigned Evan Engram the franchise tag during the 2023 offseason, intending to pay him $11.345 million. However, the two sides eventually agreed to a three-year, $41.25 million extension later in the summer.
Engram received $24 million fully guaranteed at signing, $15 million of which will be paid in the first year of the deal. His signing bonus ($12.5 million), 2023 and 2024 base salaries, and 2024 option bonus are all guaranteed. $1.5 million of his 2025 salary becomes fully guaranteed in March of that year, creating a potential trigger point for the Jaguars.
6) Mark Andrews, Baltimore Ravens | AAV: $14 million
Sitting fifth on the list of highest-paid tight ends is Mark Andrews and his four-year, $56 million contract. While Andrews sits at the bottom of the options generally considered to be the position's "elite," he got $30.083 million fully guaranteed and $37.583 million in total guarantees.
After Andrews struggled at times in 2022, all eyes will be on him this season. His cap number for 2023 is $13.658 million and rises to $16.908 million in 2024 and 2025. The Ravens could cut bait for just $11.815 million in dead money in 2024, so if he struggles again this season, we could see Andrews become a cap casualty.
5) Dallas Goedert, Philadelphia Eagles | AAV: $14.25 million
The Philadelphia Eagles made the bold call to move on from franchise stalwart Zach Ertz and invest in Dallas Goedert. In doing so, they gave the young tight end a four-year contract extension worth $57 million.
Goedert received a $10.218 million signing bonus as part of $35.172 million in guarantees. The 2023 season is the final year before Goedert's cap number jumps from $6.601 million to over $19.5 million.
4) Travis Kelce, Kansas City Chiefs | AAV: $14.3 million
Travis Kelce's four-year, $57.250 million contract is somewhat unique in structure, with no original signing bonus as part of $22.75 million in guarantees. A contract restructure has meant the Kansas City Chiefs cannot cut bait with no cost, but with the way Kelce is still playing, parting ways is unlikely to even be a part of the Chiefs' thoughts at this point.
His cap number is set to jump to over $14.8 million, so we may see Kansas City look to move some money around.
3) George Kittle, San Francisco 49ers | AAV: $15 million
George Kittle became the first $15 million a year TE when he signed his five-year, $75 million contract extension. As part of that extension, Kittle got an $18 million signing bonus, $30 million in fully guaranteed money, and $40 million in total guarantees.
His cap number will jump up to $18.034 million in 2023, so it will be interesting to see if the San Francisco 49ers look to restructure his deal.
2) T.J. Hockenson, Minnesota Vikings | AAV: $16.5 million
The Vikings made T.J. Hockenson the second-highest-paid tight end in NFL history on Aug. 31, 2023, when they extended him on a four-year deal worth $66 million. Hockenson will receive $42.5 million guaranteed, while he can earn an additional $2.5 million via incentives over the life of the pact.
Minnesota acquired Hockenson from the division-rival Lions in Nov. 2022, sending a 2023 second-round pick and a 2024 third-round pick to Detroit in exchange for Hockenson, a 2023 fourth, and a 2024 fourth. In 10 games with the Vikings, Hockenson posted 60 receptions for 519 yards and three touchdowns.
1) Darren Waller, New York Giants | AAV: $17 million
Darren Waller blew past his peers to top the list of highest-paid tight ends with a three-year, $51 million contract. The extension only had an $825,000 signing bonus but includes $19.25 million in full guarantees and $22 million in total guarantees.
Waller's cap number will remain reasonably stable at around $12-13 million over the next three seasons before a slight rise to $15.165 million in 2026. The lack of a signing bonus in Waller's deal means the Raiders can move on for little dead money after 2023. From 2024 onwards, Waller's dead money numbers are set to be $495,000, $330,000, and $165,000 in 2024, 2025, and 2026, respectively.