The landscape of the highest-paid offensive tackles in the NFL has dramatically shifted during the past several seasons. Who is the highest-paid OT in the NFL, and which other offensive tackles round out the top of the positional market?
Who Is the Highest-Paid Offensive Tackle in the NFL?
Having already reset the NFL's offensive tackle market with a three-year, $66 million extension in 2020, Laremy Tunsil reclaimed the highest-paid offensive tackle crown by signing a three-year, $75 million contract with the Texans in March 2023.
Tunsil received $50 million in full guarantees, second to only Ronnie Stanley ($60 million) among left tackles. That total includes a $30 million signing bonus and Tunsil's salaries in 2023 ($2 million) and 2024 ($18 million). He also has $10 million of his 2025 salary guaranteed for injury — it will become fully guaranteed on the fifth day of the 2024 league year.
Houston received some cap relief via Tunsil's extension, but his cap charge will still be $26.6 million for the upcoming season. His figures will float between $25 million and $29 million over the life of the deal.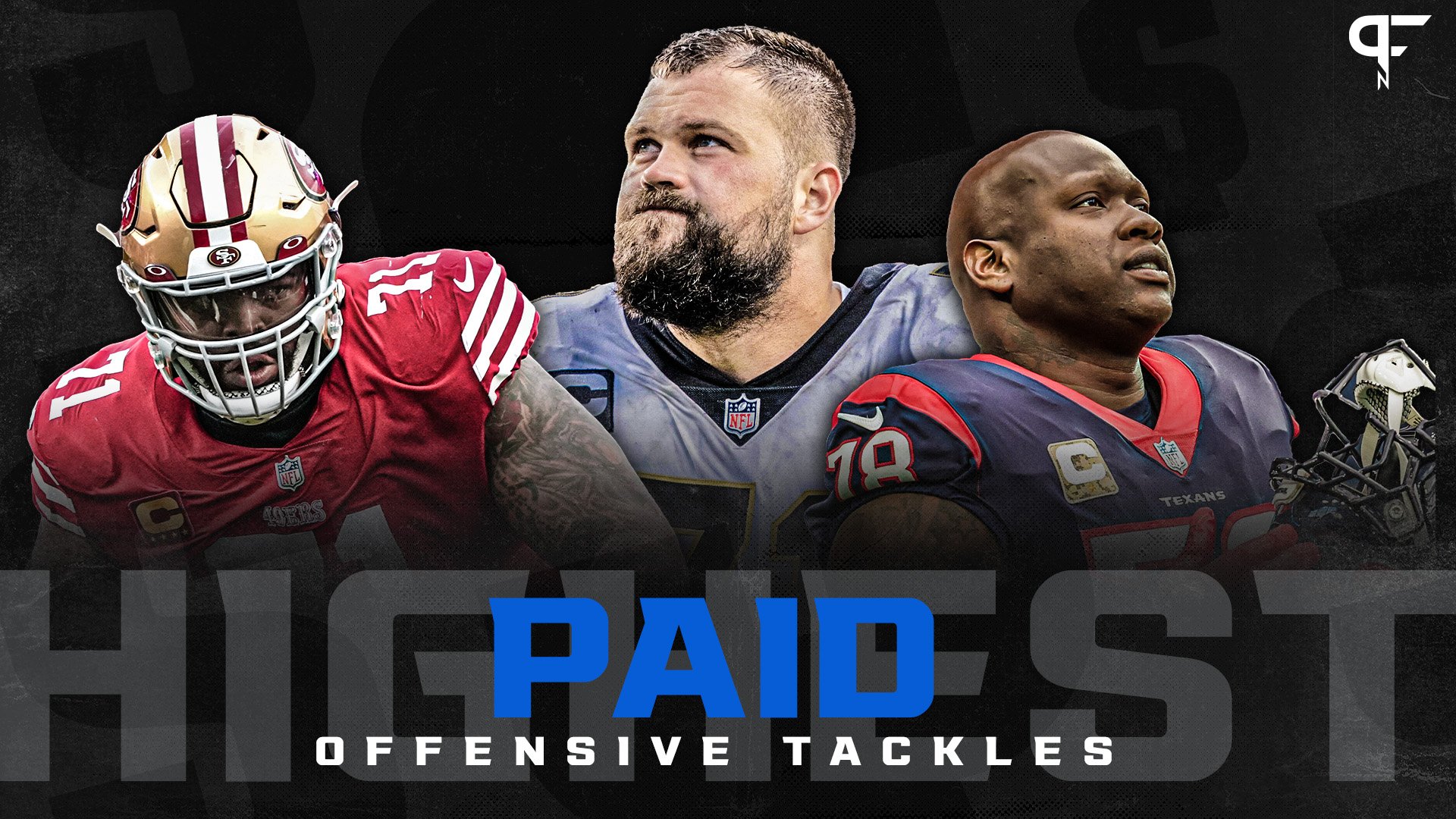 Who Are the Highest-Paid Offensive Tackles in the NFL?
2) Andrew Thomas, New York Giants | AAV: $23.5 million
The Giants made Andrew Thomas the second-highest-paid offensive tackle in the league by handing him a five-year, $117.5 million in July 2023. Thomas received $67 million in full guarantees, setting a new record among offensive linemen.
New York acted early to extend Thomas, who was still under contract through 2024 thanks to his fifth-year option. By extending him now, the Giants were able to reduce Thomas' 2023 cap charge from $10.3 million to roughly $5 million.
3) Trent Williams, San Franciso 49ers | AAV: $23.01 million
In March 2021, the 49ers and Trent Williams agreed to a six-year deal worth $138.06 million — good for a $23.01 million AAV. Of that total, $55.1 million is guaranteed, including a $30.1 million signing bonus. As a result, Williams became the NFL's highest-paid tackle and held that title for two years.
Williams is signed through the 2026 campaign, when he'll be 38 years old. His contract will stay relatively uniform throughout the life of the deal. Williams' cap charge will be $27.28 million in 2023 and will top out at $34.15 million in 2026.
4) David Bakhtiari, Green Bay Packers | AAV: $23 million
During the 2020 NFL season, David Bakhtiari became the highest-paid player among offensive tackles in the NFL. The Packers left tackle signed a four-year contract extension worth $92 million. The deal contained a $30 million signing bonus, which was all that was guaranteed in the contract.
MORE: Best Offensive Tackles in the NFL 
Bakhtiari was due to count more than $28 million on Green Bay's salary cap in 2023, but the Packers have restructured his contract to reduce that figure. Green Bay converted his $9.5 million roster bonus and $5.5 million of Bakhtiari's base salary into a signing bonus and pushed money into 2024.
5) Lane Johnson, Philadelphia Eagles | AAV: $20.188 million
Lane Johnson agreed to a one-year, $33.45 million extension in March 2023, but we're not valuing his new money at that figure. This new contract was more of a restructure that gives Johnson more guarantees, reduces his 2023 cap charge, and makes him the NFL's highest-paid right tackle.
In total, Johnson now has four years and $80.75 million remaining on his contract. He'll receive a pay bump in each of the next two seasons, while he also gets $30 million in guarantees. Johnson's cap number for the upcoming campaign will drop from $24.2 million to $14.8 million as a result of the extension.
6) Jawaan Taylor, Kansas City Chiefs | AAV: $20 million
The Chiefs locked in former Jaguar Jawaan Taylor on the first day of the legal tampering period, inking the 25-year-old to a four-year, $80 million deal with the intention of moving him from right to left tackle. Taylor received $40 million guaranteed at signing and $60 million in total guarantees.
By keeping his 2023 base salary low, Kansas City will set Taylor's cap charge for next season at just $5.825 million. But from 2024-26, his salaries will increase to $19.5 million, while his cap numbers will, in turn, rise to $24.725 million. Realistically, the Chiefs are tied to Taylor through 2025. After that season, K.C. could release him, having paid him $60 million over three years.
7) Ronnie Stanley, Baltimore Ravens | AAV: $19.75 million
Ronnie Stanley signed a new deal during the 2020 season. At the time of signing the deal, he was only behind Laremy Tunsil among the highest-paid OTs. His five-year contract extension is worth $98.75 million, with an AAV of $19.75 million.
In 2023, Stanley will count $23.67 million against the Ravens' salary cap. In terms of guarantees, Stanley received $22.5 million via a signing bonus and earned fully guaranteed salaries in 2020, 2021, and 2022.
8) Ryan Ramczyk, New Orleans Saints | AAV: $19.2 million
Ryan Ramczyk is currently the highest-paid offensive tackle who plays on the right side of the line. The Saints got a deal done with Ramczyk ahead of the 2021 season. The new money on the deal was $96 million across five additional years. Ramczyk is under contract through the 2026 season.
The extension had a $19 million signing bonus, $43 million guaranteed at signing, and $60 million in total guarantees. Ramczyk will count just $11.11 million against the Saints' salary cap in 2023. That is because the Saints restructured his deal to move roughly $10 million in cap space into future seasons while adding a void year in 2027. His cap number is due to be more than $27 million in each of the next three years.
9) Tytus Howard, Houston Texans | AAV: $18.67 million
The Texans have two offensive tackles in the top 10 after signing Tytus Howard to a three-year, $56 million extension in July 2023. Howard will collect $36 million in guarantees, including an $18 million signing bonus.
Houston is now heavily invested along its offensive line. Tunsil and Howard are two of the highest-paid offensive lineman in the NFL, while guard Shaq Mason received a $12 million-per-year extension earlier this offseason. Meanwhile, the Texans also invested a first-round pick in guard Kenyon Green in 2022.
10) Brian O'Neill, Minnesota Vikings | AAV: $18.5 million
Brian O'Neill signed a five-year, $92.5 million contract extension with the Vikings in September 2021. The deal is set to keep him in Minnesota until the 2027 offseason. He received a $20 million signing bonus and $53.526 million in guarantees as part of the deal.
MORE: Offensive Line Free Agency Rankings
O'Neill's had a cap charge of just $7.82 million in 2022, but that will rise to an average of nearly $20.5 million over the next four seasons.