The Georgia State Panthers have only had three players selected in the NFL Draft across their school history. Can they add to that number in the 2024 NFL Draft with their incoming class? Let's take a closer look at their eligible prospects.
Georgia State Panthers NFL Draft Prospects
After leading Georgia State to two straight bowl game victories in 2020 and 2021, head coach Shawn Elliott failed to bring his team back to the postseason in 2022. The Panthers will aim to get back in 2023, and they'll have a few key pieces returning to help, but they'll also have to weather some losses.
Top receiver Jamari Thrash transferred to Louisville, as did defensive lineman Jeffery Clark, while Jamil Muhammad — a core defensive playmaker — took his talents to USC. Those three Power Five transfers will hurt, and they're not the only departures. Thomas Gore transferred to Miami (FL), and Antavious Lane left to join the North Carolina Tar Heels.
A roster that was already hurting for new talent lost a great deal of assets in the 2023 offseason, but not all is lost. The Panthers brought in several high-upside Power Five transfers, as well as two under-the-radar FCS additions in the secondary. And ultimately, they return Darren Grainger — one of the most productive Group of Five QBs over the past two seasons.
Darren Grainger, QB
The Panthers have one of the most intriguing QB prospects in the Sun Belt in veteran passer Darren Grainger. Since becoming the team's starter in 2021, Grainger has completed 310 of 525 attempts for 4,158 yards, 37 touchdowns, and just 11 interceptions.
He's also accumulated 1,394 rushing yards and nine scores on the ground. He doesn't have a rocket arm and needs to clean up his mechanics, but Grainger's mobility can be a difference-maker.
Robert Lewis, WR
Though he only caught 22 passes in 2022, Robert Lewis made an impression on the Panthers' offense, racking up 379 yards and six touchdowns. Lewis has an explosive skill set, and his brisk accelerative capacity allows him to sear through narrow seams, both in the red zone and in long-distance situations.
And being a redshirt junior, it's feasible that further development as a route runner could help the 5'11", 185-pound WR reach his ceiling.
Travis Glover, OT
Few offensive linemen in the Sun Belt pass the "eye test" more than Georgia State's Travis Glover. Injuries prevented him from staying on the field last season, but Glover was an instrumental part of the team's attack in 2021.
At 6'6″, 323 pounds, Glover has both tackle and guard experience, and he has the baseline tools to entice NFL teams. He offers good vertical mobility for his size and is a powerful blocker with stellar torque capacity.
Tyden Ferris, G
On the interior offensive line, the Panthers managed to add an experienced presence at guard in Tyden Ferris. Ferris previously played at Central Michigan, where he was the team's starting right guard through 2021 and 2022, playing alongside NFL talents like Bernhard Raimann and Luke Goedeke.
At 6'5″, 303 pounds, Ferris is a bit light for the interior, but he brings intriguing upside in Georgia State's system.
Kevin Swint, EDGE
One of the most eye-catching names on Georgia State's potential 2024 NFL Draft prospect pool is edge rusher Kevin Swint. Swint has barely any career production to this point, but his status as a former Clemson commit bears noting.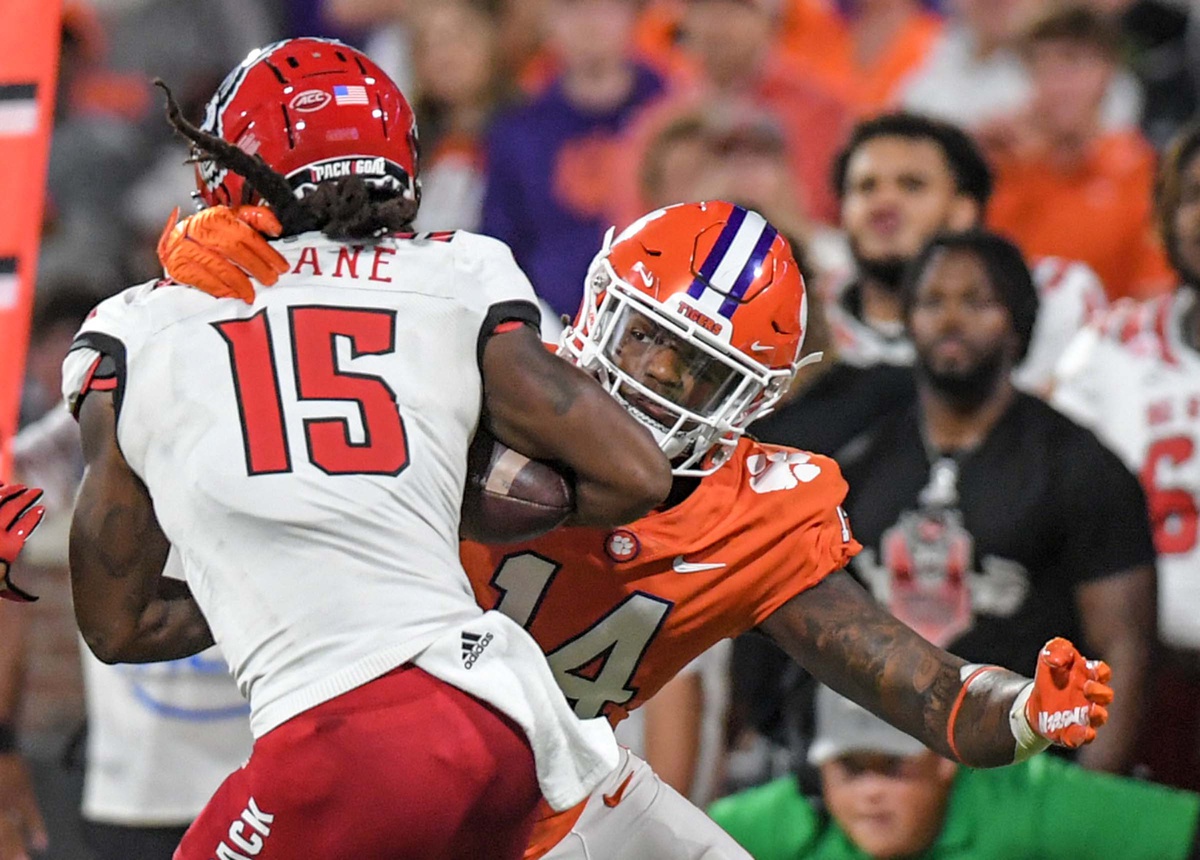 Swint flashed his promise with 2.5 tackles for loss in 2021, and though he hasn't converted on his natural traits, he has the size, length, and athleticism at 6'3″, 242 pounds to take advantage of Sun Belt competition.
Shamar McCollum, LB
There are a number of intriguing versatile pieces on Georgia State's defense, and one of them is linebacker Shamar McCollum. McCollum played at Wake Forest in 2019 and 2020 but transferred to Georgia State in 2021.
In 2022, he emerged as a force in the box, accruing 45 tackles, nine TFLs, 4.5 sacks, and a pass deflection. At 6'4″, 225 pounds, McCollum has the size and length to be a threat both in run defense and as an extra rusher.
Gavin Pringle, CB
Gavin Pringle is an FCS-to-FBS transfer to add to the sleeper vault. The 5'11", 176-pound cornerback's production prowess spans all the way back to his freshman season at Bucknell in 2019 when he put up 12 pass deflections.
This past season, he expanded on those numbers with three interceptions and 18 pass deflections. Pringle is a confirmed ball-hawk, and his transfer to Georgia State could help him prove himself at a higher level.
Bryquice Brown, CB
While Pringle mans one boundary, Bryquice Brown will return as a starter for Georgia State on the other side. Listed at a lean 6'0″, 186 pounds, Brown has been relied upon as a playmaker in the Panthers' secondary since 2020.
Through 2020 and 2021, he had three interceptions and 15 pass breakups, and although 2022 was a down year statistically.
Jontrey Hunter, DB
Jontrey Hunter mans the hybrid slot, or STAR position, for the Georgia State defense, and over the past two years, he's been very productive in that role. Across 2021 and 2022, Hunter logged 95 tackles, 13.5 TFLs, 3.5 sacks, two interceptions, four pass deflections, and two forced fumbles.
Though he's a bit lean, he sports a long 6'2″ frame and has the versatility to blitz, play overhang slot, or enforce in the box.
TyGee Leach, S
The last name on this list — Lehigh transfer TyGee Leach — is one of the most exciting. Leach was an absolute menace on the defensive side of the ball in 2022, but not in the phase you'd expect.
He does have ball production in his history, but Leach was a TFL machine in 2022, amassing 78 total takedowns and 11.5 tackles behind the line of scrimmage. At 5'11", 207 pounds, he's built to attack, and he's been very successful doing so.
Other Notable Names
Marcus Carroll, RB
Ja'Cyais Credle, WR
Rico Arnold, WR
Ahmon Green, TE
Colin Henrich, G
Anthony Blume, DT
Ricardo Williams Jr., DT
Javon Denis, EDGE
Jordan Veneziale, LB
Jalen Tate, S
Georgia State Panthers Schedule
Week 1
BYE
Week 2
Aug. 31: vs. Rhode Island Rams
Week 3
Sept. 9: vs. UConn Huskies
Week 4
Sept. 16: at Charlotte 49ers
Week 5
Sept. 21: at Coastal Carolina Chanticleers
Week 6
Sept. 30: vs. Troy Trojans
Week 7
BYE
Week 8
Oct. 14: vs. Marshall Thundering Herd
Week 9
Oct. 21: at Louisiana Ragin' Cajuns
Week 10
Oct. 26: at Georgia Southern Eagles
Week 11
Nov. 4: vs. James Madison Dukes
Week 12
Nov. 11: vs. Appalachian State Mountaineers
Week 13
Nov. 18: at LSU Tigers
Week 14
Nov. 25: at Old Dominion Monarchs
Week 15
BYE
Listen to the PFN Scouting Podcast
Listen to the PFN Scouting Podcast! Click the embedded player below to listen, or you can find the PFN Scouting Podcast on iTunes, Spotify, and all major podcast platforms.  Be sure to subscribe and leave us a five-star review! Rather watch instead? Check out the PFN Scouting Podcast on our Scouting YouTube channel.