The top-three quarterbacks in the 2021 NFL Draft seem to have already jumped out to a consensus. Those three quarterbacks are Trevor Lawrence, Justin Fields, and Trey Lance, all of whom have impressive 2019 tape to their name. However, a few others are fighting for the fourth slot behind them. There are certainly contenders such as Tanner Morgan, Brock Purdy, and others. However, Georgia quarterback Jamie Newman represents a unique situation.
Related – 2021 NFL Two-Round Mock Draft: Enter Trevor Lawrence
Heading into a graduate transfer season, Newman will move from Wake Forest to Georgia to boost his draft stock and hopefully sneak into the first round. There is no doubt Newman has appeal and could be the guy that rockets up boards with a strong 2020 season.
[sv slug=mocksim]
The upside of Jamie Newman
It is a good thing that Newman ended up heading to Georgia. Wake Forest had him doing a lot of run-pass option concepts, and that is where he thrives. With Todd Monken coming onto the Georgia staff as well, that certainly could be a massive influence on what they could want to run with him at the helm. A Newman-led offense will give fans a little introspective into what an offense with Fields at the helm might have looked like in Georgia. That is the crux of Newman's game here.
In a similar vein to Fields, Newman has a good arm with solid velocity and athleticism to scramble into the open field and make plays with his legs because of that ability to extend the play. There are a lot of traits that will stick out to people who watch his tape as modern quarterback traits that the NFL is beginning to covet more and more in starting NFL quarterbacks.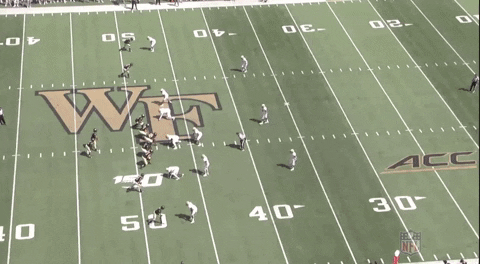 However, the very basis of every quarterback conversation seems to revolve around arm strength. The adage and scouts are often thought of as arm strength and height obsessed. For those checkmarks, Newman hits them quite well. Standing at 6'4″ and showing off a good, but not great arm, Newman has the necessary physical tools to succeed at the NFL level. Here he shows off the arm strength as he hits the seam up in between cover two and hits his receiver in complete stride. Something I like that he does here is that he looks off the safety to draw him to the boundary, which leaves a window in that cover two-hole.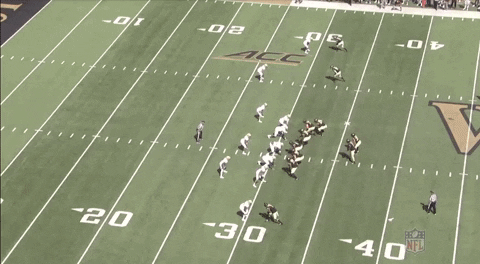 The other thing that Newman will show out on tape is flashes of great tight-window throws. It is often when working outside the numbers that he sees a lot of these tight window throws connect. They are inconsistent, and his accuracy to all areas of the field can be spotty at times, but throws like this will bring scouts into that upside. This is a well-placed ball on the receiver's outside shoulder, and it allows him to be the only one with a shot to catch this thing.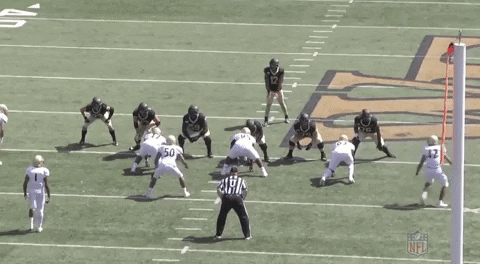 The escapability is something that will come up in evaluations for Newman all the time. He has the natural contact balance to break tackles and move around to create magic out of structure. That is something that will allow offensive coordinators not to be pigeon-holed into just hoping the play gets executed in structure. He does an excellent job of keeping his eyes downfield and firing it on the run if needed.
The other big positives for Newman has to be his toughness and propensity to work through his progressions. He sticks it out in the pocket and will take some nasty hits with poise to fire a rocket and trust his receiver to make a play. That is an admirable trait to have no matter what. Also, Newman is not a one-read quarterback and will work through the reads he has at his disposal.
The Georgia quarterback's concerning traits
Not everything can be rosy when talking about Newman. The tape that he has put out is marred by inconsistency and has a lot of worrying traits. Through his mechanics, mental game, and accuracy, Newman has multiple red flags that pop on the radar of a tape watcher.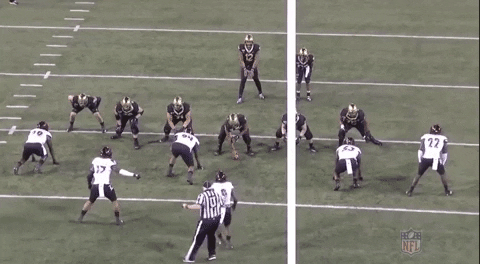 The first big issue is the fact that Newman often fails to process changes in the picture from pre-snap to post-snap as a whole. That can be lurking defenders underneath, such as here against Louisville, or safeties that rotate down to buzz the middle of the field. He does mentally process those changes well. Here all Louisville is doing is spot dropping the outside linebacker into the middle of the field. Still, Newman fails to process it and fires it right to linebacker, causing a nasty interception. This goes back to an overarching issue of decision-making due to a lack of field vision when identifying coverages in the post-snap picture.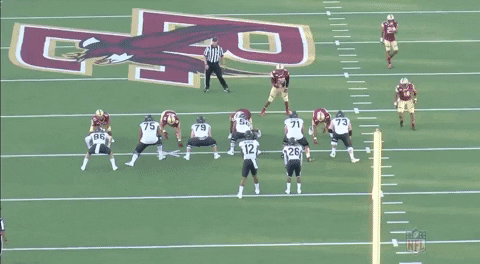 I have issues with his pocket movement, as well. This is a relatively clean pocket that he is working with here, and he certainly does not have to step up like he did to allow the end rusher and instead track to take him out of the pocket. There is no reason for him to bail entirely on this pocket. Indeed, it is a nice job to get the first down, but the overall process is concerning and could get him into trouble in the NFL. That is how sacks and fumbles come to be.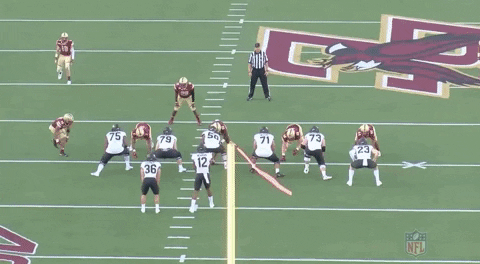 This play, off a quick timing pass, presents some issues that Newman shows on tape. Newman sails this ball, and the issue is all in his footwork. Instead of being planted with an even base, he lets feet get wide and is not even set on the ground as he uncorks this thing. It is the shaky base that causes this. Three-step drops throw a problem since he often makes it a matter of throwing with his entire arm rather than firmly planting his feet with an even base and making accurate throws.
The rushed footwork all comes back to a questionable internal clock that Newman possesses. Newman needs to show far more anticipation in his throws than he currently does. That is one trait that makes me worry for him at the next level. He is not throwing guys open or throwing to a spot, especially on timing routes like this. On timing plays, he is rushing his mechanics as a result of being a beat behind the hit off the receiver's break.
Newman's outlook
Newman's move to Georgia makes a lot of sense. With Monken coming in, Newman can work on his anticipation skills by expecting a lot of quick hitters and timing-based concepts off of run-pass options and simple concepts over the middle of the field. If he can develop a consistent internal clock, Newman's stock improves a lot. There are simply a lot of spotty question marks on his tape. However, there is no denying the combination of arm strength, flashes of precise placement, and athleticism to work out of structure add appeal to Newman's skill set. Still, he must build on that foundation to become a legitimate slam dunk first-round pick. With that in mind, it makes him an absolute wild card heading in the 2020 season.