As we approach the middle stages of the fantasy football season, player values start to crystalize. Draft day cost gives way to in-season performance, as we now have a larger sample size of players.
Unraveling all that we saw in Week 4 and translating it into Week 5 WR trade targets is where fantasy managers can differentiate themselves. To help you get your head around it all, here are our thoughts on some WRs to buy low or sell high entering Week 5.
Having trouble deciding who to start and who to sit? Check out PFN's FREE Start/Sit Optimizer to help you make the right decision.
Which WRs Should You Trade for in Fantasy Football?
Christian Watson, Green Bay Packers
Christian Watson returned Thursday night but played limited snaps by design. Luckily, he made it out of the game without aggravating his hamstring strain. As a result, he should see his snap share increase considerably from the 46% he played this week.
MORE: Early Week 5 Waiver Wire Pickups
WR Romeo Doubs has played well, but Watson remains this team's WR1. We saw his red zone prowess even in limited action, as he scored a short touchdown.
Watson didn't play the first three weeks and was disappointing, even with the touchdown in the fourth week. Perhaps his fantasy managers are frustrated or concerned with Doubs. Watson looks like a strong WR2 moving forward. He is worth acquiring for anything less than that.
Jaylen Waddle, Miami Dolphins
It's been the WR Tyreek Hill show in Miami for the first four weeks of the season. Jaylen Waddle has been just another guy. I just can't see that continuing.
Waddle has caught exactly four balls in each of his first three games. He's only seen 16 targets over that span.
Waddle is too talented to remain on the WR2/3 borderline. The spike weeks are coming. Buy him now before your opponents do.
Which WRs Should You Trade Away in Fantasy Football?
Romeo Doubs, Green Bay Packers
On a night where QB Jordan Love and the entire Green Bay offense struggled mightily, Doubs was a bright spot. He caught nine of 13 targets for 95 yards. That's double-digit fantasy points in three out of four games this season.
While he has undoubtedly been better than I expected, Watson returned on Thursday. He was also on a pitch count, but he immediately flashed his immense upside. As soon as Week 5, Watson should resume his status as this team's WR1.
Doubs is probably still going to be useful, and I will have to take the "L" on him, but he's unlikely to be an every-week WR2. If you can get WR2 equivalent value for him or package him with someone else for an upgrade, that is a great move to make.
Ja'Marr Chase, Cincinnati Bengals
I am officially out on the Cincinnati Bengals for 2023. This is going to be a lost season. QB Joe Burrow looks broken, and they probably are not making the playoffs.
Ja'Marr Chase is still really good at football, but if we redrafted today, is he even a first-round pick? Does he go in the second? The answer is probably, but I don't think he should.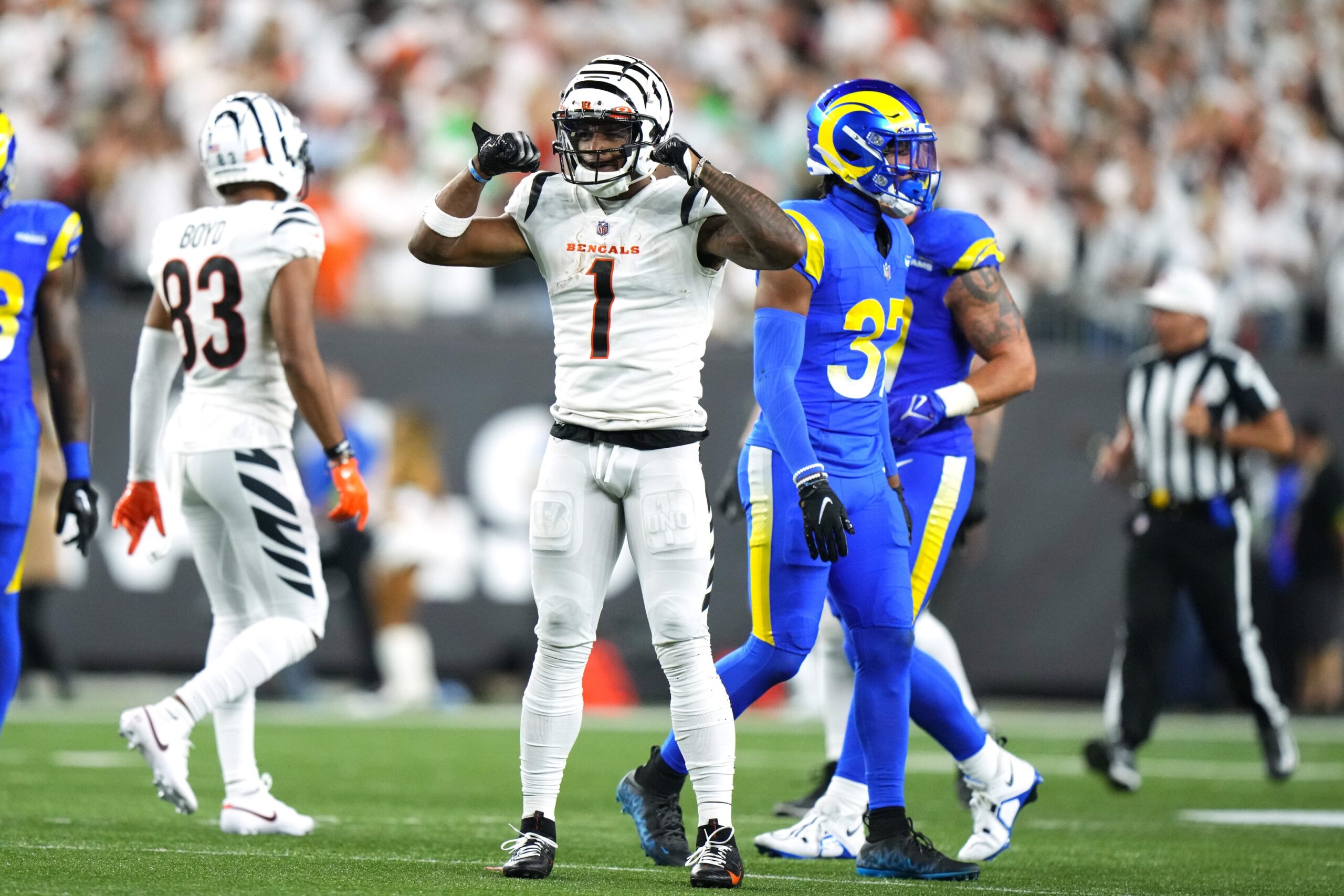 If you sell Chase now, you're not going to get what you paid for him. But even at his reduced value, the perception is still likely higher than what he will provide. There is minimal touchdown upside this season. I'm not sure if he finishes with more than four or five scores.
Especially if you're a struggling team, move Chase for multiple players to plug holes in your lineup. Just make sure the sum of the parts ends up being greater than the whole.
Trending WR Fantasy Football Trades
Are you considering making a trade in your fantasy football league? Our PFN Trade Analyzer allows you to find the best trades to make in seconds! It also allows us to see trending searches, which we've compiled a few of the most popular below.
Should You Trade Waddle for Terry McLaurin?
It's been a rough start to the season for Waddle, who is averaging just 10.9 fantasy points per game. That's well behind Terry McLaurin's 13.6 PPG. So, what's going on?
This early in the season, a single touchdown can significantly impact PPG averages. Waddle caught what should've been his first touchdown of the season against the Buffalo Bills last week.
Unfortunately, an offensive penalty erased it. Had that touchdown stood, Waddle's PPG average would be around 13.2, and his fantasy managers would likely feel a lot better.
Waddle is going to be just fine in the explosive Dolphins offense. This is not meant to be a knock on McLaurin. He should remain an every-week WR2/3. Playing with Sam Howell, he lacks the upside of Waddle. This one is decisively in favor of Waddle.
Should You Trade Doubs for Jordan Addison?
We just saw Doubs post the single best game of his career. Jordan Addison is coming off the worst of his young career.
Talent-wise, Addison has a large edge. Role-wise, Doubs is currently the Packers' WR2 now that Watson is back. But Addison is the Vikings WR3, playing behind KJ Osborn. We only see Addison in three-receiver sets.
MORE: Fantasy News Tracker
If Addison can work his way into two receiver sets, I'm confident he will be more valuable than Doubs. Given that he's a first-round talent, and it's only Week 5, I continue to believe that will happen eventually.
Right now, if I had both, I would start Doubs. But I'd still be surprised if Addison wasn't the more valuable fantasy asset over the second half of the season. Between Doubs and Addison, give me the rookie.
Listen to the PFN Fantasy Podcast
Listen to the PFN Fantasy Podcast! Click the embedded player below to listen, or you can find the PFN Fantasy Podcast on iTunes, Spotify, and all major podcast platforms.  Be sure to subscribe and leave us a five-star review! Rather watch instead? Check out the PFN Fantasy Podcast on our Fantasy YouTube channel.