Having played fantasy football for over 20 years, one of the major changes I've seen in the fantasy landscape is the number of leagues that have moved to make the quarterback position more important.
Early fantasy football leagues from decades ago usually had a standard single QB slot. Now we see more and more leagues with 2QB or Superflex formats. Even leagues with passing touchdowns worth six points. Fantasy leagues have come to reflect the real NFL: the QB slot is extremely important.
Nowadays, you won't have a successful fantasy team if you have mediocre QB play. You can survive with a good quarterback, but you have to realize that QB totals fluctuate from year-to-year.
Let's take a look at a few different quarterbacks that you should be cautious of heading into 2023.
Behind in research? Get a trade offer in your dynasty or redraft league? Not sure who to start or sit this week? Leverage PFN's FREE fantasy tools — our Fantasy Football Draft Kit, Fantasy Football Trade Analyzer and Calculator, and Start/Sit Optimizer! Put the finishing touch on your A+ draft with 1 of our 425+ fantasy football team names.
Top Fantasy Football Regression Candidates at QB
Regression Signs in Quarterbacks
Year-to-year, most elite quarterbacks continue to find success in the NFL. But there are those in the middle tiers that have a big Year 1 season only to follow it up with mediocre play.
We've seen it in recent memory: Russell Wilson's 2022 campaign, Matt Ryan's final year in Atlanta, and every Carson Wentz and Jameis Winston season after 2019. Typically, we start to see this in aging quarterbacks or the ones who have had a change in scenery or new competition in the QB room.
When considering a QB that may regress, it's also best to look at their career as a whole. Is their most recent season something of a surprise? Did they come out of nowhere to have a great season? Could their most recent season be an outlier?
Keeping this in mind, let's dig into a few candidates of quarterbacks who may regress in 2023.
Geno Smith, QB, Seattle Seahawks
Geno Smith famously didn't write back when everyone wrote him off before the 2022 NFL season. His resurgence in Seattle was one of the best stories in the league and something that was hard not to cheer for.
August 16 reminder that Geno Smith is good at football pic.twitter.com/pGiTJ8vk8D

— Ian Hartitz (@Ihartitz) August 16, 2023
But the season really did come out of nowhere. In the previous six seasons before 2022, Smith started only five total games and had just over 1,300 passing yards in all six years combined. He entered 2022 with a career total of 34 passing touchdowns to 37 interceptions.
When Geno broke out for 4,282 passing yards, 30 passing touchdowns, and 11 interceptions at age 32, no one saw it coming. Smith was on waiver wires everywhere prior to the season and ended up being QB5 at the end of the year.
And while I want the Cinderella story to continue, it does feel a bit too good to be true.
Smith even started to regress a bit near the end of 2022. In the first 12 games of the season, Smith had a completion percentage of 70% or more in nine games. In the final stretch of the year, he finished below 63% in four of five games. Seven of his 11 interceptions on the year came in the final seven weeks.
I still believe Geno can be a competent and solid QB for the Seahawks, but expecting him to be QB5 on the year again is insanely high hopes. If Smith is in your QB2 slot on your fantasy team, you're still in good shape. But if he's your top guy in a 2QB league, you may want to look into upgrading if you can.
Jared Goff, QB, Detroit Lions
A lot like Smith, Jared Goff's 2022 season was a surprise to many. When Goff was moved to Detroit in the Matthew Stafford trade with the Rams, he was seen by many as someone Sean McVay and Los Angeles couldn't rely on.
Yet, 2022 was a great season for the former No. 1 overall pick. After a lackluster first season in the Motor City, Goff broke out for 4,438 passing yards. Even more impressive was his 29 passing touchdowns to just seven interception ratio. This was good enough for Goff to finish as QB10 in fantasy leagues.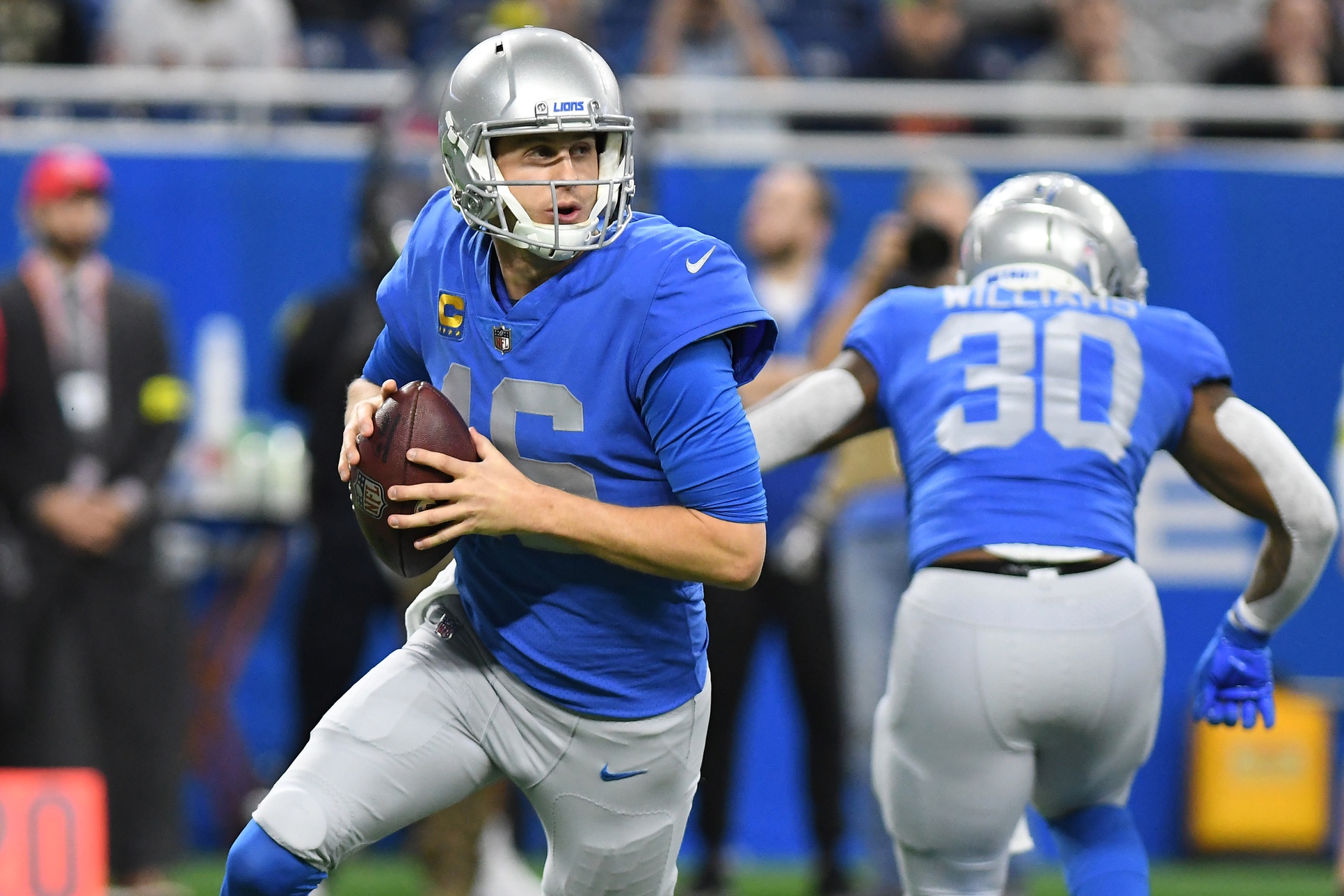 While not as out of nowhere as Smith, Goff's season was a bit surprising. His 99.3 QB rating on the year was his best in four seasons, and his interception percentage was the lowest of his career.
I think Goff is still a great option for fantasy teams, but his totals in 2023 may be a bit more subdued. Detroit spent a high first-round pick on Alabama's Jahmyr Gibbs and brought in former Chicago Bear David Montgomery in free agency to boost their rushing attack. On top of this, Detroit finished with the third-highest-scoring offense in the league in 2022.
This isn't a case of Goff necessarily getting worse. It's more a case of 2022 being so good that regression is the more likely outcome. Goff is still a great quarterback for your fantasy teams, but I wouldn't put the odds on another top-10 season.
Jalen Hurts, QB, Philadelphia Eagles
Pump the breaks. I can already hear you yelling at your screen about Jalen Hurts being on this list. He's one of the best QB options in fantasy. I agree with you. I'm not your enemy.
But the point of this exercise is to identify quarterbacks who may not be scoring at the rate they were a season ago. And the issue for Hurts is he was scoring at a wild rate. Specifically, on the ground.
Hurts ended the 2022 season with 13 rushing touchdowns. That means that 78 of Hurts' 378 fantasy points from 2022 came on rushing touchdowns alone. The 13 scores were the second most in NFL history, behind only Cam Newton's 14 in his rookie 2011 season.
Philadelphia invested in their running backs this offseason, adding Rashaad Penny in free agency and trading for D'Andre Swift during the NFL Draft. The Eagles also invested in Hurts, giving him a five-year, $255 million contract in April.
With more rushing options in the offense and a franchise QB that the Eagles will want to keep healthy, I'm not sure Hurts' number will be called as many times in 2023. Again, this is not that Hurts is a bust or won't be successful in 2023. I fully expect him to be a top-eight QB. It is simply that his numbers were so big in 2022 that a regression is more likely than him outperforming his breakout season.
Listen to the PFN Fantasy Podcast
Listen to the PFN Fantasy Podcast! Click the embedded player below to listen, or you can find the PFN Fantasy Podcast on iTunes, Spotify, and all major podcast platforms.  Be sure to subscribe and leave us a five-star review! Rather watch instead? Check out the PFN Fantasy Podcast on our Fantasy YouTube channel.