As we push into Week 2 of the preseason, fantasy football drafts continue to fire off at a record pace. More and more people are jumping into the format for the first time or are getting back into it after several months removed from the previous season. After an offseason full of moves along with a new class of rookies set to take the stage, here are our current fantasy football RB rankings for the 2021 season.
2021 Fantasy Football RB Rankings | 1-10
Note: These consensus rankings were created by Senior Fantasy Analyst Eric Moody and Fantasy Analyst Tommy Garrett with 0.5 PPR scoring in mind and will fluctuate as we get closer to the season. Please check back regularly for any changes.
RB Rankings | 1-5
RB1 – Christian McCaffrey, Carolina Panthers
RB2 – Dalvin Cook, Minnesota Vikings
RB3 – Derrick Henry, Tennessee Titans
RB4 – Alvin Kamara, New Orleans Saints
RB5 – Ezekiel Elliott, Dallas Cowboys
The best of the best. In most drafts, these running backs will be the first five picks off the board. McCaffrey is the locked-in 1.01 in all non-superflex drafts, with Cook going second in 99% of leagues. Beyond that, there is room for debate on order based on format and what you like in a running back. Henry is coming off back-to-back rushing titles on an astonishing 718 touches. 
This season, Kamara could set a career-high in targets as the only real threat on the Saints' offense, with Michael Thomas still working his way back from ankle surgery in June. Elliott is a combination of both Henry and Kamara in a way. In his five seasons, he's finished as the RB2, RB12, RB5, RB3, and RB9, respectively, averaging 1,276 rushing yards, 391 receiving yards, and 11.2 total touchdowns per season.
Regardless of who you choose, there is no wrong answer when starting your fantasy football team with any RBs in this portion of rankings.
RB Rankings | 6-10
RB6 – Jonathan Taylor, Indianapolis Colts
RB7 – Saquon Barkley, New York Giants
RB8 – Aaron Jones, Green Bay Packers
RB9 – Nick Chubb, Cleveland Browns
RB10 – Austin Ekeler, Los Angeles Chargers
For as loaded as the top-five in RB rankings are, the latter half of the top 10 features backs equally talented and could be massive values in fantasy football.
There is no question at all — Taylor is special. In Weeks 13-17 last season, he was the RB1 in fantasy with 125.3 points, racking up 651 rushing yards and 8 total touchdowns.  However, the recent injury to QB Carson Wentz has the Colts' offense in a very precarious place. Taylor has been slipping into the second round of drafts, but if Wentz's timeline — along with G Quenton Nelson's — is on the shorter side of 5 to 12 weeks, he has the chance to be a top-three fantasy football RB.
Barkley becoming a bargain in Round 2
Barkley in Round 2? Believe it or not, it's happening more and more often. There have been concerns about his workload early on, but fantasy managers should be chomping at the bit on this potential steal.
Over the last two seasons, Jones has finished as the RB2 and RB5 while averaging 19.2 ppg (30 games). He finished as an RB1 in 43% of his games and as an RB2 or better in 76% of contests played. Aaron Rodgers is back in town, which should equal another RB1 season for Jones.
The argument could be made that Chubb is the best pure rusher in the NFL. It is not one you would see me try to argue either. Amongst RBs who have played 15+ games since 2018, Chubb is third in yards (3,557), sixth in touchdowns (28), and fourth in yards per game (80.8). He averaged 17.3 ppg and 1.01 points per opportunity, even with Kareem Hunt on the roster in 2020. 
Ekeler is a terrific second-round pick
Unless Taylor or Barkley slide into Round 2, Ekeler is the best second-round pick you can make in fantasy football drafts. Serving in the "Kamara" role in the Chargers' offense now ran by Joe Lombardi (formerly of the Saints), Ekeler could be a massive steal and finish inside the top six.
2021 Fantasy Football RB Rankings | 11-20
A couple of second-year players could easily find themselves in the top 10 by the season's end.
RB Rankings | 11-15
RB11 – Antonio Gibson, Washington Football Team
RB12 – Najee Harris, Pittsburgh Steelers
RB13 – Joe Mixon, Cincinnati Bengals
RB14 – Clyde Edwards-Helaire, Kansas City Chiefs
RB15 – D'Andre Swift, Detroit Lions
If you want to bet on a second-year breakout that could finish inside the top eight in RB fantasy football rankings in 2021, draft Gibson or Edwards-Helaire. Given their current ADP, you could even walk away with both.
Harris has 300-touch upside and a track record of success while in college. Even with a questionable offensive line, it's hard to imagine (barring injury) how he does not return value.
RB Rankings | 16-20
RB16 – Chris Carson, Seattle Seahawks
RB17 – J.K. Dobbins, Baltimore Ravens
RB18 – David Montgomery, Chicago Bears
RB19 – Miles Sanders, Philadelphia Eagles
RB20 – Josh Jacobs, Las Vegas Raiders
At this point in RB rankings, we get to players with more question marks tied to their fantasy football value.
Over the last three years, Carson has averaged 19.1 opportunities, 92.1 total yards, 0.66 TDs, and 15.5 fantasy points per game. There's the talk he is injury-prone. Yes, Carson has never played in 16 games. But, guess what? Very few running backs have. In the past three seasons, Carson has played in 41 total games. That is more than Cook, Mixon, McCaffrey, and Barkley.
Following Baltimore's bye, Dobbins led the Ravens' backfield in snaps (48%) while averaging 12.8 touches, 77.4 total yards, and .77 touchdowns per game. This includes a missed game due to NFL protocols. In that span, Dobbins totaled 109 carries for 651 yards and 7 touchdowns. But can Dobbins recreate his hyper-efficient 6.9 yards per carry and TD rate? Or is he too risky at his current place in 2021 RB rankings for fantasy football?
Montgomery's 17.7 PPR average was sixth amongst RBs in 2020 (minimum 60 rushes), raising his points per game by seven from the year prior. 
There is no disputing Sanders' skills, but will the committee approach of the Eagles' offense allow him to outperform his current RB ranking?
Coming off a 306-touch season, it's unlikely Jacobs hits that mark in 2021 following the addition of Kenyan Drake in the offseason. While still a mid-RB2 in fantasy football rankings, his chances of top-10 status are likely gone for 2021.
2021 Fantasy Football RB Rankings | 21-30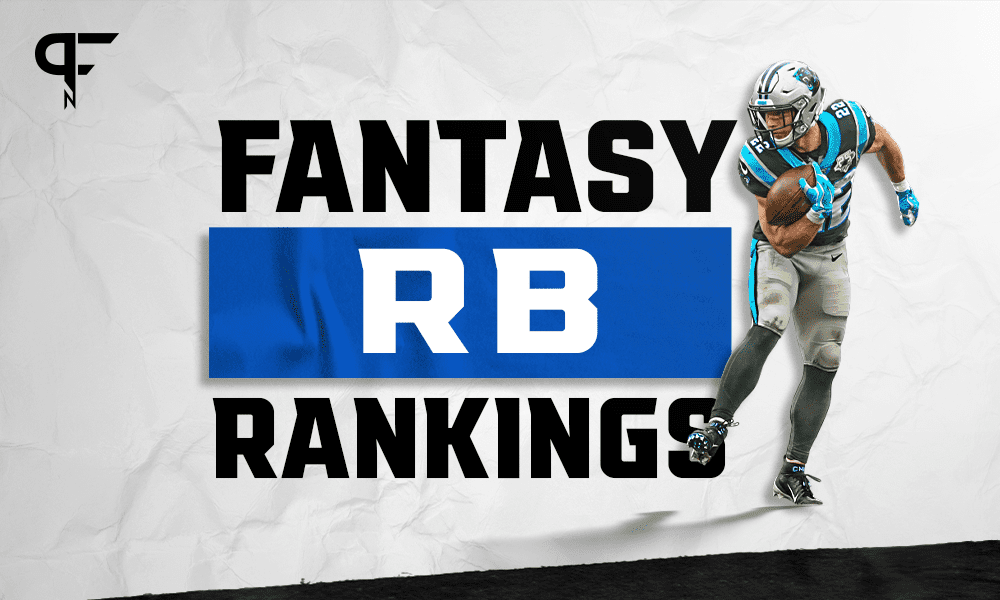 Which RBs currently have low-end RB2/high-end RB3 status?
RB Rankings | 21-25
RB21 – Myles Gaskin, Miami Dolphins
RB22 – Mike Davis, Atlanta Falcons
RB23 – Darrell Henderson, Los Angeles Rams
RB24 – Kareem Hunt, Cleveland Browns
RB25 – Travis Etienne, Jacksonville Jaguars
Gaskin was ninth in touches per game at 18.3, which was more than Kamara (18.0). He was tied for sixth in targets per game at 4.7 and on pace for 1,000 yards and 70 receptions. But the growing concern of a committee approach with Salvon Ahmed and Malcolm Brown is starting to concern me after being bullish on Gaskin all offseason.
At RB22, Davis could smash his current RB ranking and be a league-winning fantasy football RB in 2021. The volume will be there. The question is can he hold up to it?
After the unfortunate loss of Cam Akers (torn Achilles) for the season, Henderson's fantasy football RB ranking shot up. From Weeks 2 through 7, Henderson served as the Rams' RB1, averaging 16.2 opportunities, 85.9 yards, and 0.7 touchdowns per game. With Akers' injury, the Rams have the fourth-highest percentage of vacated carries with 63.2% and are second in carries (299), behind only the Falcons. 
There is a narrative that if anything were to happen to Hunt, Chubb is a league-winner. The same logic can be said in reverse for Hunt, who would be a starter on 95% of NFL rosters.
While Etienne is the fresh face on the Jaguars, Robinson might still be the RB1 if the first preseason game is any indication. However, in PPR formats, Etienne could be the more valuable back given the scoring difference in carries vs. targets for fantasy football.
In 2020, the top 60 RBs averaged 0.67 points per rush (PPR scoring). Those same RBs averaged 1.88 fantasy points per target and a whopping 2.86 points per reception. Those are not insignificant numbers.
RB Rankings | 26-30
RB26 – Chase Edmonds, Arizona Cardinals
RB27 – Michael Carter, New York Jets
RB28 – Melvin Gordon, Denver Broncos
RB29 – Damien Harris, New England Patriots
RB30 – Javonte Williams, Denver Broncos
The high-end RB3 range in fantasy football features several RBs that are in committees in 2021. Both the Cardinals (Edmonds and Conner) and Broncos (Williams and Gordon) backs are all in a similar range. Many fantasy managers are choosing to opt for the better value on draft day, assuming end-of-season values will be relatively similar. 
RB Rankings | 31-40
RB31 – Raheem Mostert, San Francisco 49ers
RB32 – James Robinson, Jacksonville Jaguars
RB33 – Ronald Jones II, Tampa Bay Buccaneers
RB34 – Leonard Fournette, Tampa Bay Buccaneers
RB35 – James Conner, Arizona Cardinals
RB36 – Trey Sermon, San Francisco 49ers
RB37 – David Johnson, Houston Texans
RB38 – A.J. Dillon, Green Bay Packers
RB39 – Zack Moss, Buffalo Bills
RB40 – Gus Edwards, Baltimore Ravens
One of the best values in all of fantasy football, especially for RBs, in 2021 is Edwards. In his three seasons, Edwards has seen at least 130 carries for 700 yards each time. From Week 6 on, Edwards was the RB26 in PPR, scoring with 9.9 ppg. In fact, Dobbins was trailing him in fantasy points heading into Week 17 until the rookie went off for 160 yards and 2 touchdowns. The Ravens are enamored with Edwards and extended him with a two-year, $10 million contract in the offseason. Given their ADPs difference, I would rather draft Edwards and his 160-plus carry upside nearly seven rounds later.
RB Rankings | 41-50
RB41 – Nyheim Hines, Indianapolis Colts
RB42 – Tony Pollard, Dallas Cowboys
RB43 – Kenyan Drake, Las Vegas Raiders
RB44 – Jamaal Williams, Detroit Lions
RB45 – Latavius Murray, New Orleans Saints
RB46 – Devin Singletary, Buffalo Bills
RB47 – Alexander Mattison, Minnesota Vikings
RB48 – J.D. McKissic, Washington Football Team
RB49 – James White, New England Patriots
RB50 – Giovani Bernard, Tampa Bay Buccaneers
Williams could be one of our favorite sleeper running backs for 2021. Knowing that this will be a committee approach, it is relatively easy to project Williams for 200+ touches. He is one of the better values amongst fantasy football RB rankings in 2021.
Bernard could have upside in PPR formats if he finds himself in the "James White" role for Tom Brady and the Buccaneers. Clearly, they brought him in for a reason.
RB Rankings | 51-60
RB51 – Rashaad Penny, Seattle Seahawks
RB52 – Phillip Lindsay, Houston Texans
RB53 – Tevin Coleman, New York Jets
RB54 – Tarik Cohen, Chicago Bears
RB55 – Joshua Kelley, Los Angeles Chargers
RB56 – Sony Michel, New England Patriots
RB57 – Salvon Ahmed, Miami Dolphins
RB58 – Devontae Booker, New York Giants
RB59 – Malcolm Brown, Miami Dolphins
RB60 – Marlon Mack, Indianapolis Colts
Lindsay, who was selected to the Pro Bowl in his rookie season in 2018, ran for more than 1,000 yards in 2018 and 2019 but dealt with injuries in 2020. Are we sure we can trust Johnson to be the Texans' RB1? If not, Lindsay could be an incredible value based on his current spot in RB rankings for fantasy football in 2021. 
RB Rankings | 61-80
RB61 – Damien Williams, Chicago Bears
RB62 – Samaje Perine, Cincinnati Bengals
RB63 – Chuba Hubbard, Carolina Panthers
RB64 – Boston Scott, Philadelphia Eagles
RB65 – Mark Ingram II, Houston Texans
RB66 – Darrel Williams, Kansas City Chiefs
RB67 – Kenneth Gainwell, Philadelphia Eagles
RB68 – Darrynton Evans, Tennessee Titans
RB69 – Jeff Wilson Jr., San Francisco 49ers
RB70 – Jerick McKinnon, Kansas City Chiefs
When targeting RB sleepers in the bottom part of fantasy football rankings, take a hard look at Gainwell for 2021. Both HC Nick Sirianni (32) and OC Shane Steichen's (34) backfields were in the top 10 in RB opportunities per game last season. More importantly, they both featured the RB in the passing game, something Sanders struggled with last season (13.5% drop rate). 
In the fifth round of the 2021 NFL Draft, the Eagles drafted Gainwell out of Memphis, the best pass-catching back in the class. Do not be shocked if Gainwell nears flex consideration rather quickly.
RB71 – Benny Snell Jr., Pittsburgh Steelers
RB72 – Carlos Hyde, Jacksonville Jaguars
RB73 – Larry Rountree III, Los Angeles Chargers
RB74 – Kalen Ballage, Pittsburgh Steelers
RB75 – Justin Jackson, Los Angeles Chargers
RB76 – Ty Johnson, New York Jets
RB77 – Wayne Gallman, San Francisco 49ers
RB78 – Rhamondre Stevenson, New England Patriots
RB79 – Justice Hill, Baltimore Ravens
RB80 – Matt Breida, Buffalo Bills
Who will be the RB2 for the Chargers behind Ekeler in 2021? If you guess correctly, one of these RBs will be a home run. Draft the lottery ticket and see what happens.
Tommy Garrett is a writer for Pro Football Network covering the NFL and fantasy football and a member of the Fantasy Sports Writers Association (FSWA). You can read more of his work here and follow him at @TommygarrettPFN on Twitter.
Listen to the PFN Fantasy Podcast
Listen to the PFN Fantasy Podcast! Click the embedded player below to listen, or you can find the PFN Fantasy Podcast on iTunes, Spotify, and all major podcast platforms.  Be sure to subscribe and leave us a five-star review! Rather watch instead? Check out the PFN Fantasy Podcast on our Fantasy YouTube channel.