The fantasy football calendar keeps on churning, so what are some dynasty stash moves that you can make now to set your team up for even greater success in 2023?
What Is a Dynasty Stash?
Due to the extensive roster sizes in dynasty fantasy football — with some leagues offering up to 30 total roster spots — the need to circulate players at the bottom of your bench is critical.
Understanding who to scoop up off of the waiver wire in your league before they break out is one of the biggest advantages out there and can help decide whether your roster will be a cellar-dweller or competing for championships year after year.
These players may never evolve into anything more than bench cloggers, but there's a path for them to work their way into your starting lineup down the line. If you're holding on to several veteran players who appear to be on their way out of the league, cutting them loose to pick up one (or more) of these options below to see if they pan out is a solid strategy.
Top Players To Stash in Your Dynasty League
Mack Hollins, WR, Atlanta Falcons
Mack Hollins had been a role player through the first several years of his NFL career, but he experienced a bit of a breakout in 2022 with the Las Vegas Raiders. In 17 games, Hollins commanded 94 targets that he turned into 57 receptions for 690 yards and four touchdowns.
While those numbers are certainly not going to put Hollins into the All-Pro conversation, it was enough to show that he can produce in a larger role when his number is called. Hollins found his way to Atlanta this offseason on a one-year deal, and there's an opportunity for him to work his way back into fantasy starting lineups eventually this season.
MORE: PFN's Fantasy Football Trade Analyzer
The Falcons are not going to be throwing the ball enough for Drake London, Kyle Pitts, Bijan Robinson, Cordarrelle Patterson, and Hollins to all have fantasy relevance each and every week. However, if one of those players deals with an injury, there's suddenly an opportunity for Hollins' target share to increase.
The veteran WR isn't going to be on every dynasty waiver wire out there, but he should be picked up as a solid bench stash that could turn into more as the season progresses and inevitable injuries start to occur.
Ty Montgomery, RB, New England Patriots
In 2015, Ty Montgomery entered the NFL as a wide receiver and has experienced a very interesting career trajectory over that time frame. He now finds himself as a member of the New England Patriots on their RB depth chart.
As a proven and reliable pass-catching option, Montgomery has an opportunity to see a significant workload this season.
Rhamondre Stevenson was fantastic for fantasy purposes last season, but he was never supposed to occupy that role. Damien Harris, James White, and Montgomery all dealt with injuries in 2022 that paved a path for Stevenson to see the third-most targets amongst running backs in the entire league.
MORE: Dynasty vs. Keeper Leagues
Bill Belichick has shown fantasy managers time and time again that he prefers to utilize multiple players in the RB rotation, which means that Montgomery could easily work his way into slicing Stevenson's target totals in half in 2023.
Mac Jones has proven that he'll take the checkdown option if it's there, which could lead to Montgomery being a safe and solid full-PPR option this season. If Montgomery's there on your waiver wire, he's worth scooping up despite the fact that he's now 30 years old.
Chosen Anderson, WR, Miami Dolphins
Robbie Anderson — now known as Chosen Anderson — has been in and out of fantasy managers' starting lineups so many times over the previous few years that it's been a headache to roster him.
Just three years ago, Anderson finished with 136 targets, 95 receptions, 1,096 yards, and three touchdowns in Carolina. It's been all downhill since then, though, as he now finds himself on his third team in the span of just nine months.
However, there is a massive opportunity up for grabs in this Miami Dolphins passing attack. Cedrick Wilson Jr. was brought in on a substantial contract in the 2022 offseason to be the WR3 for Miami, but he's yet to make much of an impact in that role. Anderson is starting to generate some buzz in Miami's minicamp, and he could be in line to steal that role away.
With Mike Gesicki departing Miami this offseason for New England, there's no major threat for targets at tight end now in this offense, which could lead Mike McDaniel to deploy more 11 personnel, which means three wide receivers on the field.
Anderson will be a clear third in the target-share pecking order behind Tyreek Hill and Jaylen Waddle, but that could still be a substantial enough total to put him into the weekly Flex conversation.
Dynasty managers have been fed up with Anderson, and it's possible he's currently available on the waiver wire. It's worth checking to see if he's there and monitoring the training camp reports to see if Anderson is in line for that WR3 role for the Dolphins.
Marquez Callaway, WR, Denver Broncos
Marquez Callaway was a hot name in the 2021 fantasy draft cycle due to his performances in the preseason, but he never truly broke out the way that managers had hoped he would. Now Callaway finds himself as a member of the Denver Broncos, and he's got his work cut out for him to work his way up the depth chart.
However, it's important to read the tea leaves a bit with this situation and connect the dots. Sean Payton is now the man in charge here in the Mile High City, bringing Callaway along with him from New Orleans. Additionally, there's been plenty of smoke surrounding the future of Courtland Sutton and Jerry Jeudy within the Broncos' organization.
There's a real possibility that neither of those wide receivers are on this roster by the time the season begins with how much they've been rumored to be traded, which would leave a wide open receiving corps for Callaway to climb up.
His familiarity with the scheme that Payton is deploying could be a big leg up in that competition. Russell Wilson has shown an affinity for airing it out deep downfield, which is where Callaway is at his best.
A lot has to play out in order for this one to pay off, but winning your dynasty league is all about taking chances on players that no one else in your league is thinking about. Callaway's worth stashing at the bottom of your bench in a deeper league while this situation in Denver works itself out.
Malik Davis, RB, Dallas Cowboys
Malik Davis is a former undrafted rookie out of Florida who worked his way onto the 53-man roster after impressing in training camp last season in Dallas. While Davis only saw 38 total carries in 2022, there's the potential that he could be Tony Pollard's right-hand man this season for the Cowboys.
Ezekiel Elliott is out the door (although the possibility does remain for a reunion), and Davis' only real competition right now for the RB2 role is Ronald Jones. Due to his familiarity with the scheme, Davis has the edge in that competition as of now.
We don't have enough of a sample size on Davis in the NFL to project him as a weekly starter for fantasy purposes, but it's worth getting ahead of the potential training camp hype and picking him up before the rest of your league begins to take notice.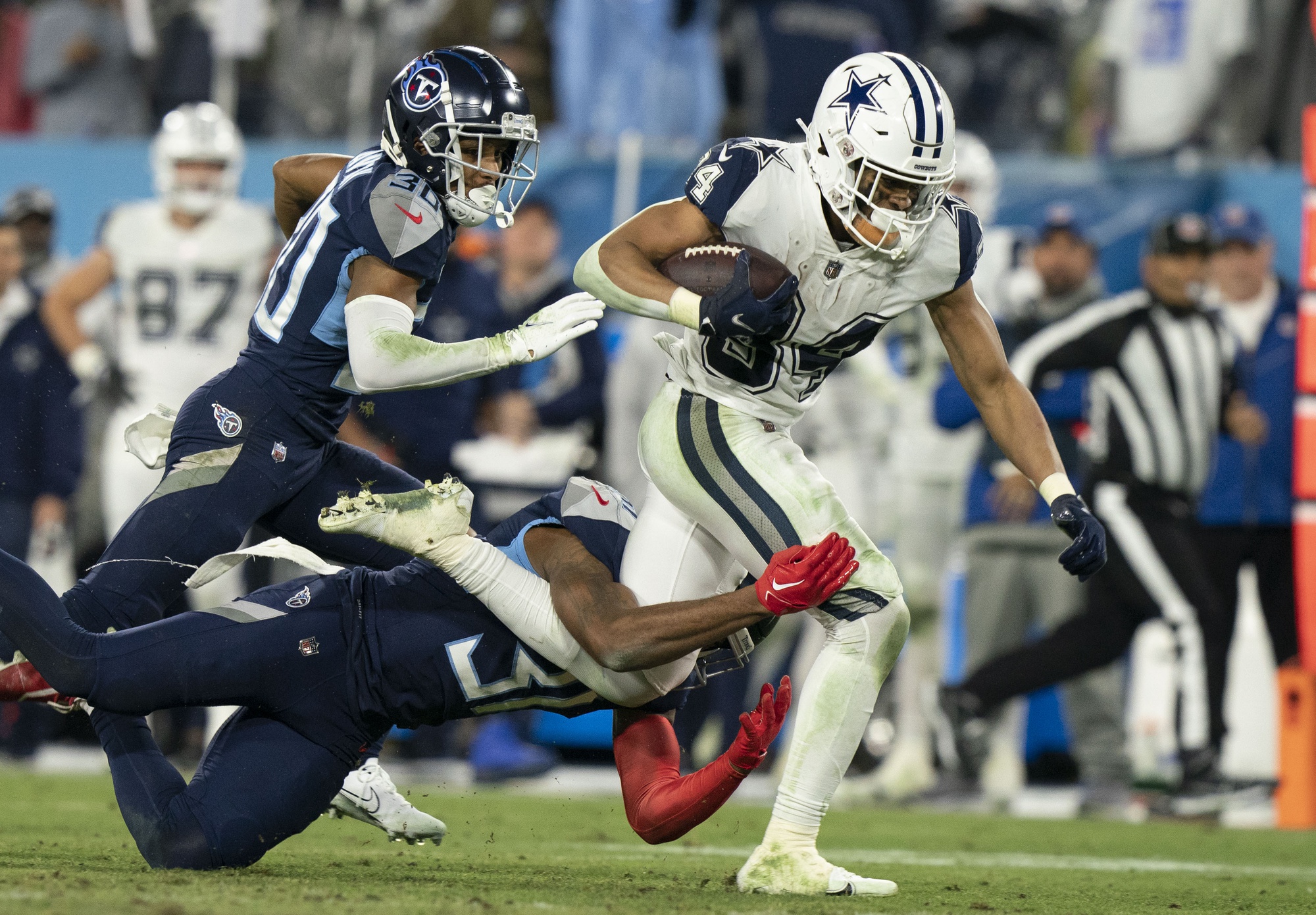 Richie James, WR, Kansas City Chiefs
Richie James had his moments of fantasy relevance last season catching passes from Daniel Jones in New York. After being a role player for San Francisco the prior three seasons, James worked his way up the depth chart and became a consistent receiving threat out of the slot for the Giants.
He's now moved from the NFC to the AFC and will do his best in training camp to work his way into a starting role for the Kansas City Chiefs.
MORE: Dynasty Rankings 2023
For the time being, this WR depth chart is wide open. Marquez Valdes-Scantling, Kadarius Toney, and Skyy Moore are James' biggest obstacles standing in his way to catch passes from Patrick Mahomes every single week. While those three players are projected to have the upper hand in the competition, there's no guarantee that they will be the starting trio by the end of the 2023 season.
If Toney again deals with injuries again, James could easily be a top-40 fantasy WR in his absence. That's not something that you're often going to find on waiver wires in your dynasty league, which means that James needs to be a priority target.
Jerome Ford, RB, Cleveland Browns
Jerome Ford was one of the more electric RB prospects coming into the 2022 NFL Draft. Ford's home-run speed made him incredibly fun to watch on tape, and he showed solid enough receiving ability to showcase that he could be a weapon in the passing game sooner than later.
Unfortunately, Ford fell into a situation in the NFL Draft that prevented him from making an impact in Year 1. Kareem Hunt and Nick Chubb handled the vast majority of the work for the Browns in 2022. However, Hunt is no longer a member of the team, slating Ford to be Cleveland's RB2 on the depth chart currently.
Ford is still available in essentially every dynasty league out there. Kevin Stefanski has shown a propensity for utilizing multiple running backs, which means that Ford could see a ton more work than many analysts are projecting.
In 1QB formats, he's currently the top target on the waiver wire for me.
Mike White, QB, Miami Dolphins
The 2022 fantasy football season had several surprises in store for fantasy managers. One of those was the emergence of Mike White as a solid streaming QB for fantasy football at points.
Zach Wilson's struggles led to White getting an opportunity to throw to some very talented wide receivers, leading to some decent performances for fantasy football in 2022. White is no longer a member of the New York Jets, but there is potential that he works his way back into starting lineups again in 2023.
Tua Tagovailoa has taken massive steps forward in his development under Mike McDaniel, and he's proven that he's one of the better young QBs in the NFL…when he's healthy.
Unfortunately, we all know Tua's battle with concussions in 2022, and it's not a guarantee that he makes it through all 17 games this upcoming season. White's spot as a backup QB on this roster makes him an incredibly valuable target in Superflex leagues, but also someone that's worth picking up and stashing if you have space in your 1QB formats.
The possibility of having the quarterback that gets to throw to Hill and Waddle — plus maybe Anderson too — in McDaniel's scheme is incredibly appealing, and dynasty managers always need to be thinking two or three steps ahead.
Listen to the PFN Fantasy Podcast
Listen to the PFN Fantasy Podcast! Click the embedded player below to listen, or you can find the PFN Fantasy Podcast on iTunes, Spotify, and all major podcast platforms.  Be sure to subscribe and leave us a five-star review! Rather watch instead? Check out the PFN Fantasy Podcast on our Fantasy YouTube channel.